FORK ON THE ROAD: Not Just Pancakes…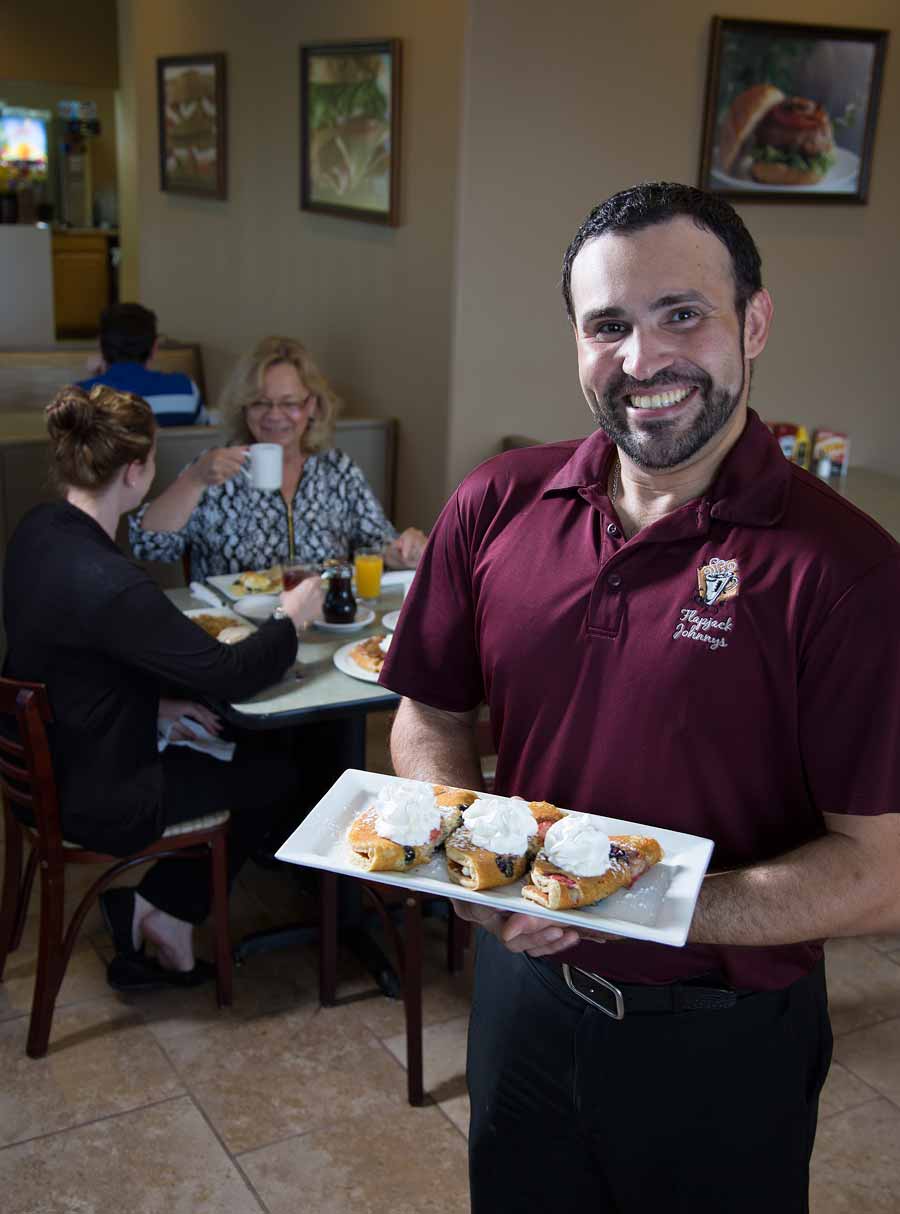 Flapjack Johnny's delivers on breakfast and more
Guests are sure to rise and shine when starting off their day at Flapjack Johnny's in Groveland.
The cozy diner had a soft opening a few months ago and had its grand opening event in early May. It's open every morning for breakfast and lunch. Lucky for me, because brunch is my all-time favorite meal.
Lunch options include American fare, including various sandwiches, burgers, hot dogs, soups and salads. Hot paninis and cold wraps add a twist to the menu offering alternatives to the traditional sandwich.
For breakfast, the menu offers individual items, such as ham, bacon or oatmeal. Or, you can have your pick from various breakfast platters, such as the "Hungry Man" or "Johnny's Breakfast."
For the indecisive, I recommend trying one of the aforementioned platters. A combination of either sausage, bacon, eggs, French toast, waffle or pancakes are included in these combination platters.
Eggs Benedict graces the menu, as well, in several variations. I didn't order it this time, but on my next visit, the "Eggs Florentine" has my name written all over it. I saw a couple other guests order the dish and it looked delicious when it hit their table.
"I've ordered the eggs Benedict both times we've been here," said Sylvia Schaffer, a Mascotte resident who was dining at Flapjack Johnny's the morning of my visit. "Poached eggs aren't easy to make and neither is Hollandaise. I've tried. So they get two thumbs-up from me."
And, the breakfast nook certainly lives up to its name by offering more than a dozen varieties of pancake.
When I asked my server Brittany for a recommendation, she suggested I try "Johnny's Pancakes." So, I opted for a savory and sweet combination when I had breakfast at the cozy diner—an order of flapjacks and the sausage gravy biscuits with two eggs fried over medium.
Good choice. These flapjacks bearing the name of the restaurant are loaded with fresh fruits, whipped cream and powdered sugar. They are stuffed with cream cheese to really highlight the sweetness of the fruits. A short stack consisting of three large pancakes runs $7.50, which I thought was a great deal for some of the best pancakes I've ever eaten.
And, if you are watching your calorie intake like I am (well, trying to anyway) you'll find that it is easy to modify any order. For example, I asked for the whipped cream and sugar on the side, so I could use the accoutrements sparingly, and it came out just as I requested. Brittany really paid attention to detail when taking my order.
For anyone who's tried it at home, you know making pancakes loaded with berries isn't always an easy feat. But, Johnny's pancakes were the perfect texture with the berries intact. No mushy berries here. No scorched berries on the bottoms of the cakes.
As for the sausage gravy biscuits and eggs, priced at $7.25, I was not disappointed. The biscuit was soft but still maintained its rough texture—it wasn't completely saturated by the gravy. And, the gravy itself was chunky, warm and tasted wonderful. The eggs were cooked perfectly to order, too. Sometimes I end up with a very runny, over easy egg even though I order "over medium." Happily, this wasn't the case at Flapjack Johnny's. By the way, I recommend choosing the hash browns as your side. They were perfectly seasoned, crispy and cut thin like shoestrings.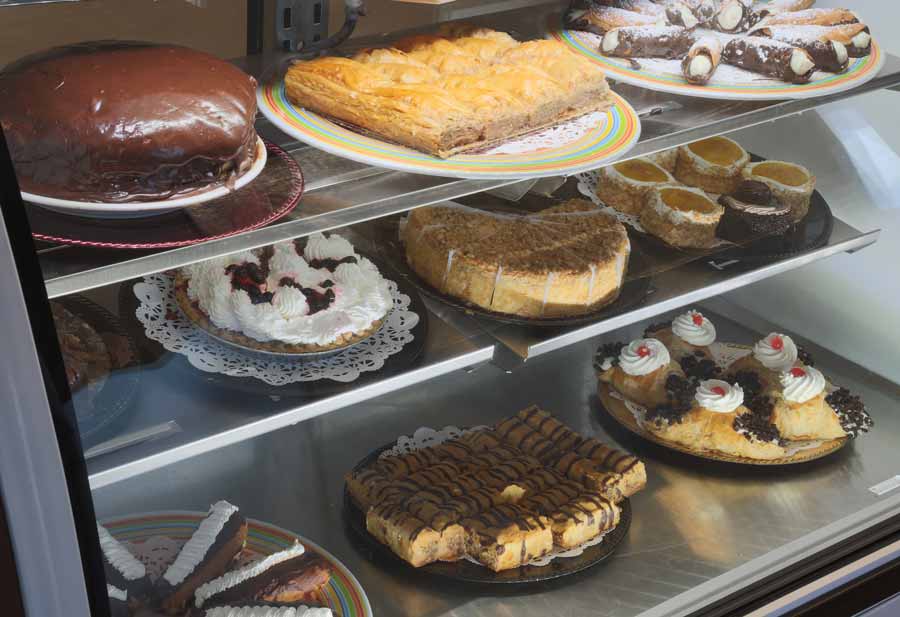 While there, don't forget to try the homemade confections. It was a little early in the day for dessert, so I ordered a slice of their decadent chocolate mousse cheesecake to go. The cheesecake was smooth in texture and the mousse was light and fluffy. A drizzle of chocolate over the top completed the dish nicely. It was well worth the $6 price tag for the generous slice of heaven.
Even though the décor and atmosphere weren't nearly as spectacular as the food, I most definitely would make dining at Flapjack Johnny's part of my weekly routine if I lived nearby.
Luckily, they plan to open another location in Apopka, too.
---
---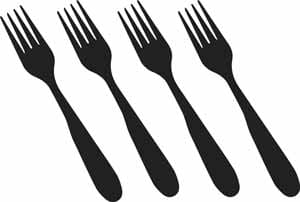 4 FORKS (OUT OF POSSIBLE 5)
Flapjack Johnny's
7432 Highway 50 Suite 103
Groveland, 34736
Sunday – Monday: 7 a.m.-2:30 p.m.
Breakfast served all day; lunch served 10:30 a.m.-2:30 p.m.
Phone: 352.557.4843
Website: www.flapjackjohnnys.com
Facebook:www.facebook.com/pages/Flapjack-Johnnys
---
Fork Report
BREAKFAST
Seated: 5 seconds
Wait for meal: Less than 10 minutes
Recommended: Johnny's pancakes
PRICES
Pancakes: Buttermilk pancakes (full stack: $5.50, short stack: $4.50) – bananas Foster pancakes (full stack: $6.75, short stack: $5.75)
Omelets: Plain omelet ($4.95) – Philly cheese omelet ($8.95)
Paninis: Roast beef & cheddar ($8.25) – chicken Caprese ($8.75)
SPOONS UP
• Friendly staff
• Large porch area with seating
• Homemade items
• Well-stocked dessert case
SPOONS DOWN
• Dull interior decor
RECOMMENDATION
Let your server be your guide. The servers were extremely friendly and knew the menu inside and out. Make sure to try a homemade dessert!
---
How Fork on the Road works
Our reviewers are objective and unbiased. This is not a paid advertorial. Our reviewer makes two unannounced visits and we pay for our meals.
---
PHOTOS: Marci Sandler
---