FORK ON THE ROAD: Rae Rae's is Fresh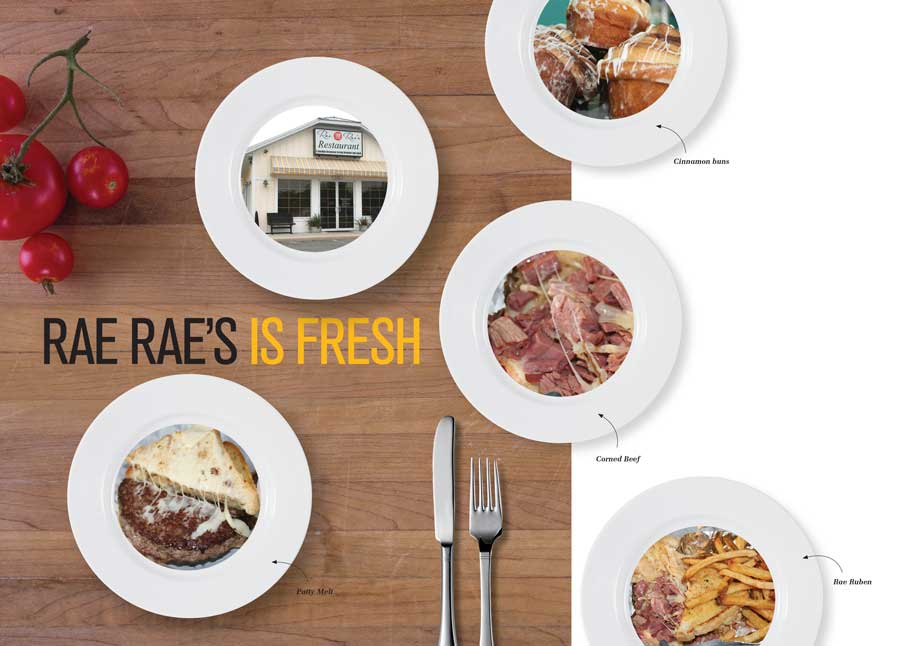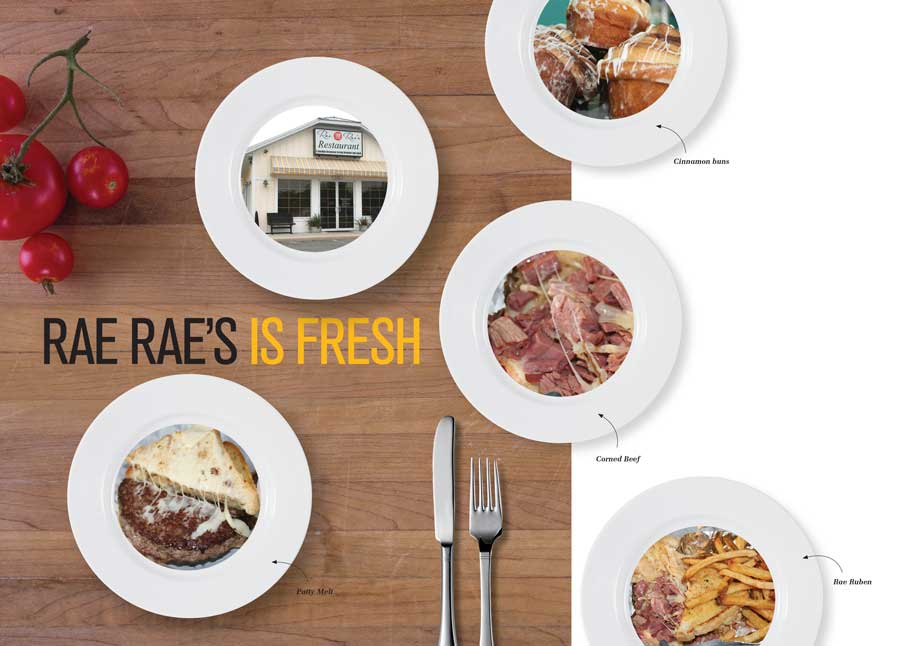 ---
PHOTOS: Gary Corsair
---
Canned food and microwaves aren't allowed in this popular restaurant's kitchen.
We don't have a microwave anywhere in the building. If it comes in a can, it doesn't go in our pan. We even make our corned beef hash from scratch."
Whoa, whoa, Tim Rohan. You had me at no microwave.
Rae Rae's Restaurant on U.S. Highway 441 (across from the Fruitland Park Flea Market) does a lot of things right. Serving food hot off the flattop is just one reason to visit this popular breakfast/lunch spot.
But fresh food is only part of the Rae Rae's success story.
Prompt and attentive service are always daily specials. I visited twice — once for breakfast and a day later for lunch — and was greeted and seated within :10 both times (yes, I carry a stopwatch). On both visits, I had a drink in front of me within a minute.
And servers ask your name, remember it and use it.
Customers obviously come first at this quaint eatery that open two years ago.
The homemade food confirms that truth.
"We pride ourselves on fresh, homemade consistency," says manager Christine Greenaway. "You have to be consistent in everything you do."
Everything my wife and I sampled was consistent – consistently yummy.
My ham and cheese omelet was light and fluffy and topped with two slices of provolone. The ham pieces were pulled off a bone, not prepackaged chucks. The fried potatoes on the side were lightly seasoned and crunchy, but not overcooked.
My wife's eggs benedict was more than she could eat. It was also unique. Rae Rae's benedict is served on fried biscuits, all the better to mop up Hollandaise sauce with.
Both dishes came with a large homemade biscuit filled with blueberries.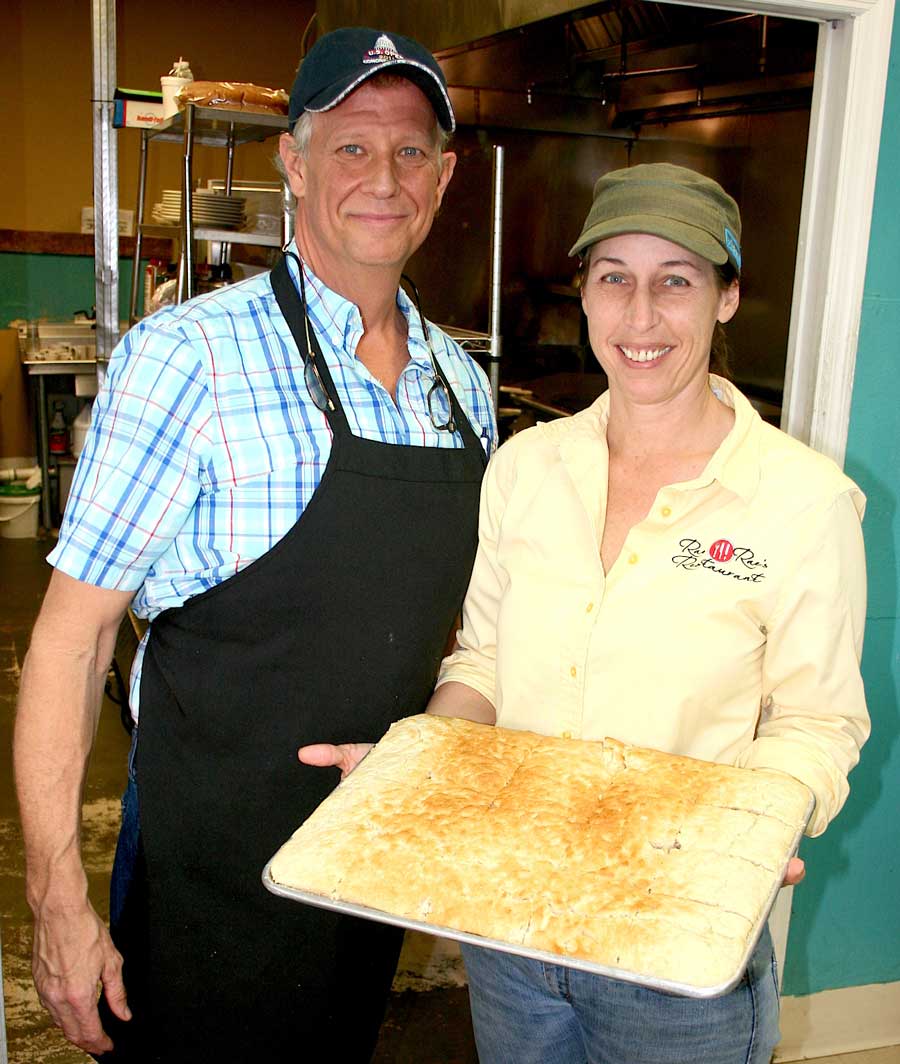 Biscuits are a big deal at Rae Rae's. "We switch it up," says owner Tim Rohan. "Somedays we have very berry, banana nut or guava."
Nearby, a regular diner enjoyed the Gordaddy, a heaping helping of biscuits and gravy and two eggs.
Next time – and there will be a next time – I'll order something with corned beef hash. I didn't realize it was made from scratch until after my meal. It never occurred to me that they wouldn't just open a can. Isn't that what everyone else does?
By the way, Rae Rae's serves breakfast all day on Saturday and Sunday.
For lunch, I opted for the Reuben, surely one of the most difficult sandwiches to build. Anyone who's encountered fatty meat, too sour sauerkraut or had thousand island dressing ooze onto their fingers knows what I mean.
Well, Rae Rae's gets it right. There's no pre-sliced deli meat in this bad boy. The star is brisket cooked 10 to 12 hours, then chopped, not sliced. The ingredients between perfectly toasted rye compliment, not compete.
My cole slaw was crisp, but didn't have much flavor. Later, I learned I ordered the wrong side.
"The homemade potato salad is very good. They use eggs in it," said Linda Busse.
My wife's burger was lightly seasoned and juicy, not overdone. The handcut fries we shared were only the best I've eaten. There wasn't a limp fry in the basket.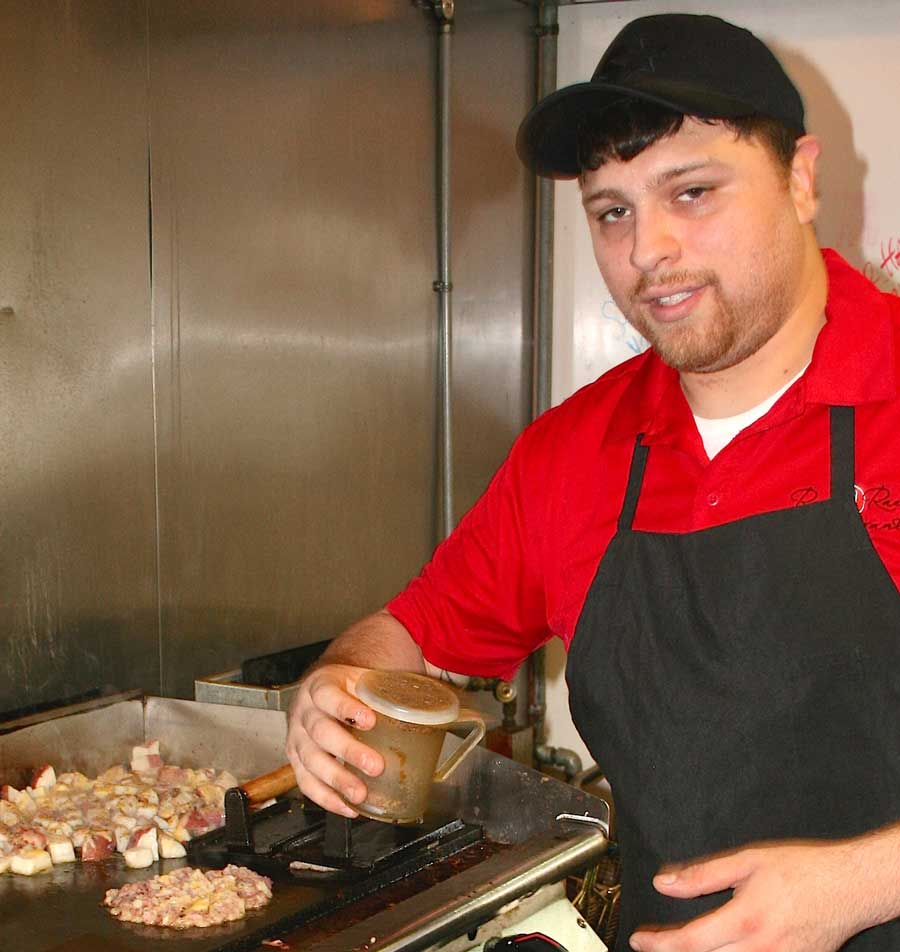 The décor isn't fancy, but Rae Rae's has the kind of view I want. I can see into the kitchen, where chef Juan Sauceda presides over the grill. And the prep station, where Alice cuts potatoes, chops vegetables, slices pork loin and forms hamburger patties, is in plain view. You get full disclosure at Rae Rae's.
All the sandwiches I saw looked absolutely mouth-watering. I'm definitely trying the hand-cut pork tenderloin sandwich when I return.
And the soup is super. Rae Rae's doesn't always have soup, but it's a beautiful thing when Christine and her staff have time to whip up a batch of chili, chicken corn chowder, beef mushroom, Okahumpka stew, chicken noodle, fish chowder or chicken and rice soup. "I always get the soup," says David Holmberg of The Villages, who says he dines at Rae Rae's "every other week."
David's wife Margaret estimates she's dined at Rae Rae's "20 or 30 times." "The people are friendly, the service is wonderful and the food is good.' When asked to name her favorite dish, Margaret said, "The french fries are fantastic, but I eat all of it."
Clermont resident Karen Weaver also raved about the hand-sliced spuds. "They have super french fries," she said.
Bottom line: you can't go wrong with anything on the menu.
---
4 1/2 FORKS (OUT OF POSSIBLE 5)
Rae Rae's
2468 U.S. Highway 441/27
Fruitland Park
Tuesday-Friday, 7a.m.-2p.m.
Saturday and Sunday, 7 a.m.-1p.m.
Phone: 352.323.1595
Website: raeraes.com
Facebook: www.facebook.com/pages/Rae-Raes-Restaurant/483170585082950
---
Fork Report
Breakfast
Seated: 10 seconds
Wait to order: 2 minutes, 40 seconds
Coffee refill: 4 minutes
Wait for meal: 10 minutes
Recommended: The B-Man: Homemade corned beef hash and two eggs
Prices
99 cents (square biscuit) to $8.99 (Harlow's Irish Benedict)
Lunch
Seated: 10 seconds
Wait to order: 3 minutes, 15 seconds
Iced tea refill: 4 minutes
Wait for meal: 13 minutes
Recommended
Soup, TBT (breaded pork tenderloin, swiss cheese, pickle)
Prices:
$4.50 (tossed salad) to $8.39 (The Willis: Pressed hoagie of corned beef, ham, salami, swiss cheese, special sauce)
Desserts
Strawberry shortcake, brownie, cinnamon bun
Spoons up
• Service, friendliness, attentiveness
• Fresh food
• Reasonable prices
• Clean restrooms
Spoons down
• Biscuit served on same plate as entrée
• Only 48 seats
Recommendation
Order the soup of day. It's always homemade but isn't listed on the menu ("Sometimes we're too busy in the morning to make it," Christine says).
---
How Fork on the Road works
Our reviewers are objective and unbiased. This is not a paid advertorial. Our reviewer makes two unannounced visits and we pay for our meals.
---
Gary Corsair began writing professionally while attending high school in Greentown, Indiana. He's spent most of the past 46 years in writing, reporting, editing and producing roles for newspapers, magazines, TV, and radio. He's served as publisher and editor of three newspapers, TV news director, and executive producer of two documentaries about The Groveland Four. Gary's earned more than 65 awards for journalism excellence.
Share This Story!