Fork on the Road: Root and Branch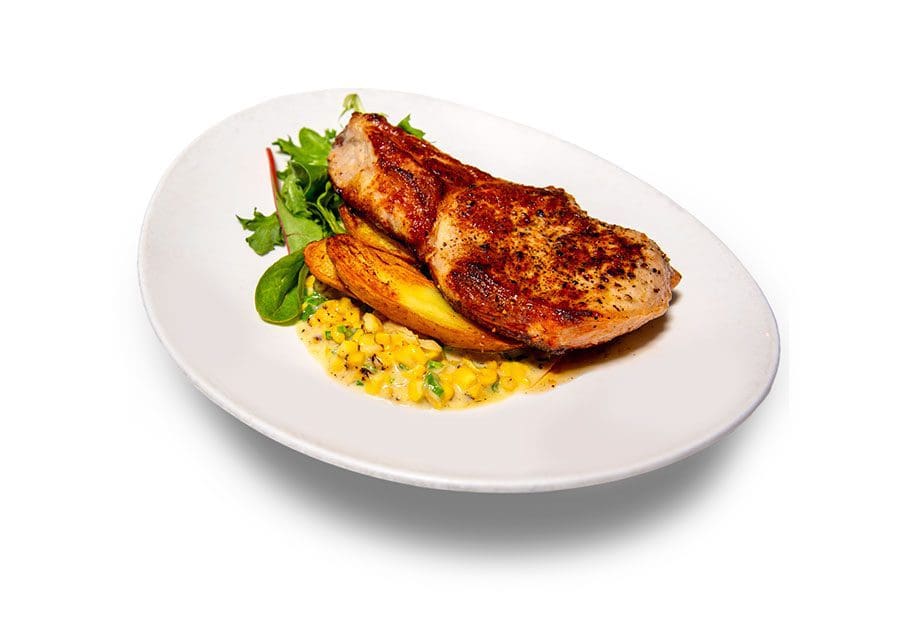 At Root and Branch, Chef AJ Kraft's goal is making people's taste buds happy with delicious cuisine options.
Photos: Nicole Hamel
As a kid growing up, AJ Kraft remembers cooking for his parents, and as a teenager, landing his first restaurant job as a dishwasher, though it didn't last long.
AJ was soon promoted to fry cook and once he got a taste of cooking for others, there was no quenching his appetite.
"It just stuck," AJ says, adding that, "Cooking was under my skin at that point, and now it's in my blood."
Fast forward through several chef gigs at different restaurants over the years, and a missed Thanksgiving with his wife and family that was the final straw as far as working for others, and you'll find AJ in the kitchen as chef of Root and Branch bistro + bar, a thriving Clermont restaurant he and his wife Dana Kraft own and operate.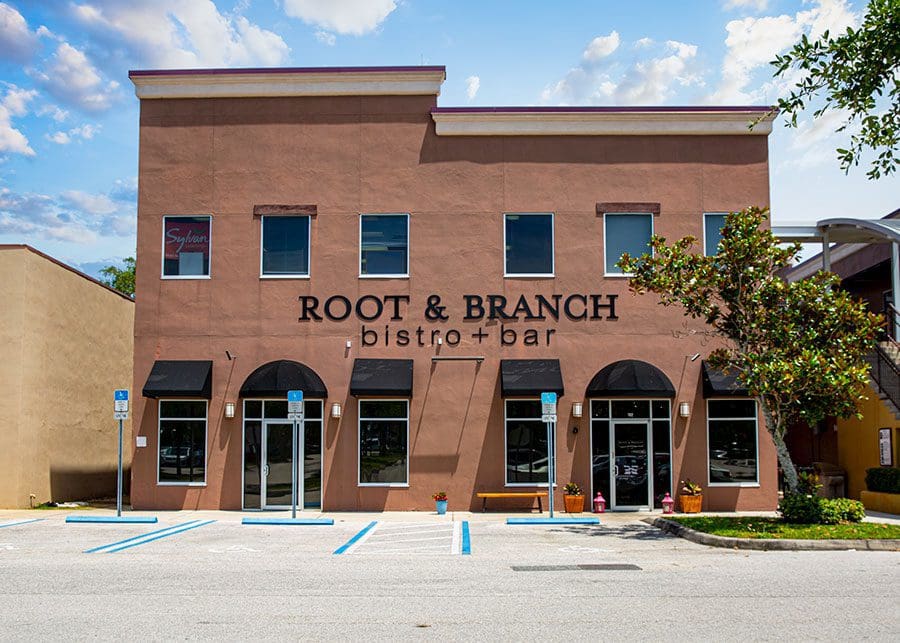 "One of my dreams was owning my own restaurant and we're very proud of what we've been able to do," AJ says, explaining that the concept for their place was inspired by a farm-to-table restaurant called District Table and Bar in south Florida he worked at briefly, and ABC Kitchen in New York, a casual fine dining, farm-to-table restaurant he visited and loved. 
"Both places inspired me, but when I ate at ABC Kitchen, I was kind of like, "Wow, I'd like a restaurant like this one day," so we made it happen. They had a great style and we wanted to exemplify that," says AJ of opening Root and Branch, which he describes as a casual fine dining restaurant that serves modern American farm-to-table style cuisine, but with a European and Southern twist.
"We wanted to bring refined, but comfortable food to Clermont," he adds.
The menu, changed periodically to introduce people to new flavor profiles, includes dishes like Truffle Cacio Pepe, a Roman pasta dish, the Italian-inspired Spring Carbonara, Shrimp and Grits, Nashville Hot Chicken Confit, White Bean Hummus, Steak Tartare (French), Crab Cakes, Fried Green Tomatoes, a wonderful take on an all-American staple the menu lists as THE Burger, soups, salads, and much more. 
Every dish is made using the freshest ingredients possible and completely from-scratch. AJ and his team shuck and fire roast their own corn for certain recipes, hand cut their fries, hand butcher their pork chops, and even make their own pickles.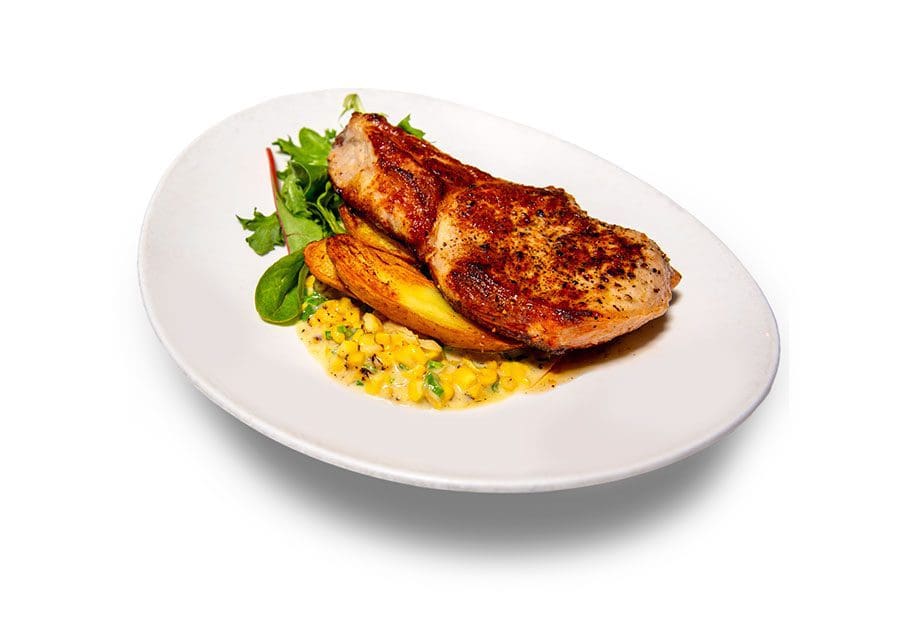 Additionally, AJ, who studied business and sociology in college, has incorporated what his marketing teacher deemed the perfect recipe for an all-around enjoyable dining experience: great food, great customer service, a great location and a great atmosphere.
"That's what Root and Branch stands for; It's an American English phrase meaning all encompassing," AJ says.
Upon walking into Root and Branch, Style Photographer Nicole and I were impressed by the beautiful dining room, complete with white linen tablecloths and cloth napkins. After being seated, we were served some of Chef AJ's favorite dishes, starting with the Steak Tartare and Crab Cakes.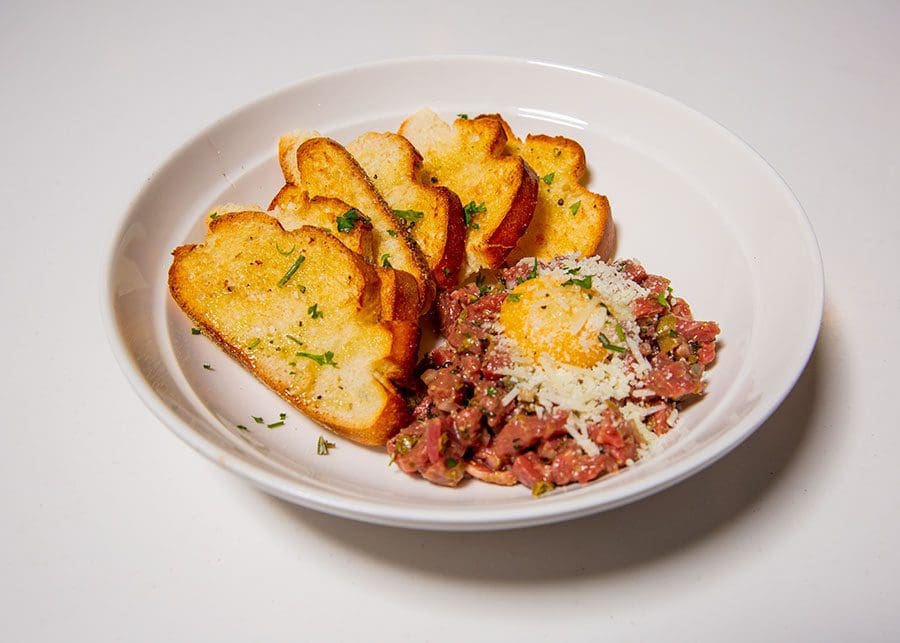 I felt a little out of my comfort zone when the Tartare was brought out, because I didn't realize the meat and egg in the dish would be raw. But after trying a bite with the accompanying crustinis, I was surprised at how flavorful the steak was, and how it seemed almost tender versus raw.  
We tried AJ's crab cakes next and ate every bite of the perfectly seasoned and seared patties served atop a very delicious miso corn puree and with a mini roasted corn and radish salad.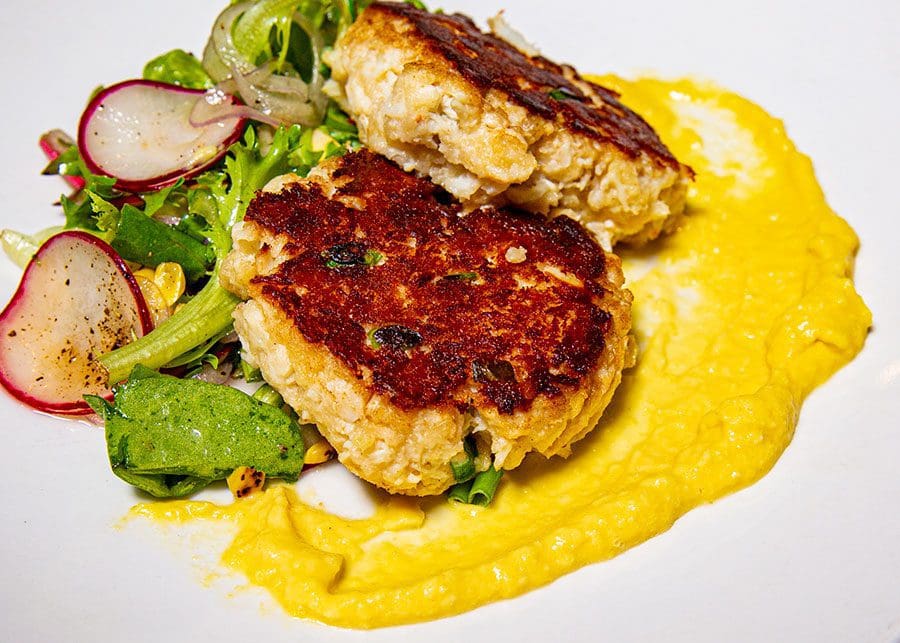 "Usually, crab cakes are served on top of just lettuce, so the salad and puree really added to the dish," Nicole says of how the appetizer was plated. 
Our very favorite tastes of the day, however, were the superbly cooked, and very much 'to die for' bone-in Pork Chops, served with crispy on the outside, soft on the inside fingerling potatoes, and a fantastic cream corn ragu we couldn't get enough of, and the Grand Marnier Crème Brulee, a deliciously creamy custard, served in a ramekin with a perfectly caramelized Grand Marnier-enhanced sugar topping.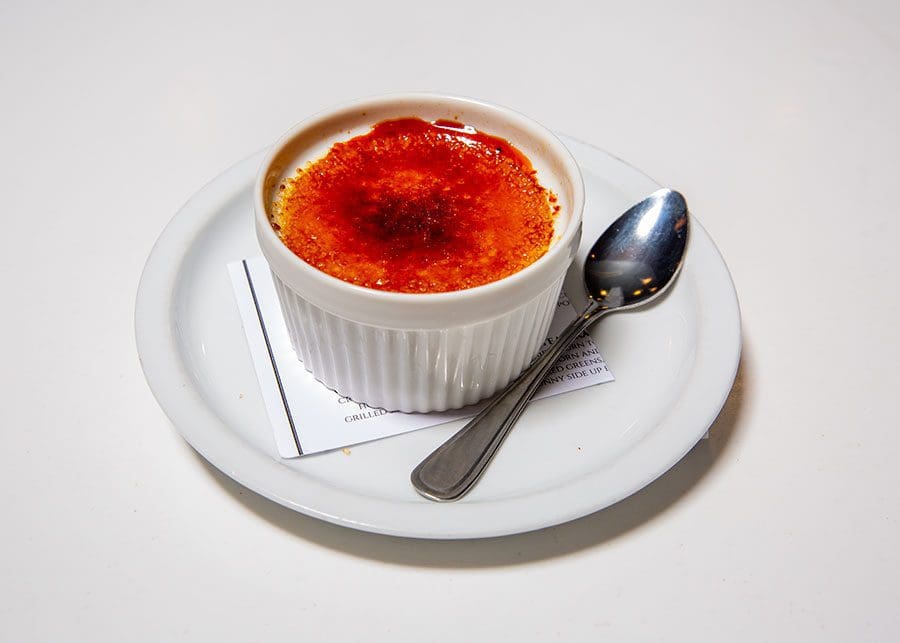 "I could eat this all day," Nicole says.
If visiting Root and Branch, know that it's only open for dinner, except for Sundays, when it offers a plated brunch, and separate menu that includes items like Eggs Benedict, a French Omelet, breakfast sandwiches, salads, Shrimp and Grits, Steak Rancheros, and various desserts. 
Root and Branch also offers a half-off burger night on Thursdays, Prime Rib, plus half-off whiskey and wine on Wednesdays and a full bar (beer, liquor, and wine) with a great craft cocktail and boutique wine selection.   
Overall, AJ says he gets great satisfaction from preparing his recipes for the community and loves it when people try new things.  
"I like getting people out of their comfort zones and really showing them some good food, especially when they find that it's something they really like eating," AJ says. "I've always loved food and cooking it is my passion. 
---
Root and Branch bistro + bar
1200 Oakley Seaver Dr. # 102, Clermont
Hours: Tuesday-Saturday 4 p.m. to 9 p.m., Sunday 10 a.m. to 2 p.m. (brunch), Closed Mondays
352.708.4529
rootandbranchbistroandbar.com
Originally from Nogales, Arizona, Roxanne worked in the customer service industry while writing independently for years. After moving to Florida in 1999, Roxanne eventually switched her career path to focus more on writing and went on to become an award-winning reporter for The Daily Commercial/South Lake Press newspapers for 16 years prior to coming on board with Akers Media as a staff writer in July 2020 – her dream job come true.
Share This Story!