FORK ON THE ROAD: Seafood on the river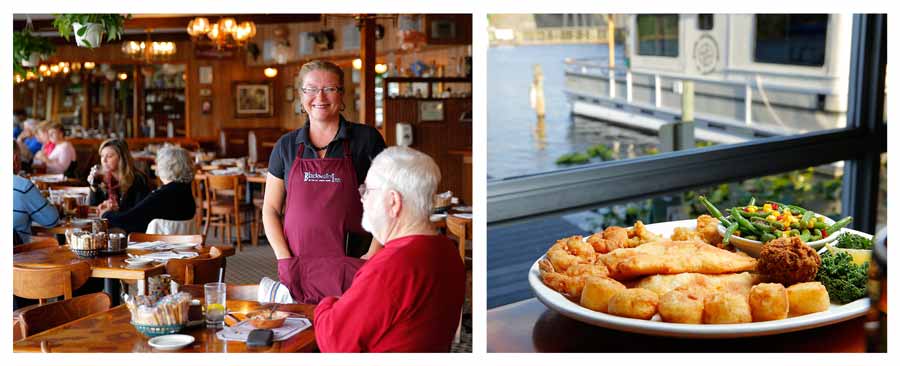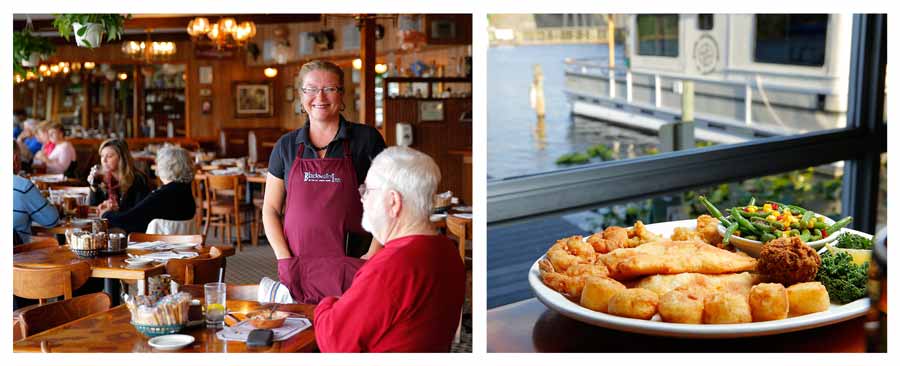 No swamp meat, but the gator is fresh!
My husband and I enjoyed a scenic drive on a lazy Sunday afternoon to have an early dinner at Blackwater Inn Restaurant & Lounge in Astor. Our gracious host put us in what he termed "the balcony" (a booth with a step up), where we had two views of the St. John's River (one out the window and one in the mirrors). It was the perfect place to watch boats slowly cruise by, some with fishermen and others just sightseeing.
Though the menu featured alligator bites and Blackwater fish fingers, we opted to begin our meal with smoked fish dip. My husband and I are big fans of this smoked whitefish on crackers. Our server suggested we squeeze the lemon on top, spread it on the crackers, and add a touch of hot sauce for great flavor. She was right!
Next, we visited the salad bar with its array of fresh, crisp vegetables and side salads. If you opt not to make your own, you can order a Caesar or classic garden salad. I love making my own with the sweet honey mustard dressing.
The entrees were easy; I feasted on the seafood platter and my husband had catfish. The shrimp, oysters, scallops, and tilapia were lightly battered and fried perfectly. I always think about getting my seafood broiled or blackened, but being Southern, I love it fried, and I was not disappointed. The homemade tartar sauce was subtle but tasty on the tilapia and the cocktail sauce complemented the shrimp and scallops impeccably. I'm not always a fan of oysters, but they were great, too. I sampled my husband's catfish and it was delectable. We had baked potatoes to round out our meals and the hushpuppies were great. Filets and sirloins are also on the menu along with prime rib.
Dessert was sharing a piece of key lime pie with just the right amount of sweet-tart flavor and luscious whipped cream.
The drive is relaxing, the meals are memorable, and the staff is gracious and attentive. I suggest you visit Blackwater Inn Restaurant & Lounge and William's Landing, and if you have a boat, you can dock it easily right in front of the restaurant.
---
Blackwater Inn Restaurant
55716 Front St., Astor
352.759.2802
Tuesday – Thursday 4:30–9 p.m.
Friday 4:30–10 p.m.
Sunday 11:30 a.m.–9 p.m.
---
PHOTOS: Fred Lopez
---
Leigh Neely began her writing career with a weekly newspaper in the Florida panhandle, where she not only did the writing, but delivered the papers to the post office and dispensers. She has been writing ever since for a variety of newspapers and magazines from New Jersey to Leesburg. With her writing partner, Jan Powell, Leigh has published two novels as Neely Powell.
Share This Story!