Fork on the Road: Tantalize tastebuds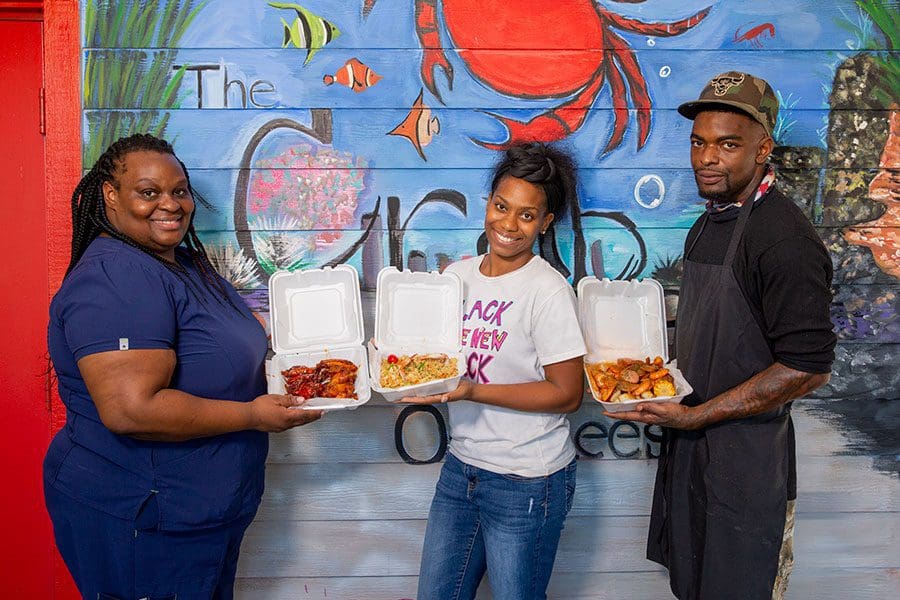 The Crab Stop of Leesburg offers Maryland-style garlic crabs and hearty portions of seafood favorites.
Photos: Nicole Hamel
Calling seafood lovers!
If you crave and savor jumbo shrimp, seafood rice, Maryland-style garlic crabs, or other seafood favorites, than you may want to check out The Crab Stop of Leesburg, 2535 W. Main St., a colorfully painted eatery, which opened last November and has garnered a legion of fans. 
Customers can order their food from the exterior back window of the restaurant for takeout orders. There's currently no inside dining; however, there are plans for dining space in the future, as the eatery has a screened-in side area.
In addition to a wide array of seafood dishes at The Crab Stop, it's also known for its tasty chicken wings with a variety of sauces, including hot honey, honey mustard, hot garlic, teriyaki, lemon pepper, etc. 
Diners can get five wings and fries for $4.99, which is one of the daily lunch specials from 11 a.m. to 3 p.m. 
"We get a lot of compliments on our wings, people love our daily specials, and our seafood rice is very popular," says Stacy Bennett, one of the employees, who notes the seafood rice is white rice studded with shredded blue crab, snow crab, chopped shrimp, and a few vegetables.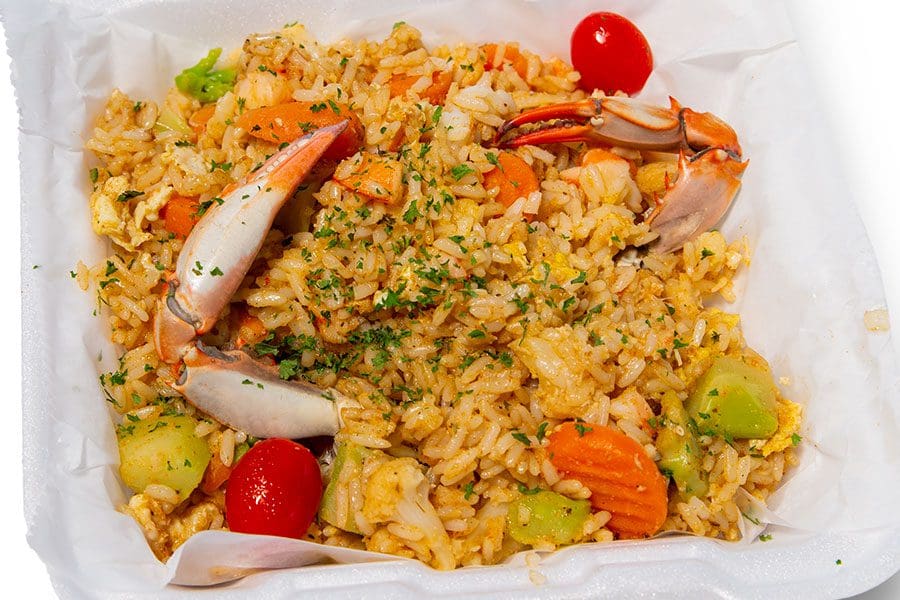 The seafood rice is a favorite of Chef Jarvez Kizer and Manager Tanera Gaston, who also raves over the restaurant's fried shrimp.
Style photographer Nicole Hamel and I found the Crab Stop's seafood rice to be tasty and light, in comparison to fried rice dishes. We were amazed by the hearty portion of the seafood rice (packed in a medium container), which we enjoyed during a weekday lunch, and we were surprised by the large, hearty pieces in the Shrimp Special, which resembled a seafood boil. Both of our carryout containers were fully packed with several pieces of jumbo shrimp, boiled potatoes, sausage cut in angle slices, and one corn cobette, all topped with a spicy kick of seasonings. 
We also sampled the eatery's tasty wings, crab cake balls, and we had extras left of our carryout containers for more meals.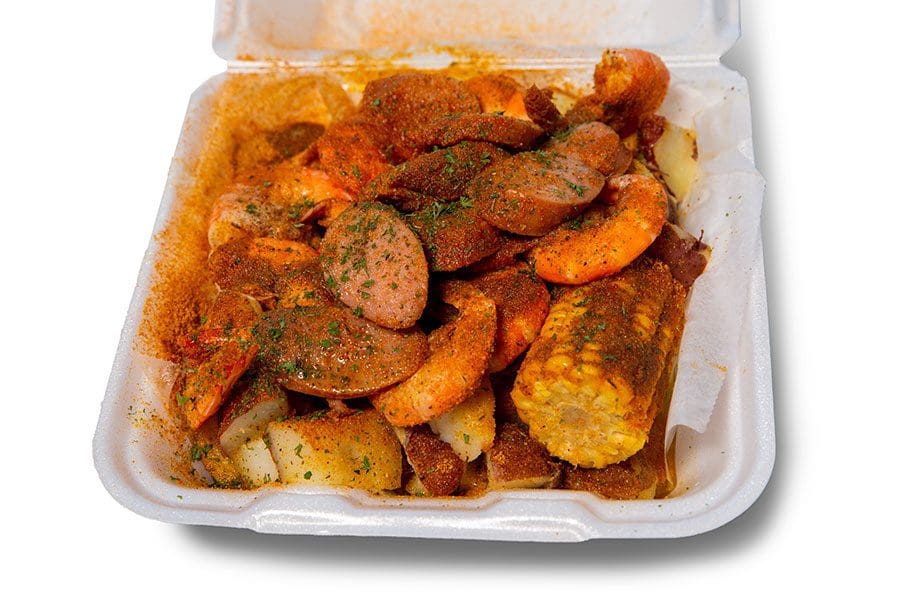 "We try to give a good amount of food because we know seafood can be expensive," says Tanera. 
The Crab Stop also offers a wide array of appetizers on its menu, including corn fritters, conch fritters, crawfish, crab cake balls, fried clam strips, oysters, crab poppers, calamari, onion rings, and gator bites. 
Lobster bisque and clam chowder are the soups on the menu, along with sandwiches of fried catfish, fried tilapia, fried whiting, burgers, and there is a variety of offerings for lunch and dinner, everything from conch fritters basket, crab cakes with sauce, wing special, and combo meals of fried fish and jumbo shrimp with coleslaw, potatoes, fries, and a soda drink. 
Large gatherings may want to go for the table combo meals. One of the table offerings on the menu is the Leesburg Special of 12 medium blue crabs with one pound of potatoes, and two corn cobettes, or the Vezzy Special of four dozen medium blue crabs, 24 jumbo shrimp, two pounds of potatoes, and six corn cobettes.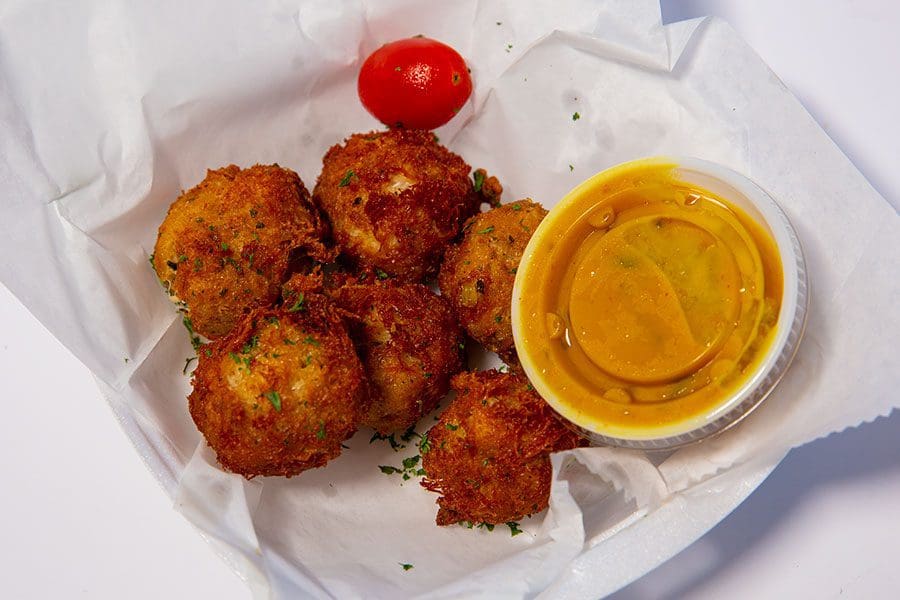 Crab lovers can go ala-cart with medium to large orders of garlic blue crab or medium orders of Maryland crabs, all subject to availability and at market prices. A blackboard at the eatery's entrance lists the day's market prices for a variety of seafood, including fried oysters, Maryland crabs, fried crab, snow crab, and garlic blue crab. 
Tanera, Stacy, and Jarvez say they love their jobs. 
"At the Crab Stop Leesburg we are very family oriented, and we all get along. We meet new people that come here every day," says Tanera, who breaks out in a wide smile when she hears positive comments about the food.
Stacy recalled being excited last fall when she rode her bike by the eatery and noticed the exterior being spruced up with paint and its colorful red crab motif. "I thought, 'Oh, we're getting a new restaurant in town,' so I stopped by and inquired about working here." 
She's glad she made the stop, and she invites others to do the same.  
---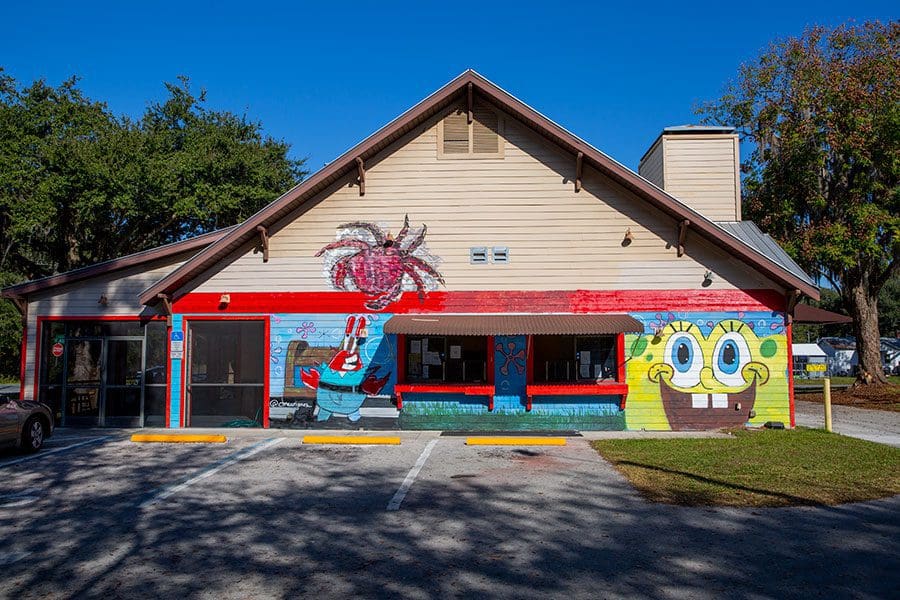 Crab Stop Leesburg
2535 W. Main St., Leesburg, FL 
Hours: 11 a.m. to 9 p.m. Monday to Thursday; 11 a.m. to 10 p.m. Friday and Saturday; closed on Sundays. 
352.460.0097
leesburgcrabstop.com
Originally from Anderson, Ind., Theresa worked for The Herald-Bulletin for many years. After experiencing a winter with 53 inches of snow, her late husband asked her to get a job in Florida, and they headed south. Well known in the area, Theresa worked with The Daily Sun and The Daily Commercial prior to joining Akers.
Share This Story!