Fork on the Road: To tapa things off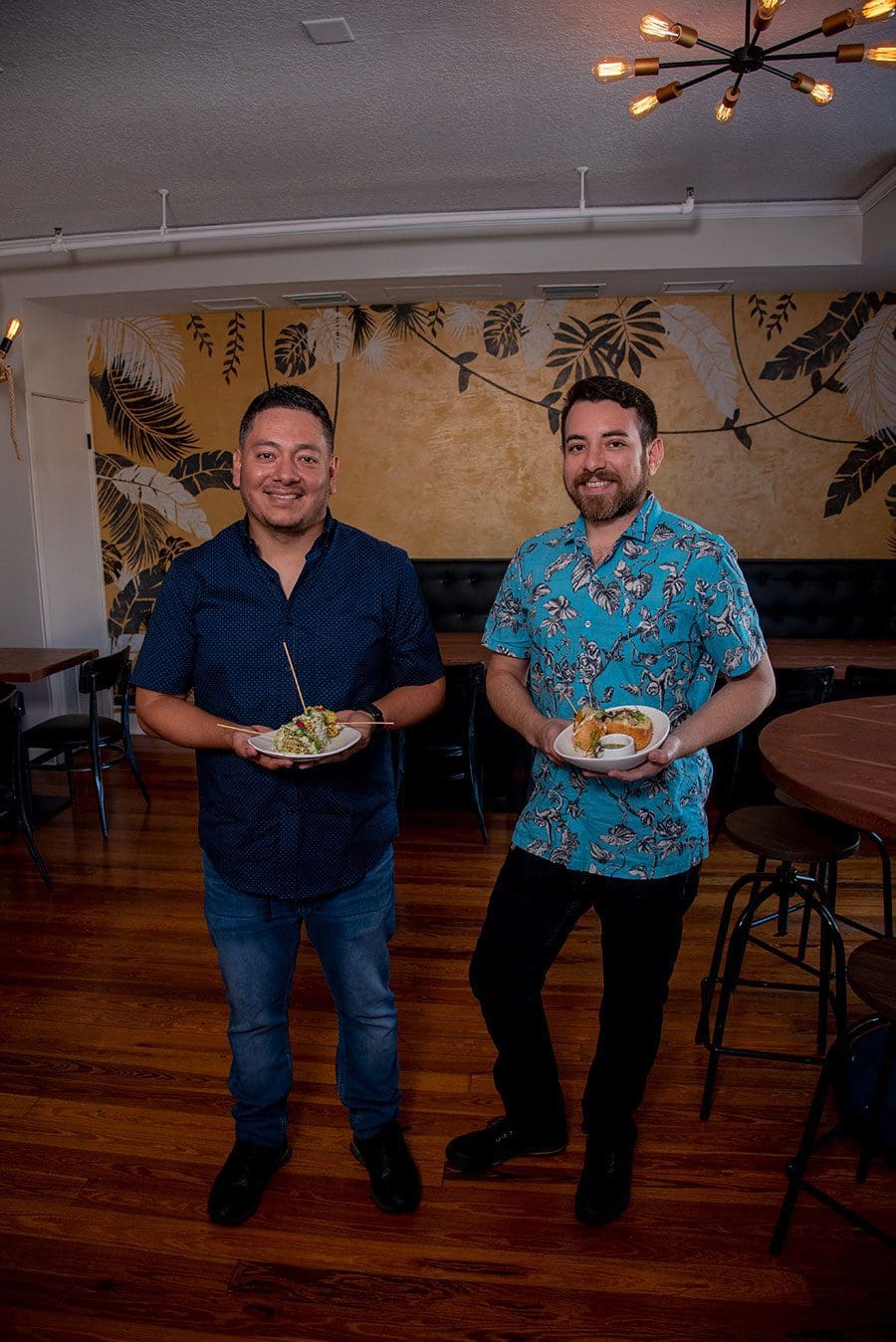 Mount Dora eatery offers tasty introductions to exotic foods and faraway cultures.
Photos: Nicole Hamel
Rodrigo Morocho and Mario Penaherrera go back a long way.
They were roommates more than 25 years ago, and today, not only are they still best friends, but brothers-in-law (Mario's sister married Rodrigo), and business partners.
Their first venture was in 2019, when they took over as owners of the already established Frog and Monkey Restaurant and Pub, and in March 2021, they opened the doors to the Funky Monkey Gastropub. 
The Frog and Monkey, which features burgers and other pub-inspired food, is located in the basement of what's known as the Renaissance building at 411 N. Donnelly St., downtown Mount Dora. The Funky Monkey, which offers globally inspired tapas, sharables, unique entrees, and cocktails, is located on the second floor of the same building, overlooking Donnelly Street in the space that previously housed The Loft.
"The Funky Monkey is our baby. The Frog and Monkey was a little bit different because we came in, made our changes, and kind of took over from where it was, but in this place, we created it from the ground-up, starting with the layout we wanted, to the décor, the plates, and presentation of everything we are serving," Rodrigo says.
The stars of the Funky Monkey menu are a wide array of tapas (a Spanish name for appetizers or snacks) and sharables based on street foods from all over, but with a Mario twist.
Mario, a chef for more than 20 years – including 10 years as executive chef for the Miami Dolphins – says he kept various cultures in mind when dreaming up each of his from-scratch recipes, prepared expertly at the restaurant by Head Chef Joey Cusmano and Pastry Chef Andy Bolin.
Rodrigo's wife Debbie Penaherrera is the restaurant's bartender and mixologist, and Mario's wife Maria Icaza is the general manager.
"Our menu's main focus is a trip around the world. There are items from Latin America to Japanese fusion, Mediterranean, and a little from Ecuador, South America, where we're both from," says Mario. "There's a little of everything." 
Two of the items that remind Mario and Rodrigo of home are the Ecuadorian street-style corn; grilled corn rolled in a cilantro queso sauce, garnished with lime and fresh cilantro, and the El Sanduchito; roasted pork served on a hard roll with lettuce, tomato, pickled onions and green pepper with mustard mayo, served with pork au jus. 
"We wanted to incorporate some of our culture and some of the foods we miss," Mario says. 
World culture is not the only theme. 
"We believe in the power of the (Cannabis) plant, and we embrace the 4/20 culture. It's kind of a subculture we are going with and we're getting a good response from the younger crowd," Mario says.
With that in mind, the restaurant opens most days at 4:20 p.m. Happy Hour goes to 6 p.m. and includes $4.20 specials and selections like the Pineapple Express, a fried chicken sandwich named after the Cannabis strain of the same name. Mario says the sandwich shares a similar flavor profile and is made using the plant's terpenes, hot sauce, and locally sourced pickles on a Hawaiian sweet roll.
As vendors are secured, the restaurant will also offer different types of CBD infused beers, cocktails, and lemonade.
"It's a culture and a background that we kind of associated with and it's becoming more mainstream, so we're tagging onto that with more and more places serving CBD drinks and stuff like that. We are looking to incorporate more of that," Mario says.
Style Photographer Nicole and I tried the Pineapple Express sandwich and were taken by the unique flavors in every bite.
We also tried the street corn and pork sandwich, plus the Patatas Bravas, fried potatoes with a spicy tomato sauce, saffron, aioli and microgreens, and the Avocado Hummus, served with a mélange of fresh vegetables, plantain chips and flatbread garnished with lemon oil.



To top things off, we had the Monkey Bread Tres Leches, described on the menu as "cinnamon sugar tossed biscuit dough dunked into a three-milk mix, served with house-made raspberry caramel, frog jam, and whipped cream," that was beyond heavenly.
"Every time I think one thing is my favorite, I taste the next thing and I change my mind," says Nicole. "Everything just tastes great."
What I enjoyed most was the corn because it reminded me of the street fairs in Arizona where I grew up.
The roasted corn stands there always had the longest lines, but the corn at the Funky Monkey, with the cilantro queso sauce that clung to every kernel, took it to a whole other level.
Sitting at the bar near us, Mike and Nancy Kielman, visiting from the Florida Keys and enjoying a couple of drinks and some tapas, were equally impressed with the Tuna Tostada and Mediterranean Lamb Chops.
"Sometimes, things in pictures or when they are brought out, look good then don't taste good, but in this case, everything we had tasted just as fantastic as it looked," says Mike.
Of their food, Nancy says, "It was picture-worthy."
Night owls will be happy to know that the Funky Monkey is one of few restaurants in town that stays open late and serves food until closing, although it is closed Mondays and Tuesdays.
On weekend evenings, there is live music and a DJ, and a weekly Sunday brunch complete with pancakes and other tasty food selections, unlimited Mimosas and Bloody Marys from 11 a.m. to 4:20 p.m.
Rodrigo says he's most proud of the experience the Funky Monkey offers.
"We're not trying to say we're a classy or fancy restaurant; but we want to offer more elevated cuisine," Rodrigo says. "We care so much about the food and when it's served to our customers, we want it to appeal to all five senses, from the way it looks and smells to the way it tastes and feels in your hand."
---
The Funky Monkey 
411 N. Donnelly St., Suite 212, Mount Dora
Hours: 4:20 p.m. – 11 p.m. Wednesday and Thursday; 4:20 p.m. – 1 a.m. Friday; 3 p.m. to 1 a.m. Saturday; 11 a.m. – 4:20 p.m. Sunday; closed Mondays and Tuesdays
352.720.3279
funkymonkey.co
facebook.com/thefunkymonkeygastrobar
Originally from Nogales, Arizona, Roxanne worked in the customer service industry while writing independently for years. After moving to Florida in 1999, Roxanne eventually switched her career path to focus more on writing and went on to become an award-winning reporter for The Daily Commercial/South Lake Press newspapers for 16 years prior to coming on board with Akers Media as a staff writer in July 2020 – her dream job come true.
Share This Story!