FORK ON THE ROAD: One shell of a restaurant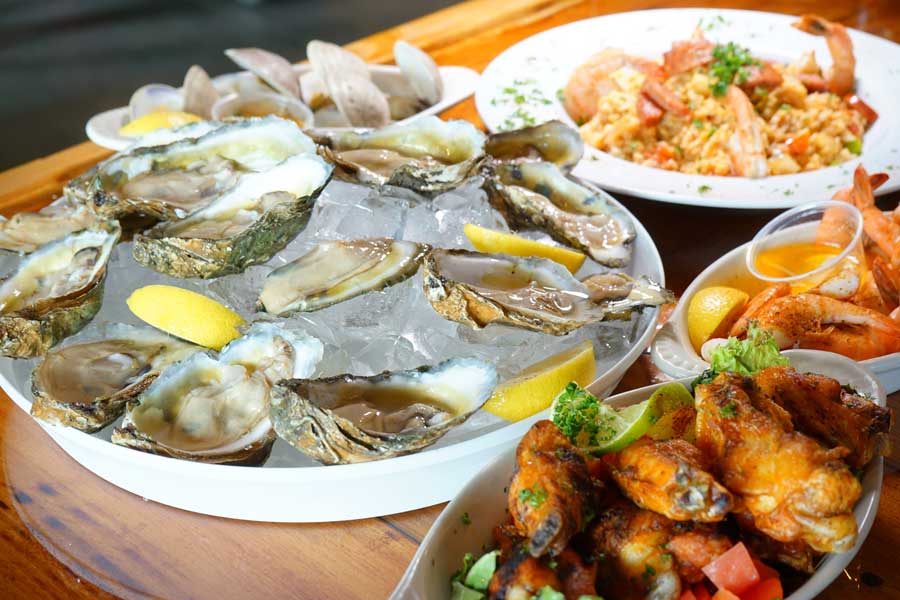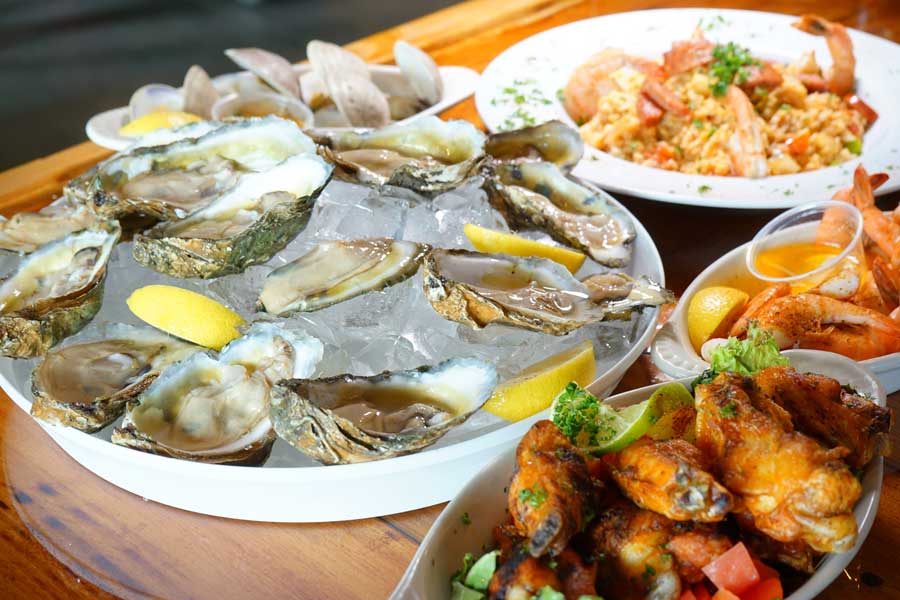 ---
PHOTOS: Fred Lopez
---
Stunning scenery, great conversation, New Orleans-inspired food and succulent oysters give locals plenty of reasons to visit Shuck Dat.
There aren't too many places in Lake County where you can enjoy delicious Cajun food with a side of fresh air and a fulfilling breeze.
Shuck Dat Oyster Bar at the Cajun Quarter is one of the few.
In downtown Tavares, the open-air restaurant allows visitors to observe spectacular sights while feasting on a delicious meal. Vibrant sunsets reflect off Lake Dora, tour boats glide across the water and seaplanes fly effortlessly like birds before making a smooth landing.
The restaurant, which opened last August, is run by managers Jim James and Chris Clark. They decided to bring something entirely different to Lake County by offering an oyster bar as well as soul-satisfying, New Orleans-style food.
The charming décor inside the main dining room instantly transports diners to the Big Easy. Green and orange Mardi Gras masks hang from the ceiling, while paintings of jazz musicians decorate the walls. In the rear is a wooden bayou shack, the kind seen throughout Louisiana's swamp country.
Many eat-oysters-raw aficionados dine inside the cheerful, energetic oyster bar room, which features a 20-seat horseshoe-shaped bar. Guests strike up spirited conversations while ordering their favorite beer or alcoholic beverage. When empty oyster shells pile up on their plate, they slide them over the bar into a trough. This isn't considered impolite or uncouth here; it's normal manners at an oyster bar.
The oyster bar is also where guests can observe the talent of Chris, who is undoubtedly Lake County's hero of the half-shell. Chris has been shucking oysters for 15 years and performs his craft with incredible speed and skill.
His secret?
"It takes practice," he says. "Lots of practice. Not only do you have to make oysters easy to pull off the shell, you also have to make oysters presentable so people are excited to eat them."
Indeed, Chris' oysters arrived at my table in grand style, served in a circular white tray and pressed against ice cubes. My mouth watered as I stared at the plump oysters glistening in their shells. I decided to eat one like an oyster purist: raw, without any seasonings or sauces. I immediately felt the cold, soft and creamy texture on my tongue, and as I began chewing, the flavors of the moist, tender oysters burst into my mouth.
Of course, I quickly reverted to my "construction project" method of eating oysters. I used a small fork to detach the oyster from its shell and put it on a cracker, which serves as the base. The "glue" is cocktail sauce, which nicely holds everything else in place. I then add the other pieces that fit nicely together —  horseradish sauce, hot sauce and, finally, the oyster. That's certainly an interesting combination, but it works very well together. I learned the hard way it is best to go light on the horseradish sauce.
"Everybody has a very ritualistic way to eat oysters," Jim says. "Nobody is the same."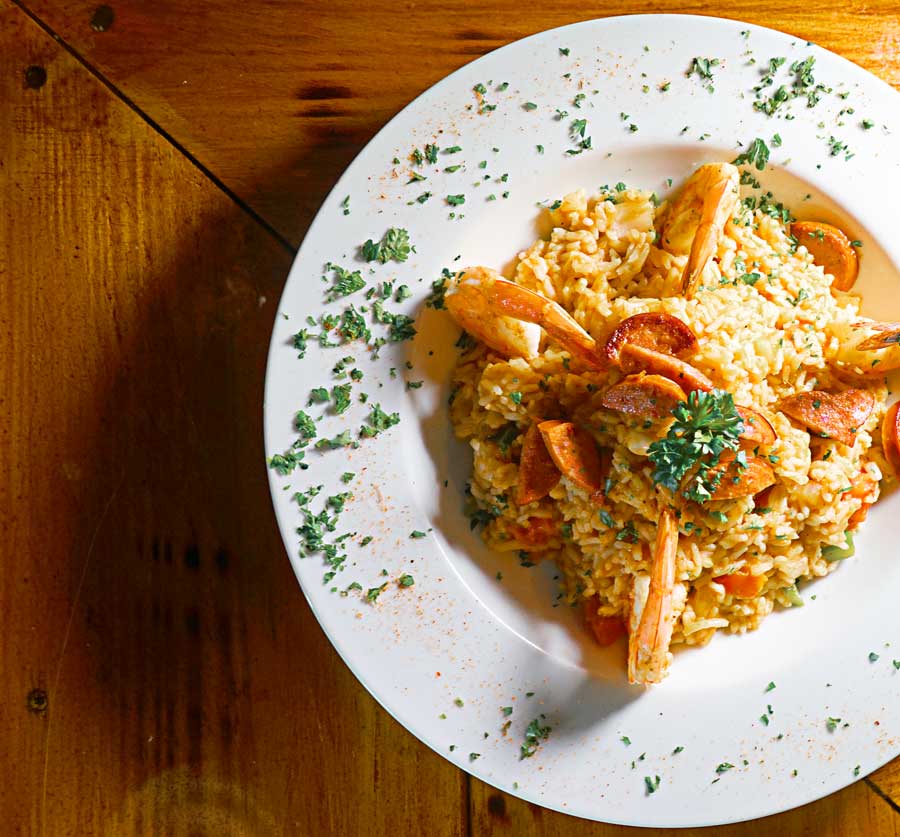 Satisfied with my oyster fix, I decided to order the restaurant's most popular dish, jambalaya. It features seasoned rice with Cajun chicken, jumbo shrimp, Andouille sausage, bell peppers and onion. Cajun seasoning is sprinkled around the entire plate. If you like lots of flavor and spice in your meal, the jambalaya delivers. This tasty, well-blended dish leaves a back-of-the-throat kick that is not overly potent. The staff will gladly "bring the heat" by adding more spices if requested by diners.
I also tried another popular dish: shrimp and andouille cheddar grits. This dish includes jumbo shrimp,  Andouille sausage and fresh vegetables sautéed in a creamy tomato sauce topping a bed of cheddar grits. As the plate was being delivered to my table, patrons gawked at the culinary showpiece. While the shrimp were juicy and plump, the real surprise for me was the grits, which had a silky, smooth consistency rather than overly thick and lumpy.  The accompanying homemade etouffee sauce adds a nice sweetness to the dish.
I was stuffed, but I already know what I'll order next time I visit. First, I'll get the chicken wings, because I'd like to try several of Shuck Dat's 15 homemade hot sauces.  I'll also come on Thursday for the prime rib dinner, which includes a 12-ounce prime rib, baked potato, fresh vegetables, side salad and dessert for $15.95.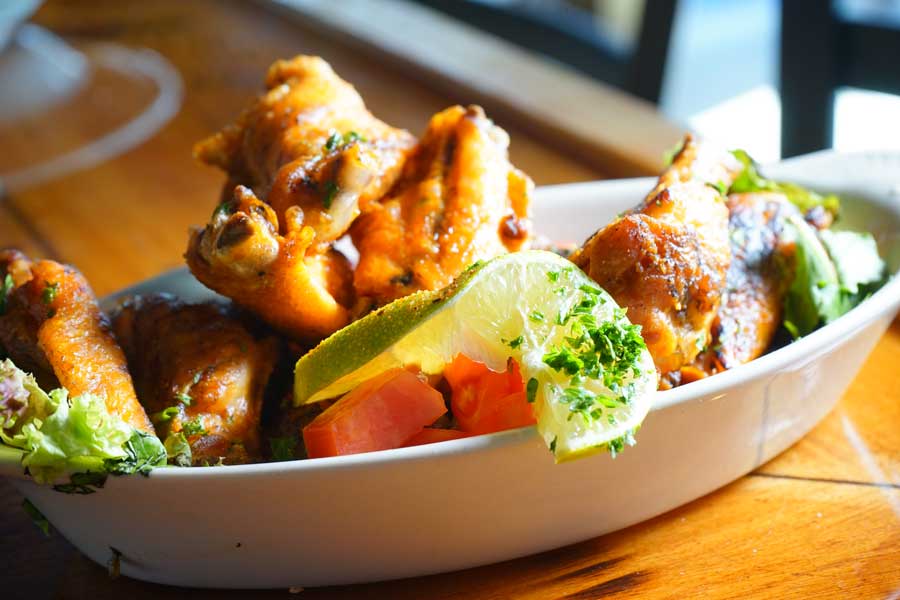 As I looked around, I realized the delicious food was not the only thing that attracts patrons to Shuck Dat. Sports enthusiasts come here to watch their favorite team on one of 13 television sets. The restaurant has sports packages such as NFL Sunday Ticket, the SEC Network, the Big 10 Network and College Game Plan. There's also a game room featuring two pool tables, two dartboards and Golden Tee Golf.
"I love coming here because I'm a big fan of New Orleans, and this is as close as you're going to get to it," says Lori Pfister, Tavares' vice mayor. "I'm also a big fan of the restaurant's fried green tomatoes. You can always come here and strike up a conversation with people you haven't seen in a long time. This restaurant has a wonderful atmosphere."
---
Address: 118 W. Ruby St. Tavares 32778
Phone: 352.530.0202
Popular Dishes:
(Lunch) NOLA Jambalaya Pasta: $7.99;
Fried Green Tomato BLT: $7.99
(Dinner)
Shrimp, Oyster or Catfish Po Boy: $12.50;
Cajun Shrimp Linguine: $15;
Shrimp Etouffee: $13.50
---
Akers Media Group's James Combs has been a staff writer for several local publications since August 2000. He has had the privilege of interviewing some of Lake County's many fascinating residents—from innovative business owners to heroic war veterans—and bringing their stories to life. A resident of Lake County since 1986, James recently embarked on a journey to lead a healthier lifestyle. He has lost 60 pounds and walks nearly five miles a day. In his spare time, he enjoys target shooting, skeet shooting and watching his beloved Kentucky Wildcats!
Share This Story!