FORK ON THE ROAD: Taste of Thailand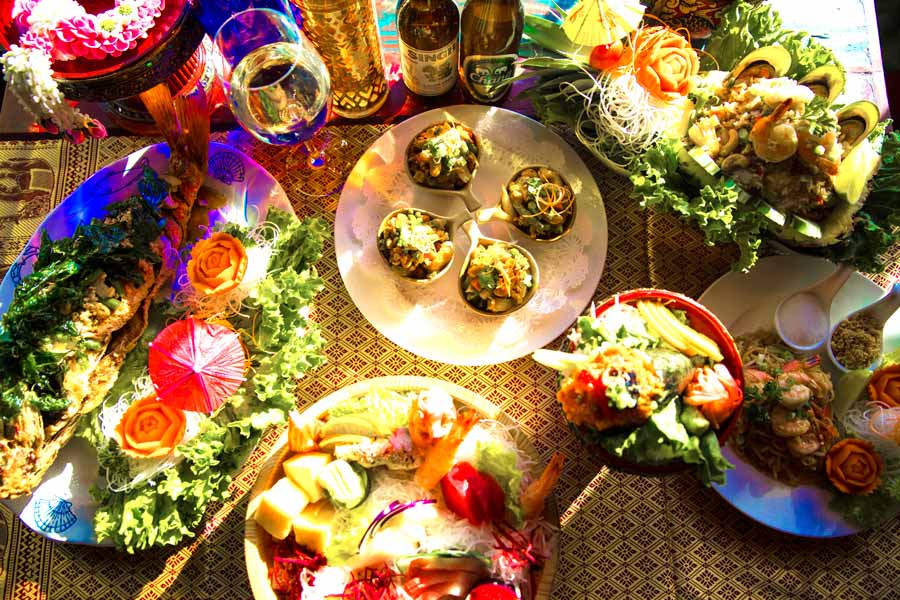 ---
PHOTOS: Cal Gaines
---
Zab Thai brings flavors of the Far East to South Lake
When the mood for something international strikes me, it can oftentimes be hard to find a local restaurant that quells my hunger. After all, I don't consider Americanized Italian or Mexican food to be "exotic," though I have nothing against it.
Therefore, when I heard an authentic Thai restaurant had opened in Clermont, I knew I would have to pay a visit and see just how authentic the cuisine really was.
Admittedly, if you're not paying attention, Zab Thai can be easy to miss; it sits at the corner of Citrus Tower Boulevard and State Road 50, but busy traffic and a slew of other businesses hurt the restaurant's visibility.
Nevertheless, once you find Zab Thai, be prepared to be captivated. The décor comes straight from various southeast Asian countries, including Cambodia, Indonesia, Myanmar and, of course, Thailand. The beautifully rich color scheme and furnishings create an ambiance that is luxurious yet inviting. It was the perfect setting for a casual lunch with one of my dearest friends. Yet, instead of catching up, we kept fawning over the extraordinary setting and equally impressive menu.
Zab Thai is owned by Kasidis Charoenmitr and his wife, self-taught chef Pattama Thummanam Charoenmitr. For the past 15 years, the pair successfully ran Ayothaya, a Thai restaurant in Orlando that has received many first-place awards from the prime minister of Thailand and been featured in several "Best of the Best" lists for Thai food throughout the U.S.
The decision to open a restaurant in Clermont was sparked by a visit to the area.
"I love the beautiful landscape," says Kasidis. "The hills, the lakes … it's a very quiet area. Plus, I love the Clermont people."
In the kitchen, Pattama runs the show since many of the restaurant's dishes are her personal recipes. In the front of the house, general manager Albert Chin Jr. keeps on top of things.
Chin's resume is impressive; he helped open a number of restaurants in the New York/New Jersey area, including celebrity chef Guy Fieri's Guy's American Kitchen & Bar in Times Square. He's also rubbed shoulders with notable chefs such as Mario Batali, Emeril Lagasse and Giada De Laurentiis.
Chin will tell you in a New York minute that he joined Zab Thai because of its authenticity.
"We don't dumb down flavors for the American palate," he says. "What you get are the true flavors and tastes of Thailand."
Shifting through Zab Thai's menu can be a little overwhelming because it is extensive. Therefore, while I waded through pages of seemingly endless options, I placed my drink order for a Thai iced tea. If you love horchata, then you will appreciate Thai iced tea. It has a smooth, very sweet flavor with just a hint of smokiness. Also known as "cha-yen," it is made from strongly brewed Ceylon tea mixed with signature spices and topped with half-and-half, giving it its distinctive creamy bright orange appearance.
For my appetizer, I settled on shrimp fresh rolls. Served with a delightfully creamy homemade peanut sauce, the rolls are made using steamed rice paper wrappers filled with boiled shrimp, fresh vegetables, Thai herbs and rice noodles. I also tried an appetizer of crabmeat stuffed inside tofu sheets. It was tasty, but I enjoyed the shrimp roll much more. It was very fresh and the peanut sauce was a great touch.
I also recommend the tom kha chicken soup. This classic aromatic soup contains quintessential Thai ingredients: coconut milk, lemongrass, galangal, kaffir lime leaves and more. With a choice of mild, medium, hot or Thai hot, I settled on medium as to not test my heat threshold. Overall, I found the savory soup to be quite satisfying and incredibly complex in flavor. It had good heat and a silky consistency that I liked. I will certainly order it again.
When it came time to order my main dish, I settled on curry. And while yellow curry is always my safe bet, I decided to be a little daring and ordered massaman curry with chicken.
In my research, I learned massaman curry is a Southern Thai curry that is mild but still full of flavor thanks to the addition of red chili paste, coconut milk, yellow onion, carrots and potatoes. In 2011, CNN declared massaman curry the "World's Most Delicious Food" and I can see why. Though I remain loyal to my first love, west Indian curry, the spicy, nutty yet sweet curry was pleasant and paired well with the tender white chicken it accompanies. It is served with steamed white rice, which means it is quite filling.
However, I left just enough room to sample my friend's sushi roll: the Ulala. It's a deep-fried roll filled with tempura shrimp and tuna, spicy mayo, and avocado and topped with spicy mayo, eel sauce and red and black roe. Though I tend to be a fan of the more traditional raw sushi, I found the Ulala to be enjoyable.
Be forewarned that you may have to shell out more than you're used to paying at Thai restaurants that aren't in the same league as Zab Thai, even though they just recently lowered their prices. But it's worth a few dollars more because you're paying for fresh, authentic cuisine you can't find anywhere else in Lake or Sumter counties. I'm hoping Clermont embraces this new venture with open arms (and empty stomachs). And if anything, it's worth the diversity it brings to the local food scene.
---
Address: 1660 E. State Road 50, Clermont, FL 34711
Phone: 352.242.1314
Hours of operation: Monday–Thursday, 11a.m.–11p.m.; Friday, 11a.m.–11:30p.m.; Saturday, Noon–11:30p.m.; Sunday, Noon –11p.m.
Popular Dishes:
Pad Thai with Chicken: $15.95
Massaman Curry with Beef: $15.95
Spicy Duck: $25.95
Tuna Roll: $7.95
Sweet Sticky Rice with Mango: $8