Friday Night Lights Football Preview 09.30.2022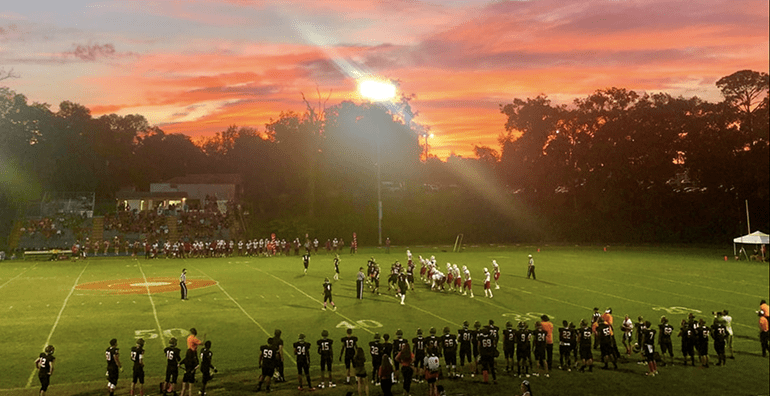 Wacky Weather Upends Lake & Sumter County Football Schedules
Well it's that time of year folks! Hurricane Ian has thrown a curveball at the Friday Night Lights Football Schedule for this weekend. We look forward to all of the matchups including a massive game at Mount Dora High School on Monday between two district rivals. While you hopefully don't have too much clean up to do, we have some great football games to be played so lets showcase them to you! 
Game Of The Week Spotlight
Umatilla Bulldogs @ Mount Dora High School: Monday | 6pm
This game was originally scheduled for Friday night but due to Hurricane Ian has been moved to a special edition of Monday Night Lights! This game was scheduled as our feature game of the week and it will be just that! Two district rivals going up against one another. Both teams come into the week 2-2 on the season. The Hurricanes of Mount Dora are coming off a massive victory against South Lake where they beat the Eagles 48-47 in one heck of a contest. Meanwhile Umatilla is coming off a bye week and should be well rested. They are coming off a 20-8 win vs Tavares two weeks ago so they should be ready to roll when Monday night comes. 
Mount Dora comes into Monday night boasting one of Lake and Sumter Counties best Quarterbacks. Senior QB #3 Matthew Butler has had one stellar season so far. He is the kind of player anyone would want leading the offense. Butler has attempted 49 passes for 24 completions this year throwing for over 524 yards in just 4 games so far. All of those passing yards have resulted in 8 throwing touchdowns so far this year. That is very impressive especially for The Hurricanes who have only won 7 total football games in the last 3 years! They are already off to one of the best starts in recent program history.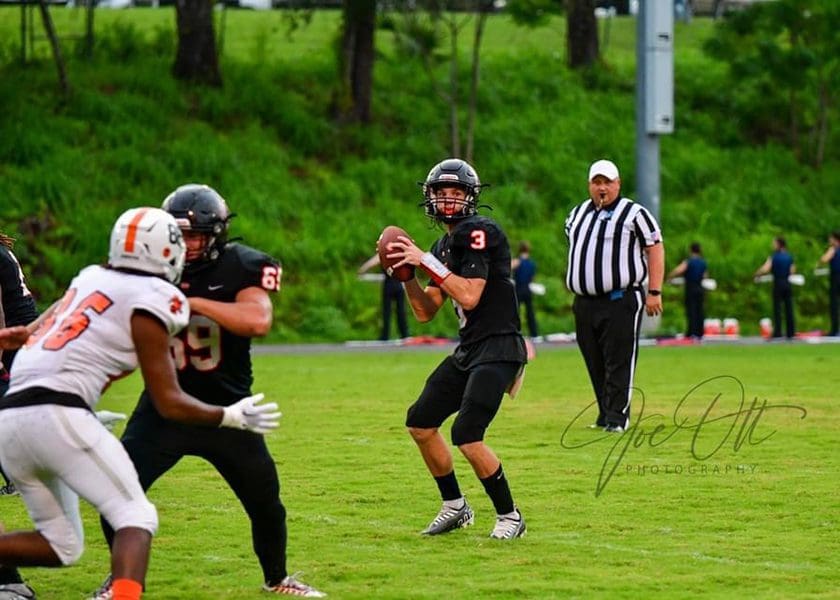 This is thanks to in part by first year head coach Luke Hutchinson. I had the chance to talk to Coach Hutchinson on the phone and the demeanor and the way he envisions this programs future is paramount. He has turned around a Mount Dora Football program that was fledgling the past few years. The players believe in his coaching abilities and the program believes in coach Hutch. I don't think in the past 5 or 6 years we have seen as big of a gain in a program than The Hurricanes and they deserve every amount of praise. Even to be at 2-2 this season is a tremendous accomplishment so far.
But coaching only plays part of what makes a team great. The players are what truly make or break a team and so far The Hurricanes have had some true offensive and defensive weapons! We talked about Senior QB Matthew Butler throwing for 8 touchdowns but Senior Running Back #2 Dante Johnson-Turner is stealing the show! He has an impressive 102 carries so far this season averaging 7.6 yards per carry. He has 7 touchdowns this season and is approaching 800 yards total on the ground. He has the potential to get to 900 yards in only 5 games on the season potentially on Monday Night which would be an incredible feat. Turner has been mowing down defenders lowering his powerful body and displaying some of the best running we have seen form a Mount Dora Running back in potentially a decade he also has 1 receiving touchdown this year adding his offensive total to 8 touchdowns equalling QB Matt Butler.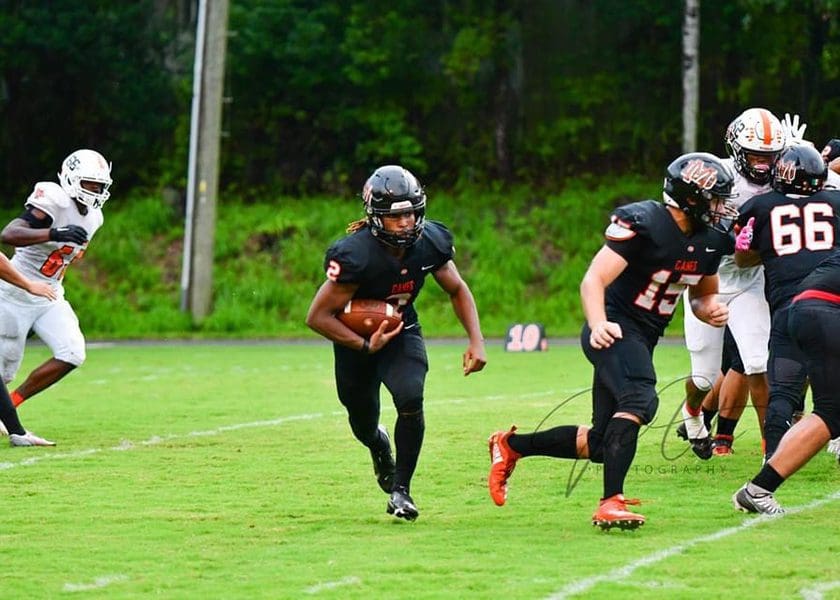 Perhaps Matthew Butler's favorite thing is to throw the football downfield and he has successfully done that this season without throwing an interception. The discipline has been highly evident this year. Sophomores #5 Tanner Waring and #7 Zyshonne Perry have combined for 25 receptions this season totaling over 400 yards of receiving. The two of these hard working wide outs have combined for 7 total touchdowns this year with Waring leading the way with 5. Waring is averaging 19.3 yards per reception so far this year and when he gets into the open field he's one of the hardest wide receivers to catch let alone bring to the ground. Umatilla will be hard pressed to keep these wide receivers at bay as The Hurricanes look to win a 3rd football game this season. In fact the last time Mount Dora High School Football had a winning season was back in 2017! Thats 5 years since this school has had an above 500 record and this team wants more than any other Hurricane team we have seen recently.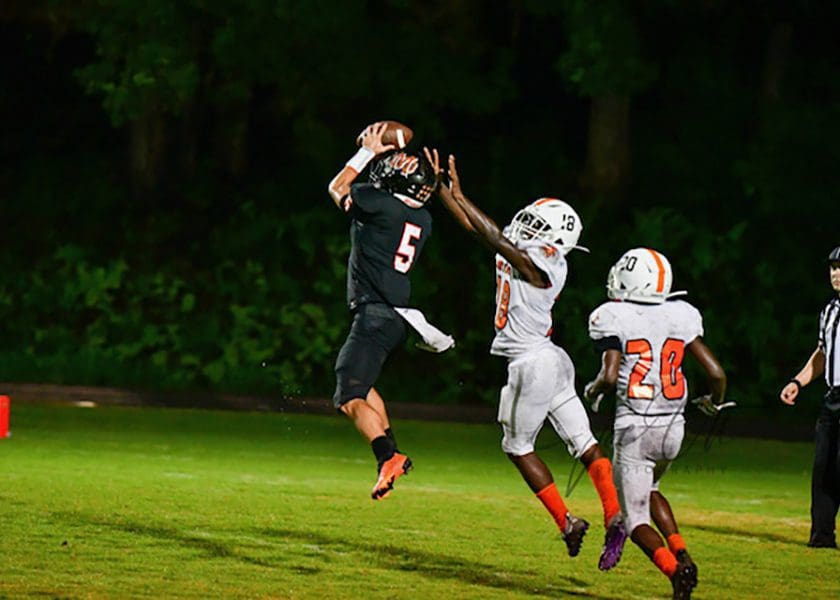 As for The Defense Mount Dora is lead by Junior Defensive Tackle #15 Russell Fickett. The 6'1 220lb DT has been striking fear into offenses this year. He has 38 total tackles this year which leads the team and also leads the team in sacks. This is one player you want to look out for if your an offense because he can cover a lot of ground quickly. He is one of the quickest DT we have in Lake & Sumter County and the results show. Fickett also gets plenty of help from Senior Cohen O'Hara who has also made an impact on the defensive side of the ball. His 33 tackles are second to Fickett and if Umatilla plans to run on The Hurricanes getting through both of these defenders will take a lot of work from the offensive line.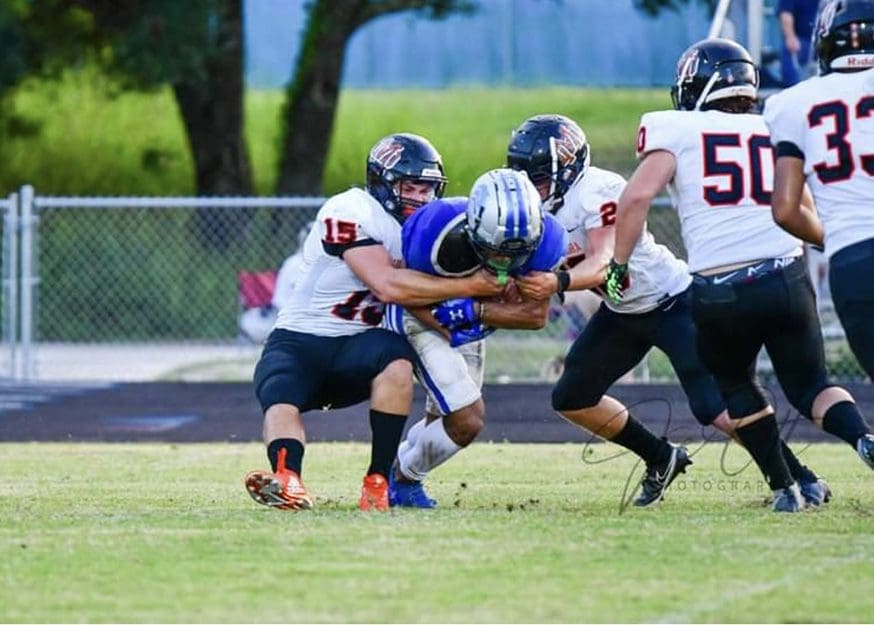 As for Umatilla they come into the contest without a true starting Quarterback. Both Junior Quarterbacks #1 Logan Bowling #3 Troy Saladin have both shared the QB duties through 4 games this year. Both QBs have very similar statistics with Bowling throwing for 226 yards with 2 touchdowns and Saladin throwing for 129 yards with 1 touchdown so far. Saladin appears to be more of a run type QB and is also used as the teams leading rusher. A hybrid QB/RB Saladin has 2 rushing touchdowns so far this year with over 267 yards on the ground. 
As far as receiving is concerned for the Bulldogs #2 Mekhi Benn the 6'4 185lb Senior leads the team with receptions. His large presence will be a challenge for Mount Dora to overcome. He almost always has a size advantage over his opponents so look for Umatilla to take some deep shots downfield to him for some 50/50 balls in this game. Benn has 3 touchdowns and over 216 yards receiving so far in 2022. 
Umatillas defense appears to be finding its footing this year. After giving up 49 points to Palatka earlier this year the past two games the past 3 games they have only given up 42 points total. Look for Umatilla to come out strong and try and force Mount Dora into some mistakes. They will be looking to make something happen because Mount Dora takes care of the football. The defense will need to work extra hard if they want to cause any disruption in this one. 
Overall this is a fantastic matchup and its out matchup of the week. We hope to see plenty of you out at Mount Dora for this amazing matchup and an important one at that. We haven't seen a Hurricane team this good in a long time in Mount Dora. They deserve the support and we hope all the students, faculty and locals show up to support Luke Hutchinson and The Mount Dora Hurricanes.
Player Highlight
Mount Dora Hurricanes | Senior Running Back | #2
DANTE JOHNSON-TURNER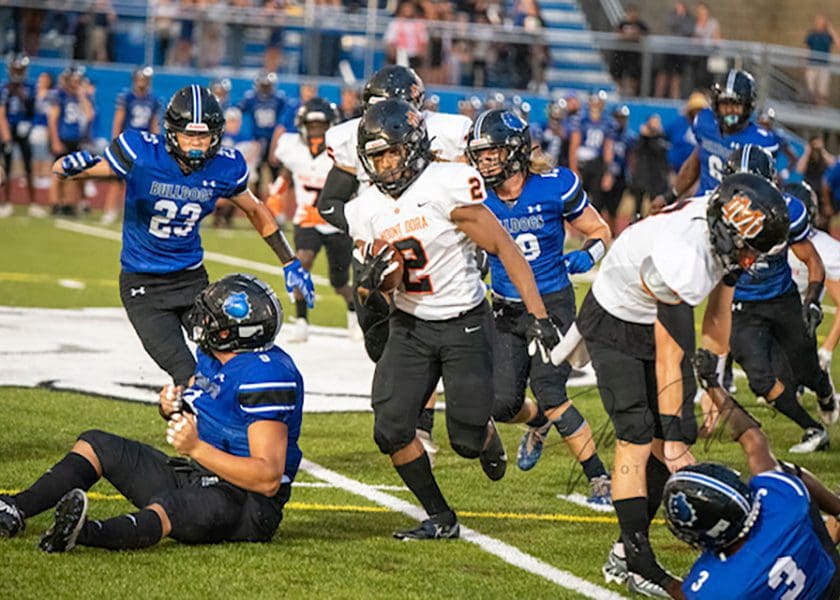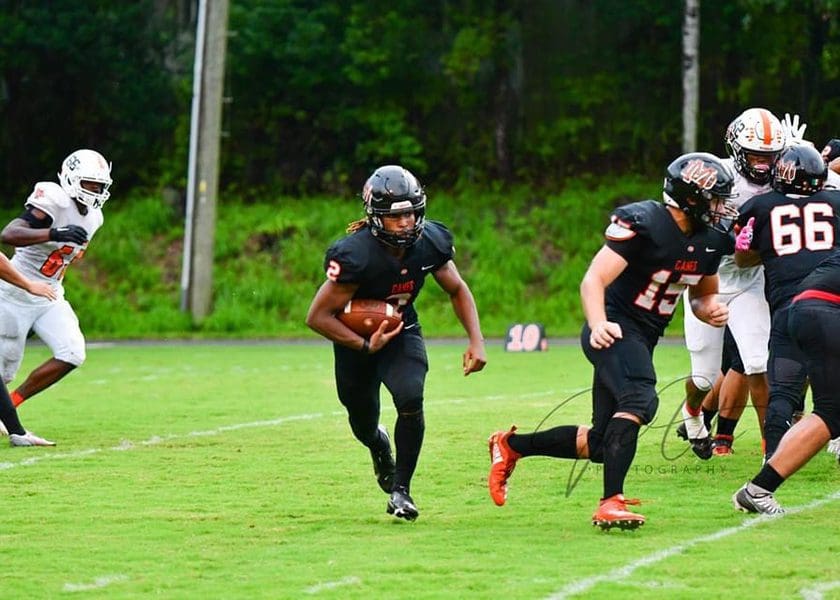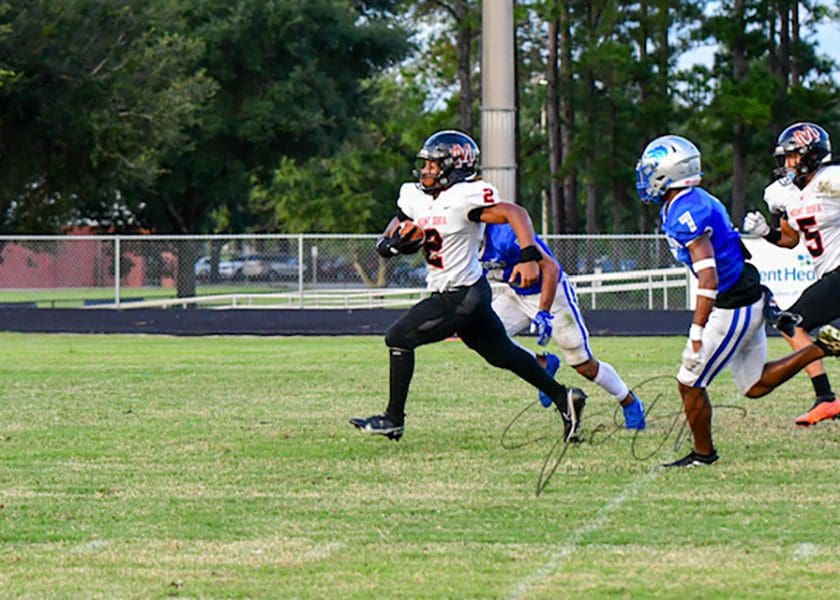 Dante Johnson-Turner is one of the few running backs in Lake & Sumter County to already have  over 800 yards on the season. Turner has 771 yards on the ground and 85 through the air through just 4 games. Those are insane numbers especially for a Mount Dora High School team that hasn't had a threat like Turner in the past. He has already carried the ball over 100 times and is averaging 7.6 yards per carry. If you're an opposing defense and you see this guy staring at you in the face on the other side of the ball, get ready for a rough day at the office. Turner along with fellow QB Matthew Butler lead the team in Touchdowns with 8 a piece. Seven touchdowns on the ground with 1 scored through the air. 
Turner is the kind of running back you want on your team. The statistics don't lie, this guy not only is having a career year but last year he only had 4 touchdowns total on the season. This year he has 8 so far! That is a 100% increase in production from this senior. He rivals running backs like Alvon Isaac for The Villages and Jamare Dorsey for South Sumter. All very similar backs with different speed and sizes that set them apart. But what truly sets Turner Apart is his speed. At 5'7 184lbs his small but agile frame allows him to blow past defenders. And who says being small is a bad thing? Think of J.J. Taylor who stand 5'6 and plays for the New England Patriots or Boston Scott who is 5'6 and plays for The Philadelphia Eagles. Even Darren Sproles was 5'7 and he was one of the greatest of all time. That being said size matters not and Turner is a estimate to that. 
Turner will go down in Mount Dora High School as one of the all time great running backs to come through the program. He has already proved that. But can he continue his fantastic play this season and potentially give The Canes their first winning season in 5 years? Time will tell but this guy absolutely deserves the spotlight this week. We wish Mount Dora the best of luck in a tough matchup against Umatilla!
This Week's Matchups
Game Times Changed or Cancelled
Well what a strange week! Kudos to all the Athletic Directors for figuring out all the rescheduling of these games. They have some of the toughest jobs at a High School. No matter who your athletic director is make sure if you see them at your local game this upcoming week to tell them thank you for their hard work. It is no easy feat to move games around and this week was one of the most difficult since Hurricane Irma in 2017. We hope to have some awesome games Monday Night and we hope that you all made it through the storm with minimal damage. We will have a full wrap up for you likely Tuesday Afternoon!
Kyle Coppola was born in Newton, Massachusetts and received his Bachelor of Fine Arts in Communications from Curry College in 2016. After traveling to Florida on a family vacation, he decided he could not get enough of the warm weather and made the move from snowy Massachusetts to central Florida 8 years ago.
For the last decade Kyle has gained valuable experience in social media content creation, marketing and sales, writing, video production, sports announcing and even broadcasting for local radio stations, such as FM 102.9 in The Villages and FM 91.5 in Massachusetts. Every year he volunteers at The Villages Charter High School as a play-by-play sports announcer for the football games as well as a public address announcer for the basketball games, including the annual Battle at The Villages Tournament.
Outside the office Kyle is a husband and father to two beautiful girls along with their cat. In his spare time he likes to spend time with his family, travel, play golf and swim. He is also a huge sports junkie and even bigger motorsports fan and loves to attend racing events when he can.
Share This Story!