Friday Night Lights Football Preview 10.14.2022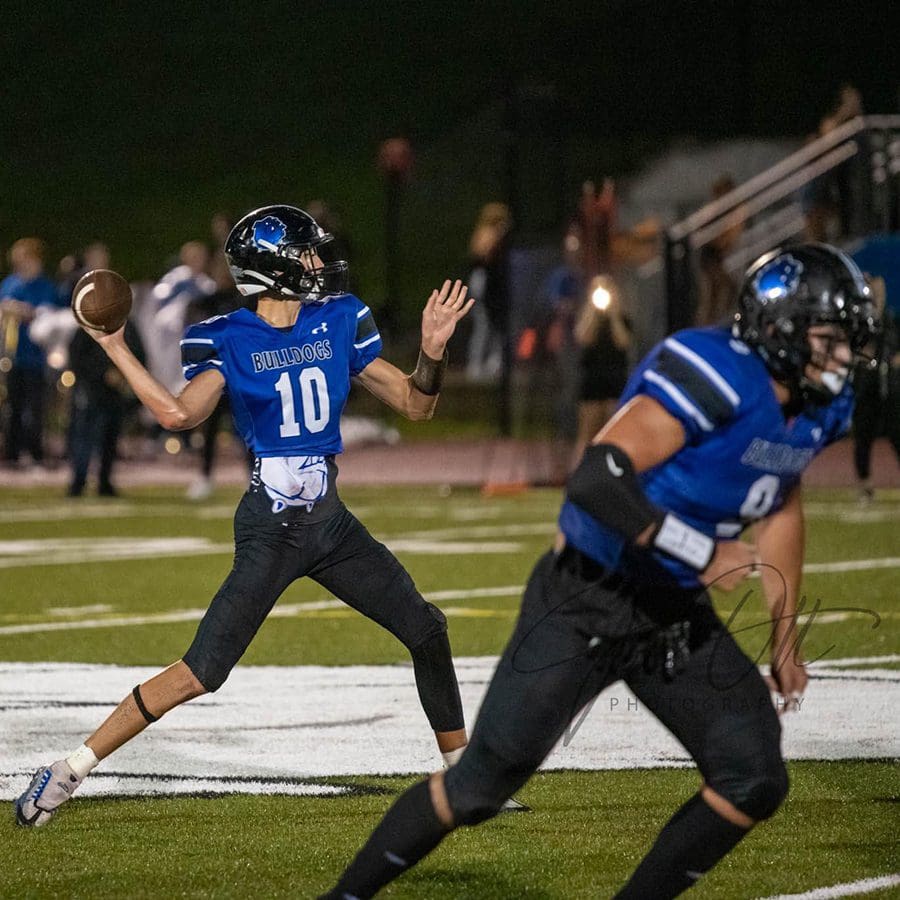 District Games! Playoffs On The Line! Huge Weekend Ahead!

 
This weekend should be an excellent slate of Friday Night Lights football games in Lake & Sumter Counties headlined by The Villages traveling to Mount Dora to take on the Hurricanes! Lets take a look at all the action slated to go down this weekend! 
Game Of The Week Spotlight #1
Mount Dora Christian Academy 3-2 @ Lake Highland Prep 5-0
Friday | 7:00pm
In what will be the biggest game of the season for The Bulldogs, they will need to bring their absolute A game in order to pull off this upset. MDCA comes into the contest sitting at 3-2 overall this season. The Bulldogs have wins against Mount Dora, Tavares and P.K. Yonge this season and this game will be a true test. Lake Highland Prep comes into the contest at 5-0 this season and are looking to stay perfect on the season. This is a home contest for Lake Highland so expect a big crowd and a loud one at that! 
MDCA comes into the game with Senior Quarterback #10 Joey Gomory leading the way under center. He has averaged 12.6 yards per throw this season. The Bulldogs however like to keep the ball on the ground and utilize their Running Backs. MDCA uses a running back by committee approach meaning multiple running backs see the ball during the game. Lead by Seniors #22 Dillon Gordon and #33 Isaiah Bryant, both of these backs have a combined total of over 800 yards on the ground and through the air. They also have Senior #4 Jeffer Johnson who compliments the backfield respectively. They will need a stellar game if they want to keep up with the high flying offense of Lake Highland.
The Bulldogs defense will be challenged but #56 Zsacari Minnis a 6'3 210lb Linebacker seems ready for battle. Minnis is a massive individual and anyone who lines up against him knows he means business. Minnis is only a Junior but he plays like he's in college. If Minnis can force Lake Highland into some turnovers anything is possible. Isaiah Bryant not only leads the team in rushing but also plays both sides on offense and defense. Bryant and Minnis combine for 66 of the teams tackles this season. Many of the MDCA players are utilized on offense and defense so fatigue could be a factor although weather this weekend shouldn't play too much of a factor. 
As for Lake Highland they come into this contest absolutely scorching hot. The Highlanders have outscored their opponents by a whopping 221-26! You heard that right! This team not only knows how to score but they also know how to get it done defensively. Through 5 games this team is averaging only giving up 7 points per contest. Two games this year have even been shut outs. The offense is lead by Junior Running Back Romelo Ware who has 8 touchdowns on the ground this season and looks to add to that total. The lead receiver is Camren Ware who is averaging over 25 yards per reception.
Defensively The Highlanders are lead by Nick Collins. The Freshman has 24 tackles this season and has looked good. Overall we should have ourselves a good contest. Don't let MDCA fool you, this team could potentially pull a big upset against Lake Highland. The hope for MDCA is that they get off to a quick start offensively. The Bulldogs will need to get points on the board if they plan to hang with The Highlanders. We know the defense has shown some prowess this season so look for MDCA to possibly play spoiler to Lake Highlands perfect season.
Game Of The Week Spotlight #2
The Villages 2-3 @ Mount Dora 4-2
Friday | 7:00pm
Perhaps the biggest game in Lake & Sumter County on Friday night is this one! Mount Dora comes into this game boasting their best record since 2016 and have the chance to get a massive district victory over The Villages Charter School. Can you believe The Hurricanes are 4-2? Just a few years ago this program was fledgling along and even had an 0-10 season. Coach Luke Hutchinson has turned the program around for The Hurricanes and if they are able to secure this victory, The Playoffs could be calling for the first time since 2014! 
The Hurricanes come into the game with one of the best running backs in the state! Senior Running Back #2 Dante Johnson-Turner has been turning heads this season! He has an incredible 18 touchdowns this season through just 6 games! He has now gone over 1,112 yards rushing and 85 through the air totaling almost 1200 yards total on the season! He has been the star The Hurricanes have needed and he's not finished by a long shot. The Buffalo defense has struggled to stop the run this season so this could be easy pickings for Johnson-Turner. Look for #2 to have a stellar game. 
But Johnson-Turner doesn't do it alone, he has one of the best Quarterbacks in Lake & Sumter County backing him up. Senior Quarterback #3 Matthew Butler has likewise impressed this season. He has amassed almost 1000 yards himself this year. Butler has 864 yards passing and another 100 yards rushing. Butler has 11 touchdowns this year which is second only to Johnson-Turner. Butler has utilized Sophomore Wide Receiver #5 Tanner Waring this season. Waring leads the team in receiving touchdowns and averages 17 yards per catch. He is approaching 500 yards though the air on the season.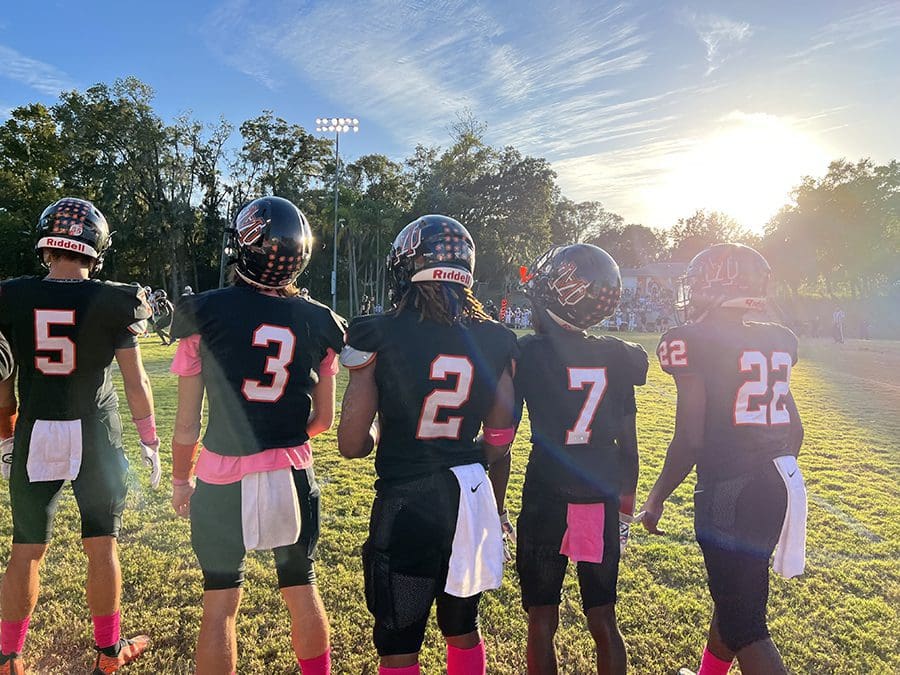 For The Villages this season has had its ups and downs so far. However a win could drastically change things for the better. This is a district game so if The Villages can get a win this would put them in great shape to potentially make a playoff run later this season. Junior Running Back #7 Alvon Isaac has over 15 touchdowns on the ground this season. Isaac's last 2 out of 3 games have been terrific as he has scored 5 touchdowns in at least two of those games. Junior Quarterback #2 Danny Bitting will need to have a big game if he is to compete with Mount Dora's Offense.
Something we have noticed is that Mount Dora is exploitable on Defense. This is where The Villages could take advantage. Junior Linebacker #15 Russell Fickett and Senior #20 Cohen O'Hara lead the team in tackles and have a combined 96 total tackles on the season. These two have been a huge asset to The Hurricanes this season and although Mount Dora has struggled keeping teams from scoring these two will need a huge game against a stout Villages offense.
This game is one of the most important games for The Hurricanes since at least 2014. People have had their jaws on the floor this year and no one expected The Hurricanes to do what they are doing. This team hasn't been relevant since I graduated High School back in 2012 and has only managed to average 2 wins per season since 2011. This team has 4 wins so far! Even if Mount Dora lost this game they have nothing to hang their heads about. We believe The Hurricanes actually hold the edge in this game and if The Hurricanes win against a powerhouse program like The Buffalo we truly believe this team can and will make The Playoffs. Consider this a playoff game! If you are in Mount Dora please show up and support this program. They deserve it!
Mount Dora Hurricanes | Sophomore Wide Receiver
#5 TANNER WARING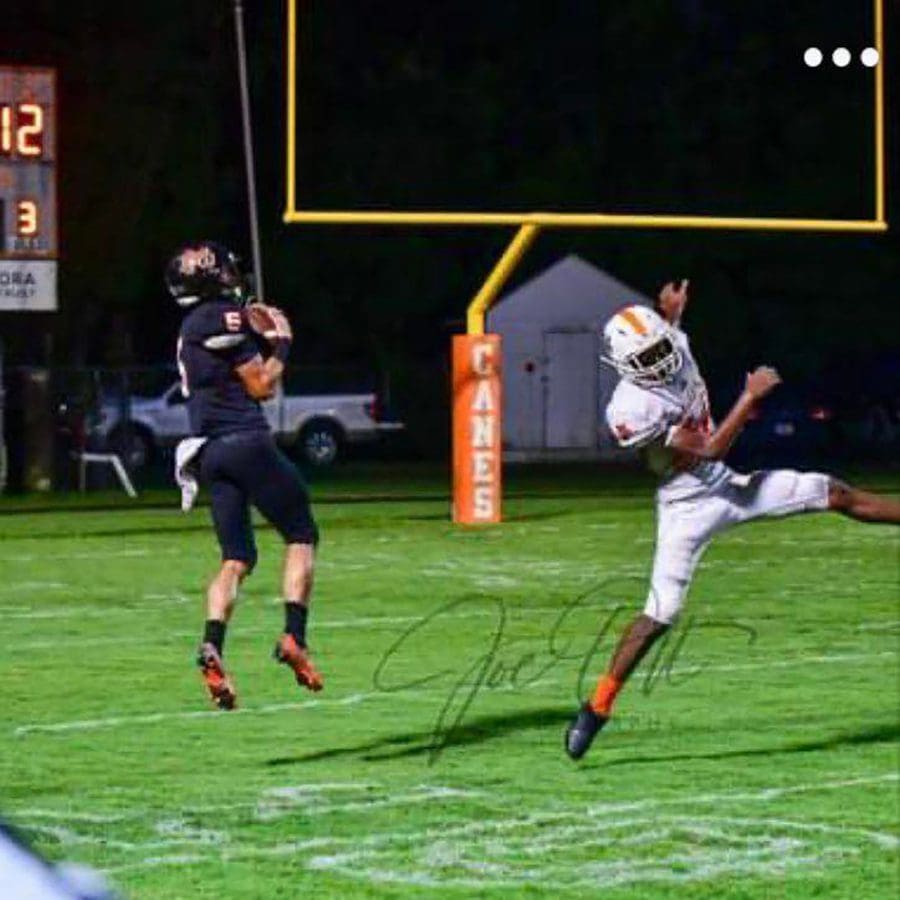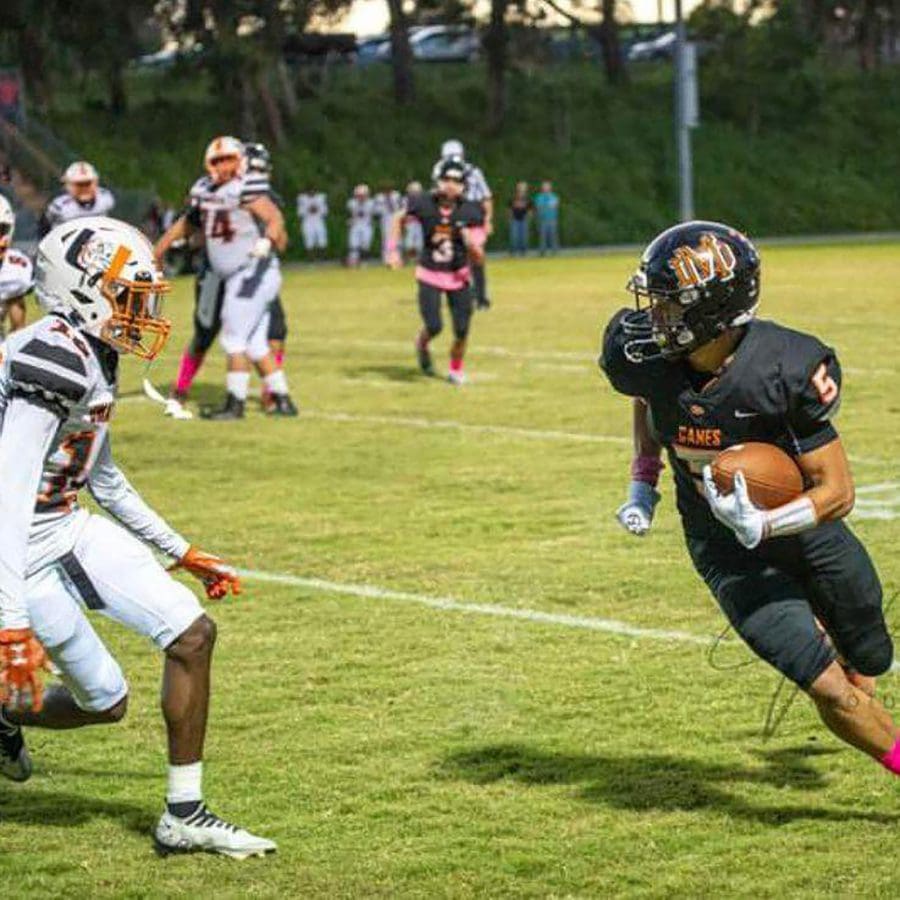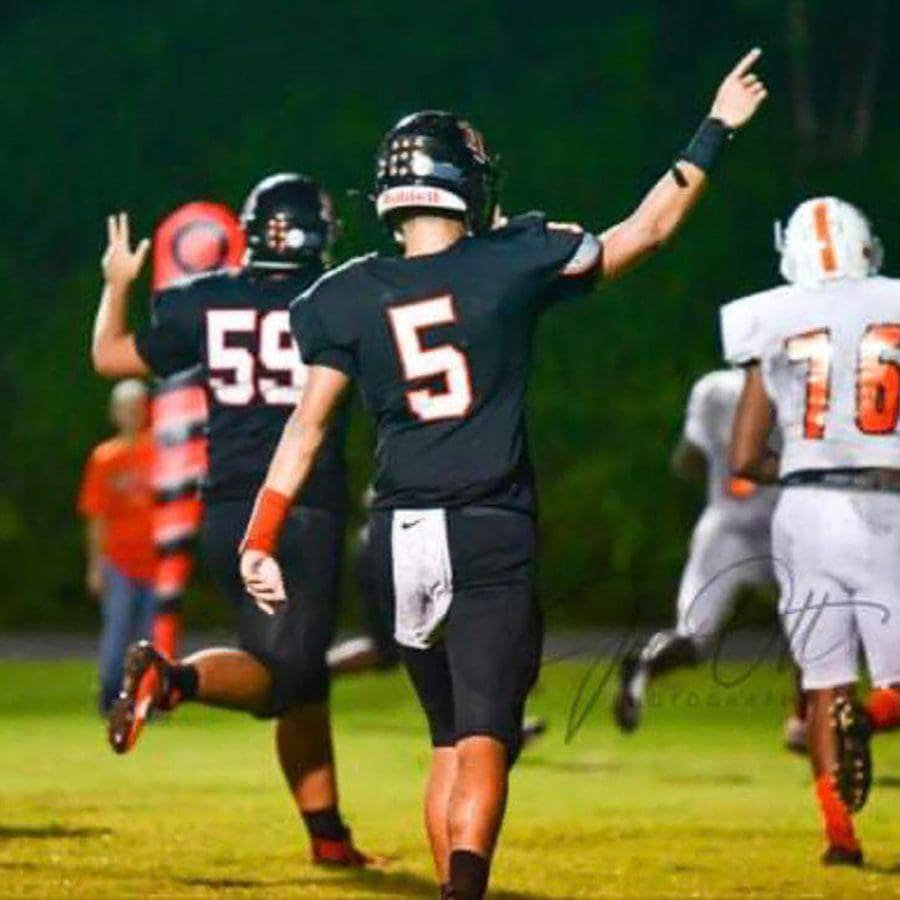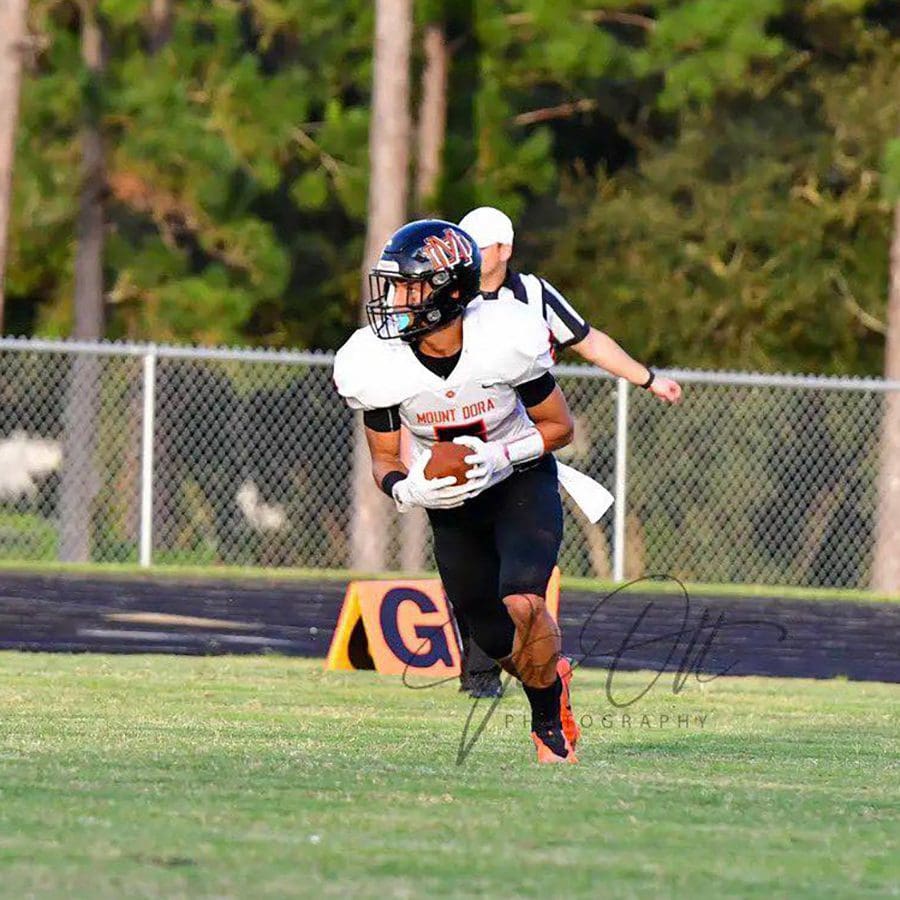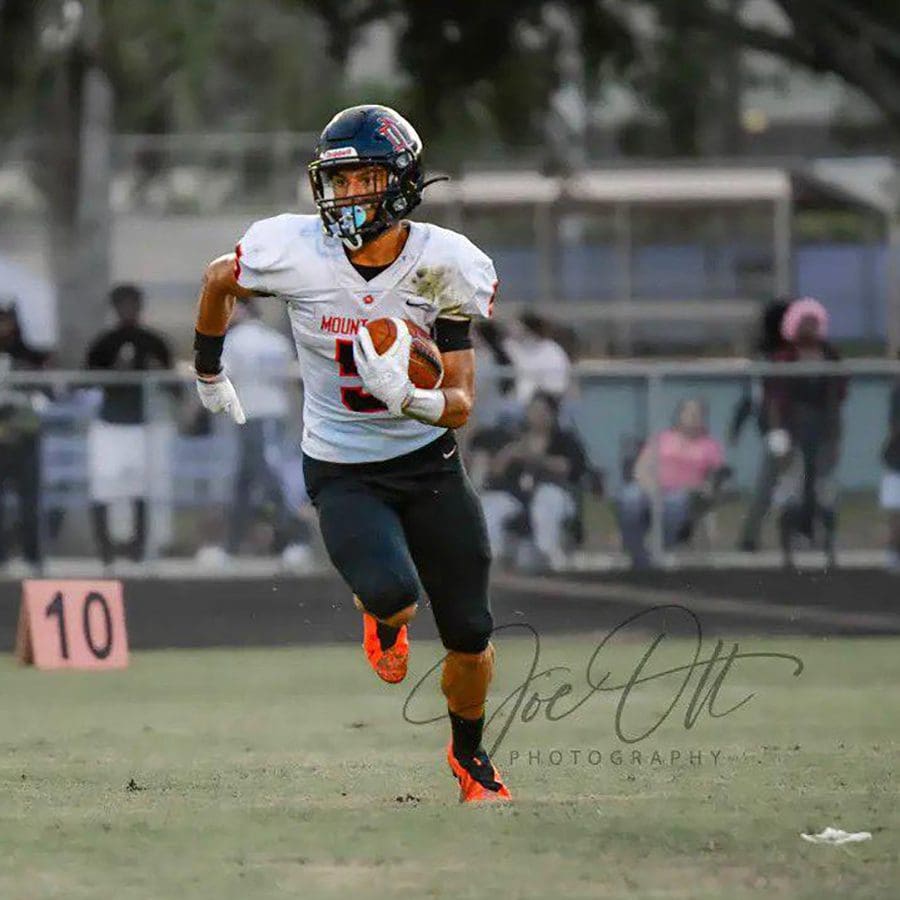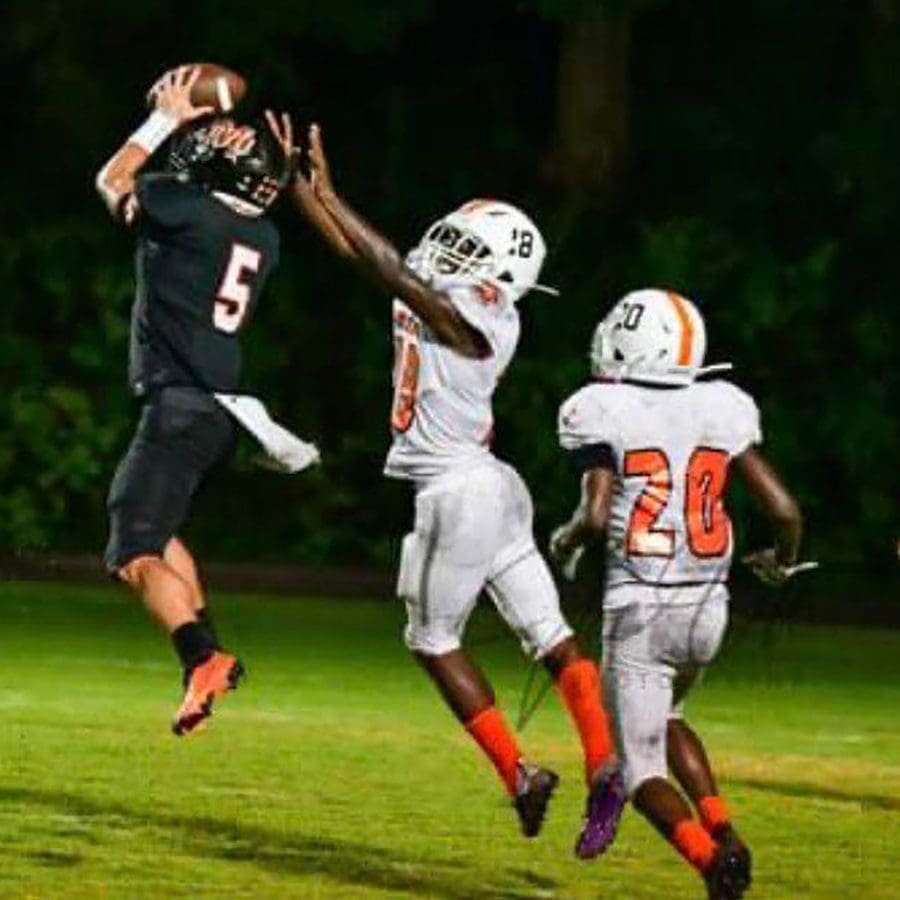 This week we are highlighting a standout athlete and he is only a Sophomore! He sure plays like he is an upper class-man. We are talking about The 6"0 165lb Sophomore Wide Receiver #5 Tanner Waring. Waring plays for The Mount Dora Hurricanes and has been magnificent this year. Waring leads the team in receptions with 25 total. He has amassed almost 500 yards this season. What he is doing as a Sophomore is phenomenal! Averaging 17.1 yards per reception is really good for this area. Lake & Sumter County football teams usually attack on the ground so running backs are normally featured. 
However Waring has been so good this year we couldn't overlook his offensive upside he brings to the table. Waring has 6 touchdowns this season and looks to add to that total this weekend against The Villages. The Hurricanes have not had an offensive weapon like this through the air in a very long time. This is obviously helped by the fact The Hurricanes have a great QB in Matthew Butler but Waring is hauling in catches and making them count. He turns broken plays into positive gains. His speed and maneuverability out on the gridiron make him one of the best receivers in our area. 
As only a Sophomore the potential Tanner Waring has is unlimited. As he continues to mature as a player he could possibly be one of the great Wide Receivers this area has ever seen. If what we are seeing this season is as taste of what is to come, Waring has us all watching to see what this great player is capable of as he continues his standout season. We wish Waring the best of luck on the continued 2022 season and a potential playoff run for the first time in almost a decade for The Mount Dora Hurricanes! 
There should be plenty of action this weekend! Many games will have playoff implications as District play ramps up. We can't wait to see what Friday Night has in store! We will have final scores posted on our Facebook page along with a full wrap up Saturday morning. Enjoy the games this weekend and we hope to see you all supporting your local school!
Photos Provided By: Luke Hutchinson, MDC, Steed Multimedia, South Sumter Athletics, Eustis Athletics, Lake Minneola Athletics, Vernell Brown.
Kyle Coppola was born in Newton, Massachusetts and received his Bachelor of Fine Arts in Communications from Curry College in 2016. After traveling to Florida on a family vacation, he decided he could not get enough of the warm weather and made the move from snowy Massachusetts to central Florida 8 years ago.
For the last decade Kyle has gained valuable experience in social media content creation, marketing and sales, writing, video production, sports announcing and even broadcasting for local radio stations, such as FM 102.9 in The Villages and FM 91.5 in Massachusetts. Every year he volunteers at The Villages Charter High School as a play-by-play sports announcer for the football games as well as a public address announcer for the basketball games, including the annual Battle at The Villages Tournament.
Outside the office Kyle is a husband and father to two beautiful girls along with their cat. In his spare time he likes to spend time with his family, travel, play golf and swim. He is also a huge sports junkie and even bigger motorsports fan and loves to attend racing events when he can.
Share This Story!