Friday Night Lights Football Preview 10.28.2022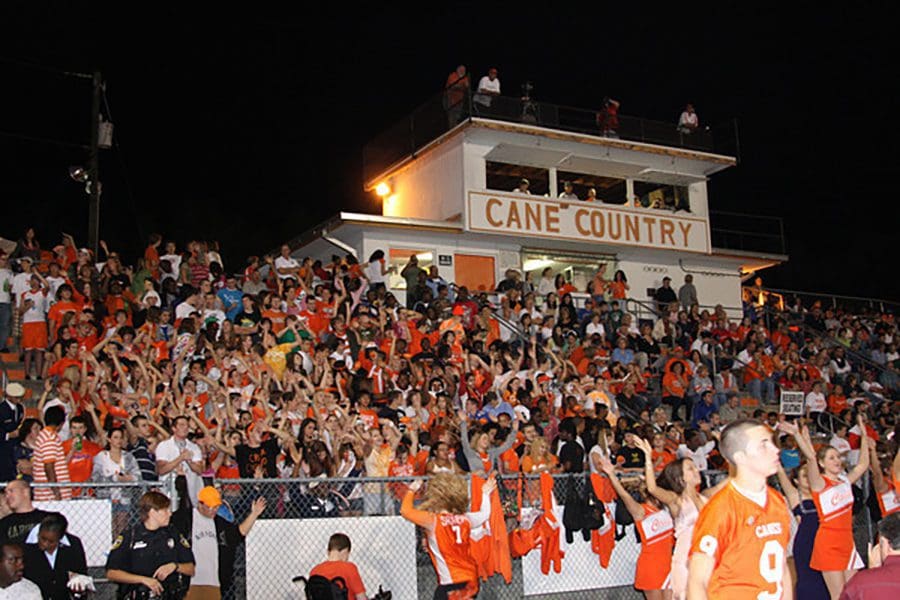 Massive High School Football Games this weekend in Lake & Sumter Counties! Who's Playoff bound and who's on the bubble?
There is a ton to break down in the second to last week of the regular season! We have South Sumter trying to stay undefeated, Mount Dora attempting to make the playoffs for the first time since 2014 and a big playoff game for Mount Dora Christian Academy Friday Night! Lets take a look at all the great action happening this weekend!
Game Of The Week Spotlight #1
Mount Dora Hurricanes 6-2 @ Eustis Panthers 3-4
Friday at 7:00pm
In our biggest game of the week we have Mount Dora taking on Eustis in a huge District game that will likely decide the fates of these two football teams. For starters all The Hurricanes have to do is win this game and they are headed to the playoffs for the first time since 2014. If Eustis can somehow pull a stunner and upset the Hurricanes boy do things get interesting.
Mount Dora is currently in control of its own destiny. First year head coach Luke Hutchinson has completely turned around a once fledgling high school program. All The Hurricanes have to do is win. Sounds simple right? Easier said than done. Especially against a rival that's also looking to control its own destiny with a win. If Eustis can somehow pull the upset they would need to win next Tuesday against District rival The Villages Buffalo. That's not an easy road to the playoffs but Eustis seems up for the challenge. If Eustis loses this game the likelyhood of making the playoffs is slim to none. This is a must win game for The Panthers.
Both teams will be taking this as a playoff game so let's take a look at how they stack up. For Mount Dora they come in with one of the best running backs in the state of florida Dante Johnson-Turner. He's decimated defenses this year having run for over 1500 yards and scoring 24 offensive touchdowns this year. That's amazing and Eustis will need to come up with some big defensive plays to stop him.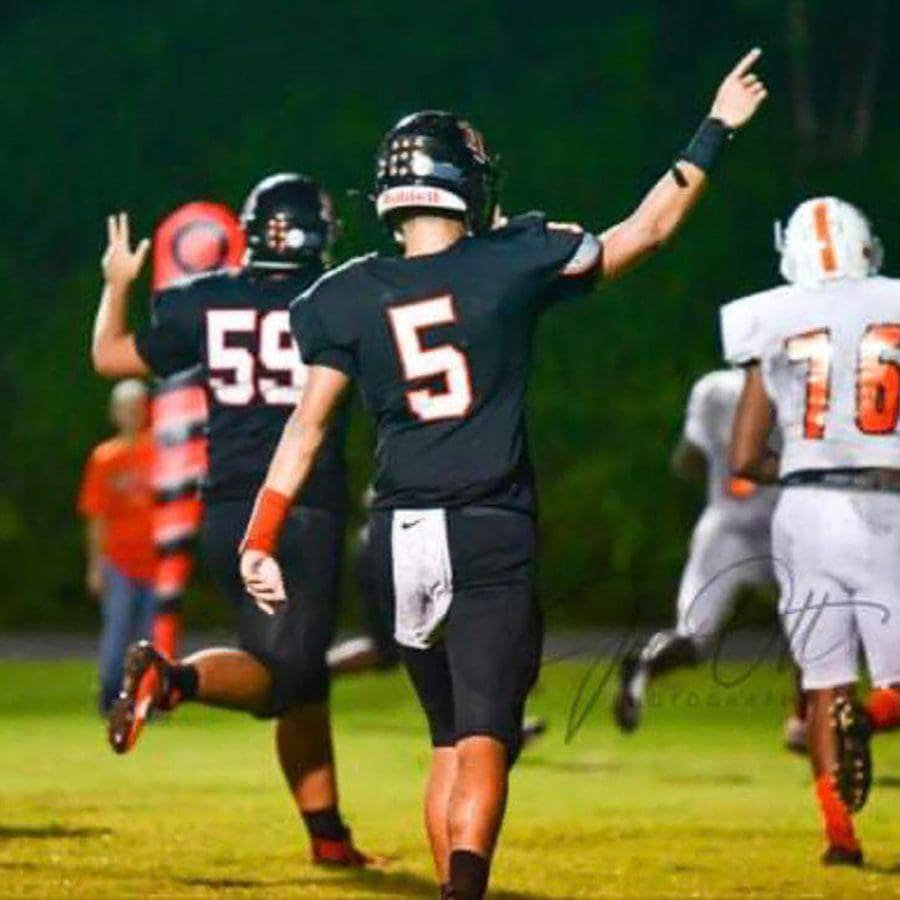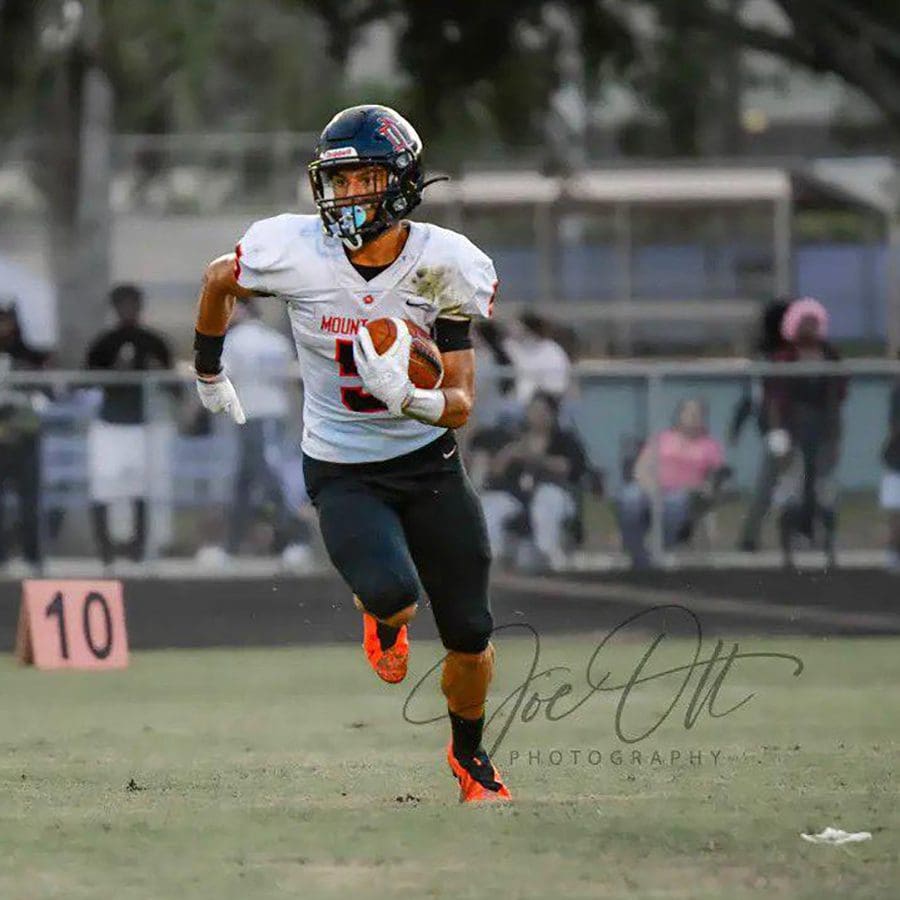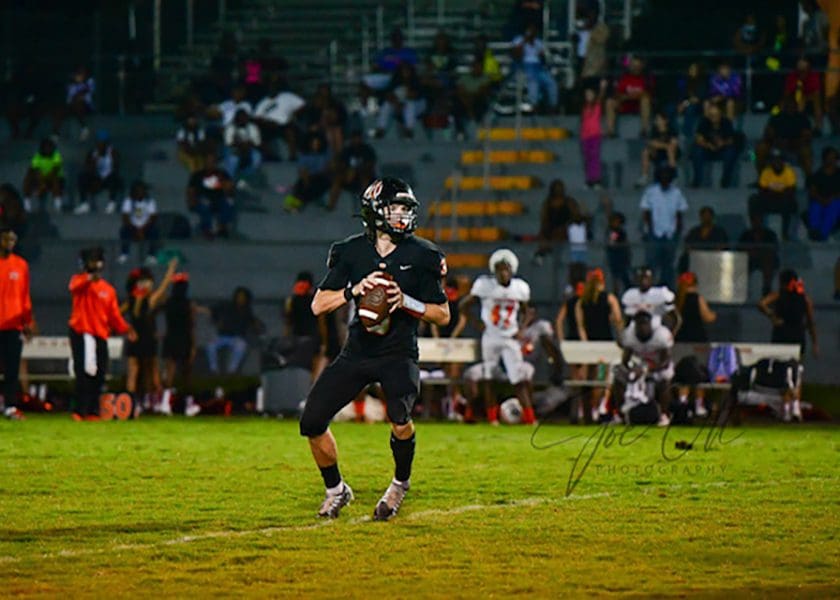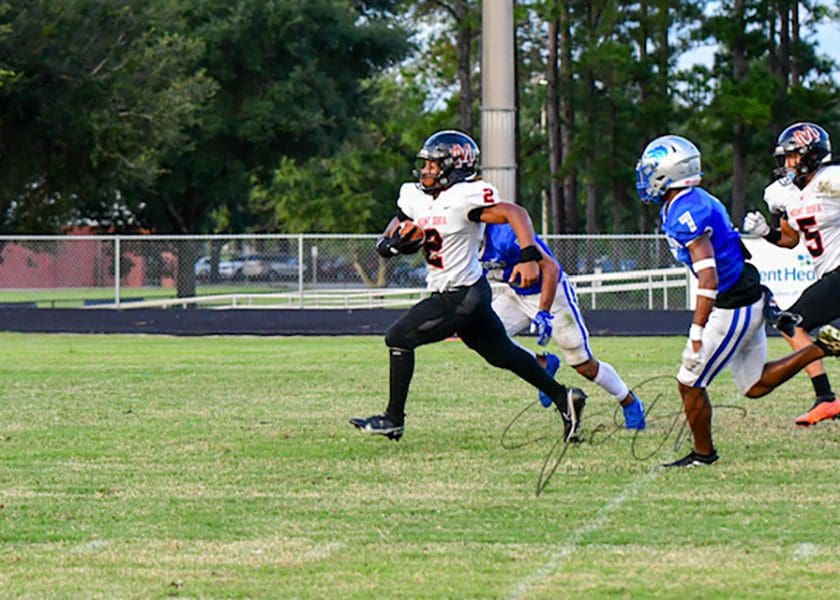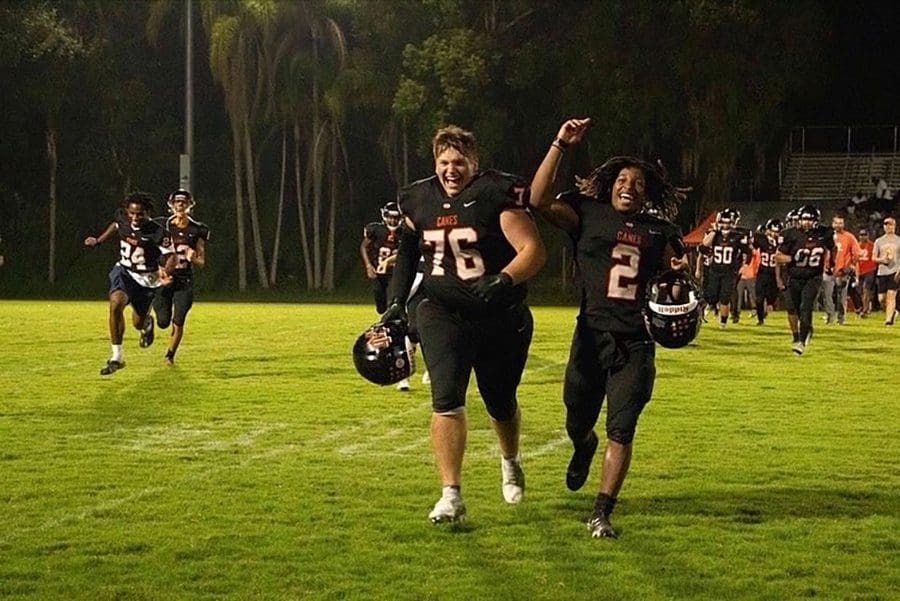 The Hurricanes also boast one of the best QB and WR duos in Lake & Sumter County. Senior QB Matthew Butler has thrown for 12 touchdowns this year while rushing for another 5. He is averaging 18 yards per throw which is lethal when it comes to QBs in our area. He has also eclipsed 1000 yards through the air this season so Butler is coming into the game well prepared. Butlers favorite offensive target is Tanner Waring who's only a Sophomore but playing like a grizzly veteran. He's caught 7 touchdown passes and is approaching 600 yards this season. Look for the offense to get rolling early in this one.
Meanwhile it's no secret that the defense of Eustis is an issue. They've given up 201 points this season total against opposing offenses. That's an average of 28 points per game. Those aren't good numbers considering the firepower the Hurricanes possess. However the offense has been the saving grace for Eustis this season.
Panthers QB Senior Noel Rodriguez has passed for over 1000 yards this season. Senior WR Tyree Patterson has also been a standout averaging 17.2 yards per reception. Eustis uses what we refer to as a running back by committee approach. What this means is that the panthers utilize multiple running backs. Such is the case with Seniors Jalen McKay and Javon Garry. Both of them compliment one another well. Between the two of them they have a combined 12 touchdowns this year with each running back totaling 6 this year. Both Garry and McKay have combined to run for over 1,000 yards this season so the offense shouldn't be overlooked as far as Eustis goes.
Defensively Mount Dora didn't do as well as many thought last week against Tavares letting the Bulldogs score 20 points on them. A bit surprising but hopefully Luke Hutchinson can make some adjustments this week. Expect the atmosphere at Eustis to be loud and proud. This is a team that wants to play postseason football and they'll be giving it all they have. As for Mount Dora this is perhaps one of the most important football games they've played in well over a decade. We hope everyone comes out and supports both these teams in what's sure to be one of the games of the week!
Game Of The Week Spotlight #2
South Sumter Raiders 8-0 @ Dunellon 5-3
Friday at 7:30pm
South Sumter has been perfect so far this season. They are having their best year in a very long time. Can the Raiders have an undefeated regular season? They'll have to get through the final district game of the season when they travel to Dunellon on Friday night.
South Sumter is coming in off a bye week. Last time we saw South Sumter play they beat Hernando 62-0 and most of the starters only played half that game. You have to go back to October 7th the last time South Sumter played meaningful football when they won a close one against Zephyrhills 23-20. The question will be if The Raiders come out Rusty after this much time off. The answer is likely no but Dunellon is coming into the game winners of 4 out of their last 5 games. However they did get a beat down last week as they lost 44-0 against Bradford another 8-0 team in the state. If that's any indication of how The Tigers played last week they get another undefeated team this week. Hopefully Dunellon gets over that loss quick.
South Sumter comes in with some of the most electrifying athletes in Lake & Sumter Counties. Raiders Senior QB Eian Finkley has 11 touchdowns this season and is approaching 1,000 yards total on the season. In fact he only needs 3 yards to break through the 1K mark this season and he could potentially make that happen on the first play. Raiders Junior Running Back Jamare Dorsey has been a standout this season. He has 14 touchdowns so far and is averaging 8.7 yards per carry. Dorsey is also approaching 1,000 yards on the ground and only needs 85 yards to do so.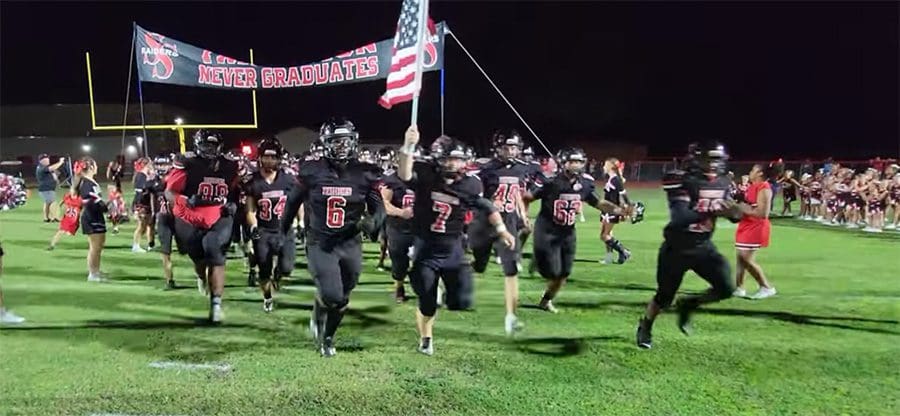 As for Dunellon they come in with a true Freshman at Quarterback. Dylan Curry has impressed many people this season. He's thrown for nearly 700 yards and has 6 touchdowns this year but he's still young and has unfortunately not taken care of the football. Curry has thrown 11 interceptions this year which is one of the highest amount on any team. Curry will need to stay disciplined against a great Raider Defense that can absolutely take advantage of an opposing offense having a bad night.
Overall South Sumter can seal up a home playoff game with a win against Dunellon Friday night. They're final game is against Newberry next Friday which happens to be Senior Night at South Sumter. Both these games are no cakewalks so look for South Sumter to bring their A game to the field this weekend.
Teams on Byes this week – Wildwood, Lake Minneola, Leesburg 
Wildwood – The Wildcats get a nice bye week after handing The Villages a beatdown they wont't soon forget. The Wildcats will be plenty rested when they face Eustis on Senior Night next week. The Wildcats have been rolling lately and this will be a good final test for a team bound for The Playoffs. What kind of waves Wildwood can make in the playoffs is yet to be seen. We also are unsure if they will host a playoff game or have to go on the road. We will know more after this weekend's games. We can't wait to see what they are capable of in the post season though. The way this team has been playing they could go far.
Lake Minneola – The Hawks get one final bye week before turning their attention to Leesburg in one week for Senior Night. The Hawks have locked up a playoff spot and will likely host a playoff game so this may not be the last game for the Senior players at home. Some are expecting Lake Minneola to rest their starters for this game but it's a possibility they will play considering they are coming off a bye week and this would be a good game to fine tune the offense and defense against a Leesburg team that has only won 2 games this season. We hope Lake Minneola sleeps well the next two weeks because The Playoffs are beckoning and it's about to get a whole lot tougher for them.
Leesburg – The team that likely needed a bye week the most is Leesburg. They sit 2-7 on the season and have just one game remaining against Lake Minneola of all teams. Not exactly the preferable way to end the season for a team that has struggled. There is hope that Leesburg could be competitive if The Hawks play their backup players. The Hawks already secured a playoff game so there is no reason to risk starters in the game. Overall look for Leesburg to try and go out on top. We will have a breakdown of this game in next week's preview edition.
Enjoy The Games! 
We don't have too many games in Lake & Sumter County this week but we do have plenty of games with playoff implications on the line. Especially the game in Mount Dora. There are so many scenarios that could happen in The Hurricanes lose. If Mount Dora wins that all gets expelled out the door. But what a crazy turn of events if Mount Dora loses or The Villages win. A bunch of chaos would ensue in the final week of the season. Here's to a great upcoming week!
Photos From
Elite Factory Productions
Steed Multimedia
Wildwood High School
Luke Hutchinson
Kyle Coppola was born in Newton, Massachusetts and received his Bachelor of Fine Arts in Communications from Curry College in 2016. After traveling to Florida on a family vacation, he decided he could not get enough of the warm weather and made the move from snowy Massachusetts to central Florida 8 years ago.
For the last decade Kyle has gained valuable experience in social media content creation, marketing and sales, writing, video production, sports announcing and even broadcasting for local radio stations, such as FM 102.9 in The Villages and FM 91.5 in Massachusetts. Every year he volunteers at The Villages Charter High School as a play-by-play sports announcer for the football games as well as a public address announcer for the basketball games, including the annual Battle at The Villages Tournament.
Outside the office Kyle is a husband and father to two beautiful girls along with their cat. In his spare time he likes to spend time with his family, travel, play golf and swim. He is also a huge sports junkie and even bigger motorsports fan and loves to attend racing events when he can.
Share This Story!