Friday Night Lights Football Wrap-Up 10/04/22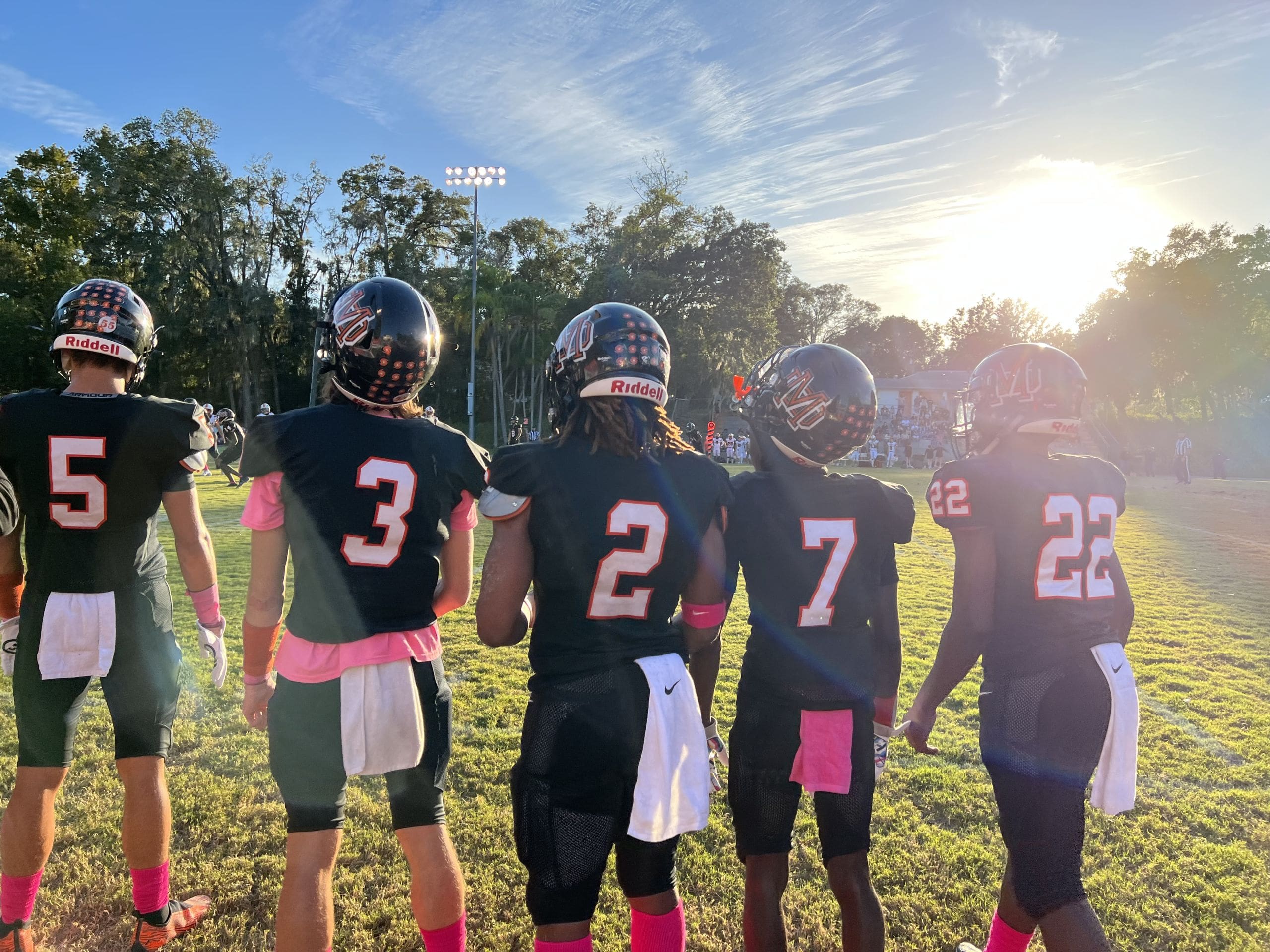 Wacky Weather Upends Lake & Sumter County Football Schedules
We had one of the most interesting weeks of High School Football in a long time here in Lake and Sumter Counties. With rescheduled games and cancelled games lets give you the final scores of week 6 of The High School Football Season in our area. 
South Sumter High School 50 | Crystal River 0 FINAL Monday 
This game was never close and The Raiders ran away with it early on. Quarterback Eian Finkley and Running Backs Jamare Dorsey and Kaden Payne had an easy night as The Raiders tacked on 50 points before halftime. That was basically enough as there was a running clock in the second half due to FHSAA rules. The Raiders basically got a glorified scrimmage out of this contest and they look to keep the good times rolling. This is as good as we have seen South Sumter possible ever! This team could go undefeated if they keep this up. They now improve to 6-0 on the season. The Raiders next turn their attention to an away game against Zephryhills who are 3-2 on the season.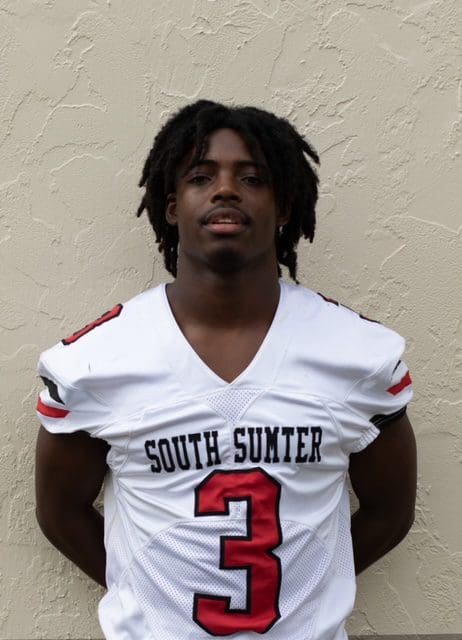 Mount Dora Christian Academy 13 P.K. Yonge 12 FINAL Monday
MDCA got a win by the slimmest of margins! The Bulldogs were in an absolute dogfight right up until the final whistle blew and that couldn't come soon enough. MDCA improves to 3-2 on the season meanwhile P.K. Yonge falls to 1-4. Jeffer Johnson lead the Bulldogs in rushing along with fellow backs Dillon Gordon and Isaiah Bryant. The trio have handled a committee approach very well this season and that was evident as MDCA got the win. MDCA heads into a Bye week in week 7 before their toughest matchup of the season with a Lake Highland Prep team who are always dangerous. Hopefully the Bulldogs get some much needed rest before headed down to Orlando on October 14th.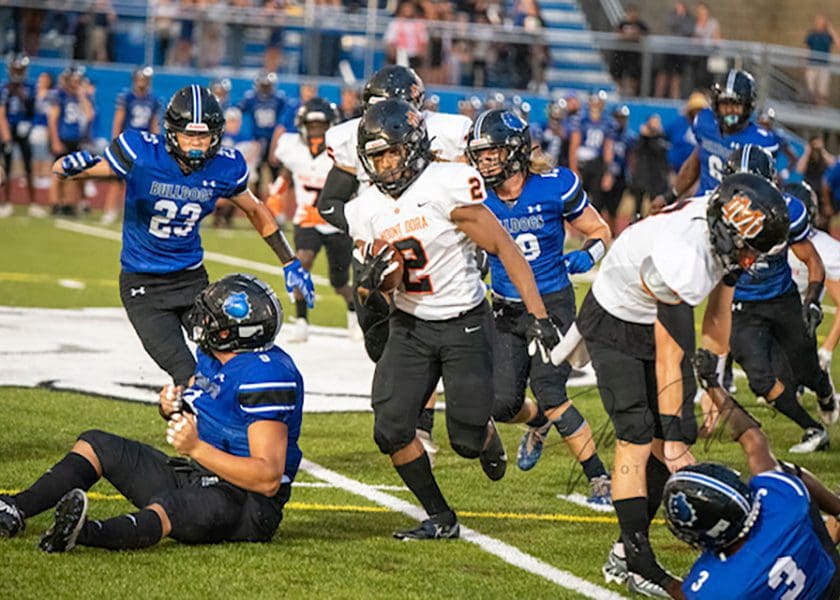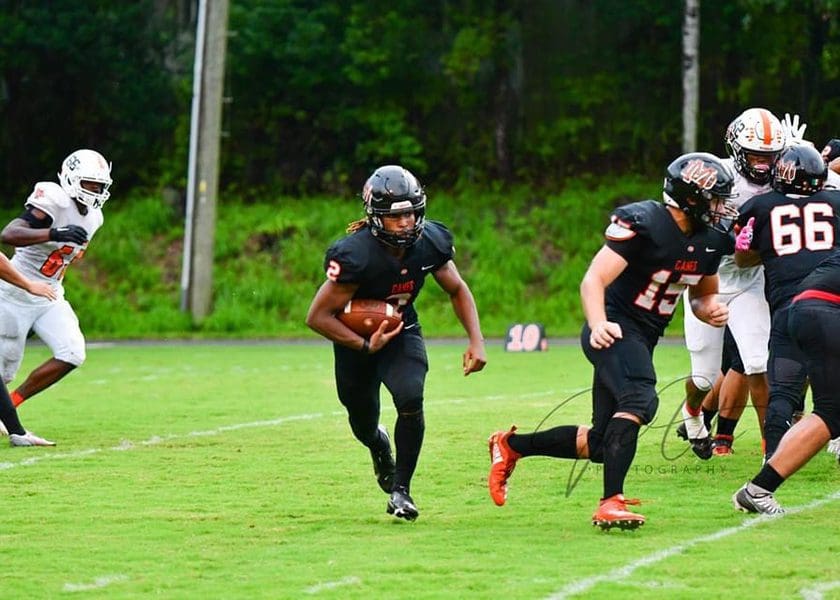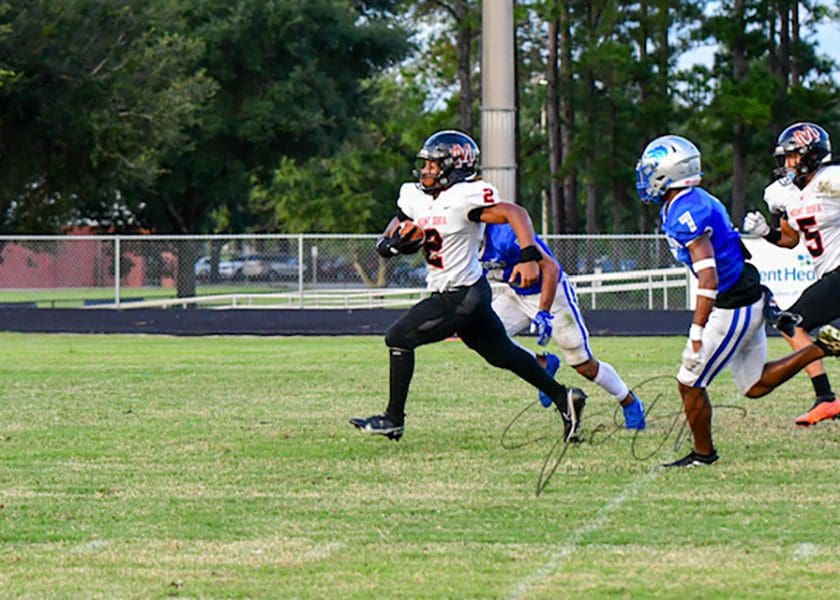 Mount Dora Hurricanes 45 Umatilla Bulldogs 36 FINAL Tuesday
This game originally scheduled for Friday was moved because of Hurricane Ian and played on Tuesday. The Mount Dora Hurricanes got the victory as Dante Johnson-Turner rumbled for 6 touchdowns! Johnson-Turner is one of the best running backs in the entire state and he proved that this evening. The Hurricanes now improve to 3-2 on the season. It is an amazing turnaround for a program that was on life support the previous 5 seasons.
Coach Luke Hutchinson has instilled fear into opponents this year which is something we have not seen a Hurricane team do in years! The Hurricanes get an easy matchup next week against Pine Ridge who are 0-5 on the year before facing cross town rival The Villages Charter School. As for Umatilla they are now 2-3 on the year. Unfortunately for Umatilla the schedule does not get easier from here with games against Eustis and The Villages upcoming. Hopefully The Bulldogs can turn things around in a hurry.
Eustis High School @ The Villages Charter School – CANCELLED
This game was originally slated for Friday night before being moved to Monday. However the game was unfortunately cancelled with no makeup date scheduled. It really is a shame as this would have been a fun game. Both schools were fairly evenly matched but now the game is seriously in doubt of ever being rescheduled. We are holding out hope that may happen in the future. The Villages next sets its sights on Mitchell as they travel to New Port Richey. As for Eustis they have a game Thursday night against Merritt Island.
Union County @ Wildwood – CANCELLED
Union County was set to play Wildwood but this game unfortunately was cancelled due to Hurricane Ian. There is no scheduled date for this game to be played currently. This would have been an incredible contest with both teams needing the win badly. Wildwood next faces a Cheifland team on the road which should be a competitive contest.
Forest High School @ South Lake – Game Rescheduled to 10/10
Originally scheduled for this past Friday this contest will now take place on October 10th due to Hurricane Ian. South Lake is winless this season and this will likely be The Eagles best chance at getting a win this season. They come into the contest 0-5 this season. We look forward to seeing this one played and glad it was a not completely cancelled off the scheduled. It will be a difficult game for South Lake though as they will be playing 2 games within three days of one another. The key is staying healthy enough to give themselves a chance at victory.
East Ridge @ Fivay – Game Rescheduled to 10/10
This game was originally scheduled to be played on Friday but again mother nature had other ideas and the game has been pushed until the 10th of October. East Ridge will be playing 2 games within 4 days of one another. Will they be able to get their first victory of the season?
West Port @ Lake Minneola – Game Rescheduled to 10/10
Lake Minneola has a home game against West Port. This is a rescheduled game due to hurricane Ian. The Hawks look to improve their record to 5-1 this season. Meanwhile West Port who has battled through all sorts of issues including equipment shortages this season has the chance for a major upset against a Hawk team coming off their first loss of the season. The question is if West Port can keep up with the high flying offense The Hawks have.
What a crazy week it was in High School Football. This week threw a lot at these teams but kudos to the head coaches, staff, volunteers, and athletic directors who put together a great slate of delayed games. While we didn't get the entire slate of scheduled games we got enough to prepare us for week 7 which should be one of the grittiest and toughest weeks of the season to date! We will have full preview of this weeks upcoming games this Thursday so be on the lookout for that! We hope you all have a good week and if you know anyone who has been impacted by Hurricane Ian. Our thoughts and prayers are with you and them during these incredibly challenging times. 
Kyle Coppola was born in Newton, Massachusetts and received his Bachelor of Fine Arts in Communications from Curry College in 2016. After traveling to Florida on a family vacation, he decided he could not get enough of the warm weather and made the move from snowy Massachusetts to central Florida 8 years ago.
For the last decade Kyle has gained valuable experience in social media content creation, marketing and sales, writing, video production, sports announcing and even broadcasting for local radio stations, such as FM 102.9 in The Villages and FM 91.5 in Massachusetts. Every year he volunteers at The Villages Charter High School as a play-by-play sports announcer for the football games as well as a public address announcer for the basketball games, including the annual Battle at The Villages Tournament.
Outside the office Kyle is a husband and father to two beautiful girls along with their cat. In his spare time he likes to spend time with his family, travel, play golf and swim. He is also a huge sports junkie and even bigger motorsports fan and loves to attend racing events when he can.
Share This Story!