Fun facts: Giant lung bounces into Villages Balloon Festival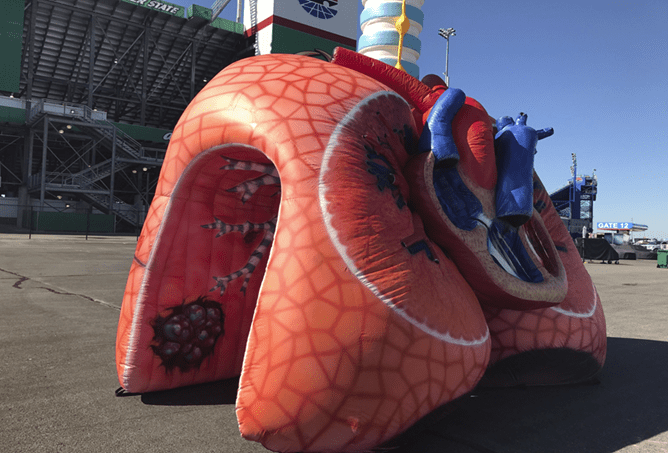 Have you ever walked inside a giant lung? That's exactly what visitors can do when the LungXperience arrives at The Villages Balloon Festival.
The 14-foot-tall by 9-foot-wide inflatable lung and interactive augmented reality exhibit will be on hand during the festival from 2-9pm Friday, Feb. 7, and Saturday, Feb. 8, at the Polo Club, 703 N. Buena Vista Blvd., according to a news release.
Think of it as a bounce house with a health message. The LungXperience roadshow is traveling across the United States to empower communities to learn more about the fight against lung cancer. Visitors can walk through the exhibit to learn about the different stages of lung cancer and treatment advances using augmented reality technology.
For example, did you know that Stage 3 lung cancer is treated by physicians with curative intent? And that a diagnosis of Stage 4 lung cancer does not necessarily mean that a patient has run out of treatment options?
Lung cancer is the No. 1 cause of cancer death among men and women in the United States, and Florida is particularly hard hit, according to statistics cited in the release. Florida ranks 23 out of 51 states for the number of new lung cancer diagnoses each year, with a rate of 59.3 per 100,000 people. Unfortunately, most cases among people living in Florida (48.5 percent) are not discovered until a late stage, when survival is lower.
The annual balloon festival also will include Cirque Bishop acts, balloon rides, a balloon glow, an antique car show, live music, a balloon flight at 7am Feb. 8, weather permitting, and a mass balloon ascension at 7am Feb. 9. Admission: $15 for adults, $10 for kids ages 11-17, children 10 and younger free. For more information, visit thevillagesballoonfestival.com.