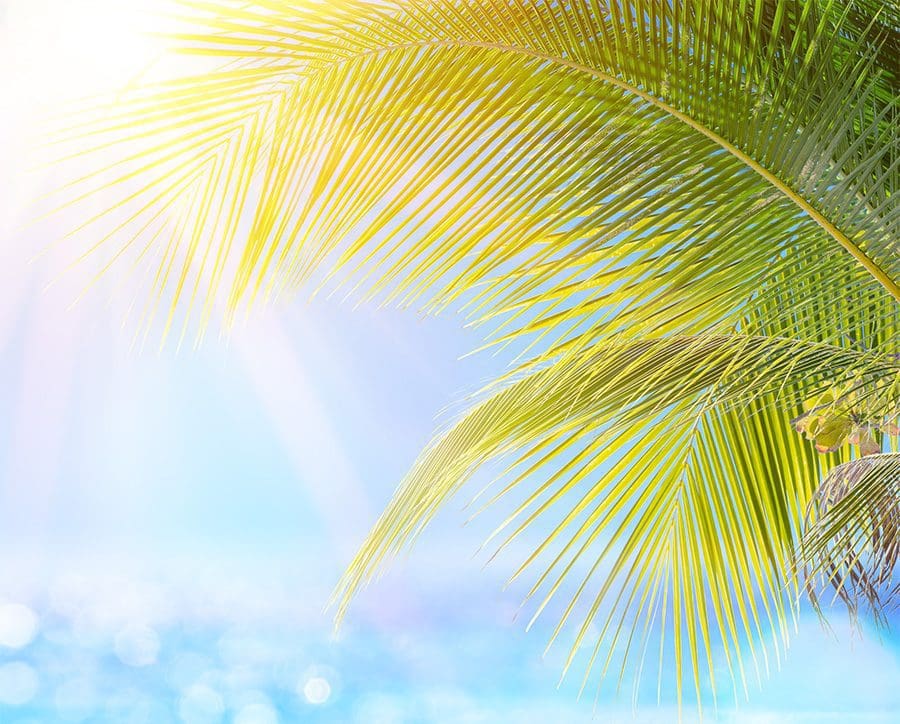 Ideas to make your summer sizzle.
Warm weather. Bright blue skies. Lots of sunshine.
That can only mean one thing. It's summertime in Florida. As such, we should never hear anyone complain about being bored. 
Of course, if you're confused on how to pack the most enjoyment into each day, then don't fret. Style has you covered. 
In the following pages, you'll learn about local lakeside beaches, summer fashion, staycation destinations, summer recipes, and summer safety. When you're finished reading, the word "bored" should never enter your vocabulary again.
---

Life Is A Beach
Great beaches don't always have to line the shores of oceans.
Beachgoers lie comfortably in folding chairs while soaking up some sun. Meanwhile, the water is brimming with activity, as kayakers, paddle boarders, and jet skiers take full advantage of the sunny Florida day.
If they're lucky, the crowd may witness the spectacular sight of a seaplane touching down gracefully on the water. 
Yes, locals can get wet and wild without having to drive to Daytona Beach or Crystal River. Luckily, in Lake County, there's always a beach within reach. 
Lake Louisa State Park in Clermont: This 4,500-acre state park is renowned for its rolling hills and 23 miles of hiking trails. However, there's also a sandy beach and designated swimming area, allowing visitors to cool down in Lake Louisa, the largest lake on the Clermont Chain of Lakes. 
Waterfront Park in Clermont: Located on the shores of Lake Minneola, Waterfront Park, known for its exceptional sunset views, features a basketball court, playground, splash pad, fishing pier, boat launch, fitness trail, and more. If those activities make you hot, then walk down to the white sandy beach and enjoy a fun swim in Lake Minneola. 
Alexander Springs in Altoona: Lay out on the sloped sandy beach to achieve the perfect suntan or enter the 72-degree, crystal-clear water. Snorkeling allows you to receive a sampling of Alexander Springs' amazing underwater world, which includes kelp-like vegetation, fascinating rock outcroppings, and a variety of fish. 
Clearwater Lake Recreation Area near Paisley: Most are accustomed to beaches lined with tall hotels and seafood restaurants. At Clearwater Lake, situated along the southeastern edge of the Ocala National Forest, those sights are replaced with lush greenery and abundant wildlife. The 32-acre clear lake features a sandy beach where you can swim, fish, or rent a canoe.  
Wekiva Falls RV Resort in Sorrento: Here, the slightly hilly beach shoreline gives guests and opportunity to lather on suntan lotion and catch some rays. The lagoon-style swimming area features dual tube slides for children and a 40-foot cement waterfall. Standing under the waterfall is a perfect way to beat the summer heat. 
---

A Stylin' Summer
Local women's clothing boutique owners share insight on hot summer fashion trends that transcend the Florida heat.
Summer is traditionally thought of as a time for living life to the fullest, so why not look the part?
Bryttany Phillips and Sara Boykin-O'Neil, owners of The Orange Blossom Belle in Clermont and Leigh Ann Berry, who owns Prominent Fox Boutique in Leesburg, all have a good grip on what's hot in the world of fashion this summer.
At their shops, they also have everything needed to help women pull the best looks off, starting with a tip that topped each of their lists – wear bright colors!
"Bright colors are a must. Two of our favorites we have seen lately are bright orange and fuschia," Bryttany says. 
Leigh Ann agrees and says "hot pink is a must for the summer," as are bright colored rompers and light flowy dresses.
As far as other tips, like what fabrics to wear to stay cool, and what accessories no girl should live without, Bryttany suggests linen and cotton blends, denim shorts paired with a tank or body suit, accessories like Orange Blossom's fabric tassel, or beaded statement earrings, and to top it off, a hat.
"This year we have definitely seen a trend for hats as a statement accessory. We have seen this transition from felt in the fall to straw for spring and summer," says Bryttany. "We currently have a large selection of straw hats in different styles and sizes including our beach hats from Hemlock."
Leigh Ann says one of her favorite looks this summer is also one of the easiest to pull off.
"A cute tank top or graphic tee with some mom shorts. It's always a cute and easy look. If you'd like to dress up your look add a belt, some cute jewelry a pair of wedges and a light weight Shacket for a completed look," Leigh Ann explains. 
As far as getting beach ready, the trio definitively suggests accessories, accessories and more accessories.
"We have so many amazing beach accessories in store. One of our most popular items are our rubber beach bags from Versa Tote. They are so cute and versatile but make the perfect beach or boat bag. We also carry Hemlock straw hats and Abaco Sunglasses which are definitely a beach necessity," Bryttany says. "Another favorite of ours is to pair a cotton romper or sundress with your favorite swimwear, as a cover up."
Leigh Ann adds: "Long sheer Cover-ups are huge right now. Never forget your hat! Fedoras are always a great option. Add some cute sandals, sunglasses, earrings and a cute rubber beach tote and your beach look is complete!"
---

Cool Summer Treats
Whip up these refreshing dishes to enjoy during a festive gathering with family and friends.
Ahhh. Summertime eating calls for simple, fresh, cold foods to savor on hot days and nights. 
With that in mind, Cindi McRae of Leesburg enjoys making her macaroni salad, a dish she created by using ingredients from several recipes. 
"The ingredients are yummy when mixed together; you can always add or take away from this recipe," she says. 
And for dessert, consider making a colorful fruit pizza, which adds a crowning touch to any summer meal. 
Macaroni Salad
Ingredients
8 ounces elbow macaroni, cooked
3 hard boiled eggs, chopped
1 cup mayonnaise
2 tablespoons Dijon mustard
1/4 teaspoon garlic powder
1/4 teaspoon black pepper
1/2 teaspoon salt

 

1/4 teaspoon paprika
2 tablespoons lemon juice
1/2 red onion, chopped small

 

3 stalks of chopped celery
1/2 red pepper or yellow pepper, chopped small
Optional: You may want to add 1 cup frozen peas, can of tuna rinsed and drained very well, or diced chicken, along with some cubed sharp cheddar cheese.
Directions
Mix mayonnaise, mustard, lemon juice together, then add garlic powder, black pepper, salt and paprika. Add the veggies (along with optional ingredients) and chopped eggs, mixing all into the macaroni. Refrigerate for at least 2 hours or overnight. Yummy!
Fruit Pizza 
Ingredients
1 18 ounces Pillsbury vanilla sugar cookie roll
1 8-ounces cream cheese, softened
1/2 cup sugar
2 teaspoons vanilla
Assortment of fresh fruits
Directions
Slice the cookie roll into 1/8-inch slices and put overlapping on well-greased pizza pan. Bake at 350 degrees for 10 minutes or until light brown. Cool and spread with cream cheese mixed with sugar and vanilla. Arrange fresh fruit pieces on top of pizza.
Orange glaze:
Ingredients
3/4 cup water
1 cup orange juice
1/4 cup lemon juice
1 cup sugar
1 tablespoon cornstarch
Dash of salt
Directions
In making the orange glaze, combine sugar, cornstarch, and salt. Add liquids and bring to a boil. Cook 1 minute. Cool and pour or brush over fruit after arranged on pizza. Refrigerate for at least 1 hour before serving. Enjoy! 
---

Summer Safety
Summer is a time to get wet and wild. It's also a time to play it safe.
The winter brings colds, flus, and bronchitis. The spring brings allergies. Summer brings boating accidents, drownings, sunburns, and mosquito bites. 
Yes, summer is usually loads of fun. However, with the increase of warm-weather activities, bad things can happen. 
Luckily, many injuries are preventable if you take adequate safety precautions. Here are some tips to help you avoid an unwanted visit to the emergency room.  
Swim, don't sink
Few things can relieve unbearable summertime humidity like taking a relaxing dip in a pool. Of course, those of you with children should take safety precautions to avoid an accidental drowning. Remember, drowning is the second-leading cause of injury-related death among children under the age of 15, according to the U.S. Centers for Disease Control and Prevention. 
Travis Rima, director of parks and recreation for the City of Leesburg, provides some practical tips.
If your child is swimming in a pool, then keep your eyes on the water at all time. That's especially true if your child is young and just learning to swim. 
Consider adding a safety feature to your pool, including a security fence and a pool alarm. 
Enroll your child in Infant Self-Rescue (ISR) swim lessons. These lessons teach kids as young as 6 months how to survive if they fall in the water. 
Purchase a safety pool hook or a ring buoy to throw to a child struggling to stay afloat. 
Keep toys away from the pool when not in use because they attract young children to the pool. 
Boat responsibly
The Lake County Sheriff's Office is focused on keeping all county residents safe, whether on land or on water.
With that said, the pristine and abundant lakes in our county offer themselves up for boating fun, but to keep themselves and others around them safe, Sheriff Peyton Grinnell urges boaters to follow basic common-sense guidelines that include:
Have your safety equipment on board and make sure everything is in good working order.
Pay attention.
Watch your speed.
Wear your like jacket.
Do not drink and drive.
As far as necessary safety equipment, Lake County Sheriff's Office officials say the following items are the minimum:
Personal flotation device fitted for each person on board or being towed, in addition to one throwable Type IV device.
Sound producing device.
Visual distress signal.
Fire extinguisher.
Vessel lights.
A current copy of your boat registration.
Also recommended is equipping your vessel with an anchor and a sufficient amount of anchor line, a de-watering device, and oar or alternate means of propulsion in case your engine fails.
"While boating, it is important for you to have the proper safety equipment on board and follow all boating rules and regulations.  As always, do not drink and drive – if you are boating and consuming alcohol, have a designated driver." Sherriff Grinnell says. "Enjoy our beautiful Lake County waterways responsibly and safely."
Save your own skin
Five tips to remember as you frequent swimming pools and beaches this summer. 
Use sunscreen with a sun protective factor (SPF) 15 or higher.

 

Wear sunglasses that block both UVA and UVB rays.

 

Wear a wide-brim hat to shade your face, head, ears, and neck.

 

Wear clothing to cover your arms and legs.

 

Stay in the shade, which is extremely important during midday hours.
Source: Centers for Disease Control and Prevention
Keep buzzers at bay
Keep in mind that April through October is the busy season for mosquitoes, and they can breed in as little as a half-inch of standing water. 
To eliminate mosquito breeding on your property, practice the following as suggested by Lake County Mosquito Management:
Clean out leaves from troughs and gutters.
Remove old tires or drill holes in tires used for playground equipment to allow water to drain.
Don't let water collect and stand in unused gardening pots, kiddie pools and similar items.
Check coverage tarps for collected water pockets.
Replace birdbath water weekly.
Change water in plant containers weekly.
---

Staycations
Save money on gasoline by experiencing overnights and getaways around home.
Lake and Sumter County is home to great attractions, bed-and-breakfasts, vacation rentals, cabins, and camping in the great outdoors, so for a unique adventure, why not plan a summer trip at local accommodations and sites that have always piqued your interest.
And with the recent higher gas prices, staycations make it an ideal way to enjoy vacations in the area and experience local attractions that are popular with out-of-state visitors.
Clermont's 4,500-acre Lake Louisa State Park, 7305 U.S. Highway 27, offers many activities to satisfy cravings for nature, everything from horseback riding and riding lessons, canoeing, fishing, kayaking, swimming, and Segway tours.
"We have something literally for everyone," says Park Ranger Josie Galvan, adding the park's concessionaire also offers "glamping," a glamorous style of care-free camping, in a luxury tent site. 
Each glamping tent sleeps four people and comes equipped with A/C and heating units, a queen bed with linens, a coffee pot, an inside seating area with lighting, exterior seating with lighting, a firepit, grill and picnic table. If more bed space is needed, sleeping bags or air mattresses are allowed. 
"Glamping is pretty nice," says Josie. "I like to go primitive camping, but not everyone wants to go out without A/C or without any furnishings, so glamping is a really good gateway for someone who wants to get out in the nature but isn't ready to lose those comforts." 
Want to enjoy waterfront attractions and the nightlife in Tavares or Mount Dora like visitors do, then consider booking overnight stays at Key West Resort on Lake Dora, 199 W. Ruby St., Tavares, or the Lakeside Inn, 100 N. Alexander St., Mount Dora.
The area also has quaint bed-and-breakfasts for enjoyable getaways, including the Moss Gate Bed & Breakfast, 210 Rose St., Umatilla; Lake Minneola Inn, 508 S. Main Ave., Minneola; and these in Mount Dora: Adora Inn, 610 N. Tremain St.; Farnsworth House, 1029 E. 5th Ave.; Grandview Bed & Breakfast, 442 E. 3rd Ave.; The Heirloom Inn, 644 N. Donnelly St.; Heron Cay Lakeview B&B Inn, 495 W. Old U.S. Highway 441; Le Petit Suite, 1174 E. 5th Ave.; Magnolia Inn, 347 E. 3rd Ave.; Mount Dora Cottages, 615 N. Tremain St.; Mount Dora Historic Inn, 221 E. 4th Ave; and Simpson's Bed & Breakfast, 441 N. Donnelly St.