Local Talent: Gina Tyquiengco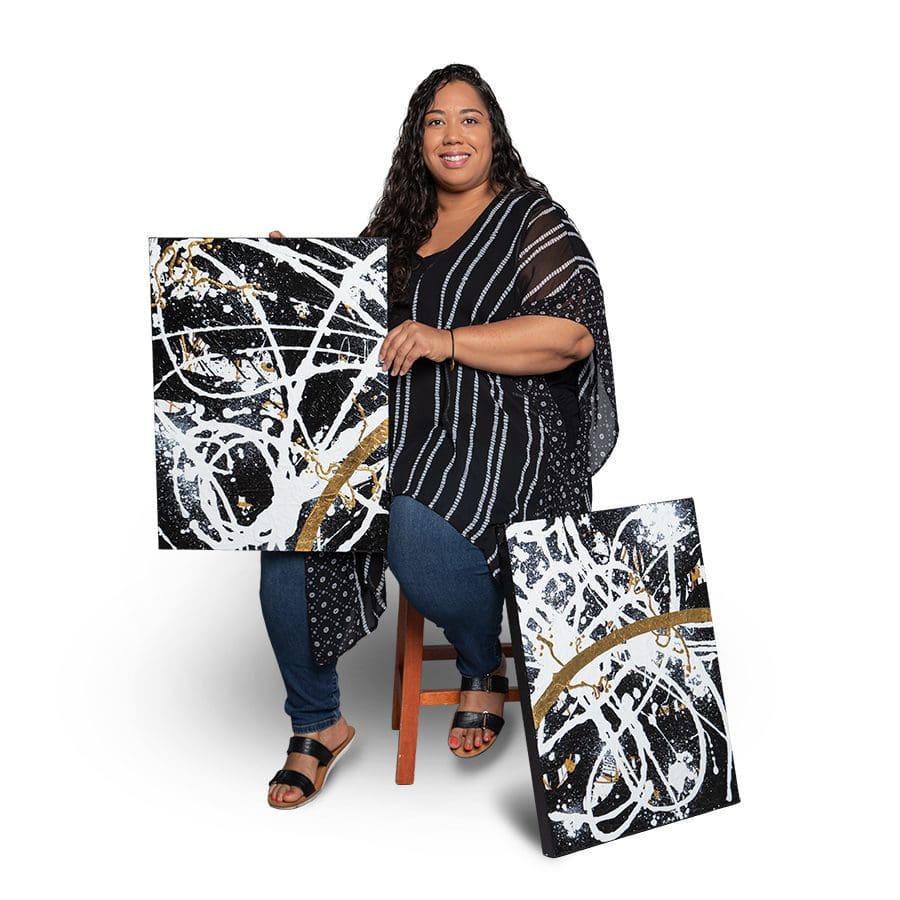 Contemporary abstract artist and designer says painting allows her to feel creative, free, and be authentic in her work.
Gina Tyquiengco cherishes being the artist-in-residence at Studio ArtFarm, 120 E. 4th Ave., Mount Dora, where she has a gallery display of her works, including abstract black-and-white acrylic contemporary canvas pieces with striking touches of 24K gold leaves. 
"I love everyone there and they are so supportive. It's really like a beautiful family," she says of the studio, where several artists have original works and prints exhibited and available for purchase. 
Gina also relishes every moment she can be creative, whether it's at Studio ArtFarm or the time she spends painting at her Minneola home studio with infant daughter Rose by her side. 
"I'm looking forward to seeing how my art grows now that I am a mother," says Gina, adding that she's noticed that Rose appears fascinated by the sight of colorful paintings. "And I want Rose to be involved in everything that I do." 
Gina moved to Florida in 2015, the same year she began painting. Prior to that, and after graduating from Indiana University in 2012 with a bachelor's degree in media arts and science, she had a few jobs in Indianapolis, all related to design and digital marketing.
Still, she felt stifled in the corporate world and wasn't even eager about being offered a global manager position. 
"I wasn't able to use my creativity the way I wanted to," recalls Gina. "I kind of saw what my life would look like if I stayed there, and I thought, 'I just can't do this.'" 
Gina says she truly believes it's vital to really love what you do. 
"The best compliment is when the people who know me, see me in my work. My paintings are definitely a reflection of me, and painting is when I feel the most free and authentic," says Gina, explaining how music also inspires her when she paints.
"I use music as a tool to guide my hand and to set the mood. At some point, a song or a beat resonates with me and I just see where it takes me," she says. "I want the feelings of purity, universality, and love to infiltrate in my work." 
Originally from Anderson, Ind., Theresa worked for The Herald-Bulletin for many years. After experiencing a winter with 53 inches of snow, her late husband asked her to get a job in Florida, and they headed south. Well known in the area, Theresa worked with The Daily Sun and The Daily Commercial prior to joining Akers.
Share This Story!