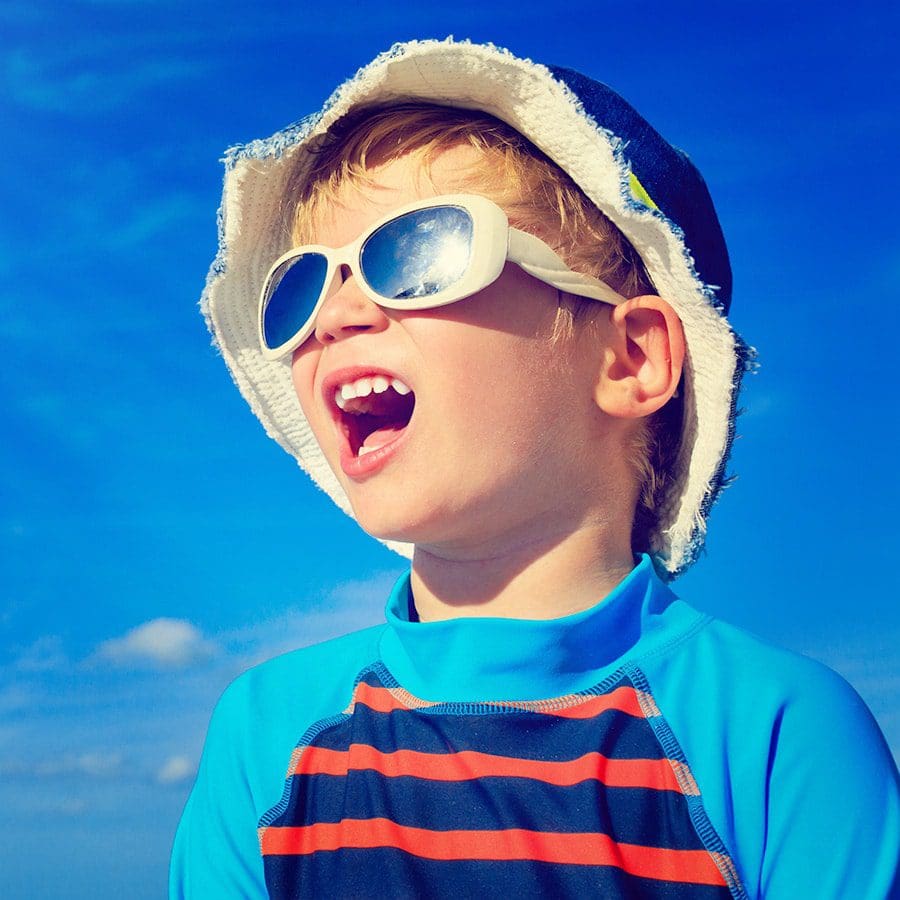 Focus on protecting children's eyes so future problems never see the light of day.
Spending time outdoors is something most Floridians look forward to, especially during summer months when kids are out of school, therefore allowing extra free time for pool parties, trips to neighborhood parks, lakes, springs, theme parks, zoos and more. 
In making preparations and shopping for "must haves" ahead of any outdoor activity however, people should open their eyes to sun protection for themselves and any kids in their lives.
That means giving credence to the fact that sun safety is not just about keeping hydrated or lathering up with sunscreen to protect sensitive skin from harmful rays, but reaching for hats and sunglasses, because eyes are also vulnerable. 
---
Just like you get sunburned on your skin, you can actually have a sunburn of the eyes, which causes irritation for about 24 to 48 hours afterwards.
—Dr. Steven Houston, Florida Retina Institute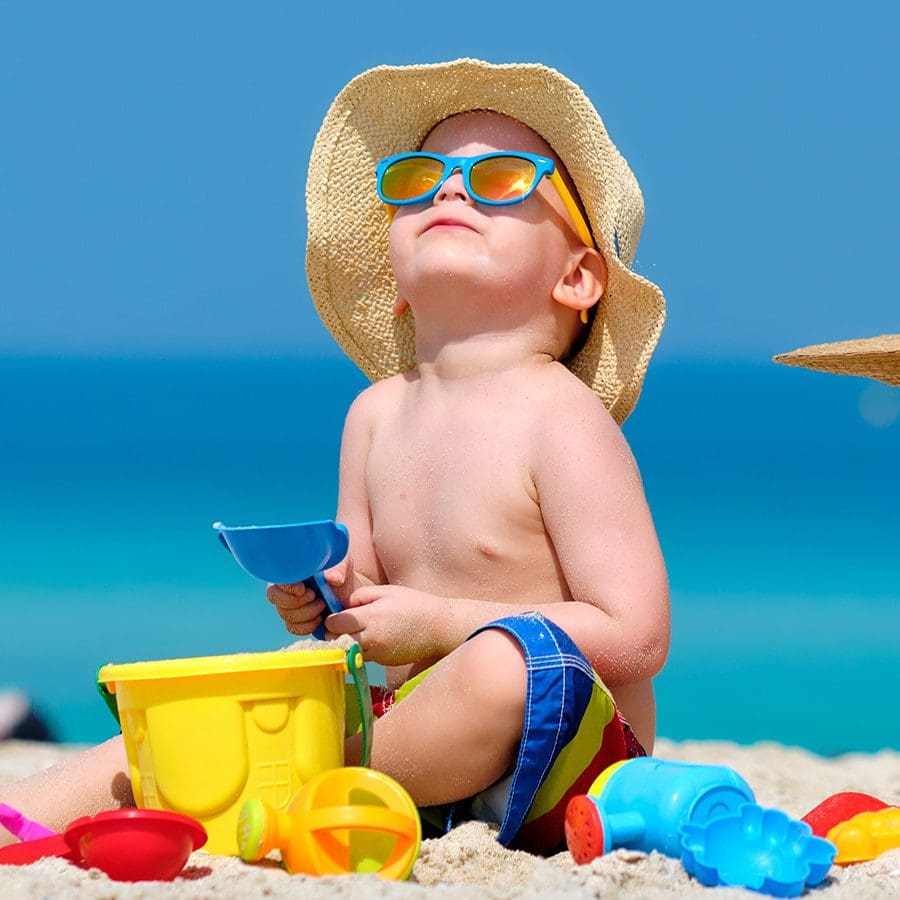 ---
"Just like you get sunburned on your skin, you can actually have a sunburn of the eyes, which causes irritation for about 24 to 48 hours afterwards. That's the main thing short-term but accumulation of that damage over time can increase risks for other long-term problems later on," says Dr. Steven Houston, a longtime ophthalmologist and vitreoretinal disease specialist with Florida Retina Institute locations in Lady Lake, Clermont, Lake Mary, Kissimmee, and Orlando.
He goes on to say that protecting the youngest of eyes to avoid more severe problems later in life is just as important as protecting children's skin for the same reason.
"Most of the issues with sunlight or UV exposure can be long-term issues that pop up down the road. You can kind of think about it similarly to skin cancer, for instance, where short-term you can have a sunburn or other short-term effects, but then long-term, you can end up with future issues," he says.
And the more it happens, the higher the risk. "Accumulation of that damage over time happening at a younger age, has the potential for a higher risk later on in life," Dr. Houston says.
In Lake County, where so many families enjoy boating on lakes, blinding glare – which consists mainly of sun's rays reflecting off the water or snow – is something people may not realize could harm them and their children, says Dr. Houston. 
According to webmd.com and versanthealth.com, that type of glare, which is strong enough to block vision, results from light reflecting off smooth, shiny surfaces such as water, sand, or snow.
"When the light reflects off the surfaces, it becomes polarized and produces blinding glare. Blinding glare can block vision to the extent that the wearer becomes visually compromised," says the Versant Health website.
Dr. Houston reiterates: "When you are out on the water, sun exposure can be worsened by the glare or reflection off the water and that can directly affect your eyes. The same can occur in other parts of the country where even if it is sunny and there's a reflection off the snow, that can exacerbate the short term, immediate retinal effects."
He adds, "Those reflective effects can cause irritation, it could make the eyes red, and it could cause an uncomfortable feeling to and around the eyes." 
The good news, says Dr. Houston, is that there are many precautions people can take to protect children's eyes, depending on age.
That includes the wearing of sunglasses and hats that provide sufficient coverage around the face and eyes, plus limiting sun exposure.
"Sunglasses are probably the best thing for eye protection, but hats, being under an umbrella, and other things that are going to keep you in the shade rather than in direct sunlight, are good too," says Dr. Houston. "In Florida, we all like to be outside at the beach and other places, or boating, so just be cognizant about taking breaks in the shade and not extended periods of time where there's exposure." 
Speaking form experience, he understands it can be tricky to get children to wear sunglasses.
"If you can get your child to wear sunglasses, then that's ideal, but for those 5 and under, having them keep sunglasses on their face can be pretty difficult. You also have to consider that there are some kids that actually like wearing sunglasses and others that just don't want them on their face, period," says Dr. Houston.
"The typical baseball cap isn't bad, but oftentimes, with like my son who is not a huge fan of wearing sunglasses, we have him wear one of those bucket caps that cover all the way around to keep sun out of his face, plus it comes down low enough that it keeps his eyes shaded too," he says. 
Minneola mom Kristin Nichole Williams says she and her husband Bryan Williams, can usually get their daughters Amelia, 4, and Daisy, 6 months, to wear both, although it all depends on what adventure they're embarking on.  
"We wear sunglasses, hats, sunscreen, and clothing that is protective," Kristin says. "Specifically, if we're out in the water then both girls wear long sleeve bathing suits and water hats."
She says for them, it's particularly important because both girls have light-colored eyes and fair skin like her and Bryan. She says they all usually wear sunglasses when outdoors.
Dr. Houston says some people may not realize that light eyes (like fair skin) contain less pigment, therefore making them more susceptible to sun damage. 
"We understand it's very important to protect our eyes. Sunglasses are just one level of protection but at least they're an easy choice and stylish," Kristin says, adding that to ensure cooperation, "I let Amelia pick out any sunglasses that she likes when we're at the store if she sees a pair she wants. I want her to have options so she will always be happy wearing them."
---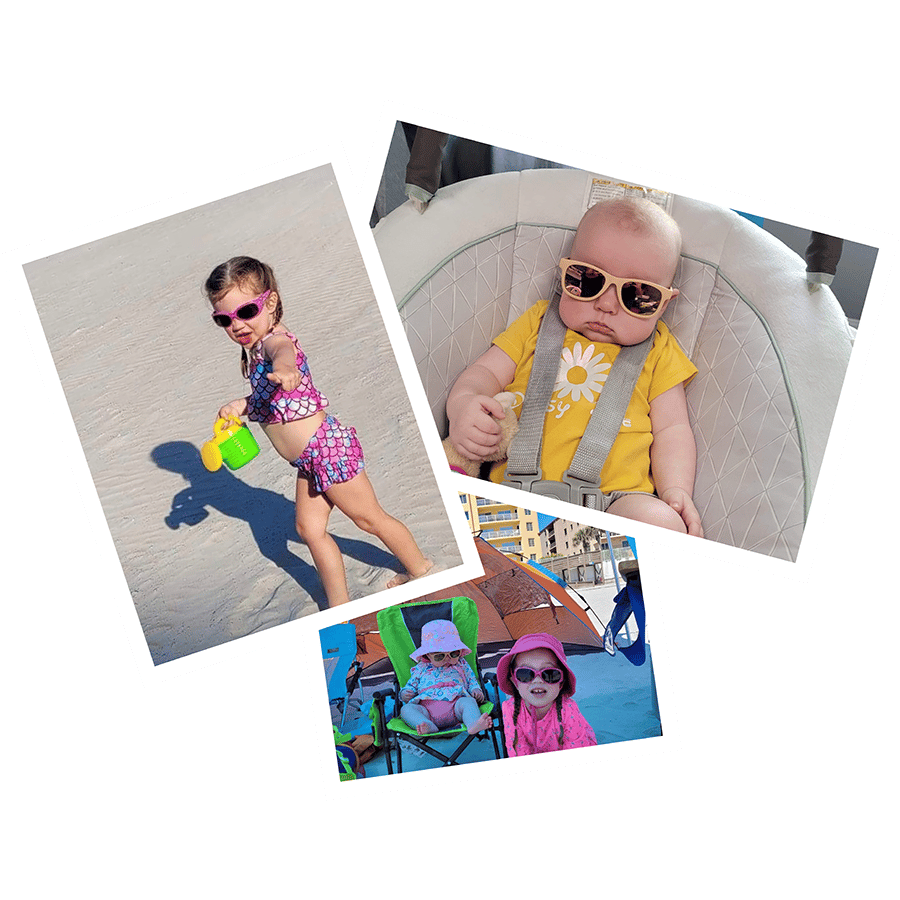 Daisy and Amelia Williams | Photos provided by Kristin Nichole Williams.
---
Along those same lines, Dr. Houston says if a pair of sunglasses is adorned with a child's favorite cartoon character or superhero, they might be more inclined to wear them.
Kristin says they've tried making wearing sunglasses and hats fun — yet normal — since Amelia was little.
"Amelia has a million pairs of sunglasses, so we let her pick which ones she wants to wear. When it comes to water hats, we don't give her a choice, we've just always made it part of her water wardrobe and she goes with it," Kristin says. "When we're out and about in the sun (not water play) we let her choose which hat she wants to wear. At 4 years old it's best to let her use her voice because the battle isn't worth it."
Daisy may be too young to choose what to wear, but she already has a variety of outfits for every occasion.
"Amelia has been wearing hats and sunglasses since she was a baby so it's not too hard getting her to wear them. Daisy is just getting started, as this is her first summer, but she's a pretty easy baby, and already we've been able to find sunglasses that fit her on Amazon," Kristin adds.
Kristin encourages parents to make hats and sunglasses part of their established "uniform" for being out and about.
"When you're leaving the house, make sunglasses and hats part of your checklist," she says, adding it's what she does with Amelia. "I say, 'You got your shoes? Hat? Sunglasses? Booty?' And she just giggles and makes sure she has everything," Kristin says. "Shoes are actually harder to get on her than sunglasses."
Dr. Houston says a good pair of sunglasses should specifically indicate UVA or UVB protection. Polarized lenses, though sometimes slightly more expensive, provide even better filtering of sun rays. 
Additionally, he says sunglasses for younger children should be made of plastic instead of glass or other materials that could potentially shatter. A wrap-around variety may be ideal. 
He also suggests keeping an eye on babies and toddlers to ensure they do not chew on their sunglasses because a small piece could break off and become a choking hazard. 
After all that, if a child ends up with an eye sunburn, he or she should be seen by an eye professional. 
According to Dr. Houston, most of the time an eye sunburn — like with a sunburn of the skin — will go away on its own. Until then, certain over-the-counter remedies can help ease discomfort.
"People can see their eye doctor to evaluate if they suspect an eye sunburn, but most of the time, it's going to be conservative care that's given. That may include lubricating the eyes with artificial tears to keep them comfortable, and then mainly staying out of the sun for the next 24 to 48 hours," says Dr. Houston. 
---
Originally from Nogales, Arizona, Roxanne worked in the customer service industry while writing independently for years. After moving to Florida in 1999, Roxanne eventually switched her career path to focus more on writing and went on to become an award-winning reporter for The Daily Commercial/South Lake Press newspapers for 16 years prior to coming on board with Akers Media as a staff writer in July 2020 – her dream job come true.
Share This Story!