Grilled Cheese Gallery in Mount Dora puts magical twists on kids' favorite sandwich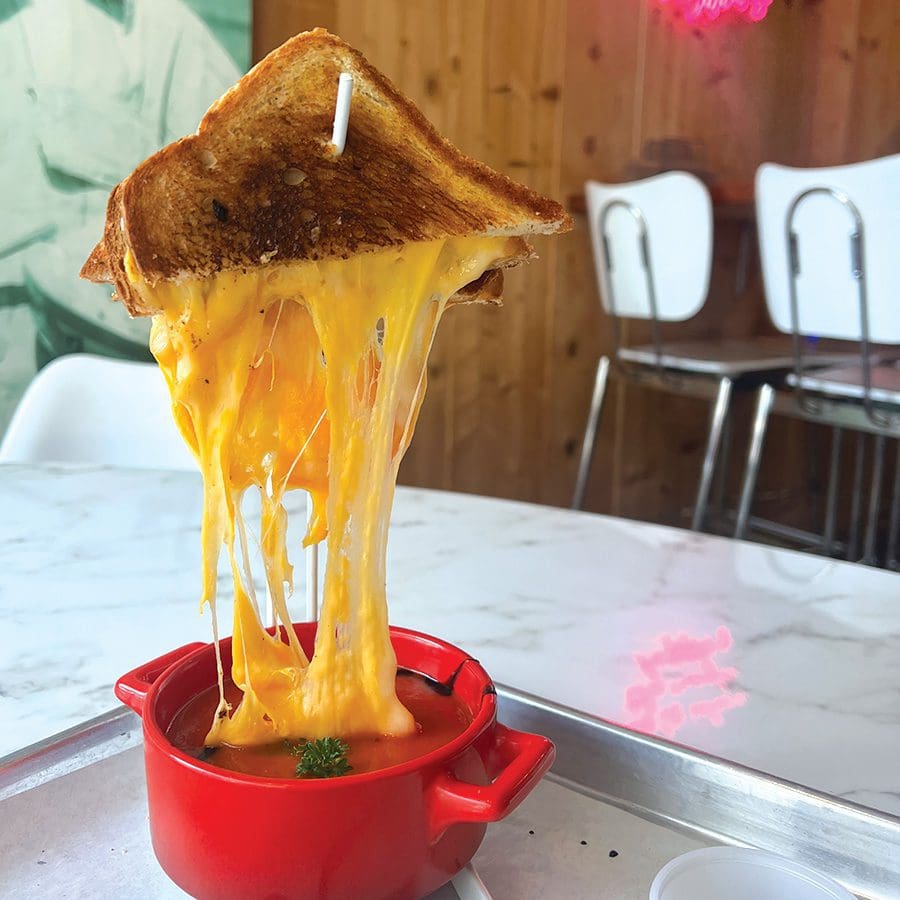 Grilled Cheese Gallery in Mount Dora puts magical twists on kids' favorite sandwich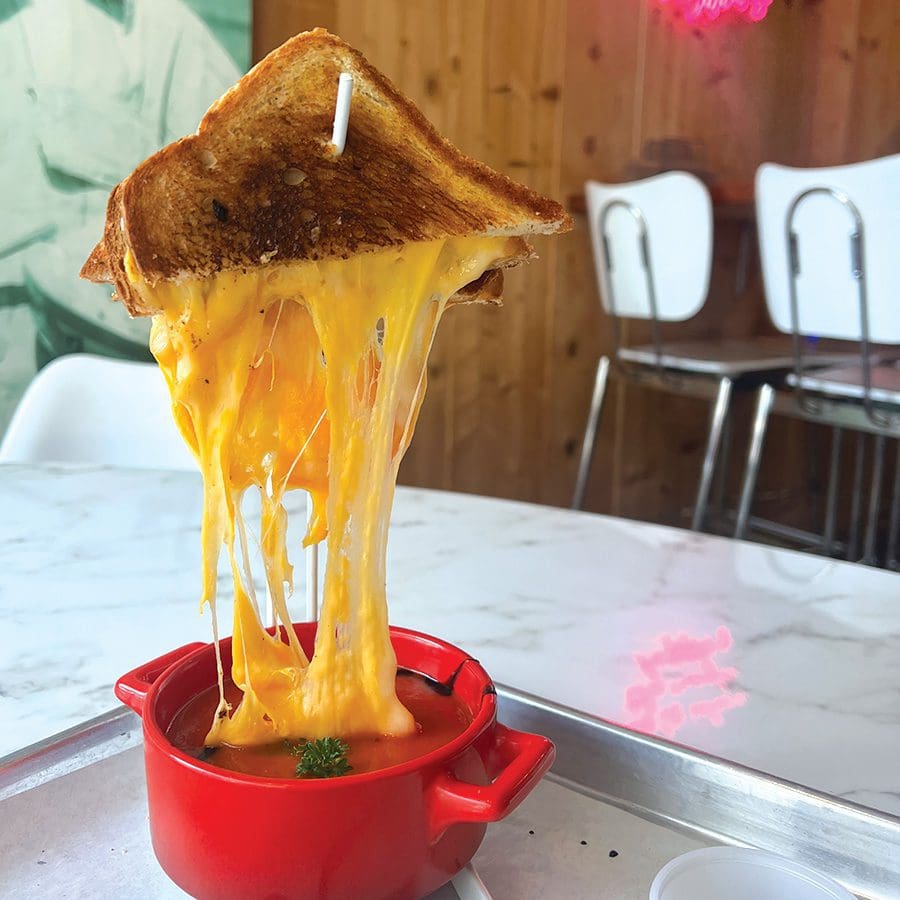 It sounds simple. Two pieces of bread, a slice of cheese and grill it. Easy peasy.
However, the Grilled Cheese Gallery's unique grilled cheese creations are far from simple, and your taste buds will agree. 
How it began
Owner Jeffrey Thompson grew up in the Ocala area and spent a year of school in Mount Dora before moving to West Palm Beach to work in the hospitality industry as everything from bartender, waiter, and personal chef. On the side, he opened O-BŌ, an antique store and art gallery, which he did exclusively for a time.
"It kept the creative side of me going, but I missed working in a restaurant," Jeffrey says. 
When a space near his gallery became available, he toyed with the idea of opening a small dinner-only restaurant with small plates and wine. However, that idea quickly snowballed into a full-service fine-dining restaurant, complete with white linens, lunch, and brunch. 
"O-BŌ was my training grounds for running my own restaurant," Jeffrey says. "It taught me how to succeed and all of my mistakes." 
Jeffrey began to notice a different demographic coming to visit the restaurant and realized he wanted to have a price point for everyone, not just those looking for fine dining. 
After tossing around a few ideas, he thought, "Why not do a fine-dining take on the classic grilled cheese sandwich?"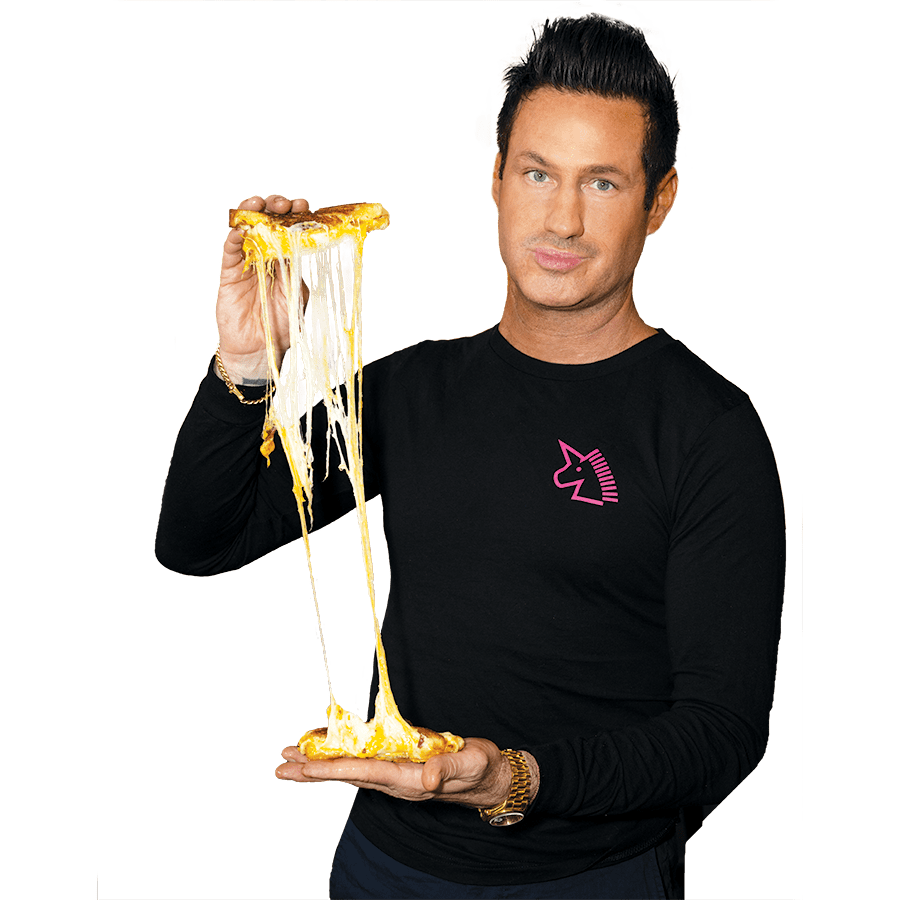 Challenge accepted
Jeffrey went to work on developing the best grilled cheese sandwich around. He tasted various types of gourmet cheeses, developed multiple dishes he likes to call "magical comfort food," and opened his small Grilled Cheese Gallery restaurant.
The response was overwhelming.
"It exploded," Jeffrey says. "I eventually had to make the tough decision to shut down O-BŌ and move the Grilled Cheese Gallery into that spot."
Spreading the magic
Jeffrey jumped when the opportunity for expansion presented itself. Soon their magical unicorn logo–chosen because it's prettier than gooey cheese–would be on the front of multiple locations in Florida and Cape Cod, Massachusetts. They are currently working on their seventh location in Coral Gables.
"We handpick our locations based on the area and if we think we would be a good fit there," Jeffrey says. "We want to be a family place."
Downtown Mount Dora fit that criteria, and Jeffery opened inside the Mount Dora Marketplace in 2022. Although it is his smallest location, he says the business is booming.
Jeffrey's youngest brother Lane mainly runs the Mount Dora location and has expressed interest in the industry since he was a kid running around Jeffrey's gallery.
"I've been working with him since he had O-BŌ and helped out where I can," Lane says. "I'm working on finishing high school and hope to go on and do my own thing one day. I've already got a lot of ideas."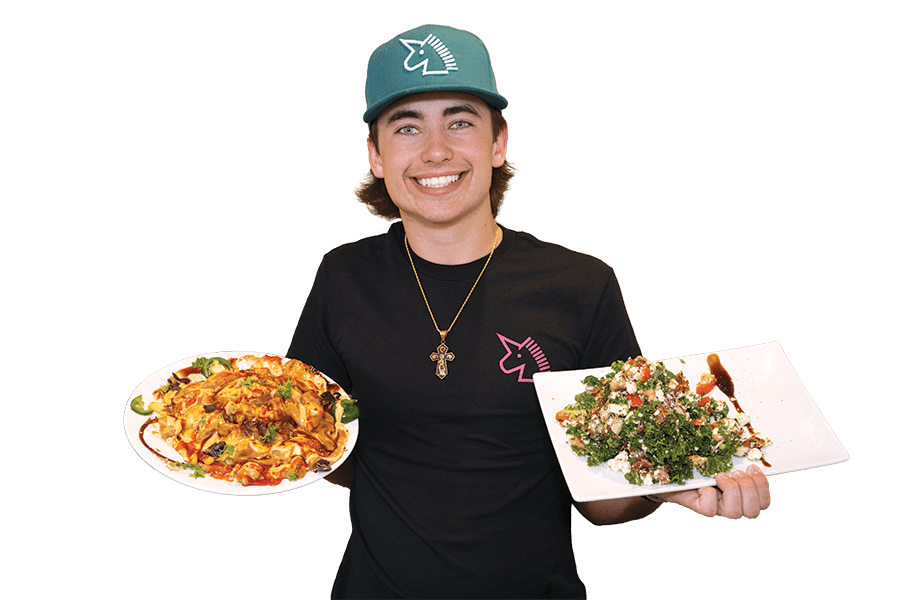 The menu
Of course, the classic grilled cheese sandwich is on the menu, but presented on a hook to showcase the gooey cheese oozing from the center and served with dipper of their signature tomato basil soup.
A Night in Amsterdam is a popular upgrade which features gouda, Gruyere, Swiss and cheddar cheese on artisan white bread, or take a walk on the wild side with The Artist–mushrooms, Swiss, onion, kale, truffle oil and balsamic served on rye bread.
But wait, there's more.
The Chesterfield adds pulled pork, hickory BBQ and caramelized onions to a gourmet grilled cheese, The Asian Cowboy features beef short rib, Swiss cheese, bacon, kimchi, chipotle and onions, and The Southern Belle adds crispy chicken, Swiss and pepper jack cheese, onions, romaine and chipotle.
They also serve a loaded steak melt, The Queen Brie with house cured bacon, brie and raspberry puree, and the GQ made with goat cheese, truffle glaze, prosciutto, spinach, and tomato on black pumpernickel.
And for those who are dairy-free or gluten-free, they offer both vegan and gluten-free cheese and bread.
Just when you think you've seen everything, wait until you try their signature mac & cheese grilled sandwiches. Try the Mac Daddy with cheddar, The Pimp Daddy mac & cheese with bacon, The Country Boy with cheddar, Gruyere and BBQ pork, The Country Girl mac & cheese with cheddar, Gruyere, chicken and chipotle, and The Playboy mac & cheese with cheddar, Gruyere and ribeye.
They also offer a variety of organic salads, including The Greek, The Hot Chick with panko crusted chicken and sriracha lime dressing, and The Warm Goat Cheese with organic baby greens, goat cheese, cherry tomatoes, carrots, cucumber and sun-dried tomato vinaigrette. The most popular salad is The Tipsy Unicorn, which features organic chopped kale, grilled chicken, bacon crumble, tomato, purple onion, feta, and a champagne vinaigrette.
Some are surprised to find poutine, a French-Canadian dish of fries covered in cheese curd and gravy that is a crowd favorite. Aside from the classic version, Grilled Cheese Gallery offers The Gallery Steak Poutine with sterling ribeye, caramelized onion, organic kale and kimchi, The Scarlet Poutine with grilled chicken, sriracha aioli, jalapeño and kimchi sauce, The Wrangler with beef short rib, organic kale and BBQ sauce, and The Lobster Madison with fresh lobster, chipotle aioli, paprika, lemon and drawn butter.
Recipes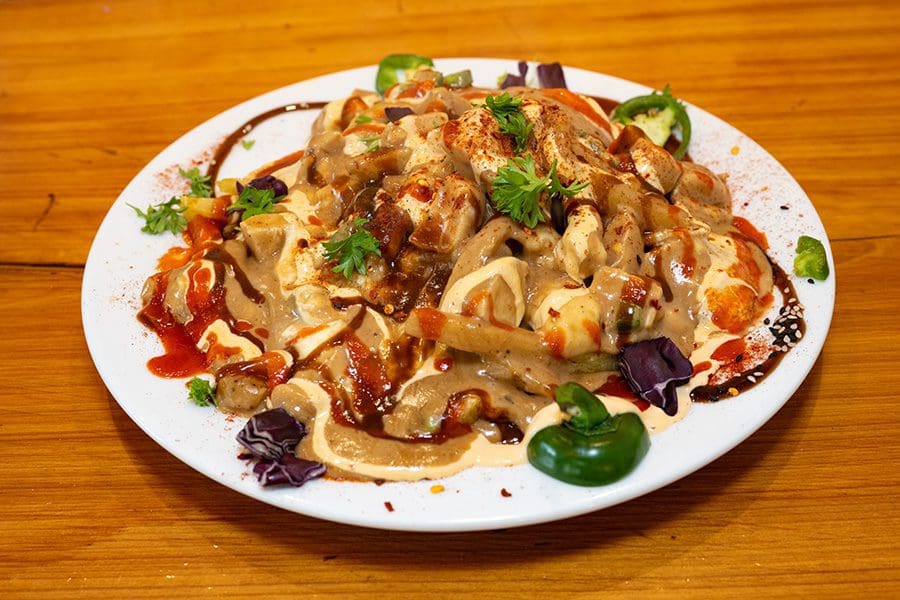 The Scarlet Poutine
Gravy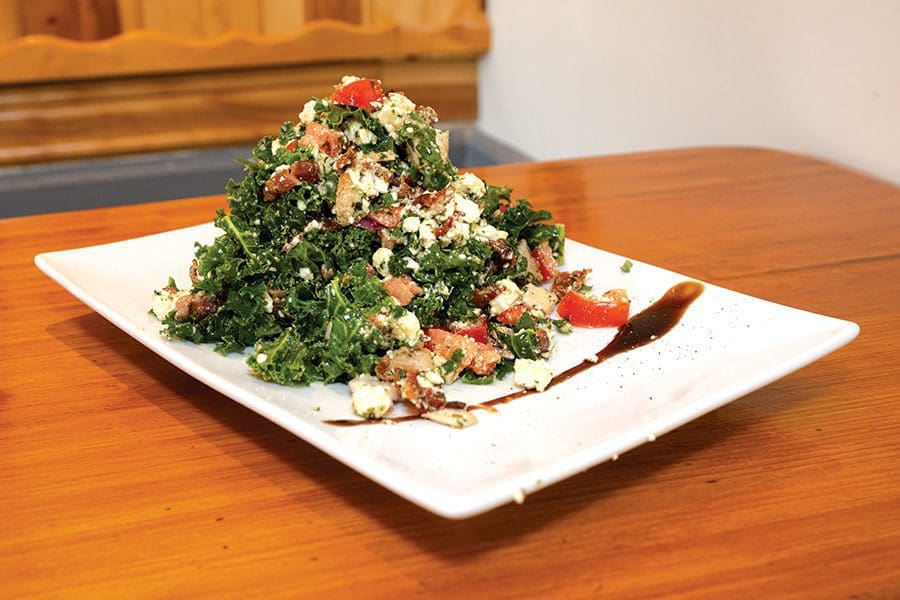 Tipsy Unicorn Salad
Tipsy Champagne Vinaigrette: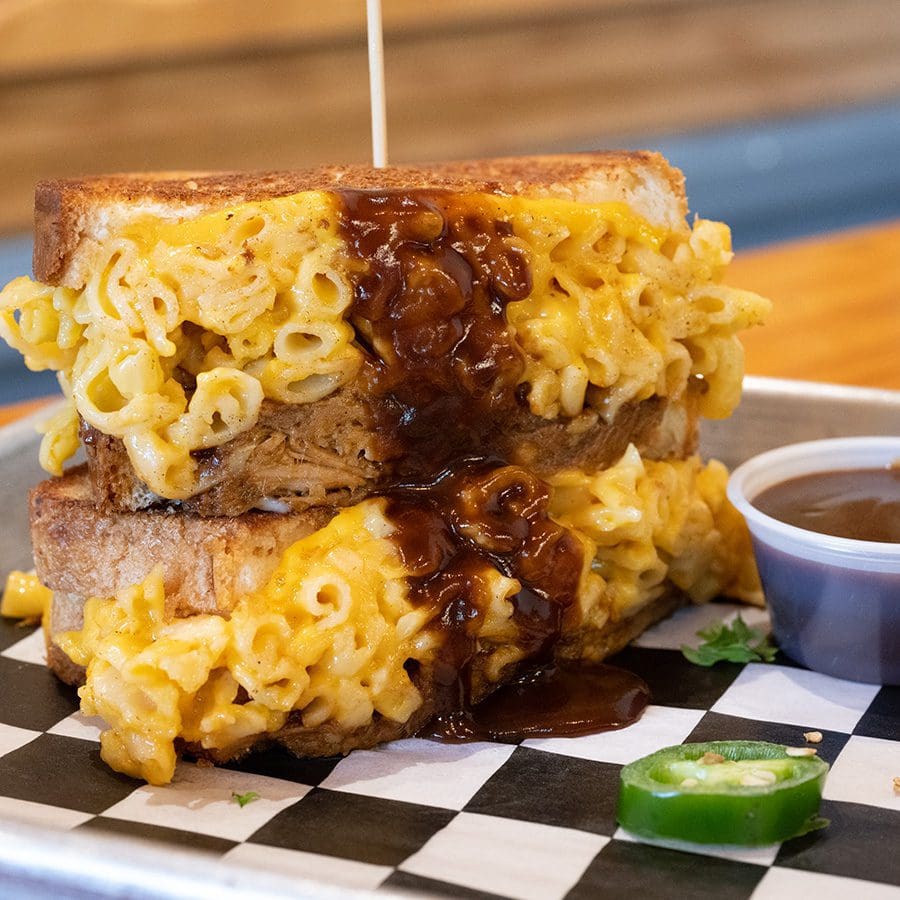 The Country Boy
GCG Mac:
BBQ Pulled Pork:
This isn't just grilled cheese, It's art!
Delicious edible art!! Great food and excellent service! 

~ Michelle Langridge McGuire
Do you have favorite recipes or know a chef we should profile?
Let us know!
Do you have favorite recipes or know a chef we should profile?
Let us know!
Do you have favorite recipes or know a chef we should profile?
Let us know!
Originally from the small town of Berryville, Arkansas, Cindy has become a multimedia specialist in journalism, photography, videography and video editing.
She has a B.S. in Communications from the University of Central Arkansas and is a correspondent for The Daily Commercial, LakeFront TV and Beacon College's PBS talk show, "A World of Difference," where she received an Anthem Award and Telly Award.
When she isn't working, Cindy spends time with her husband, Ryan, and son, David, traveling and taking photos of landscapes and wildlife.
Share This Story!