Hang gliding championships soar into Groveland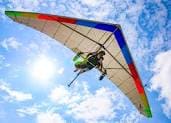 It's a bird.
It's a plane.
No, it's a hang glider.
And plenty of them will fill the Groveland skies during the International Sport Aviation Federation (FAI) 2020 World Hang Gliding Championships, according to a press release from the South Lake Chamber of Commerce. The event, which lasts from April 19 through May 1, will be held at Wilotree Park, 6548 Groveland Airport Road.
As of January 15, 83 competitors representing 16 countries have registered to compete. The preliminary schedule includes a parade and opening ceremony April 19 at Lake David Park, a safety practice and official practice day on April 20, and an awards brunch and closing ceremony on May 1.
There are four championships in this event: the 2ndFAI World Hang Gliding Championships Sport Class; the 14thFAI Women's World Hang Gliding Championships; the 9thFAI World Hang Gliding Championships Class 5; and the 21stFAI World Hang Gliding Championships Class 2.
The competition is race-to-goal. Every day there is a new task set by a committee, generally designed so that the winner should complete it in two to three hours. The pilot with the fastest time to goal is that day's winner in each class. The task may be a triangle or other pattern with waypoints, and with goal at Wilotree or at another designated place. Pilots who do not arrive at goal score points for their distance. Tasks will generally be 50 to 100 miles.
Akers Media Group's James Combs has been a staff writer for several local publications since August 2000. He has had the privilege of interviewing some of Lake County's many fascinating residents—from innovative business owners to heroic war veterans—and bringing their stories to life. A resident of Lake County since 1986, James recently embarked on a journey to lead a healthier lifestyle. He has lost 60 pounds and walks nearly five miles a day. In his spare time, he enjoys target shooting, skeet shooting and watching his beloved Kentucky Wildcats!
Share This Story!