Health Pros: Aegis Medical Group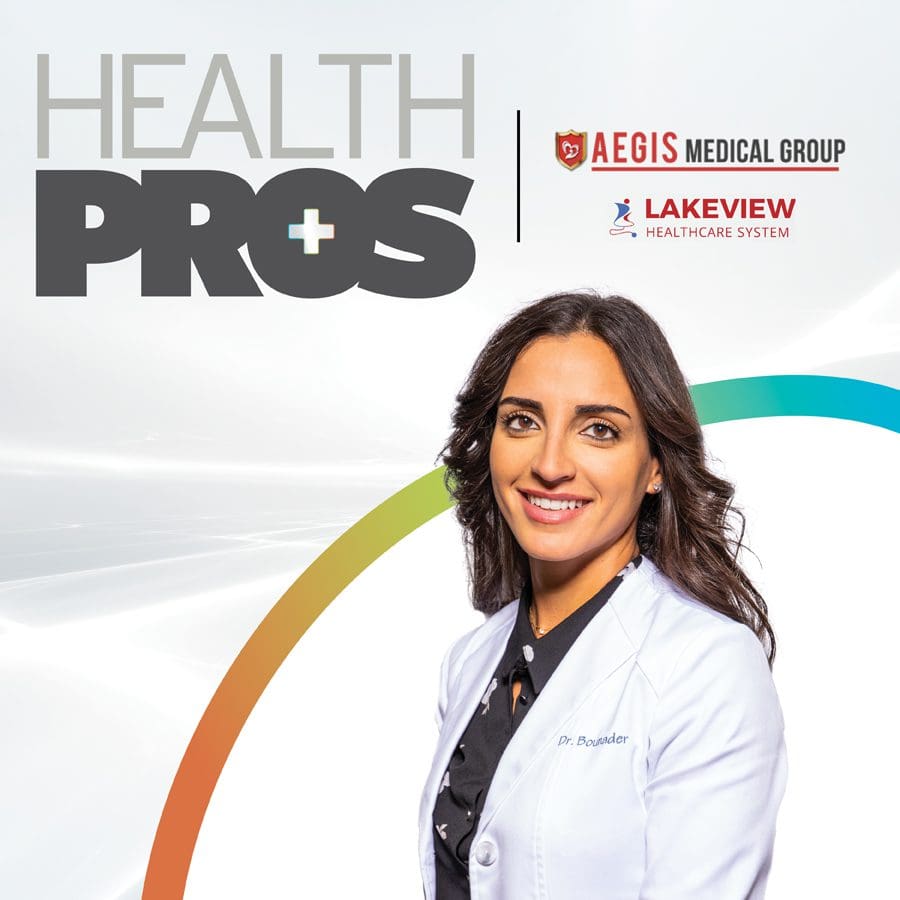 Taking the spotlight
Aspiring film student touches lives…one patient at a time.
ad her original dream come true, Dr. Sarah Bou Nader would be enjoying the bright lights of Hollywood. 
She planned on enjoying a lucrative career in film production. There was only one problem. She was not accepted into film school. 
"Instead, I was accepted into biology," she says. "After a year of studying medical sciences and specializing in cellular molecular biology, I became fascinated with medicine. I ended up attending medical school."
Today, Dr. Bou Nader is a primary care physician at Lakeview Healthcare System. Without fail, she exhibits a great deal of compassion toward each of her patients. She takes much pride in delivering comprehensive care so patients enjoy well-being and happiness. 
"I love being part of this community because I get to help the underserved community," she says. "They're the fragile people who need extra care. I love providing that extra care."
Dr. Bou Nader earned her medical degree from Ross University School of Medicine, located in the Caribbean, and completed her residency at UMass Memorial Medical Center. In October, she joined Lakeview Healthcare System.
Thanks to her comprehensive training, she offers services typically not provided by primary care physicians. Those services include injections of the knee, sacroiliac joints, and shoulder, as well as cervical biopsies, skin cancer removal, wart removal, and sebaceous cyst removal. 
"Of course, I offer routine care also, but if a patient complains of an ache or pain, I might be able to treat it myself," she says. "This saves them the time and hassle of having to set up another doctor appointment." 
Dr. Bou Nader enjoys being part of Lakeview Healthcare System and Aegis Medical Group. Teamwork can be a powerful force for change, problem-solving, and a better quality of life. The same holds true for integrated medical practices. If she needs to refer a patient for specialized care, she has access to a team of highly skilled specialists.
"We have a tight-knit community of physicians," she says. 
"There are some things you don't learn in medical books. You learn with experience. And we have a team of experienced physicians who are willing to help."
One thing is certain: While a career in film never materialized, Dr. Bou Nader is unquestionably a shining star in the eyes of her patients.