Health Pros: Aegis Medical Group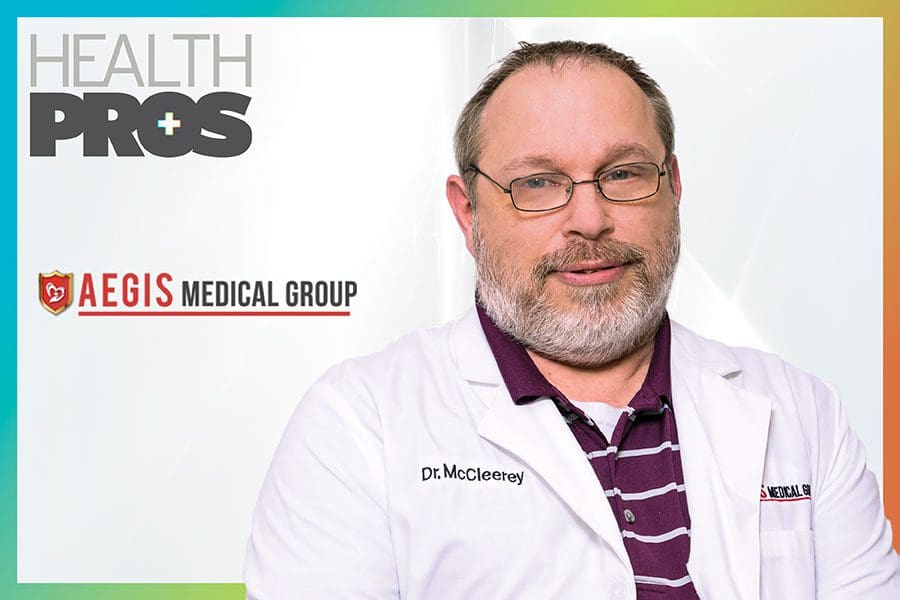 Board-certified in family medicine, Dr. John McCleerey is pleased to be part of Aegis Medical Group, serving patients at the practice's Ocala office. 
He recently moved from Elizabethtown, Kentucky with his family and is enjoying the warmer Florida weather and the ability to be closer to his wife's Lake County relatives in Leesburg and Astor. 
Throughout his 16 years of private practice, patients have praised Dr. McCleerey for his pleasant bedside manner, compliment him for listening, and for running on time regarding their appointments. He even has a patient who travels from Kentucky to see him. 
With Aegis Medical Group, our priority is managed care, so I would say 90 percent of my patients are 65 and older, the Medicare age," says Dr. McCleerey. "I want that population to be able to continue to do what they want to be able to do." 
Helping patients achieve the best quality of life is what he believes is important, and he advises them on ways to prevent health concerns from becoming big problems. 
"I like the variety," Dr. McCleerey says of family medicine, and he enjoys being able to treat the whole patient, everything from their mental health, diabetes, blood pressure, cholesterol, etc. He also coordinates his patients' care between their different specialists and is mindful of the prescribed medications from the different providers, to make sure they work properly in the patient's overall care.
Being in Florida, Dr. McCleerey has personally witnessed the advantage of the warmer climate on a person's health. 
"There's definitely less joint pain and definitely less illness," he says. "Humidity does help the joints better and warm air is better than the cold or dry air that is in the north."
However, he notes allergies can be better or worse, depending on what a patient is allergic to, and if the same triggers are in Florida that they experienced up north. 
Dr. McCleerey graduated in 2003 from Indiana School of Medicine in Indianapolis, Indiana, and completed his residency at St. Joseph Regional Center in South Bend, Indiana, in 2007. He also did research work and was a teaching assistant at Purdue University, and he has additional training in psychiatry and behavioral medicine. 
In his free time, Dr. McCleerey enjoys golf, reading, writing and time with his family. 
---
Aegis Medical Group  
362.758.2597 / 1630 Southeast 18th St., Bldg. 400, Ocala