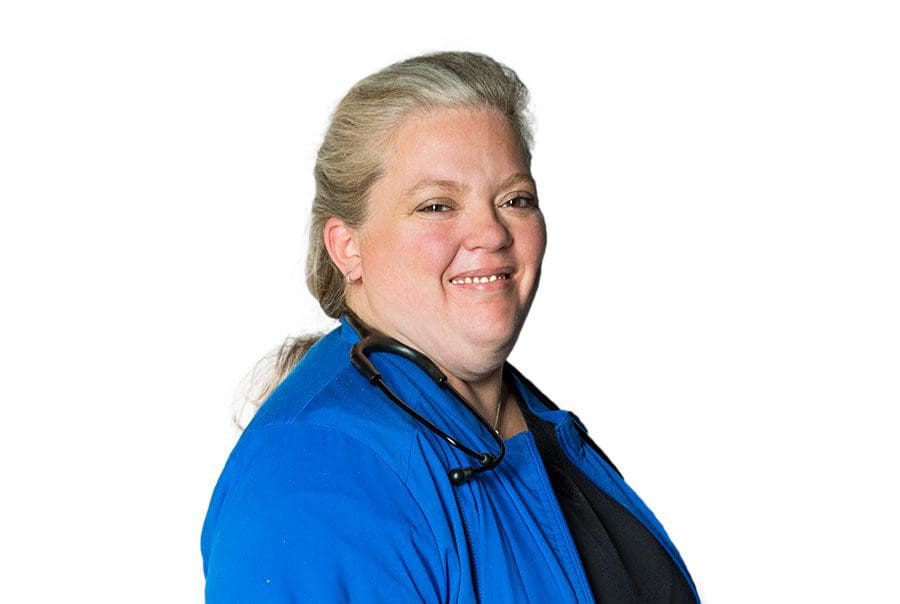 Amanda Dunn
Amanda Dunn has always been drawn to helping others so when contemplating her future career path, she decided that nursing was the perfect choice to make.
Fast forward 20 years and Amanda says it was definitely the right decision. "I love helping people; I'm a helper at heart. I really like feeling that I am making a difference in the lives of others. In addition to delivering compassionate clinical care, nurses also serve as a main point of contact for patients and their families; answering questions, explaining the treatment, easing fears, and preparing patients to be discharged from the hospital. It's hard work, but is very rewarding," Amanda says.
Amanda began her nursing career as a licensed practical nurse, but four years ago she became a registered nurse. She's worked at UF Health The Villages® hospital for nearly 10 years and today she is the charge nurse in the intensive care unit or ICU. In November, her efforts were rewarded with a surprise recognition as the hospital's 2020 Nurse of the Year.
Amanda says she didn't even know she'd been nominated but that her director asked her to attend an ICU leadership meeting because the ICU was receiving an award. "I thought that I would merely accept an award in honor of my department, but when they presented me with the Nurse of the Year award, it was quite a surprise. I was very honored," she says.
Amanda is grateful for the recognition but is quick to point out that she could not excel in her role without the support of her entire team. She says they make every day brighter, especially now with the fear and uncertainty of COVID-19 and its far-reaching impact on the world and especially in the health care field.
"The pandemic has definitely increased the level of complexity associated with delivering high-quality nursing care," she says. "We've been limited as far as how many visitors patients can have in the hospital, and if someone has COVID-19, they are there alone, so we take care of them to a different extent. I've held the hands of patients as they passed because their families can't be there, which is heartbreaking. It takes a toll on us as clinicians, but that is what we are there for — to be by our patient's side through each step of their care journey."
Amanda notes that with the added pressure of working in the midst of a pandemic, the support of her family and five children — one of whom is a nurse at another department in the same hospital — and of the other nurses she works with in the ICU, is more important than ever before.
"We lean on each other a lot. You talk to your colleagues, you cry on their shoulders, but there's always somebody that needs you, so you have that moment and then you pull it back together and keep going," Amanda says. "Every day, I just keep looking forward to seeing  that light at the end of the tunnel."
UF Health The Villages® Hospital  
1451 El Camino Real, The Villages