Health Pros: Megan Lefebvre, APRN and Sarah Cooper, APRN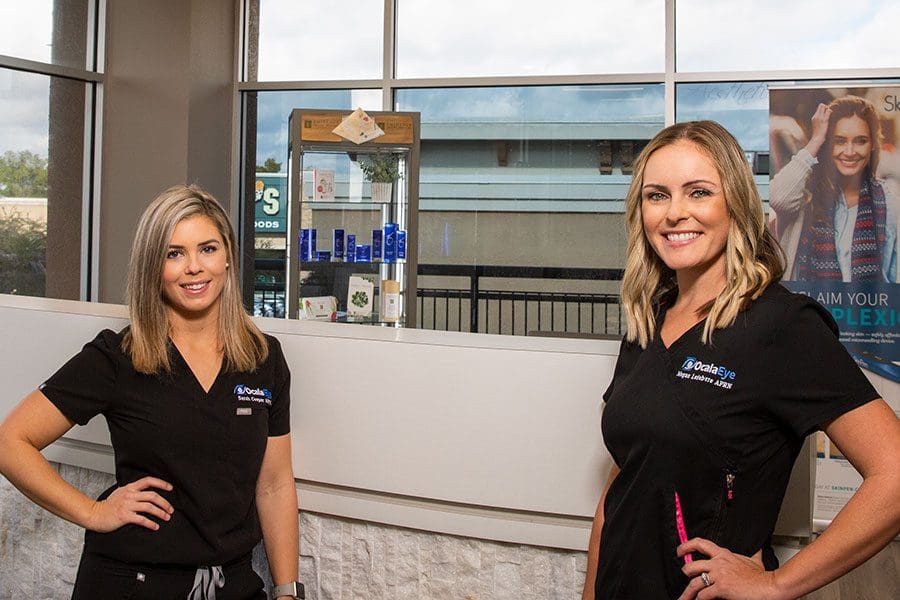 Offering more than vision care, Ocala Eye can help you look and feel your best.
Ocala Eye offers multiple aesthetic services, from facials to fillers. Botox and dermal fillers can be used, each in different ways, to soften lines and wrinkles as well as add or restore volume to areas like the lips, cheeks, and lower face.
 When deciding whether you should get a Botox treatment versus dermal fillers, you should focus on what your goals are for your skin. "Botox is typically used for fine lines and wrinkles in areas such as the crow's feet, lines between the brows, and forehead lines. Dermal filler products we offer are most used to restore volume and a more youthful look in the lips, lower face, and cheeks," says APRN Megan Lefebvre.
 The process of getting Botox or fillers begins with a consultation, where you will make a plan with the APRNs to discuss your goals. "We take pride in providing the client with a comfortable experience and the treatment includes a complementary consultation to really get to know what the client is looking for, and to develop a plan together while discussing different options," Megan adds.
 At this time, you will also discuss how to prepare for your Botox and/or fillers and what to expect after the treatment. "These things are unique to each patient and we like to customize this to fit their individual lifestyle," Megan says. "I truly enjoy the art of aesthetics, which allows me to give my patients a more youthful but natural appearance," says APRN Sarah Cooper. "My favorite area to inject dermal fillers is in the lips because it is one of the first things you notice about a person and it can make a tremendous impact on their overall appearance."
Ocala Eye  
 352.873.9311
3330 SW 33rd Road, Ocala
ocalaeye.com