Health Pros: UF Health Orthopedics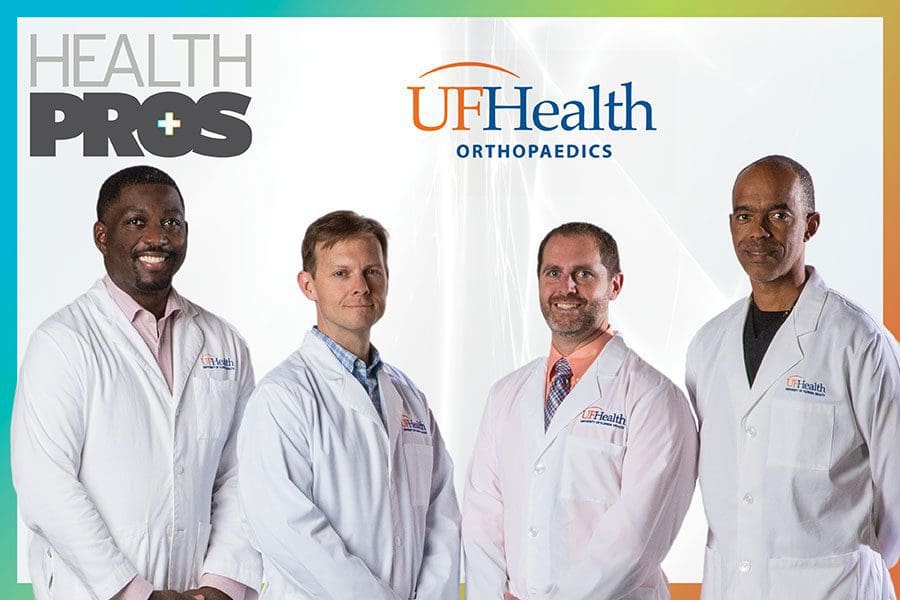 UF Health Orthopaedics—Leesburg gives patients access to a new level of musculoskeletal care.
An avid runner who competes in marathons.
A backyard gardener who loves planting flowers.
A grandfather who throws a football with his grandson.
Today, more people are living active lifestyles than ever before. Unfortunately, there are times when problems arise with joints, muscles, and bones. These problems can impede people from enjoying activities they love.
Fortunately, they don't have to spend the rest of their lives being a spectator.
That's because University of Florida Health is ushering in a new era in orthopaedic care right here in Lake County.
UF Health Orthopaedics—Leesburg, located at 701 Medical Plaza Drive, features a talented and experienced team of board-certified orthopaedic specialists who are adequately equipped to address the pain and functional limitations that come with orthopedic and sports-related injuries.  
The convenient location gives patients and their families a full range of services to diagnose and treat musculoskeletal conditions—all under one roof. Having these services in a single facility means patients no longer have to drive to larger cities for orthopaedic care, saving them time, money, and hassle.
UF Health Orthopaedics—Leesburg provides care for both routine musculoskeletal problems as well as highly specialized orthopaedic care at this location, including evaluations for joint replacements and treatment for spine, foot, ankle, and hand and upper extremities.
---
Meet the team at UF Health Orthopaedics-Leesburg!
Cedric Tankson, MD
Dr. Tankson is a familiar name in Lake County, having practiced here since 2005. To say he's excited to join UF Health Orthopaedics – Leesburg is an understatement.
"This is a great opportunity to expand the scope of UF Health and provide comprehensive, quality care to our community," he says. "Because I've been in this community for a long time, I pride myself in delivering a high standard of care to each patient I treat."
Dr. Tankson is a foot and ankle specialist who performs reconstructive surgery and arthritis management.
Paul E. M. Johnson, MD
Dr. Johnson recently moved to the area from South Florida, joining the practice to bring cutting-edge techniques, such as muscle-sparing procedures and robotic-assisted surgery to Lake County.
His focus is knee and hip replacement.
"It's an honor for me to be part of the UF Health team," he says. "UF Health's reputation speaks for itself. I look forward to helping people whose lives have been interrupted by pain. I want them to get back to the activities they enjoy."
Jay B. Cook, MD
As a physician in the U.S. Army and a private practice, Dr.  Cook has practiced in Iraq, Hawaii, and South Georgia. Now, the 2001 graduate of Leesburg High School is happy to be home.
"I'm so glad to be close to family again after being away for 20 years," he says. "This is a great area with great people. Also, I am proud to join a practice comprised of first-rate physicians who will undoubtedly improve the quality of orthopaedic care in Lake County."
Dr. Cook treats conditions of the shoulder, knee and hip as well as other common orthopaedic injuries throughout the body.
Isaac Mitchell, MD
Anyone with a shoulder problem is in capable hands with Dr. Mitchell. He has traveled extensively to teach other surgeons how to perform shoulder replacements. In addition, other surgeons have come to the area to train under him in shoulder replacements.
Dr. Mitchell, who has practiced in the area for 18 years, is excited to continue delivering the same quality of care that countless patients have come to expect from him.
"What makes Leesburg truly special are the people," he says. "I look forward to serving their orthopaedic needs to the best of my ability and help them lead the active lifestyles they desire."
---
UF Health Orthopedics  
352.630.6250 / 701 Medical Plaza Drive Leesburg, FL 34748 / ufhealth.org