Health Pros: Village Heart and Vein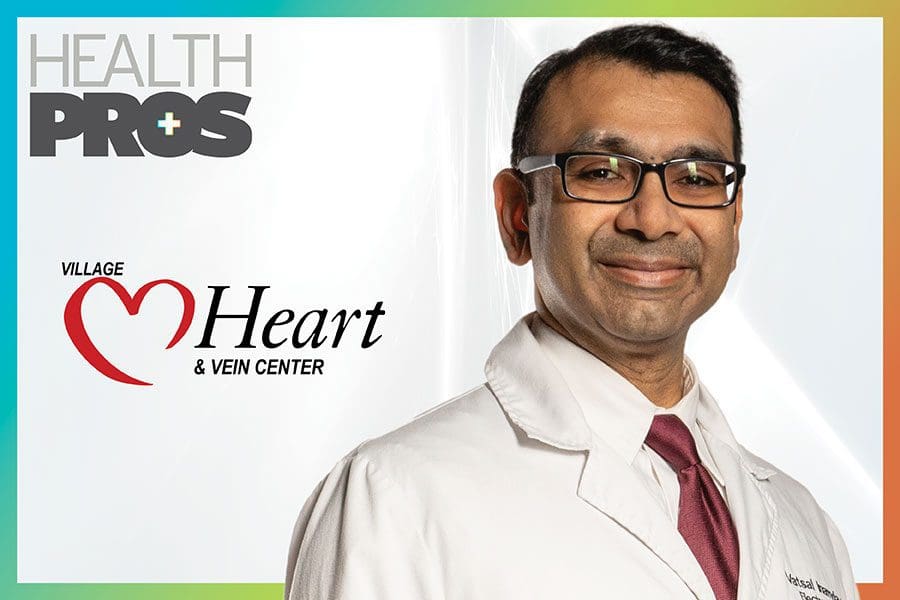 Spending time and listening to patients is one of Dr. Vatsal Inamdar's biggest strengths.
Hearing the news that you have a heart condition can be extremely frightening. 
Therefore, it's important to choose a reputable electrophysiologist as the first line of defense. That's why patients with arrythmias put their heart care in the hands of Dr. Vatsal Inamdar, an electrophysiologist with Village Heart and Vein. 
Dr. Inamdar has an impressive list of credentials. He is certified in clinical cardiac electrophysiology and cardiovascular disease by The American Board of Internal Medicine. He also completed two fellowships—one in electrophysiology at the Mayo Clinic in Arizona and one in echocardiography at the University of Alabama. 
But perhaps the most important quality he possesses in his medical toolbox is the time and capacity to listen to patients, hear their stories, and educate them fully on their condition and treatment options. 
This is extremely important. After all, modern medicine's true healing potential requires more than a doctor's credentials and skilled surgical hands. It also requires shared knowledge between physicians and patients to create a viable care plan.  
"For me, it is essential to explain their condition, help them understand what is happening to them, and form a solution or resolution to their problems," Dr. Inamdar says. "That means I have to spend an adequate amount of time with my patients. Having the patient involved in their care means you get a better outcome." 
That patient-centered approach explains why many of Dr. Inamdar's patients come to him. 
"As a practice, Village Heart and Vein is very welcoming," he says. "We provide the best care and we also put our patients at ease by making them feel at home. We're all very approachable."
As an electrophysiologist, he treats issues with the electrical signals in the heart that cause arrhythmias, or irregular heart rhythms. Treatment options such as pacemaker placement or catheter ablation can resolve the problem. And that is what excites Dr. Inamdar about being an electrophysiologist.
---
Village Heart and Vein  
352.674.2080 / 8575 NE 138th Lane, Suite 203, Lady Lake / villageheartandvein.com