Healthy Inspiration: Feel the beat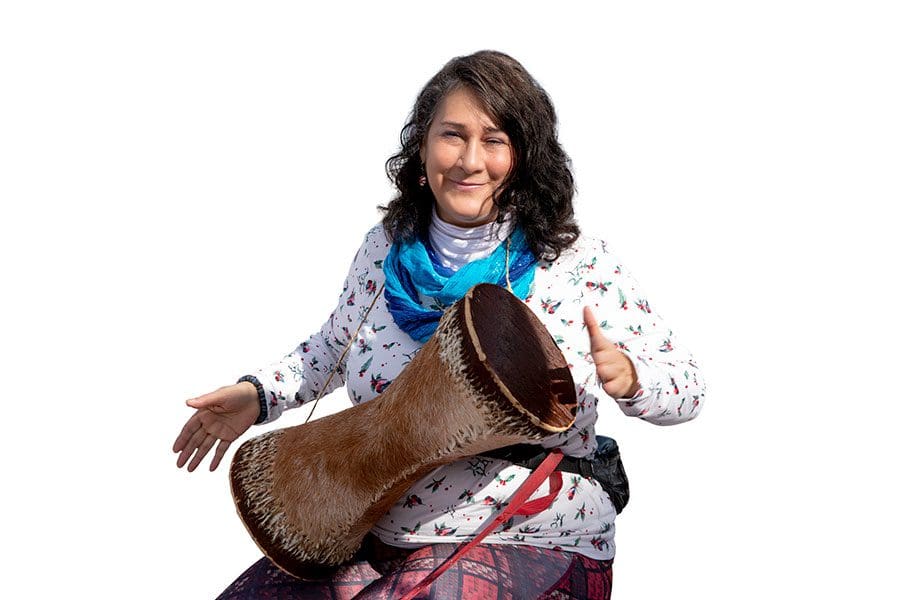 Clermont woman spreading the healing joy of drumming.
Photo: Nicole Hamel
Marcela Malvido is known for drumming on her African djembe, or anything else she can tap a rhythm on.
Marcela drums daily, and recently started the Clermont Drumming Circle, where she teaches the ancient art of playing the djembe – a word she says that when translated, means "community in peace."
Most Friday and Saturday evenings, people are welcome to join her near the shoreline at Victory Pointe Park in downtown Clermont, right before sunset, with Lake Minneola as a backdrop.
Marcela, 60, a massage therapist, hopes people experience the healing benefits and happiness drumming elicits.
"It's important to feel your heart and try to breathe very slowly, very nice, and after that, you start drumming with that feeling of peace in your heart," Marcela explains. "And whatever feeling comes, whatever is killing you, you just pull it out from inside of you, drum that feeling and let it go, and the instant you do that, it's sweet."
Marcela says whether it's anger, anxiety, sadness, thankfulness, or feeling under the weather, you focus on the feeling.
"Sometimes people say, 'How I wish I had this, if I only had that,' but what if we say, 'Thank you for what we have right now' and just drum the thank you?" Marcela asks. "The energy transforms into something beautiful, something good, and you just start laughing, feeling alive and joyful, like you have the opportunity to fix anything, to get better every day and be healthy."
Marcela says drumming transformed her life, starting about 22 years ago during one of her darkest times. She knew she was a type 1 diabetic. For decades, she was in and out of comas to the point she suffered neurological trauma to her brain. No one realized she was allergic to a medication in her insulin.


At her wit's end, Marcela's mother took her to a Chilean neurobiologist in Mexico City conducting a study for NASA focused on holistic healing and medical alternatives.
That's when she was introduced to her first drumming circle and a concoction of pure cacao, hot water, and agave honey. Using those things, her health improved.
Marcela says drumming is very healthy on its own. Being outside connecting with nature makes it even more magical, she adds.
"This is my way to meditate, to pray, I guess, but it's not really about religion. Drumming is more about letting go, but in a good, creative, artistic way."
"It's hard to explain in words, but you carry it with you long after because it's a consciousness, something from inside of you and it's like opening a beautiful, beautiful world. It's like you lift the veil that's been covering up all the happiness."
To learn more, follow "Clermont Drumming Circle" (@clermont_drumming_circle) on Instagram. 
---
Do you know someone who is a healthy inspiration? → Email your recommendations to roxanne@akersmediagroup.com
Originally from Nogales, Arizona, Roxanne worked in the customer service industry while writing independently for years. After moving to Florida in 1999, Roxanne eventually switched her career path to focus more on writing and went on to become an award-winning reporter for The Daily Commercial/South Lake Press newspapers for 16 years prior to coming on board with Akers Media as a staff writer in July 2020 – her dream job come true.
Share This Story!