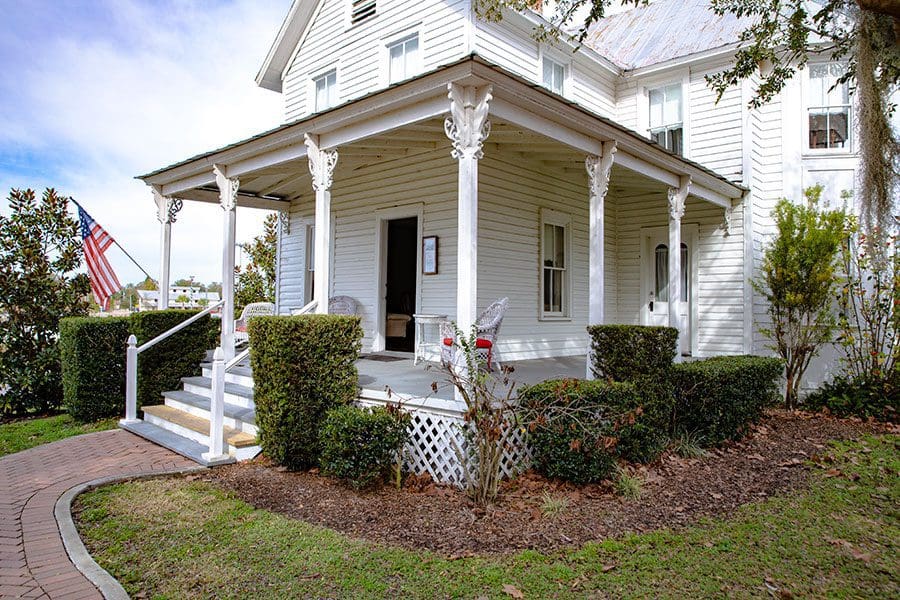 Hey, Villagers! Here are nearby day trips close to home that you may enjoy.
Compiled by James Combs, Roxanne Brown, and Theresa Campbell 
Photos: Nicole Hamel and Anthony Rao
The Villages has a plethora of exciting and fun things to do in Florida's Friendliest Hometown, but sometimes it's nice to get away and explore other attractions in Lake and Sumter counties. Style staffers found the following places to be enjoyable outings that you may want to experience with friends or when the grandchildren come to visit!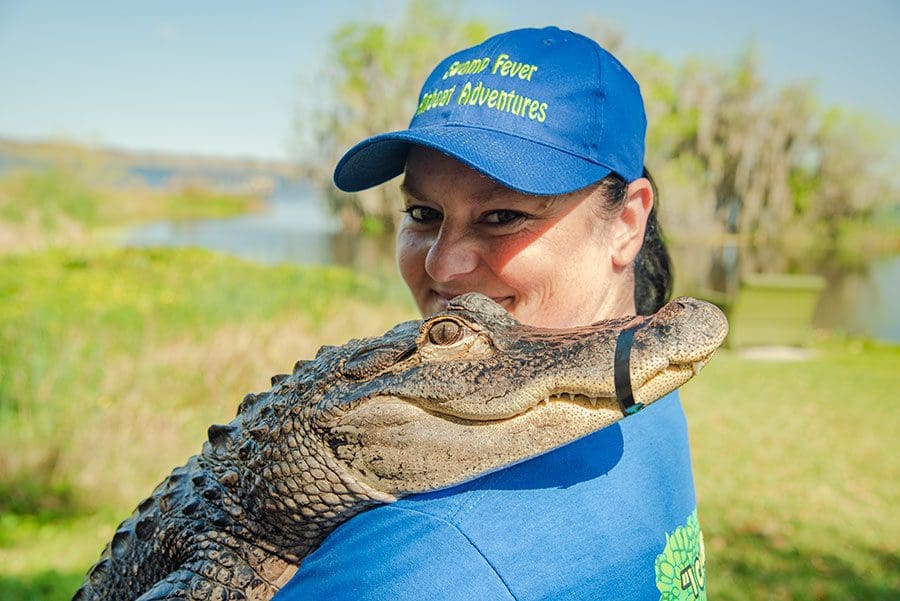 Thrilling ride 
Gliding 35 to 55 mph in an airboat across Lake Panasoffkee and experiencing fun, sliding corner turns through marshes into the peaceful swamps and natural springs of the Withlacoochee River system are among the thrills Swamp Fever Airboat Adventures provides.
Guests often marvel over the natural beauty and tranquility of the swamp, and they also delight over seeing wildlife, from big to small alligators sunbathing, turtles resting on logs, and a variety of birds. 
Swamp Fever Airboat Adventures was started in 2015 by Captain Ron Duboise–who has 50-plus years of air boating experience–and his wife Pamela. 
 "We try to give everybody the real thrill of 'Old Florida' and it's something you can't see from the road," says Pamela. "It's something you have to experience on an airboat."  
Guests are also treated to another thrill before or after their tour: the chance to meet Swamp Fever's resident alligators Alli, Josephine, or Wyatt up close. If they wish, guests can hold and be photographed with one of the gators. Yes, the gator's mouth is taped shut, and Alli, Josephine, and Wyatt are accustomed to being held and photographed with visitors. 
Swamp Fever Airboat Adventures is located 4110 NW 42nd Place, Lot 1, Lake Panasoffkee. Call 352.643.0708 or visit swampfeverairboatadventures.com.
Seaplane ride adventure 
Those seeking an unforgettable experience should look to the sky as Jones Brothers Air and Seaplane Adventures in Tavares is famous for providing "the ride of your life." 
The company offers a variety of scenic seaplane flightseeing tours, from a 15-minute touch and go on the water with aerial views of Mount Dora and Tavares, to fly-in breakfast, lunch, and dinner excursions, and full-day trips to other locations. 
Among Jones Brothers' most popular adventures are a 45-minute Gator Tour for spotting wild gators over Lake Apopka on the way to Orlando attractions; a Seaplane Bar Hop, a four-hour hop to different waterfront watering holes and restaurants with live music and cold brews; a 30-minute Sunset Celebration flight of breathtaking sunset views across vast areas of Lake Harris and Lake Griffin and the wilderness of the Ocklawaha River and Ocala National Forest before turning back across Lake Yale and Lake Eustis in time to fly into the sunset across Lake Dora. 
"The experience of splashing in and out of Lake Dora is exhilarating," says Tavares City Administrator John Drury. 
Peter Closi, president of Jones Brothers, agrees: "It's something most people have never experienced in their life and cannot be compared to any other sort of conventional flying."
Another fun seaplane/water adventure is a lunch fly-in to Lake Weir, which includes taxiing up to the beach so passengers can enjoy lunch at Eaton's Beach Sandbar & Grill. The eatery features Florisiana cuisine and menu selections inspired by deep-seated culinary roots of Cajun, Creole, Low Country, BBQ, and Spanish cuisine. 
To learn more about seaplane adventures, visit jonesairandsea.com.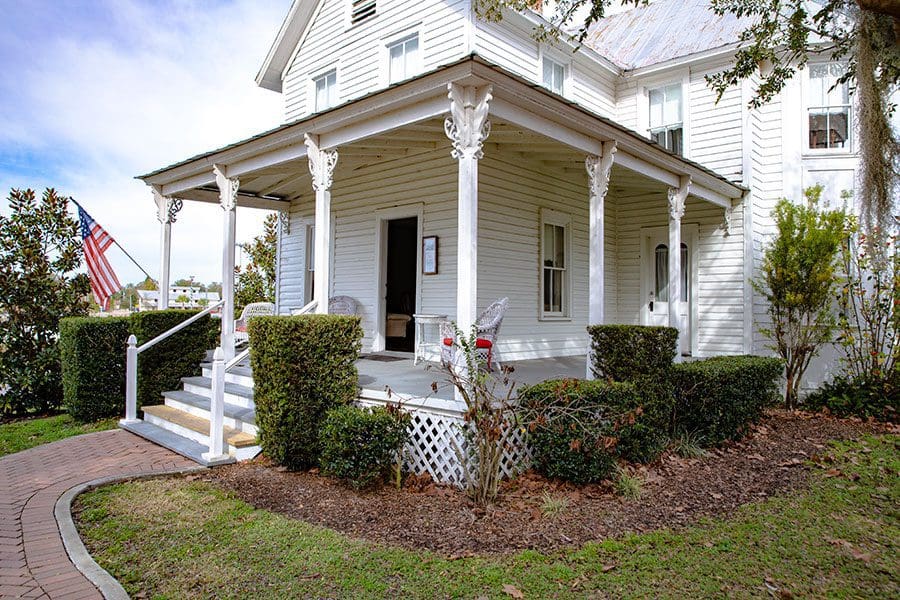 Window into the past
The Clermont Historic Village Museum, located at 490 West Ave. on the shores of Lake Minneola, provides a glimpse into the area's rich history and the people who lived it. 
There are six historical buildings that people can browse through at their leisure or volunteer docents can provide guided tours.
The buildings include a Train Depot built around 1925 and a World War II museum housed inside an original Quonset Hut built in 1943 by the military. Both buildings stand in their original locations. 
There is also the first Cooper Memorial Library built in 1914 for $600 and named after Alice Cooper, the woman who donated the land on DeSoto Street for it, an outhouse replica built by a local boy scout's Eagle Scout project and the Herring Hooks Schoolhouse, a replica of Clermont's first one-room schoolhouse built in 1881.
The Kern House was built around 1885 on Montrose Street by Alexander Kern, a New Jersey farmer and one of the founding fathers of Clermont who constructed the house in a northeastern style to entice his wife into coming down with him, and The Townsend house, built around 1895 on State Road 50, that was home to James and Sallie Townsend, the first African-American family to permanently settle in the area. The Townsends were entrepreneurs and built deep roots in the area. James built a church that still exists today and a school for Black children and Sallie, known to all as "Aunt Sallie," became a mid-wife, who is said to have delivered more than 1,000 babies, both Black and White.
According to members and volunteer docents with the Clermont Historical Society, visitors – many from out of the state or country – oftentimes comment about how unique the antique village is and about how the contents of each building transport them back in time.
The Village is open to the public from 1-4 p.m. on Saturdays and Sundays for tours. A $5 donation is requested for each adult over 12 and special tours for groups or schools can be arranged by appointment by calling 352-432-3496. For more information, visit www.clermonthistoricvillage.org.
If interested in extending the trip and adding more to it historically, other nearby museums to visit while passing through Clermont include the Florida Citrus Tower, located at 141 S. Highway 27, and the Presidents Hall of Fame, located at 123 N. Highway 27.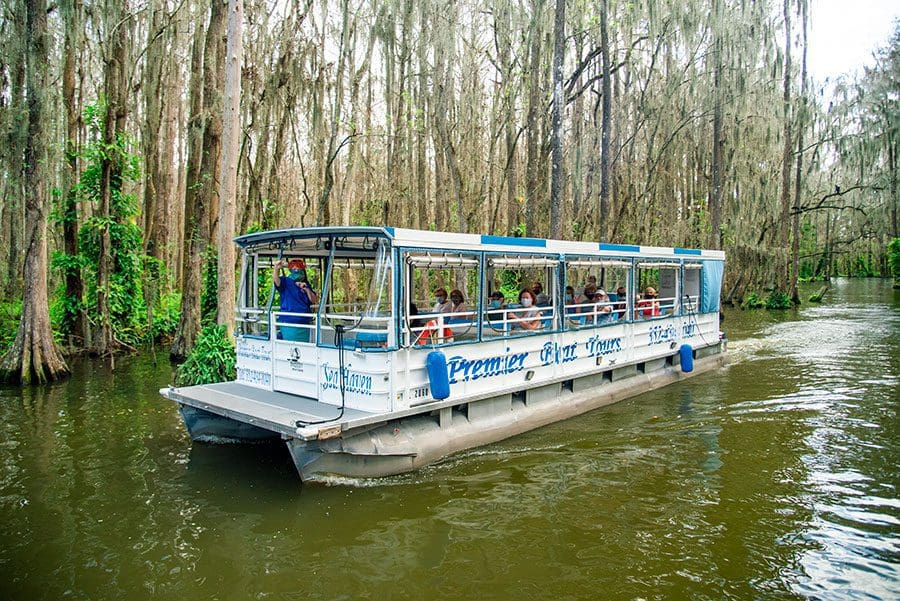 Old Florida charm
Premier Boat Tours in Mount Dora offers a picturesque view of Old Florida, down a one-mile stretch of the Dora Canal, the waterway that links Lake Dora to Lake Eustis.
Visitors are often treated to sights of wildlife, including sunbathing alligators, a few baby alligators, water snakes, osprey, turtles, bald eagles, white egrets, anhinga, and more. 
The "Old Florida" views and feeling the breeze is one way to enjoy a relaxing afternoon or one-hour sunset evening cruise. Passengers have included foreign exchange students from China and Australia, and a majority come from all over Florida to experience this attraction. 
Premier owner Tudor Barratt-Scands says the pontoon rides are popular with Villagers, and some have return three or four times a year with different visitors. He says one customer enjoyed it so much that he booked 10 boat tours in one year. 
It's been reported that several retakes for the classic Humphrey Bogart/Katherine Hepburn movie "African Queen," originally filmed in Africa, were shot on the Dora Canal in 1951 since the jungle-like setting was considered ideal.
Premier Boat Tours depart from the dock at Lakeside Inn in Mount Dora. The company has two luxury, all-weather pontoon boats and one smaller pontoon, which are regulated by the U.S. Coast Guard. Life jackets are underneath passengers' seats, and the boats are easily accessible with one small step. Those with push wheelchairs and walkers can ride on the vessels. The two-hour daily tours begin at 100 N. Alexander St., Mount Dora.  Reservations are required by calling 352.434.8040 or visiting doracanaltour.com.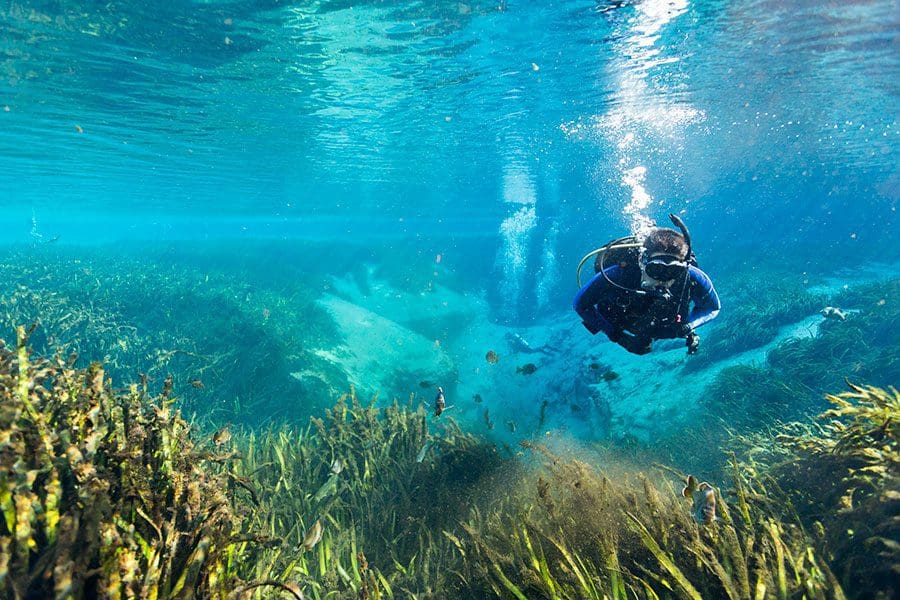 Splishin' and a splashin' 
If you're an avid diving enthusiast, forget about traveling to the Cayman Islands, Cozumel, or the Great Barrier Reef to enjoy an underwater adrenaline rush. Alexander Springs Recreation Area, located in the Ocala National Forest near Astor, offers year-round diving opportunities in its crystalline waters.
Think of it as Mother Nature's version of an outdoor swimming pool.
Bluegill, catfish, turtles, kelp-like vegetation, and rock outcroppings are some of the beautiful sights that await novice and experienced divers alike.
Alexander Springs isn't known only to locals. Divers from as far away as Belgium, France, and Germany have visited to enjoy its peaceful and serene underwater world. Because there are no complex cave systems to navigate, the spring is an ideal destination for beginners looking to descend to new depths. In fact, Alexander Springs is a popular site for dive training.
Divers who visit Alexander Springs must be certified and show proof of certification.
Alexander Springs is one of only 27 first-magnitude springs in Florida, meaning it gushes 100 gallons of water per cubic second from under the ground. Water temperature remains 72 degrees year-round.
In addition to diving, visitors can hike the Timucuan Trail, a 0.9-mile loop featuring two observation decks offering beautiful views of the spring. Other attractions include a 68-site campground, a large picnic area, and a sand-beach shoreline where visitors can swim or work on the perfect tan.
Alexander Springs is located at 49525 C.R. 445 in Altoona. For more information, call 352.669.3522.
Naturally invigorating
Lake Griffin State Park is the epitome of a hidden gem.
Fact is, some Lake Countians are unaware of its existence. Perhaps that's because few would assume a natural wonderland could be located off bustling a bustling highway in Fruitland Park.
Once you've discovered it, you'll want to come back. 
Lake Griffin State Park is home to Florida's second-oldest oak tree, estimated to be between 300 and 500 years old. The tree is home to several species of birds, and historians speculate the tree may have been a landmark for Timucua Native Americans who frequented the area before settlement.
Two trails give hikers an up-close view of Florida's natural habitats, including swamp and sandhill terrain. Along the way, visitors may see racoons, bobcats, squirrels, opossum, and hawks. Don't worry about the sizzling summertime heat. Spanish moss-draped oak trees provide adequate shade.
Other popular attractions include a guided pontoon boat tour of Dead River Marsh, a tributary of Lake Griffin. It's as educational as it is fun because guides share interesting facts about Florida's flora and fauna. The pontoon boat tour lasts a little over an hour and costs $15 per person. Kayak and canoe rentals also are available. Single kayaks cost $10 per hour, and canoes and double kayaks cost $12 per hour.
A 40-site campground allows visitors to stay a few nights, while picnic tables and a playground entertain families who come for a day.
Lake Griffin State Park is located at 3089 U.S. Hwy. 441 in Fruitland Park. For more information, call 352.360.6760.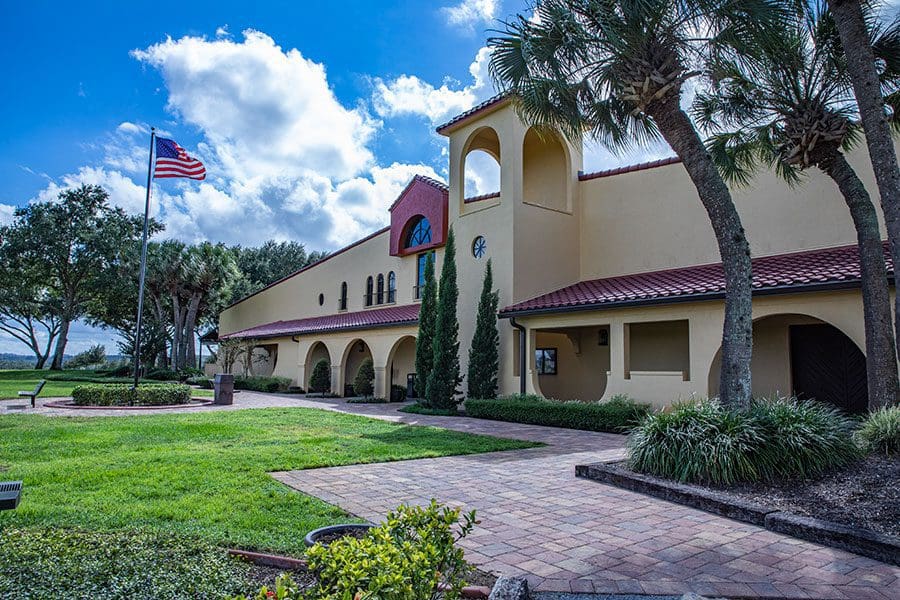 How sweet it is
Like a fine wine, Lakeridge Winery gets better with time. Lakeridge officially opened its doors in February 1989 and has become the largest winery in Florida.
The winery attracts thousands of visitors each year. Some come to take guided tours inside the two-story, 28,000 square-foot facility, where they learn the finer points of winemaking and taste some of the company's most popular wines. At the conclusion of the tour, visitors stand on all sides of a tasting counter, which looks similar to a bar minus the seats. They sample a variety of Lakeridge Winery's finest red and white wines made from Muscadine and hybrid grapes. He explains what dishes go well with each individual wine. 
The gift shop, located on the first floor, sells wine paraphernalia such as glasses, bottle stoppers and bottle coolers. Patrons can also purchase items such as barbecue sauce, Buffalo wing sauce, tomato salad dressing and Mexican salsa. 
Most of the wine is made from Muscadine grapes, which are native to Florida and produce a sweeter, fruitier taste. The variety of Muscadine grapes used include the Carlos and Welder (both white grapes) and Noble (red grapes). In March, the grape vines start to flower, and the harvest season begins in June and continues throughout the summer. 
Lakeridge Winery is located at 19239 U.S. Highway 27 in Clermont. For more information, call 352.394.8627.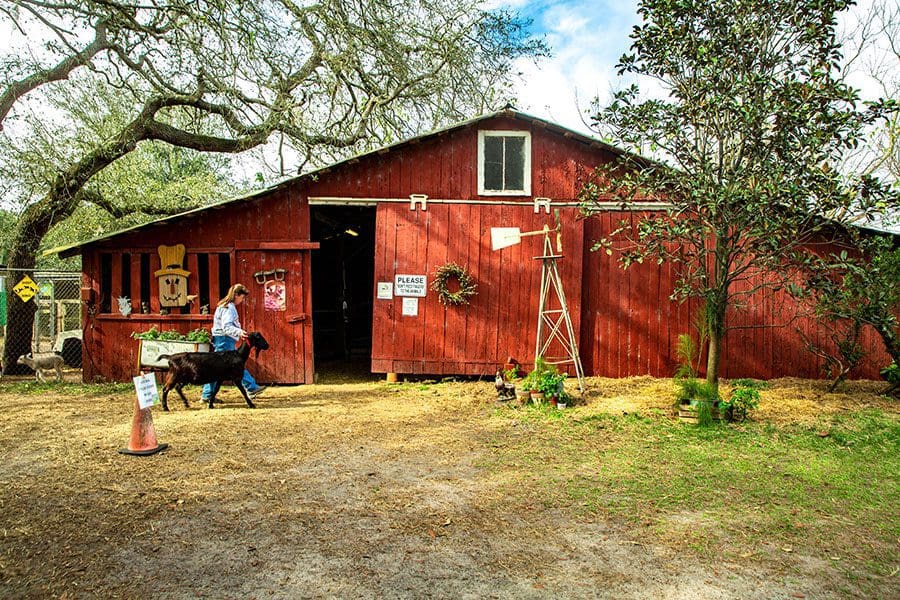 Down on the farm
For 40 years, Uncle Donald's Farm has provided an enjoyable experience for countless children and adults. Today, the farm is owned and operated by three sisters—Beth Morris, Donna Morris, and Jeannette Morris. 
The 50-acre property is a working farm where the owners sell fresh eggs and produce products such as goat milk soap. However, the farm doubles as an attraction, allowing the public to see more than 250 animals that include both livestock and wildlife.
From the parking lot, visitors walk down a short path shaded by leaning oak trees. Before long, a symphony of animal sounds fills the air. Turkey gobbles. Duck quacks. Geese honks. Rooster crows.
From there, they enter into the main farm, where themed areas separate the typical barnyard residents from wildlife. The farm's "Poultry Path" leads visitors past chicken coops containing various breeds. Marvel at the beauty of Rhode Island Reds, a stately chicken with a chestnut red body and glossy black feathers. Admire the sheer size of the Jersey Giant, the largest chicken breed in the U.S. that can weigh up to 15 pounds. Learn about the French Black Copper Marans, which lay chocolate-colored eggs.
The  "Wildlife Area" features deer, as well as a Florida panther and coyote. Never fear. They're safely behind a fence. Other animals include a 200-pound African tortoise, a Nubian goat, miniature horses, and red-tailed hawks. Generous donations and money from admission fees help the Morris family keep the animals well fed and ensure they have a permanent home.
Uncle Donald's Farm is located at 2713 Griffin Ave. in Lady Lake. For more information, call 352.753.2882.