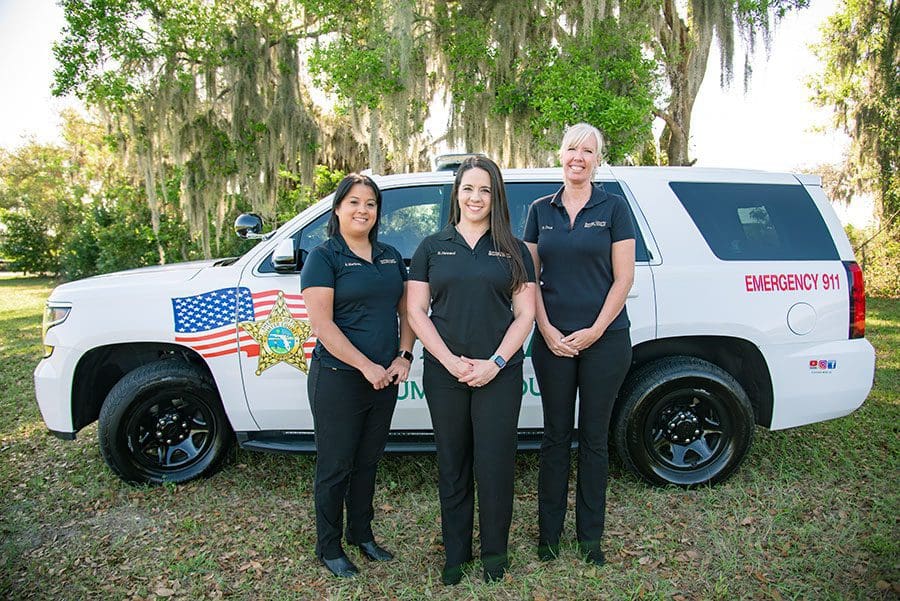 Three victim advocates for the Sumter County Sheriff's Office assist crime victims by providing them with empathy and respect, current and timely information, and ongoing support and assistance.
Photos: Nicole Hamel
Bloody noses. Hurtful words. Controlling behavior. For Jessi Laytart, those are painful reminders of spending four years with an abusive boyfriend. 
Her rocky relationship came to a head one night in 2016. After a heated argument, Jessi's boyfriend ran her over with his car, leaving her hospitalized for several weeks. 
Fortunately for Jessi, someone whom she refers to as an "angel" came to her rescue. That angel was Sharon Howard, who at the time was a victim advocate with the Citrus County Sheriff's Office. 
Sharon helped Jessi get admitted into a shelter for abused women.  She stood by Jessi's side during court proceedings. She helped her cope with the emotional devastation resulting from years of abuse. 
"She really saved my life," Jessi says.
Once she got her life back in order, Jessi paid those good deeds forward. She spent two years as a house manager for a homeless women's shelter. 
"Doing that was very rewarding," Jessi says. "I taught women how to thrive rather than just survive."
In the aftermath of a violent or criminal offense, victims are forced to cope with physical pain, psychological trauma, financial loss, and a criminal justice system that is confusing and overwhelming. 
Victim advocates like Sharon help alleviate those burdens. 
Today, Sharon is victim services manager for the Sumter County Sheriff's Office's victim advocate program. Sharon, along with Ashley Martinez and Susan Cook, who are also victim advocates for the program, provide crisis intervention, emotional support, and information about available resources while also helping crime victims navigate the legal system. 
Each is passionate about supporting society's most vulnerable people. And they enjoy providing crime victims with the necessary tools to help them recover.
"We see people on the worst day of their lives," Sharon says. "We talk to them for months or years and follow them through the criminal justice system. Watching them as they build resilience and strength makes this job so rewarding." 
Sharon, who has nine years of experience as a victim advocate, and Susan, who became a victim advocate six months ago, operate out of the Sumter County Public Safety Center in Wildwood. Ashley, a victim advocate for four years, works from the Sumter County Sheriff's Office in Bushnell.
Each underwent a 40-hour victim services practitioner designation training course. However, knowledge is only one component of being a successful victim advocate. It takes a big heart and sincere compassion to stand by people in their worst moments. 
"Being a victim advocate is more about personality and who you are as a person versus knowledge," Sharon says. "Anybody can learn what we do as far as victim rights and what Florida statues says about victim rights, but it's really about having a caring attitude and desire to help people."
They work with victims of all crimes, including domestic violence, sexual assault, homicide, property crime, child molestation, robbery, battery, and elderly abuse. Their role as victim advocates comes with a tremendously varied job description. A day's work may consist of reading incident reports, making referrals to counselors, and informing victims about services they can access for shelter, food, transportation, and financial assistance. 
They also help people apply for victim compensation, which is offered through the Florida Attorney General's Office. Injured crime victims may be eligible for financial assistance for medical care, lost income, and mental health services. Similarly, financial assistance is offered to seniors over 60 who are victims of property crime. 
"One of the things I love about the victim services compensation program is that it provides a lot for seniors," Susan says. "If seniors are a victim of a property crime—like having a lawnmower stolen—it could impact them financially because they might be on a fixed income. The victim compensation program can help them get their lawnmower replaced. I have a father who lives in The Villages, so it's nice knowing seniors are being taken care of." 
Of course, the job comes with emotional stress. As victim advocates, they are exposed to trauma through the stories of the survivors they help—whether those stories are heard in person or over the phone. They are also on call 24 hours a day to provide immediate assistance to deputies. 
As a result, they may be called to the scene where a homicide or sexual assault occurred. Other times, they may go to a home where a child drowned or drive to the site of a fatal traffic accident. They must maintain mental resilience while de-escalating the situation and providing emotional stabilization to the victim's family and friends.
"Homicides involving children are definitely stressful," Sharon says. "By the time we arrive, family members and friends of the victims are already there. People ask me, 'What do you say to someone in that situation?' The most important thing is we don't say anything. We listen and validate how they're feeling. We also provide them information on what happens next because many people are not familiar with the criminal justice system. That immediately gives them a little peace." 
Providing that sense of peace helps them overcome emotions from witnessing horrific actions perpetuated against crime victims. 
"The job can be tough, but it's all worth it when we guide them through the process and make sure they have services and information available so they can build strength to carry on," Ashley says. "We know our work is worth it when they send us pictures and cards or drop off baked goods. Sometimes, we receive random phone calls months or years later to thank us."
There are moments when Sharon, Susan, and Ashley lean on each other for support. They spend time together outside of work enjoying lunch, swimming at local pools, or having pedicures together. 
"We support each other by talking things out and sometimes crying together," Susan says. "We also have peer support with deputies because they have to see the same things we do. But at the end of the day, we all try not to focus on what happened but how we can help crime victims and what we can do for them. After all, that's what we're here for and that's what we love doing." 
For them, it's a job that makes a difference—and changes lives—every day. 
Akers Media Group's James Combs has been a staff writer for several local publications since August 2000. He has had the privilege of interviewing some of Lake County's many fascinating residents—from innovative business owners to heroic war veterans—and bringing their stories to life. A resident of Lake County since 1986, James recently embarked on a journey to lead a healthier lifestyle. He has lost 60 pounds and walks nearly five miles a day. In his spare time, he enjoys target shooting, skeet shooting and watching his beloved Kentucky Wildcats!
Share This Story!