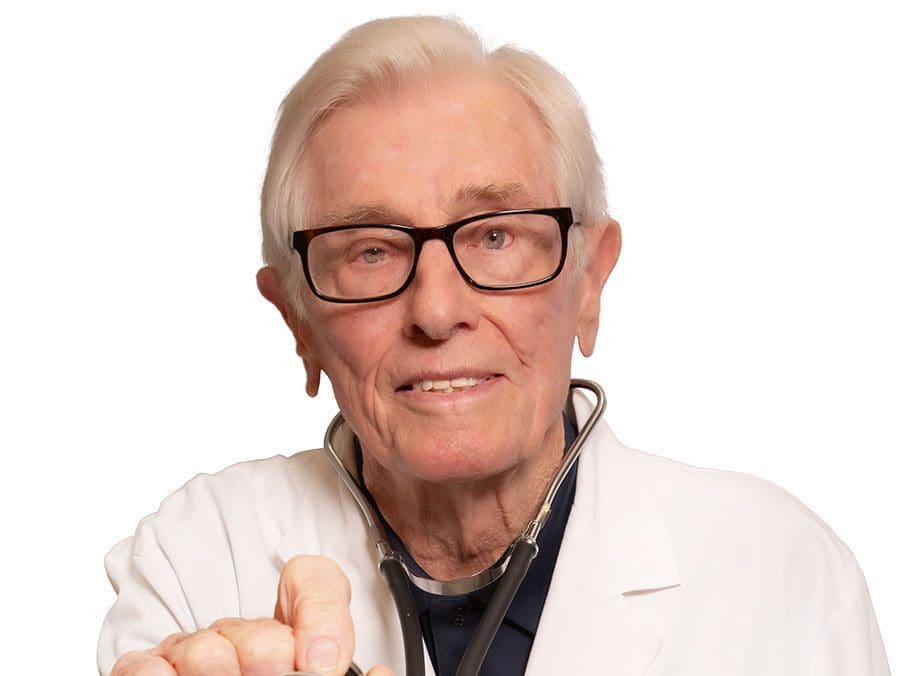 Howard Vesser helps low-income residents receive medical care.
He could have spent his retirement enjoying endless hours of golf and tennis. 
Instead, Dr. Howard Vesser traded leisure to fulfill God's purpose. 
Twenty-one years ago, Dr. Vesser, an orthopedic surgeon, came out of retirement to help establish the Community Medical Care Center, a ministry of First Baptist Church of Leesburg. He designed the clinic and posted flyers around town to make people aware that a medical facility existed to serve uninsured and low-income residents. He also actively recruited other medical professionals to join in the effort.
The clinic opened in 2000 thanks to a grant from Leesburg Regional Medical Center, now UF Health Leesburg Hospital. Dr. Vesser spent between 40-60 hours a week serving as its director and general practitioner. 
"For me, it wasn't a hard decision to come out of retirement," he says. "I wanted to do something positive for the church, and I love medicine and never grew tired of being a doctor. Even now, I continue reading medical literature every day. It's in my blood."
The Community Medical Care Center originally started in a small, church-owned house off 13th St. Before long, the clinic established a large patient base and was moved into a 3,200-square-foot facility on Main Street. 
"I was very pleased when so many people who might not have received care otherwise began using our services," he says. "Without question, we filled a big need in the community." 
Under Dr. Vesser's tutelage, the clinic began adding more services, including dental, dermatology, wound care, and vison care. 
"This is a multi-specialty clinic," he says. "We give people a medical home and keep them out of the emergency room." 
Age hasn't slowed Dr. Vesser down. He turned 89 last month and now comes every other Tuesday to treat patients with orthopedic problems. Full-time retirement will have to wait. 
"There's no good reason for me not to continue coming here," he says. "I have a great deal of sympathy for anyone who has a hard time finding adequate medical care."
That's wonderful news to his colleagues who have come to love Dr. Vesser for being a Southern gentleman.
"He has a wonderful heart for people and genuinely wants to help them," says Tammy Youngren, ministry director. "He's just one of those people you never forget because of his fun-loving personality." 
Akers Media Group's James Combs has been a staff writer for several local publications since August 2000. He has had the privilege of interviewing some of Lake County's many fascinating residents—from innovative business owners to heroic war veterans—and bringing their stories to life. A resident of Lake County since 1986, James recently embarked on a journey to lead a healthier lifestyle. He has lost 60 pounds and walks nearly five miles a day. In his spare time, he enjoys target shooting, skeet shooting and watching his beloved Kentucky Wildcats!
Share This Story!