Identical Twins Coach Leesburg Soccer To First Championship In A Decade!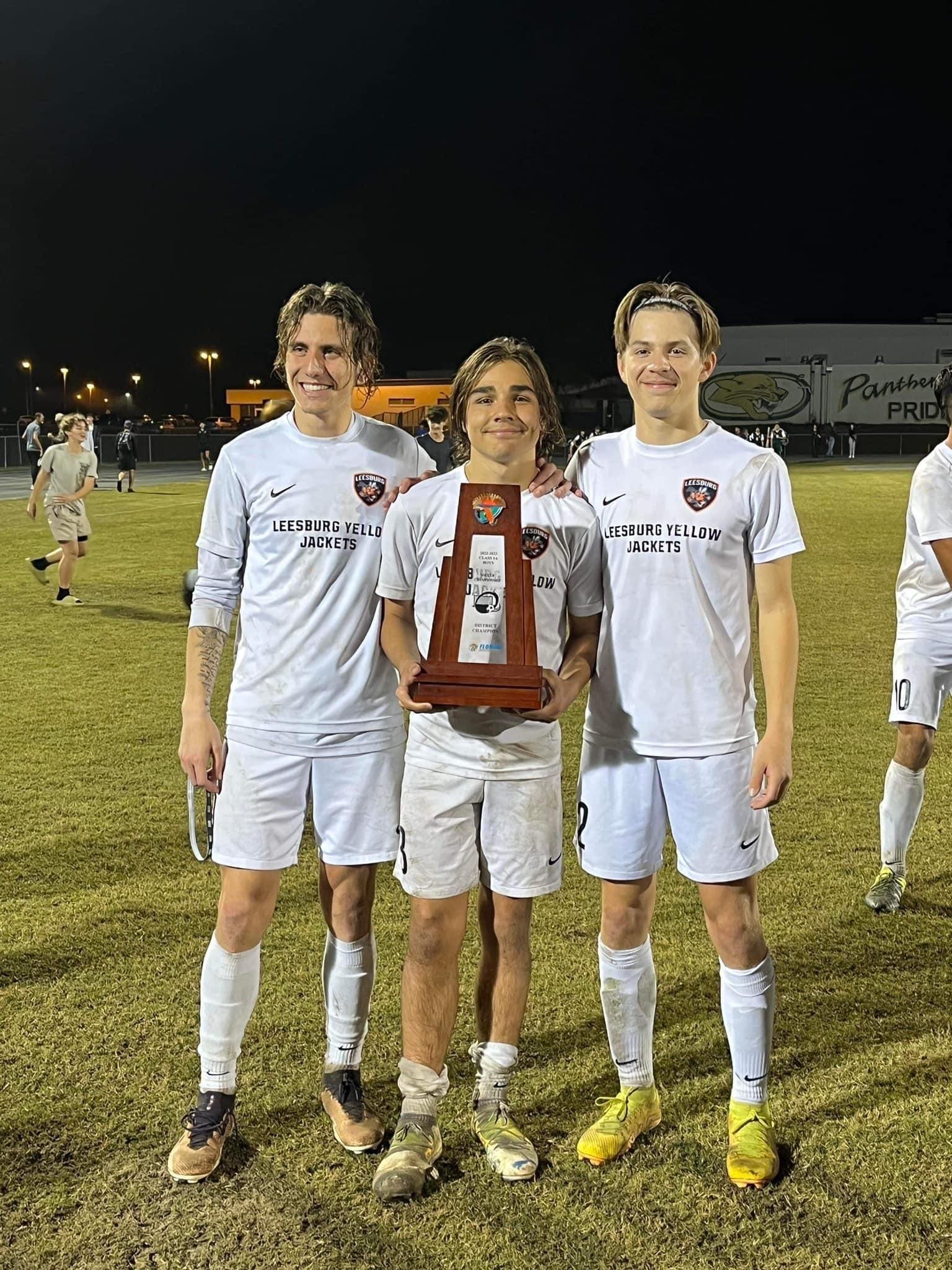 Identical Twins Coach Leesburg Soccer To First Championship In A Decade!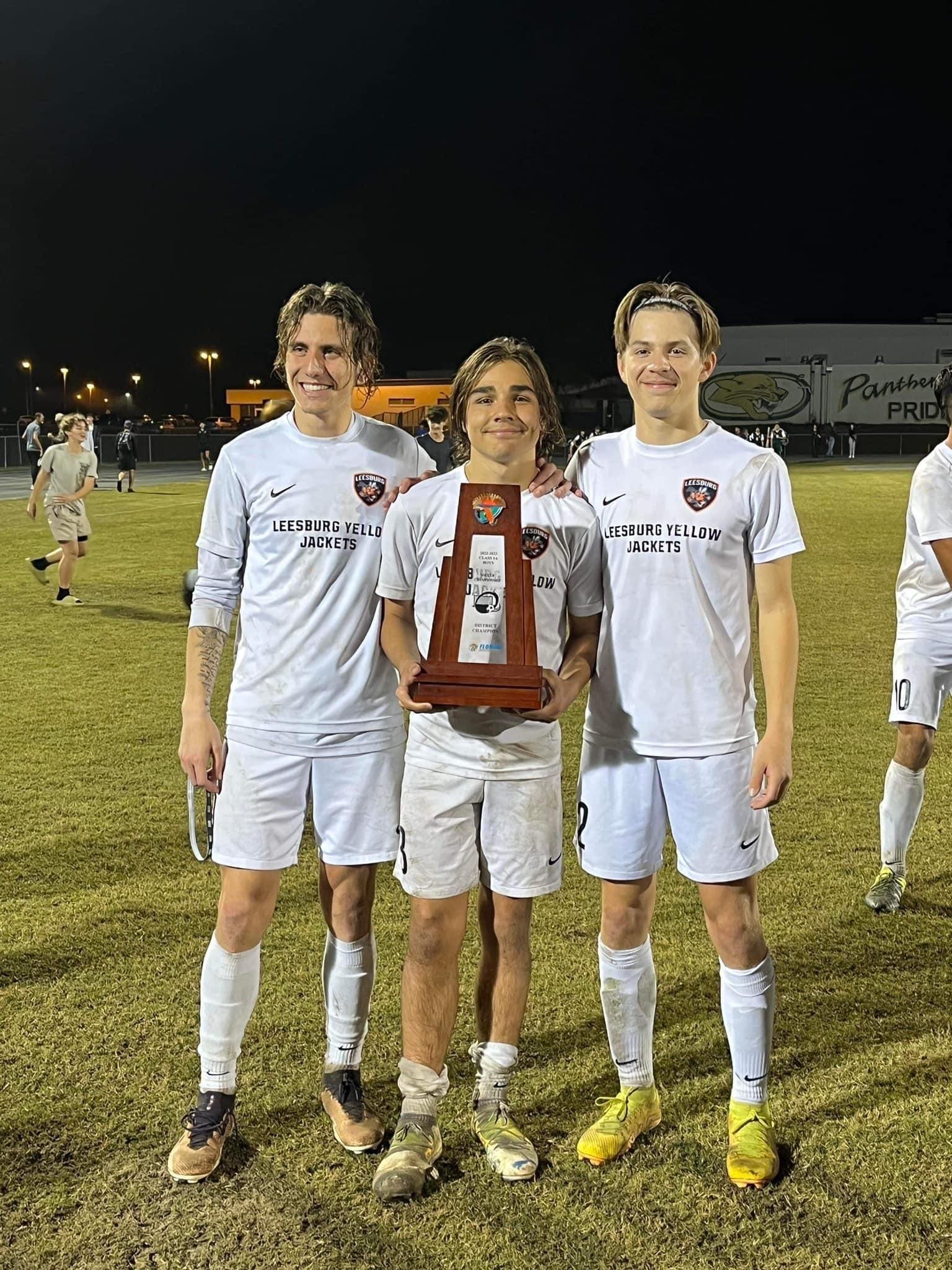 The Yellow Jackets have won their first district Championship since the 2013-2014 season! Coach Kenny Edwards and Kevin Edwards become the first identical twins to ever graduate Leesburg and coach a team to a district championship! The Yellow Jackets were not even expected to make it out of the first round let alone contend for a district championship! But somehow through sheer grit and determination, they won the District trophy something they have not seen in nearly 10 years!
Leesburg Soccer Are District Champions!
Leesburg was ranked dead last in their district coming into the district tournament. The experts gave them a 2% shot at winning the title. They were the only team along with Vanguard who had to play in a quarterfinal game. All other teams got Byes and extra rest. Leesburg barely made it by Vanguard and won that game on penalty kicks to extend their season. The Yellow Jackets then traveled to Belleview who was ranked number 1 in the tournament. No one even gave them a shot to win that game! But Coach Kevin and Kenny believed.
The Edwards brothers believed so much that the players bought in fully all season long. The Yellow Jackets were led by senior #9 Pascal Bouillaud who has 11 goals this year! Senior #5 Daniel Jimenez also has been brilliant down the stretch for Leesburg. Meanwhile Sophomore Goalie Theordore Kanczurzewski has made some of the best saves we have seen all year in the District Tournament!
The District Championship was a personal matter for the Edwards brothers. They both badly wanted to see this underrated team pull off one of the greatest upsets in our county perhaps ever! Leesburg played like champions against Belleview and took care of business with a 3-2 victory. They found themselves in the District Championship Game against Lecanto!
Lecanto was coming off a win against Citrus but they were tired. That game took everything out of Lecanto and they won on penalty kicks. Leesburg came in with so much confidence. Coach Edwards told me "I have never seen a team rally and come together like that. They played inspired and understood what they needed to do."
The Yellow Jackets dominated the first half with goals from Aiden Sustarsic and Pascal Bouillaud. Leesburg led at the half. Lecanto added a goal to make it 2-1 late in the game but Leesburg's defense never relented and sealed the game! Leesburg had its first District Championship in a nearly a decade with a first year head coach!
Identical Twins Make A Difference
Kenny Edwards and Kevin Edwards are two amazing individuals. Those who don't know them should understand what outstanding members of the community they both are. Both the Edwards twins were instrumental during the Yellow Jackets championship run in 2014. The Yellow Jackets then coached by George Intveld lead Leesburg to a record of 15-3-3.That record still stands today as Leesburg Soccer's best season ever. Coach Kevin and Coach Kenny were a part of that championship season. Although it was an incredible run, Leesburg has not been able to muster the same excitement in almost 10 years. That is a long drought but the Edwards brothers took Leesburg to the next level this season!
Coach Kevin and Kenny both won the last championship for Leesburg Soccer in 2014. They also graduated that same year. Kenny went into the Army and served 4 years. Kenny is currently in nursing school while being an assistant coach for Leesburg. Meanwhile Kevin attended Lake Tech and received his degree in Law Enforcement. Kevin Edwards joined The Leesburg Police Force 6 years ago.
Officer Kevin Edwards not only gives back to the community, but puts his life on the line every day to keep the residents and community members safe. Kevin uses his soccer skills on the job actually. His quick and nimble body allows him to easily chase down anyone who breaks the law. If you end up getting Kevin Edwards as your officer, you're not going to win in a chase!
Giving Back To The Community
While I was talking with coach Kevin Edwards one thing really caught my attention. While Leesburg pays coach Edwards, he has decided to give his entire paycheck back to Leesburg High School so that the school can purchase Soccer Balls, Jersey's, Goal Posts, Nets, and equipment necessary to bring the program to the next level. Edwards says "We have a long way to go, but this is a start! I want to purchase cameras to film the games and allow colleges to come and see what our boys can do!"
This gesture is amazing and I wish more coaches would see what value that is. It not only is a generous thing to do, this also teaches lessons to the young boys he is coaching. Coach Edwards is showing these young men that giving back is one of the greatest parts of life. Edwards has been giving back to the community since he left High School and that sets a great example for these kids. He wants the boys to understand that money is not everything. Providing a future and opportunity to the children coming through the program is one of the greatest gifts of all.
Leesburg Has The Right Coaches!
This is an incredibly exciting time to be a Leesburg Soccer Player. The coaches have reinvigorated a program that has been long forgotten. The Edwards Twins will continue to drive in the playoffs and they will actually host a playoff game next Wednesday at 7pm against a TBD opponent.
Congratulations Leesburg Soccer!! Go Yellow Jackets!
Photos Provided By –
Leesburg High School
Kenny Edwards
Kevin Edwards
Kyle Coppola was born in Newton, Massachusetts and received his Bachelor of Fine Arts in Communications from Curry College in 2016. After traveling to Florida on a family vacation, he decided he could not get enough of the warm weather and made the move from snowy Massachusetts to central Florida 8 years ago.
For the last decade Kyle has gained valuable experience in social media content creation, marketing and sales, writing, video production, sports announcing and even broadcasting for local radio stations, such as FM 102.9 in The Villages and FM 91.5 in Massachusetts. Every year he volunteers at The Villages Charter High School as a play-by-play sports announcer for the football games as well as a public address announcer for the basketball games, including the annual Battle at The Villages Tournament.
Outside the office Kyle is a husband and father to two beautiful girls along with their cat. In his spare time he likes to spend time with his family, travel, play golf and swim. He is also a huge sports junkie and even bigger motorsports fan and loves to attend racing events when he can.
Share This Story!