In the Kitchen: An Adventure Awaits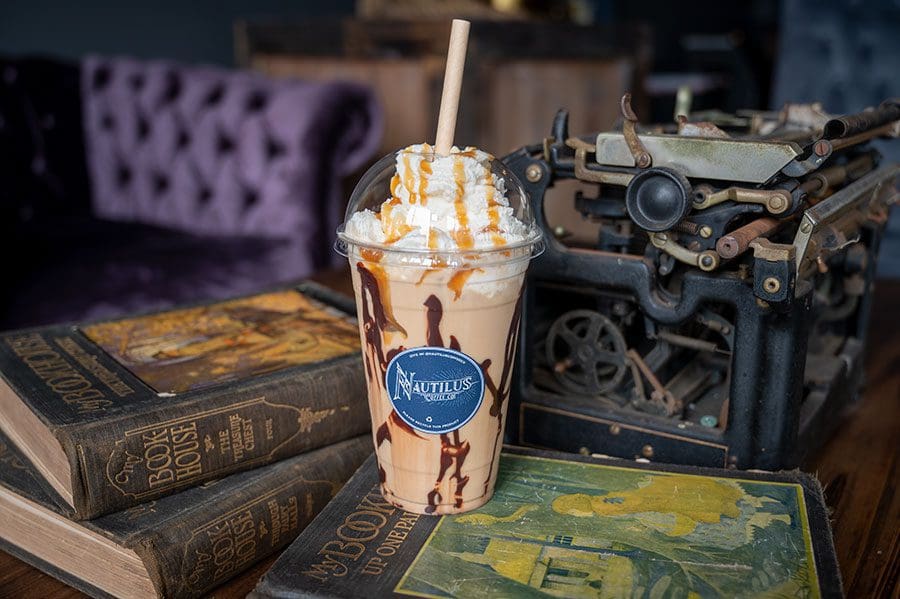 Nautilus Coffee Co. steps back in time to create the perfect java experience.
Story and photos: Cindy Peterson 
One of Lake County's hottest new coffee shops is quickly becoming the talk of the town. Nautilus Coffee Co. in downtown Tavares not only offers artisanal drinks and a signature coffee bar, but it is wrapped up in adventure with a complete fictional backstory for guests to experience. 
Created by Howey-in-the-Hills residents Hillary and David Perry, the shop is so intricately designed that even the trinkets on the wall are a piece of the story.
"We wanted to create a place for people to escape," David says. "A lot has changed in the world. The reason people go to theme parks is to experience something different. We are often compared to a theme park experience and that was on purpose. We wanted to bring that same themed environment without people having to go to Orlando." 
Their adventure began when Hillary decided she was ready for a career change. 
She was a teacher in Orange County for 15 years, which was great as she raised her child, but she was ready for something new and challenging. 
"When teaching went virtual during the pandemic, it gave me a lot of time to think about what I wanted to do next," Hillary says. "In 2010, I had wanted to open a coffee shop, but we didn't have enough capital. Twelve years later it seemed to be the perfect time to try again." 
Nautilus was the name of the submarine in one of David and Hillary's favorite books, "20,000 Leagues Under the Sea." This nautical theme can be seen throughout the coffee shop. 
David, who owns a construction company, has done work with theme park companies and worked closely with creative directors to design the perfect themed environments. Needless to say, he's had plenty of experience in adventure.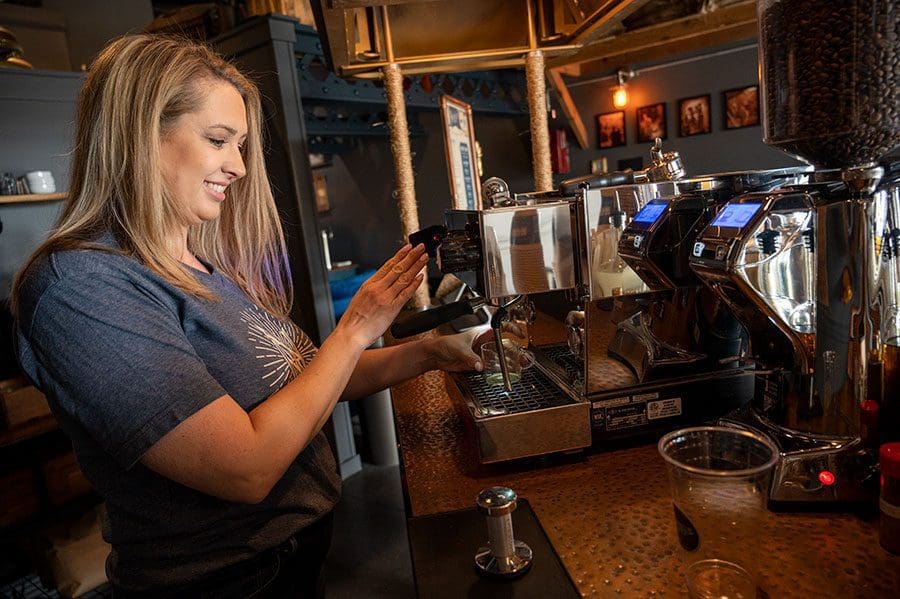 The couple began brainstorming and came up with a creative idea for Nautilus Coffee Company. The backstory is of the Nautilus family and how they came about establishing a coffee company. The story shows themes of woman empowerment, the importance of blue-collar jobs, and life in the 1900's.
The story drives the entire experience at Nautilus Coffee Co. The trinkets on the wall have stories of where they were collected on the Nautilus' family adventures, the ironworks facility can be seen high in the rafters and there are even secret novelties like touching something to make the crane hook move or making the industrial coffee cart blow steam.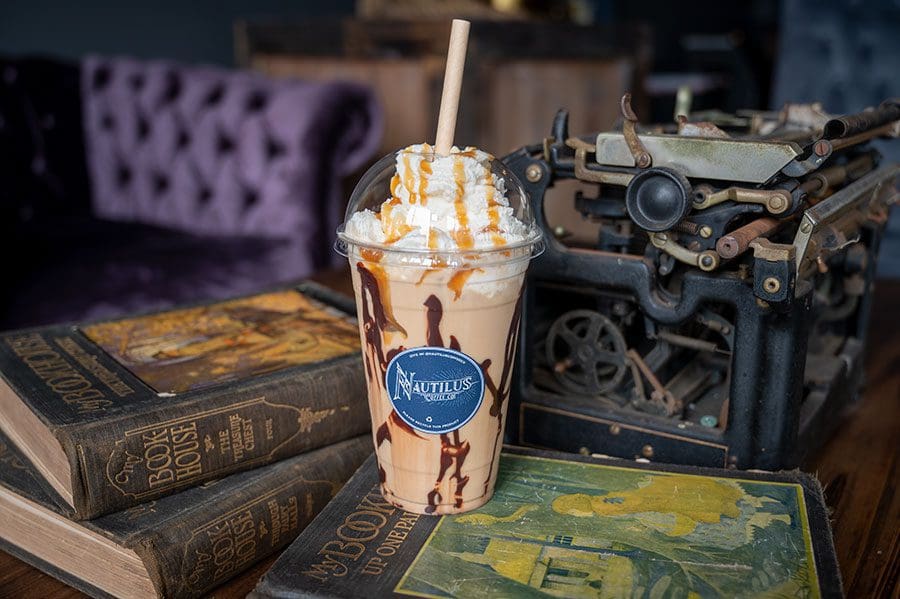 The coffee cart was hand-built by David, engineered with an industrial theme, and was originally designed to be mobile. However, after completing it, the couple found it was too heavy to drag around so it became the barista bar at the restaurant. 
"During Covid, we worked with a design firm to create our theme, logo, storyboards and even incorporated our theme into our menu," David says. "In keeping with our theme, we also incorporated sea planes being that Tavares is 'America's Sea Plane City.'"
Even the music played sets the scene. 
"We like to interact with the people," Hillary says. "We hand-make all our drinks which sometimes takes a little longer so we encourage people to read the story, examine the trinkets or find how to make the crane hook move. We've found that people really like these things."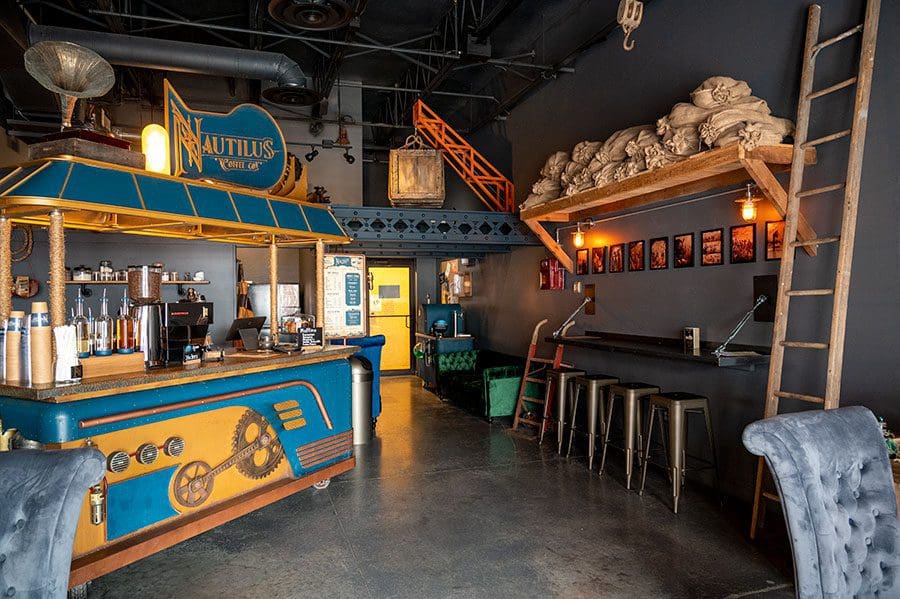 Their menu consists of standard "brewed for adventure" coffees like doppio, Cubano, cappuccino, drip, latte, and mocha. Their popular Voyager's mocha is served hot or iced with mocha drizzle, sea salt caramel, a double shot of espresso, milk and homemade whipped cream with caramel drizzle on top.
Non-dairy and sugar-free options are available. They also offer regular cold brew, nitro cold brew, and a Voyager's style cold brew. The three daughters in the Nautilus' family story even have their own drink. 
The Hazel is a shaken double shot espresso with hazelnut, cinnamon, and oat milk. Ruth's Matcha Tea latte is an organic matcha with a little vanilla, poured over ice or steamed milk. Poppy Coffee Soda is a unique creation of cold brew, soda water and vanilla, something that Hillary says is only for those true cold brew fans.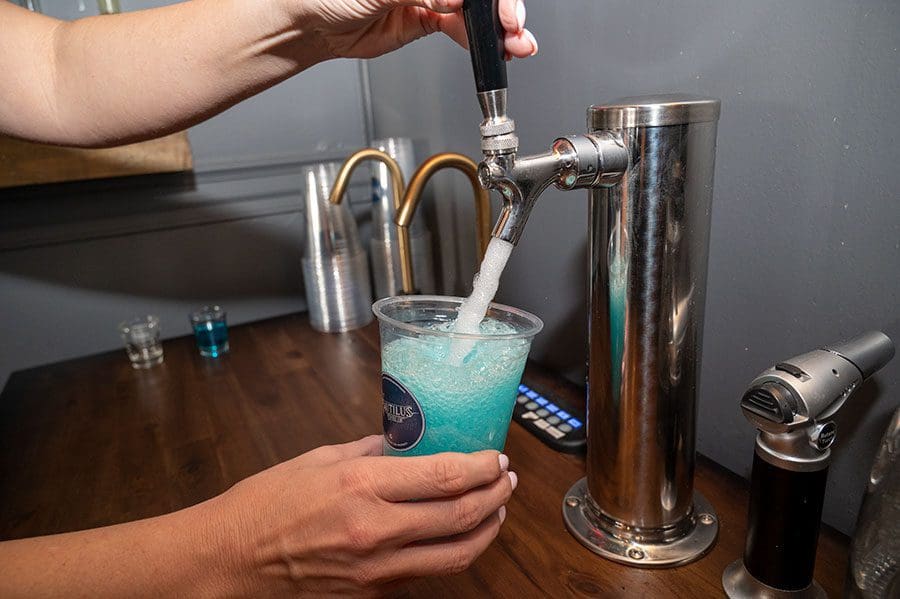 They also make their own energy soda with tropical elixirs including the Submarine Dream (wild berry, pineapple and coconut), De La Isla (passion fruit, coconut and peach), Red Sky at Night (lavender, huckleberries and a splash of lemon), Trailblazer (passion fruit, strawberry and watermelon), Land, Ho! (wild berry, green apple and kiwi) and Dolce Sole (passion fruit, orange and vanilla). 
Each month, the brew crew comes up with a special Uncharted Waters menu for specialty drinks. Some of their popular ones include Reese's Peanut Butter Cup latte, Oreo latte, brown sugar cinnamon chai latte, Samoa's coconut caramel macchiato, pistachio Rose latte, strawberry lemonade, caramel brûlée latte, snickers latte, Nutella latte, cold brew with peanut butter cold foam and peach tea or lemonade. Check back each month to see what is on their specialty menu. 
"We want this to be truly a unique experience," Hillary says. "I always say I'm like the daytime bar. We get to know our customers and we know when grandma is sick or how their child is doing in school. It's become a family." 
---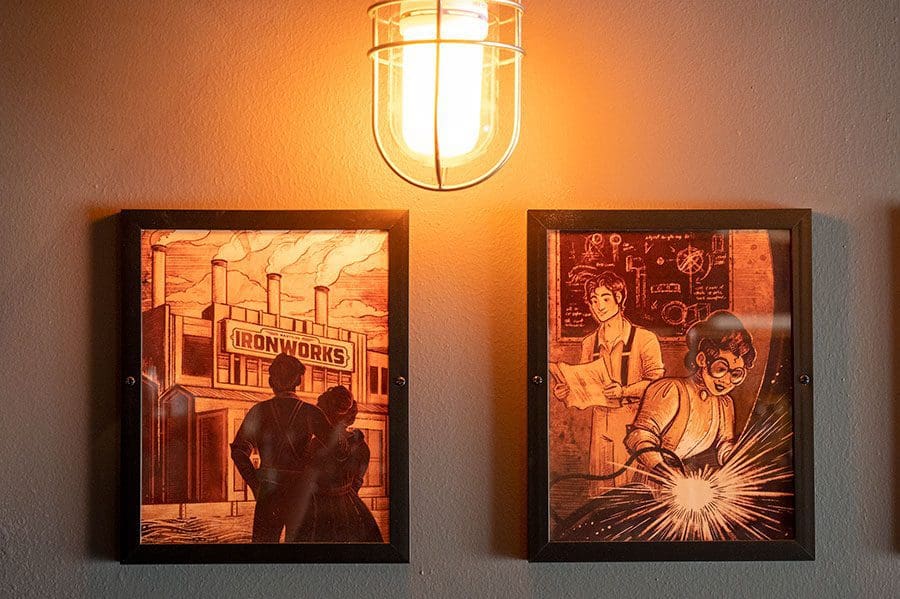 The Nautilus Family Story
Sparking with turn-of-the-century sophistication, Nautilus Coffee Co. is the standing legacy of a remarkable family's thirst for adventure. First opened as Nautilus Iron Works, the eclectic workspace was built by savvy and scrappy Henry Nautilus and his brilliant wife Jane, an ambitious engineer who dreamed of discovery. The two quickly established themselves in the iron industry. With Jane in charge of build and Henry in charge of business, they found continued success selling spectacular travel vessels, which funded their own worldly expeditions. 
As time went on, their business grew, and so did their family. Enthralled by the excitement always swirling in the workshop, the three Nautilus daughters (Hazel, Poppy, and Ruth) soon shared the same cunning and curiosity as their mother. Called to pursue a great family adventure, the Nautilus women set out to build a revolutionary submarine to explore the uncharted depths of the sea. The women worked day and night in the workshop. They tirelessly researched, drafted, mapped, and built as Henry would serve them many magnificent blends of coffee from beans he and Jane had acquired from their past travels.
The workspace's spirit of innovation and the bountiful boosts from the delicious coffee beans kept the women fueled and focused. After many years and many cups of coffee, the groundbreaking submarine, the argonaut was built, and the building was left alone as the Nautilus family went away on their grand voyage. 
Decades later, the current generation of the Nautilus family has transformed Nautilus Iron Works into Nautilus Coffee Co. Though the shop has been upgraded with the current luxuries of today, most of the space has been preserved with the family's blueprints, models, notes, and travel trinkets to inspire the explorer in everyone who stops by. 
Honoring the family legacy, Nautilus Coffee Co serves the rich and worldly coffee creations that energized the Nautilus family in their pursuit of adventure, so guests can fuel up for their own!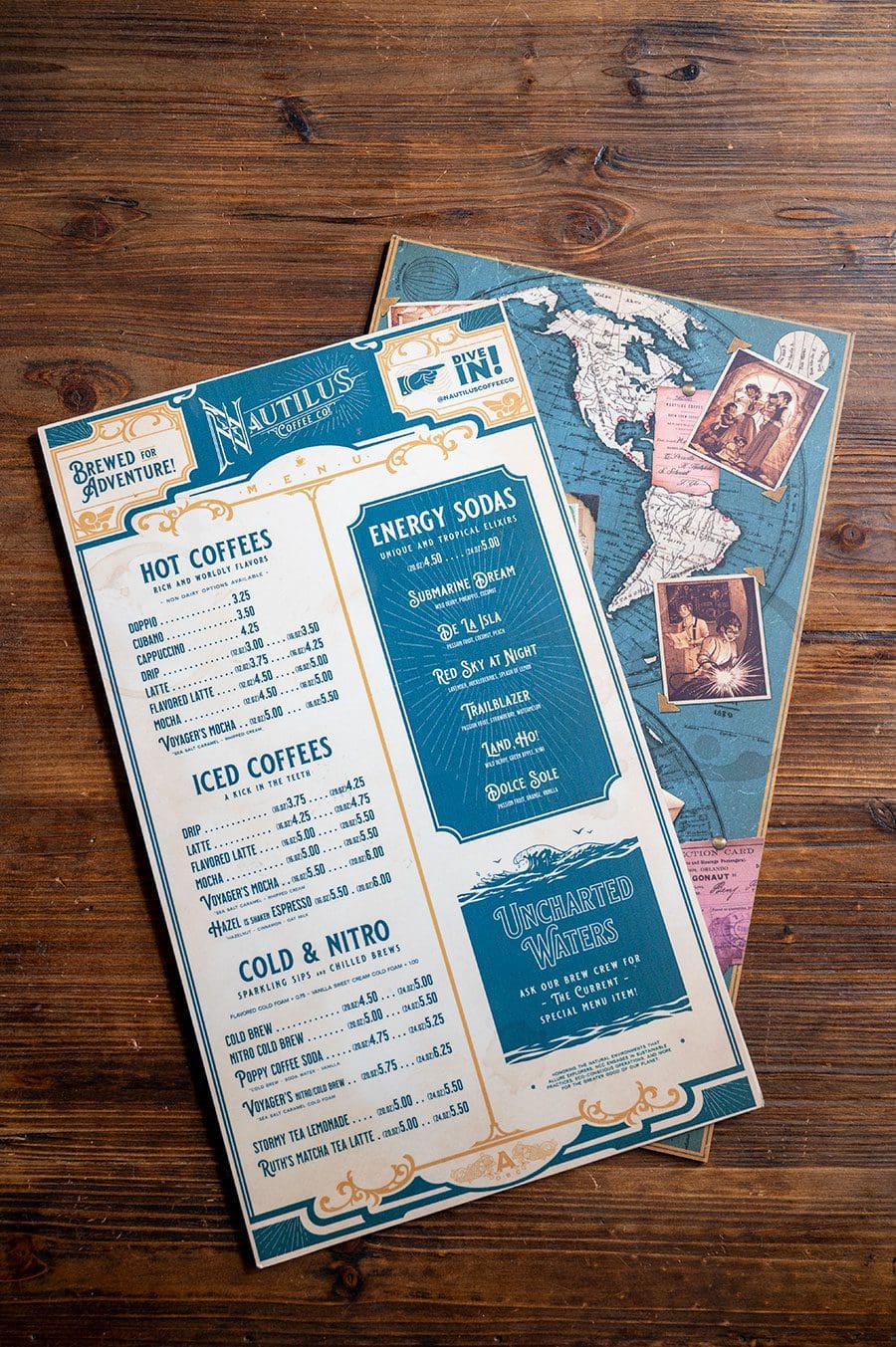 ---
130 W Ruby St
Tavares, FL 32778
Monday-Friday 7:30am -3:00pm
Saturday and Sunday 8:00am -3:00pm
(352) 609-2870
nautiluscoffee.com
facebook.com/nautiluscoffeeco
instagram.com/nautiluscoffeeco
Originally from the small town of Berryville, Arkansas, Cindy has become a multimedia specialist in journalism, photography, videography and video editing.
She has a B.S. in Communications from the University of Central Arkansas and is a correspondent for The Daily Commercial, LakeFront TV and Beacon College's PBS talk show, "A World of Difference," where she received an Anthem Award and Telly Award.
When she isn't working, Cindy spends time with her husband, Ryan, and son, David, traveling and taking photos of landscapes and wildlife.
Share This Story!