In the Kitchen: Cooking Classics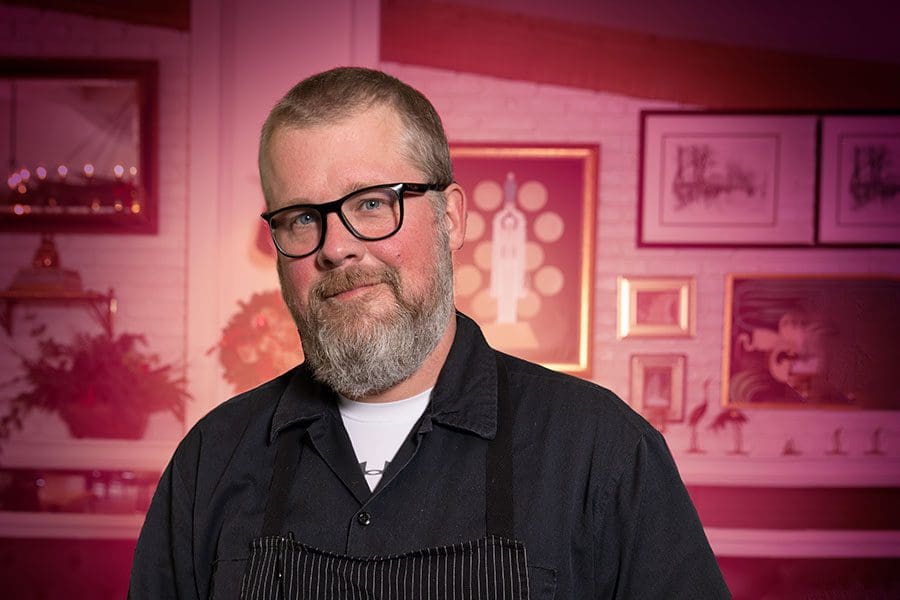 Legendary chef Josh Oakley gets rowdy in the kitchen, says you can too.
Photos: Nicole Hamel
Josh Oakley's tenure as Lake County's top chef was like a butane cooking torch caramelizing sugar atop crème brûlée – blue-flame hot, bubbling with possibilities, and oh so sweet.
The February 2019 hiring of Josh as chef at 1921 Mount Dora was a hot topic, but like glazing of a delectable custard dessert, the show didn't last long. 
The self-taught chef who for 21 months regaled diners with deftly-cooked dishes like crispy pork belly with blood orange mojo, pork and duck country terrine, and Ponce Inlet cobia with vegetable cream, peas, asparagus, trumpet mushroom, and wild ramps has left Mount Dora to cook good ole' fashioned fare for acclaimed Orlando restauranters Jason and Sue Chin.
Josh is head chef at The Monroe, which will open in early 2021 in 5,000 square feet on the ground floor of The Julian Apartments, a swanky 14-story, 409-unit complex at Creative Village in downtown Orlando, where the original Amway Center stood.
"I wanted to do something a little more rowdy and casual. I wasn't actively looking. As much as I enjoyed my time in there, but the more I thought about it, this is the opportunity I've been waiting for for a long time," says Josh. "It's just really re-energizing to have this new opportunity after everything. I just count my lucky stars. It was divine intervention almost. This job just fell in my lap. I'm going to make the most of it and run with it."
Rowdy and casual? Yeah, that's how Josh prefers to roll. And that's exactly why the Chins wanted Josh to run the kitchen in their fourth restaurant in The City Beautiful.
"It's gonna be a fairly casual place, a little lower price point," Josh says. "We're kind of billing it as modern comfort food. A lot of humble ingredients, not too fancy, just a lot of good food done right. One of the big things we're setting ourselves up to do is fried chicken, which is one of my favorite things. We're getting a big pressure fryer, which is hands down the best way to cook chicken. Fried chicken can be tricky. It takes a long time and it's easy to burn. It's hard to put on your menu, because if you sell too much of it you can't keep up, but we're going to have a system in place where that's kind of going to be our calling card, I think."
That's right, one of Central Florida's most highly regarded chefs, would rather make sausage from scratch, smoke BBQ, and fry chicken than plate truffles, pâté, and foie gras.
"The classics are the classics for a reason. There's nothing wrong with carrying on with them. There's always room for creativity and new things. Just keep it simple and make it good. At 1921 we had a burger. We could put anything else on the menu and the best seller would still be the burger. There's really nothing wrong with that. We had a great damn burger over there. It was $18 but it was worth it. It was a good burger. We'll definitely have one of those at The Monroe as well," Josh says.
Josh also says that you can make your own $18 burger. The 45-year-old chef who began his amazing career in his dad's taco/sandwich shop before working at Wendy's, operating a "glorified hot dog cart," opening the wildly popular Smiling Bison eatery in Orlando, and wowing guests at 1921 Mount Dora says anyone can be great in the kitchen.
 "Everybody can follow a recipe. A chef who's been cooking for 20 years is going to know the techniques to make it better, but there's really no secrets anymore."
 "A lot of it is just having good habits and paying attention to detail whether you're making a peanut butter and jelly sandwich or some crazy fancy $40 entrée. You should really go at it with the same attitude and mindset."
 "Keep it simple and constantly ask yourself, 'What can I do to make it a little better?' The difference between a good dish and a great dish can just be a pinch of salt or vinegar or lemon juice or acid to balance something out. Attention to detail. The difference between good and great is actually not very much."
Ready to cook? Here is one of Josh's favorite recipes for you to try. 
---
CHEF JOSH OAKLEY'S FRIED GRITS WITH ROASTED TOMATOES AND MUSHROOMS
COOKED GRITS
Ingredients
1/2 cup stone ground grits
2 cups water
1 tablespoon salt
1 bay leaf (optional)
2 teaspoons black pepper
1 teaspoon Tabasco
2 tablespoons butter
1/4 cup grated Parmesan
Directions
Bring water, salt, and pepper to a boil in a medium saucepan. Add bay leaf and butter. When butter melts, slowly add grits, while stirring rapidly with a wire whisk. Return to boil, then immediately turn heat to low. Cook until done, about 45 minutes. Season with Tabasco. Whisk in the Parmesan. Using a rubber spatula, transfer grits to a baking sheet and spread out in a thin layer, place in refrigerator to cool. 
Chef's note: Best when prepared the night before. Grits need to be cooked then fully cooled before proceeding with the recipe.
GRIT CAKES
Ingredients
1 batch cooked grits
1 cup all-purpose flour
2 large eggs, beaten
1 tablespoon chopped parsley
1 cup panko breadcrumbs
1 tablespoon grated Parmesan
Directions
Separate cooled grits into ping pong sized balls, gently flatten between your palms to form small patties. Combine panko, parsley, and Parmesan in a small bowl and mix well. Line balls in a row with the flour and egg wash, each in their own bowl. One at a time, gently toss each patty in the flour, shaking off any excess. Dip each patty in egg wash to lightly coat, then gently toss in the breadcrumb mixture. Arrange on a plate or baking sheet and return to refrigerator until ready to fry. Deep fry at 350 for 3-4 minutes until golden brown. Drain on a paper towel and season with a little more salt to taste. Place cakes on large plate, arrange mushrooms and tomatoes over top. Garnish with fresh chives and/or parsley. If you don't have a fryer: Put about 1/2 inch of vegetable oil in medium to large skillet and place on medium-high heat. When oil starts to shimmer, carefully add grit cakes and cook 2 minutes per side until golden brown. 
MUSHROOMS
Ingredients
8 ounce mushrooms, any mushrooms will work, something more "exotic" than button mushrooms are best
1 teaspoon salt
1 teaspoon black pepper
4 garlic cloves, crushed with your palm or the flat side of a knife
3 sprigs fresh thyme
3 tablespoons vegetable oil
1 teaspoon sherry or red wine vinegar
Directions
Put oil in a cold frying pan with the thyme and garlic and put on a burner set to medium-high heat. As soon as thyme and garlic start to sizzle, add mushrooms, season with salt and pepper, and quickly toss to evenly coat, then let them settle into an even layer on bottom of pan. Let cook for about 2 minutes until a little browning develops, toss and cook for 2 minutes more. Remove from heat, immediately add vinegar and toss well. Transfer to a baking sheet lined with a paper towel. Pick out garlic cloves and thyme stems and discard.
TOMATOES
Ingredients
12 grape or cherry tomatoes, halved
2 tablespoons extra virgin olive oil
4 cloves garlic very thinly sliced
1 teaspoon sherry or red wine vinegar
2 teaspoons salt
1 teaspoon cayenne
1 teaspoon sugar
2 sprigs thyme, leaves picked and stems discarded
Directions
Set oven to 250F. Toss all ingredients in mixing bowl to evenly distribute. Arrange tomatoes on wire rack over a baking sheet, skin side down. Pour remaining oil over tomatoes. Roast at 250 for about 1 hour until tomatoes have browned a little and are somewhere between the texture of a fresh and a sun-dried tomato. 
Chef's note: Tomatoes and mushrooms can be done ahead of time and gently re-heated while you're cooking the grit cakes. 
---
Hey, readers! Do you have favorite recipes or know a chef we should profile?  → Comment on this article or send story ideas to gary@akersmediagroup.com.
Gary Corsair began writing professionally while attending high school in Greentown, Indiana. He's spent most of the past 46 years in writing, reporting, editing and producing roles for newspapers, magazines, TV, and radio. He's served as publisher and editor of three newspapers, TV news director, and executive producer of two documentaries about The Groveland Four. Gary's earned more than 65 awards for journalism excellence.
Share This Story!