In The Kitchen: Jam session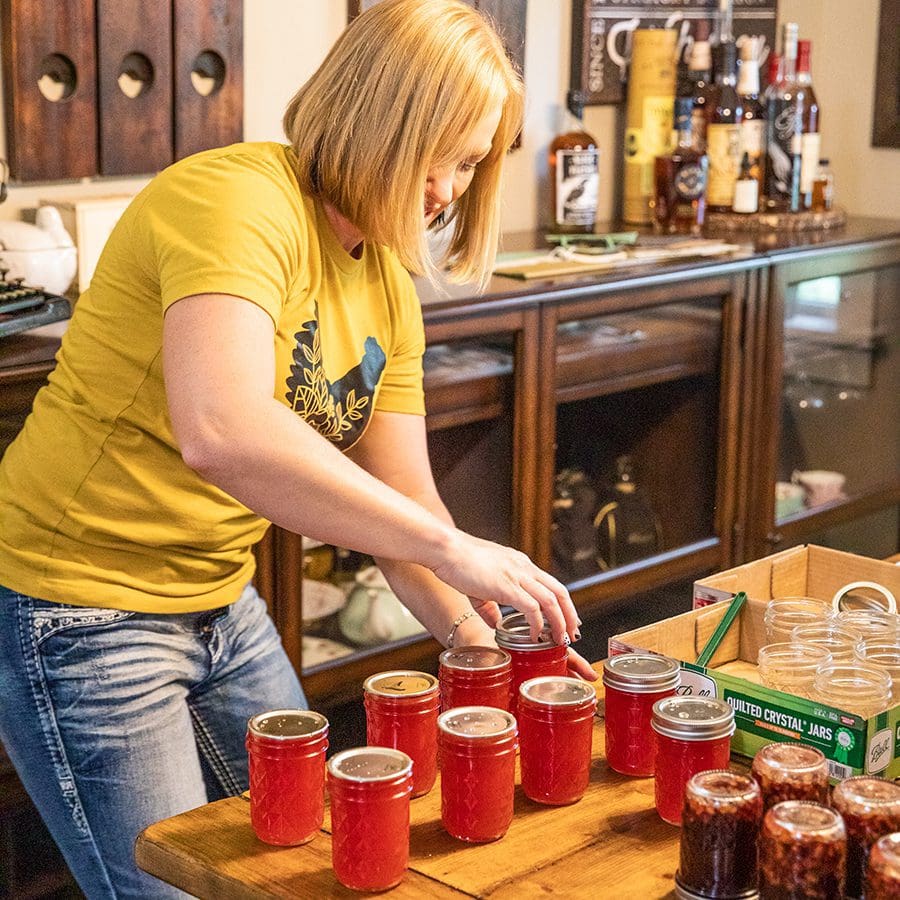 Lady Lake woman makes hobby of ensuring special moments, and flavors, are well preserved.
Gift giving is easy for Robin Smithgall.
She only needs to reach for a few jars of jams and jellies neatly arranged by flavors in a spare room near her kitchen.
A personalized label on each lid includes the words, "Spread the Love," and reveals where the uniquely flavored, sweet, and sometimes seasonal concoctions come from. But don't bother searching Google for an address on how to get to 'Smithgall Vines.' 
That's because the private vineyard surrounded by winding oak trees with various-size antique chandeliers hanging to create a romantic ambiance illuminating multiple rows of grapevines is in the backyard of Robin and Ken's home in Lady Lake.
"When people find out I make jams and jellies, and especially when they taste them, they always say, 'You need to start your own business,' which I refuse to do because it's such a fun hobby," Robin says. "I don't want to ruin it by turning it into work. I just enjoy making them and giving them away, but surprisingly enough, they are in high demand."
The inspiration for Robin's hobby is sweet. 
After Hurricane Irma hit in 2017, Robin and Ken were left with a backyard mess.
After clearing the debris, the vast openness inspired Robin's vision of what she calls 'a four seasons farm,' complete with vineyard, a chicken coup full of pet chickens that lay fresh eggs daily, and soon, a Christmas tree farm.
The dream was in honor of Ken's love for Hallmark movies.
"Ken loves the Hallmark Channel, and he undoubtedly watches more Hallmark movies than any man you'll ever meet. It's on 24/7 from October through January, and then again for Christmas in July," Robin says. "He even has a countdown on his phone specifically for Fall Harvest and Christmas movies—his favorites—as well as a personalized shirt he wears that says: "I just want to drink bourbon and watch Hallmark Christmas movies."  
Robin explains, "I love that he has such a tender heart. And although I tease him, I shouldn't, because secretly I like them too. Most of the movies remind me of us." 
She continues with the story of how she and Ken met. 
They were both firefighters at Marion County Fire Rescue but had never crossed paths. After working several intense calls together, the two began talking, and eventually got closer. 
"How our relationship grew from 'just friends' really did feel like a fairy tale," Robin says, adding that when she met Ken's children, then 10 and 14, she felt it was God's plan. "Everything just kind of fell into place; it's like the stars aligned."
On October 20, they will celebrate their eighth wedding anniversary, and she can't imagine her life without them.
"Hallmark movies seem to share a sad element to them, like a spouse or other family member dying, but then true love is found just in time, and the endings are always so sweet, which is us," Robin continues. "I feel like we have our own little Hallmark story."
As for the grapevines, they took three years, but finally produced an abundance of grapes. 
Robin, knowing she needed to devise a plan on how to use them, considered her passion for pepper jellies. Whether on vacation or at farmer's markets, she'd always find herself looking for new flavors to try. 
So, with more than 40 gallons of freshly picked muscadines, Robin thought, "Making wine is too complicated; I'd rather just buy it, so I'll try making my own pepper jellies."
Additionally, Robin says that during the coronavirus pandemic, she felt the need to learn how to can and preserve food like her mom and grandmother always did. 
Robin says after researching canning basics, she came across a fairly simple, yet time-consuming technique called water-bath canning. Using that process allows her to vacuum seal the metal lids to glass jars so her creations stay fresh for months.
Robin also called on a friend who makes jellies. She provided a better understanding of working with pectin, acids, sugar, fruit, and juices—ingredients in most jellies and/or jams.
Robin's first jelly recipes were Habanero Muscadine and Jalapeno Scuppernong. Once mastered, Robin was hooked. 
In 2021, Robin made and canned more than 600 jars of jelly, all with unique flavor profiles— including her Poisoned Apple, Black Crow (Black Cherry), White Pumpkin Coconut, Strawberry Habanero, and more.
And as a surprise for her birthday, Ken entered two of her jellies into the county fair.
"The Jalapeno Scuppernong got second place, but it lost to my Habanero Muscadine, which got first, so I was beyond ecstatic about that," Robin says. "Plus, I think it's cool to say you have a blue-ribbon jelly."
Although Robin does not consider herself an expert just yet, she's getting better and more creative each day.
"I am really just a beginner canner, and I have made my share of mistakes in the past with either jellies that didn't set up, or some I may have forgotten an ingredient in, so there's definitely a learning curve," Robin explains. "There's always a use for even a messed-up batch though, so nothing ever goes to waste."
Robin says she also enjoys looking for specialty ingredients like aged bliss maple syrup, Madagascar bourbon vanilla beans, and aged amaretto-soaked cherries she can incorporate into recipes. And she's already contemplating a few unique flavors for Christmas.
Her husband, daughter, and neighbor are always on board as her taste testers. And Robin likes hearing how people use the jellies.
"There are really no rules on how to use jelly. They're good for charcuterie, toppings on ice cream, and at the fire station, the guys/gals love making PB&Js with them," Robin says. "Other people use them as syrups in cocktails, and one co-worker of mine swears by my blackberry jam he loves making a pork tenderloin with."
For special occasions, Robin has been known to make brie-stuffed croissants topped with her White Pumpkin Coconut Jam. For Easter, she made one topped with Carrot Cake Jam, aka Bunny Bait. She also makes an excellent Crème Brulee using farm-fresh eggs laid by her chickens, and ice cream sundaes topped with her Black Crow Jam, which features aged amaretto-soaked cherry juice and walnuts.
Most of all, she hopes people find happiness in the fruits of her labor.
"Another thing about making these jams and jellies is that it is so relaxing. It takes away your worries and stresses for at least a few minutes a day," Robin says. "Also, my mom always said, 'Bless and be a blessing,' so this is my way of doing just that." 
"There are really no rules on how to use jelly. They're good for charcuterie, toppings on ice cream, and at the fire station, the guys/gals love making PB&Js with them."

—Robin Smithgall
Recipes for you:
Originally from Nogales, Arizona, Roxanne worked in the customer service industry while writing independently for years. After moving to Florida in 1999, Roxanne eventually switched her career path to focus more on writing and went on to become an award-winning reporter for The Daily Commercial/South Lake Press newspapers for 16 years prior to coming on board with Akers Media as a staff writer in July 2020 – her dream job come true.
Share This Story!