In the Kitchen: Karen's Creative Cuisines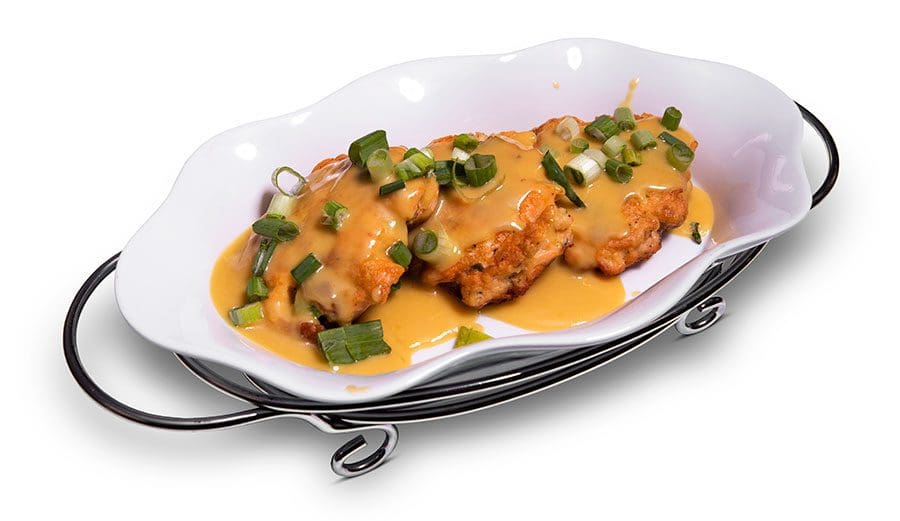 Karen Ross offers cooking classes, dinner parties, and more.
Growing up with a love of cooking, Karen Ross had always hoped to be a caterer someday. When a friend of hers in Boston, informed her of Boston University's program to become a certified personal or private chef, Karen jumped at the opportunity. Now, 18 years later, she successfully runs Karen's Creative Cuisines Personal Chef Service, offering catering for dinner parties, in-home cooking classes for up to 10, and even personal chef services. 
Karen learned the ins and outs of cooking at a young age from her mom, grandmother, great grandmother, and an aunt who was very special to her. Taking the skills and knowledge learned from her family, Karen has created numerous recipes that have become client favorites, including her Chicken a la Karen, and signature crab cakes she serves at most dinner parties. 
Karen says she loves making her chicken a la Karen because it is a quick and easy recipe that just about anyone can make, adding that she usually serves the dish over rice, pasta, or even mashed potatoes. 



"You take chicken breast, and you can either buy them thin or pound them down, season them, and toss them in seasoned breadcrumbs, and fry them in a pan with olive oil. Then I dice tomatoes and add those and black olives to the pan, and it makes its own sauce. If you need more sauce, I usually just add a little chicken broth," Karen says. 
If you're considering booking one of Karen's dinner parties, picky eaters and guests with allergies need not fret; Karen is very accommodating to all diets. The first thing Karen does is gather as much information about guest's food allergies as possible. She then tailors the menu. For example, she will leave crab cakes off the menu if someone is allergic to seafood. She has served parties where only one guest was vegetarian. She can accommodate every guest list. She learned to improvise when she worked as a private chef for a woman who was not only gluten-free, but also adhered to a diet specific for her blood type due to health issues.  
On the day of the party, Karen will bring all her own pots and pans (they are separate from the ones she uses at home) and will prepare the food and serve it throughout your party. She also cleans up after herself at the end of the night. Karen offers a set menu, but always lets potential clients know that it is just a suggested menu and can be altered. The biggest party Karen has ever served was 250 guests, for which she had to hire help through a waitstaff company. 
As for her cooking classes, Karen is currently holding the classes in the client's homes. "Most people want hands-on, so for hands-on I'll bring cutting boards for everybody. I ask them to bring their own knives, and we go through the whole process of making a meal. We actually make an appetizer, the meal itself, and then a dessert," she says. "It's fun," Karen adds of her cooking classes. "We get together and we cook. I'm not so straight and serious in classes. I like for people to laugh and have fun. If we make a mistake, then we figure out how to fix the mistake and different things like that. Cooking brings me a lot of balance, a lot of peace." 
These parties are most often for birthdays, but she had one man book a party for his wife and her girlfriends who were on vacation at the time. Karen brought all her tools to the condo they were staying at and cooked a meal for the group. 
As if she's not busy enough, Karen is also the chef at the school at First United Methodist Church Tavares. During the week she cooks and prepares meals for the classes, and takes the food to each room. "I plan the meals out so it's posted so parents can see what we're having that week," she says. One meal she makes for the kids is what she calls chicken spaghetti, which uses cream of chicken soup instead of tomato sauce. She serves the meals with a vegetable and a fruit. 
When cooking for her own family, Karen often finds herself stewing chicken on the stove or roasting it in the oven and says that spaghetti is also a weeknight favorite. For special occasions and holidays her mac and cheese, scalloped potatoes, and mashed potatoes are likely to make an appearance on the table with the turkey or ham. 
Chicken and beef broth can almost always be found in her pantry, because Karen loves trying new sauces and broths can be used for a lot of things. "I always have some type of fresh vegetable in the fridge because there's so much you can do with that. Whether it be a stir fry, or anything really. In my freezer I always keep some chicken breast," Karen says. She tries to shop at farmers' markets when possible, but often goes to Publix for groceries. When planning a big dinner party, she makes a trip to Restaurant Depot in Orlando. 
Karen never says no to trying a recipe or ingredient. Recently, she has been making different breads and pastries that use yeast. "I used to run from yeast, now I run to it," she jokes. "There was a time I wouldn't even make bread or anything like that cause I'm like what if it doesn't rise, what if it's hard? So, I love working with products that have yeast in it now like breads, cinnamon rolls, different things like that." 
You can find pictures of Karen's cooking as well as info about booking a dinner party or class at facebook.com/mychefKaren. 
---

Apple Wonton Crisps
Ingredients:
One package wonton wrappers, cut in half
2 apples of your choice, cut into bite size pieces (I prefer honeycrisp)

 

Vanilla ice cream
Powdered sugar, shake through sieve
Vegetable oil
Butter

 
Directions: 
Place a small amount of oil into frying pan, enough to cover the bottom. Quick fry the wontons, drain on paper towel. In a large fry pan, sauté the apples in butter with cinnamon and sugar for 2-3 minutes. On a plate, place wonton, top with sauteed apples, then vanilla ice cream. Repeat until wonton wrappers and apples are gone. 
---

Chicken a la Karen
Ingredients:
4 boneless chicken breasts, can also use a thin sliced chicken breast

 

3⁄4 cups seasoned breadcrumbs
2 eggs
3 cloves of fresh garlic, sliced or minced
1 small onion, chopped
1 14.5 ounce can diced tomatoes or one large tomato diced

 

1 cup black olives
1⁄4 cup fresh parmesan cheese
Salt and pepper to taste
Olive oil
Directions: 
Pound chicken breast to 1⁄2-inch or less thickness. Season with salt and pepper. On a plate, beat the 2 eggs. On another plate, add the breadcrumbs. In a large skillet pour enough olive oil to just cover the bottom of the pan. 
Dredge chicken breast in egg, then into breadcrumbs covering both sides. Shake off excess. With tongs or a large fork, place chicken breast gently into hot oil. Pan fry 2-3 minutes on each side until chicken is no longer pink inside. Remove chicken from pan and place on plate with paper towel to drain. 
Drain any excess oil from pan. Add the garlic and onion and sauté approximately 1 minute. Add the diced tomatoes and simmer for 1 minute. Add the chicken and olives and simmer covered for approximately 15 minutes. Sprinkle with fresh Parmesan. Serve over your favorite rice or pasta. Add a salad or a side of sautéed green beans.
---


Salmon Cakes with Honey Mustard Sauce
Cakes:
1 pound fresh salmon
2 stalks of scallions, cut
1 tablespoon butter
3-4 tablespoons vegetable oil
2 eggs
2-3 tablespoons breadcrumbs
Salt and pepper to taste
Directions: 
Remove the skin from salmon. Place salmon in a large bowl, break salmon into small pieces using a fork. Add scallions, eggs, salt and pepper. Mix together well.
Add 2-3 tablespoons breadcrumbs to salmon mixture. Form into patties.
In a large skillet add the butter and oil and heat on medium. Place the patties into the hot skillet until golden brown on each side. Remove from skillet and drain on paper towel.
Honey Mustard Sauce:
1 small jar of honey mustard

 

1/4 cup heavy cream
3 tablespoons honey
2 tablespoons butter
Mix all ingredients together in a saucepan. Simmer on low heat for 10-15 minutes. Spoon over cooked patties and serve.
Originally from Buffalo, NY, Victoria graduated from Canisius College in 2018 with a bachelor's degree in English and Writing. In August of 2019, she relocated to Eustis, Florida, and soon began at Akers Media Group assisting with social media projects. Later that year, she was promoted to a full-time writing position at the company and has since found her niche telling the stories of so many of Lake and Sumter County's awesome people.
Share This Story!