In the Kitchen: Lord of the fries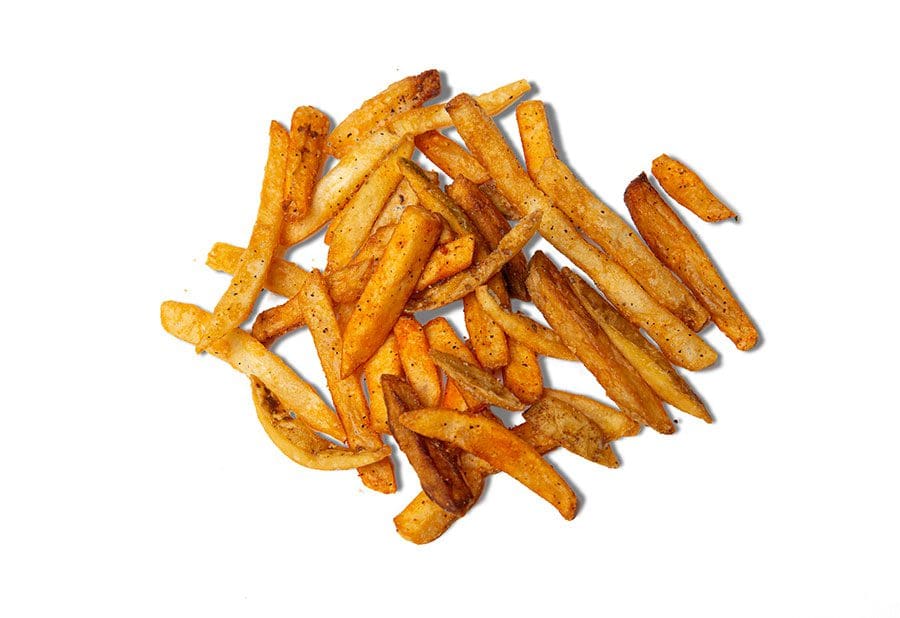 In a taste-test battle royale, staffers at Lake and Sumter Style determine which local restaurants serve up the most scrumptious french fries.
Photos: Nicole Hamel
It doesn't matter whether you're sitting inside a restaurant or pulling up to a fast-food drive thru. You know what's about to be asked.
"Would you like fries with that?" 
The inevitable question is followed by the inevitable answer. 
"Heck yes I would."
Fries are the standard side order with almost any meal. That's because there are few food items Americans cherish more than sliced-up potatoes that are thrown into a hot pool of oil. Even better, they can be ordered in a variety of cuts, styles, and flavors—curly fries, Cajun fries, chili cheese fries, cheese fries, steak fries, waffle fries, and standard cut. 
Let's be honest about our obsession with fries. We love them so much that we wouldn't wish a cold, soggy fry upon our own worst enemy. Our love affair with french fries isn't going to end anytime soon. But what isn't settled is where to get the best fries. Style is going to make that decision easier for consumers. 
We've tasked several of our employees with tasting and judging fries from 15 local restaurants. First, please understand that each of our judges are avid french fry aficionados. Although they rarely meet a fry they don't love, they realize that not all fries are created equal. You may disagree with our picks, and that's perfectly fine. We trust our palates, and you obviously trust yours. We're certainly not trying to cook up any controversy, but we did judge each restaurant's fries as fairly as possible. 
---
RULES
Our judges ranked the fries without knowing which restaurant made them. That eliminated any bias.

 

For purposes of consistency and fairness, our staff picked up the fries from each restaurant and brought them back to the office, where they were warmed up in an air fryer, tasted, and judged.

 

Each of the restaurant's fries were scored in two categories: visual appeal and taste factor.

 

Akers Media is only listing the top four winners. We appreciate each restaurant's participation, and we're not in any way trying to bash anyone's fries.
---
Meet the participating restaurants
Ramshackle Café (Leesburg)
Cousin Vinnie's Family Sports Restaurant (Leesburg)
The Brick & Barrel (Leesburg)
Mojo's (Leesburg)
Wings Ranch (Leesburg)
Legends Bar and Grill (Fruitland Park)
Tillie's Tavern and Grill (Eustis)
The Crazy Gator (Eustis)
JB Boondocks Bar and Grill (Howey-in-the-Hills)
Fish Camp (Tavares)
Tiki West Raw Bar and Grill (Tavares)
Burgers, Tacos, and Waffles (Tavares)
Puddle Jumpers (Tavares)
The Salted Fry (Mount Dora)
Square 1 Burgers and Bar (Wildwood)
---
Meet the judges from Akers Media Group
Theresa Campbell
Roxanne Brown
Nicole Neola 
Douglas Tyler 
Megan Mericle
Volkan Ulgen
Aubrey Simmons
---
Are you feeling salty and ready to see our top four overall winners? Let's get to it. 
May the best fry win.
---

4| Mojo Grill
From beef empanadas and jambalaya to Memphis pork and Cuban roast pork fajitas, the menu at Mojo Grill offers diners a wide array of tasty choices. A side of Mojo Grill's scrumptious fries would perfectly complement any of those meals. The restaurant's fries scored 52 points with our judges and ended up being the favorite of Volkan. 
"These fries were nicely seasoned without being overpowering. Also, I didn't experience that oil taste like I typically do with most other fries. They were crispy on the outside and yummy on the inside."
– Volkan Ulgen
---

3| Wings Ranch
As the name implies, Wings Ranch is known for its wings, as well as its specialty burgers. Patrons would be doing themselves a big disservice if they fail to order the restaurant's french fries, which scored 55 points with our judges. In fact, Megan rated the fries here as her favorite. 
"They looked as good as they tasted. They were very crispy, and the paprika seasoning gave them that extra good taste that made them stand out above
the rest."
– Megan Mericle
---

2| Fish Camp Restaurant
The deck seating, waterfront views, and outstanding seafood are what likely attract diners to this restaurant, but don't sell their fries short. They made a noticeable impression on the Akers staff, scoring 57 points. If you're trolling the menu for something tasty, make sure you include the fries. 
Fish Camp Restaurant was the overall favorite of two of our judges, Theresa and Roxanne. 
"They were very tasty. I enjoyed the nice crunch on the outside but also the nice fluffy potato taste on the inside."
– Theresa Campbell
"I think these fries stood out to me because of how the crispy outer coating and the soft inside really complemented each other."
– Roxanne Brown
---

1| Cousin Vinnie's Family Sports Restaurant
Cousin Vinnie's may be best known for its award-winning wings, but the restaurant's french fries had an equally pleasing effect on the palettes of the Akers Media staff. Cousin Vinnie's scored 60 points. Obviously, owner Vinny Vittoria gives fries the attention they deserve, making them a wonderful side for his main dishes. 
Cousin Vinnie's was the overall favorite of three of our judges, Aubrey, Douglas, and Nicole. 
"I loved the seasoning, which had an ideal amount of saltiness and sweetness. They weren't over-seasoned to the point of distraction. These fries went down very smooth, which is important to me because I'm a connoisseur of french fries. "
– Aubrey Simmons
"I enjoyed the sweet taste. I also appreciate that these were slender fries instead of the big chunky ones. Once you eat one, you cannot help but to eat more. Because they're slender, they go down so good."
– Nicole Hamel 
"The outside texture was just crispy enough to sink my teeth into the soft potato underneath. You can tell these fries were not fried in the same oil as some of the other fries. You could taste the flavor throughout the entire bite rather than just the exterior."
– Douglas Tyler
---
Life, liberty, and french fries
In honor of everyone's favorite starchy side, National French Fry Day is celebrated each 
year on July 13. If you're someone who cannot get their fill of fries, you're in luck. To celebrate this day, national chains offer free fries or discounts on fries. In other words, it's a day to gas up your vehicle, travel to various fast-food restaurants, and load up on this mouthwatering treat. 
---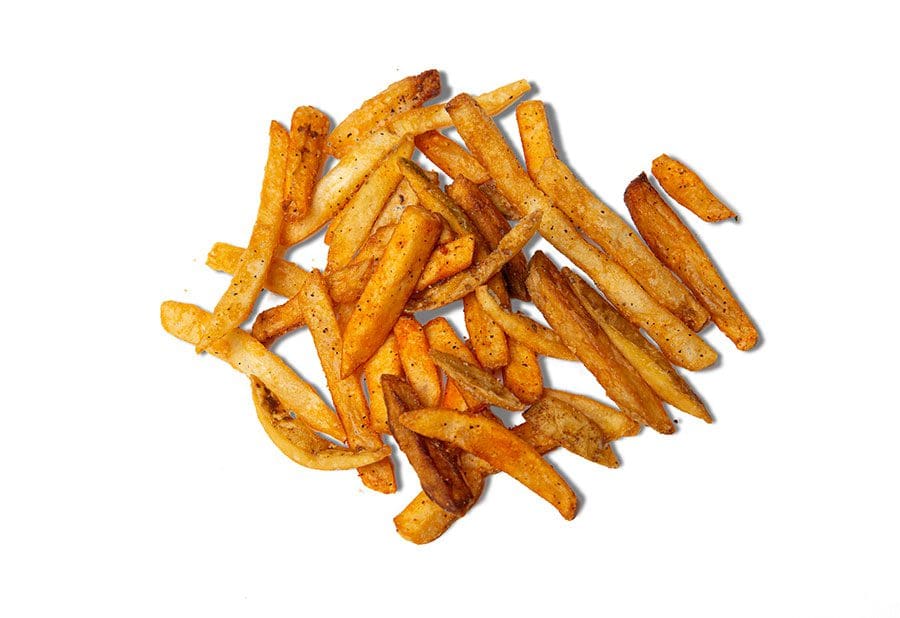 America's favorite types of fries include:
Curly fries (22%)
Chili cheese fries (15%)
Cheese fries (13%)
Standard cut (10%)
Waffle fries (10%)
Potato wedges (7%)
Sweet potato fries (6%)
Crinkle cut (6%)
Shoestring/matchstick (5%)
Belgian fries (1%)
Source: NationalToday.com's Potato Day Survey
---
Fry factoid
A little more than one-third of all potatoes grown in the U.S. are manufactured into frozen products, 85% of which are french fries.
Source: United States Department of Agriculture. 
---
Did you know?
The average American eats 30 pounds of french fries each year, according to National Geographic.
Akers Media Group's James Combs has been a staff writer for several local publications since August 2000. He has had the privilege of interviewing some of Lake County's many fascinating residents—from innovative business owners to heroic war veterans—and bringing their stories to life. A resident of Lake County since 1986, James recently embarked on a journey to lead a healthier lifestyle. He has lost 60 pounds and walks nearly five miles a day. In his spare time, he enjoys target shooting, skeet shooting and watching his beloved Kentucky Wildcats!
Share This Story!