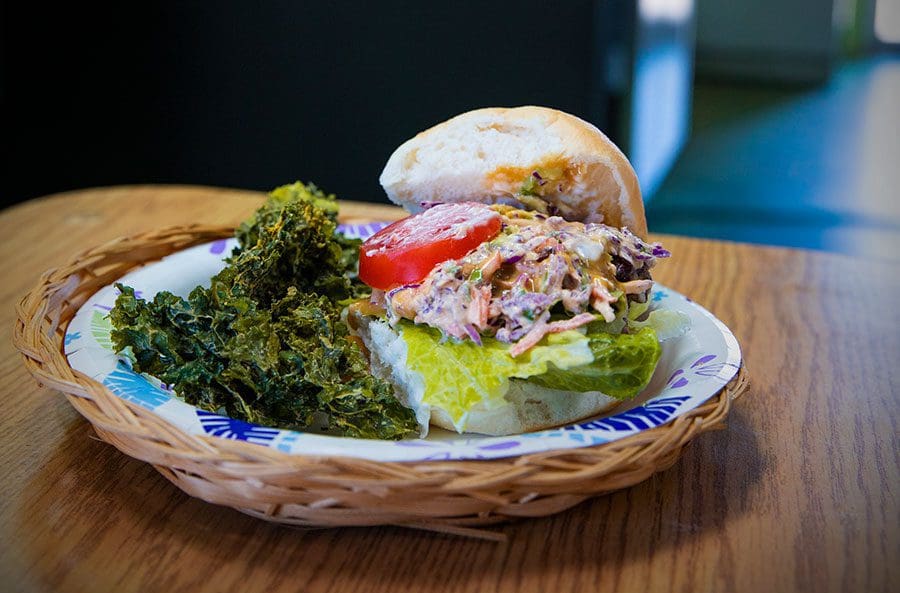 Local restaurant owner enjoys teaching the community about a different way of eating.
Photos: Nicole Hamel
When it comes to preparing food, restaurateur Michelle Kristof has a few surprises up her sleeve. 
That spaghetti Bolognese of hers—the one that looks good enough to serve in a fancy Italian restaurant—isn't exactly traditional. The long, thin noodles are actually made of zucchini, and they're topped with mushroom-walnut meat. 
That scrumptious taco salad? Instead of using a crunchy shell, She puts tomato, red pepper, celery, and avocado on a bed of Romaine lettuce. 
The green leaves sitting inside a container on a counter? They're actually chips made from dehydrated kale that come in two flavors: cheesy and cayenne. 
In the world according to Michelle, cooked food harms the body. A raw food diet, she says, comes with numerous health benefits. She's been preaching that message to everyone who visits her Tavares-based restaurant, Living Green Café. Actually, she started preaching that message long before opening her eatery in 2011. 
"Years ago, I used to tell my kids, 'You're not going to get a piece of pie unless you eat your greens.' As far as my husband, he was a meat and potato guy when we met, but eventually he became a potato and salad guy."
The raw food diet primarily consists of fresh vegetables and fruits, sprouts, grains, and nuts. Advocates of the diet contend that exposing foods to temperatures above 115 degrees Fahrenheit kills vitamins, enzymes, and other nutrients critical to good health. 
Michelle adopted the diet long before raw became rad. Ninety percent of what she eats is raw, unprocessed food. Her strict eating regimen allows for two meals a day: a breakfast smoothie with 40 grams of protein and a dinner salad at 3:30 p.m. 
Such a spartan diet requires willpower, especially in today's world where fast-food restaurants and microwave ovens abound. Michelle feeds her willpower with reminders of health benefits she enjoys. She seldom deviates from her raw diet. 
"I haven't been really sick in 30 years," she says. "Also, a thyroid problem I was battling went away. By eating this way, I feel like I can climb mountains. I have amazing energy. I wake up like a ninja and I'm moving, moving, moving. I work during the day and at night I like to go out in the yard and pull weeds."
Her health was the catalyst behind opening Living Green Café. 
"Healthy eating has always been my passion, and now I've made it my purpose," she says. "Everything I serve here is raw except the chicken, and customers can ask to leave that off."


The menu offers plant-based versions of popular items found at traditional restaurants. The most popular item, the black bean burger, is served with mushroom-walnut meat, chia seeds, cheesy slaw, tomato, avocado, and sweet mustard dressing on a gluten-free bun. A slice of pizza comes with ricotta cashew cheese, tomato marinara, black olives, red peppers, and spinach on dehydrated garlic bread. Want dessert? Consider key lime pie featuring almonds, cashews, coconut oil, lime juice, honey, and avocado. 
Tostadas, lasagna, raw tacos, vegetarian wraps, tuna fish tacos, and a variety of salads and desserts round out the menu. However, Living Green Café is more than a place to enjoy a meal. With food demonstrations and lectures, the restaurant has become an education center on healthy eating. 
"I feel like I'm a mom feeding my children," Michelle says. "I'm there to educate and teach my patrons. I'm a motormouth who cannot shut up."
The mouth serves up super-sized portions of wisdom many patrons have adopted to improve their eating habits. One of the converts is Christina Adinolfi, a 24-year-old singer who volunteers at Living Green Café four days a week. A raw diet helps her remain energetic for evening performances at local venues such as Pisces Rising and Mellow Mushroom. 
"Being a singer in the nightlife scene, I cannot be fatigued while I'm performing," Christina says. 
Since volunteering at the cafe, Christina has personally witnessed patients with diabetes and high cholesterol improve their conditions through cleaner eating. She credits Michelle. 
"I've always been interested in health and nutrition," she says. "I just learn so much from Michelle and am always asking her for advice. Being around her is an honor." 
Cindy Simpson agrees. She makes the drive from Leesburg to Tavares several times a week for the Living Green smoothie, a blend of kale, spinach, banana, apple, ginger, lemon, and coconut water. 
"I've eaten almost everything that Michelle offers," Cindy says. "Everything is delicious. With her, you don't have to worry about preservatives or salt in her food. However, you do get lots of fiber, and that fills me up longer."
Jamie Blunt, of Mount Dora, discovered Living Green Café one month ago. Now, she visits about four times a week. Her favorite dish is the Asian chicken lettuce wraps, served with a side of knowledge. 
"Michelle knows so much about food, and I've learned so many things from her," Jamie says. "Her enthusiasm has rubbed off on me and makes me want to eat healthier. I haven't had anything on the menu that I don't like." 
Jamie also appreciates not having to shell out lots of money. Every item on the menu costs under $10, which takes a big bite out of the excuse that healthy eating is too expensive. 
"That's a poor excuse," Michelle says. "I only need two meals a day and I'm satisfied. You really don't eat a whole lot, so you're not going to be spending lots of money. It's the meat that costs a lot."  
---
Raw Apple Pie
Pie Crust
2 cups dry almonds
1 teaspoon sea salt/Himalayan salt
1 1/2 cups pitted Medjool dates
Syrup 
2 cups dry almonds
1 teaspoon sea salt/Himalayan salt
1 1/2 cups pitted Medjool dates
Filling 
8 apples, peeled, seeded, thinly sliced
1 cup raisins
1 tablespoon ground cinnamon
Directions: 
To make the crust, pulse almonds and salt in food processor until nuts are in small pieces. You want your crust to have chunks of almonds in it, so don't over process. Use some of the finer powder to "flour" the bottom of your pie dish.
Slowly add dates into the processor in small batches to mix with almond bits. The dates will bind the almonds to form a dough. Press dough into the bottom of "floured" pie pan. 
To make syrup, place orange into your blender first. Then add dates and blend. If needed, add small amounts of water to help everything mix well. Set aside. 
To make filling, place sliced apples in large bowl with raisins. Toss with cinnamon and syrup. Spoon filling into pie crust. Will keep three to five days in the fridge. 
---
Vanilla Ice Cream
Ingredients:
1 cup vanilla flavored almond milk
1 cup soaked cashews
1/4 cup + 2 tablespoons agave syrup
1 vanilla bean (optional)
1/4 cup vanilla extract
1 tablespoon lecithin
3/8 teaspoon salt
Directions: 
Blend all ingredients real well. Follow ice cream maker directions. 
Variations: This basic vanilla ice cream can be varied in many ways by adding extra flavors. Our favorite variation is mint chip ice cream. To make this flavor, simply blend into the basic recipe one bunch of fresh spearmint (leaves only). Then add three tablespoons of cacao nibs directly into the ice cream maker before cranking.
Akers Media Group's James Combs has been a staff writer for several local publications since August 2000. He has had the privilege of interviewing some of Lake County's many fascinating residents—from innovative business owners to heroic war veterans—and bringing their stories to life. A resident of Lake County since 1986, James recently embarked on a journey to lead a healthier lifestyle. He has lost 60 pounds and walks nearly five miles a day. In his spare time, he enjoys target shooting, skeet shooting and watching his beloved Kentucky Wildcats!
Share This Story!