In the Kitchen: Spreading good vibes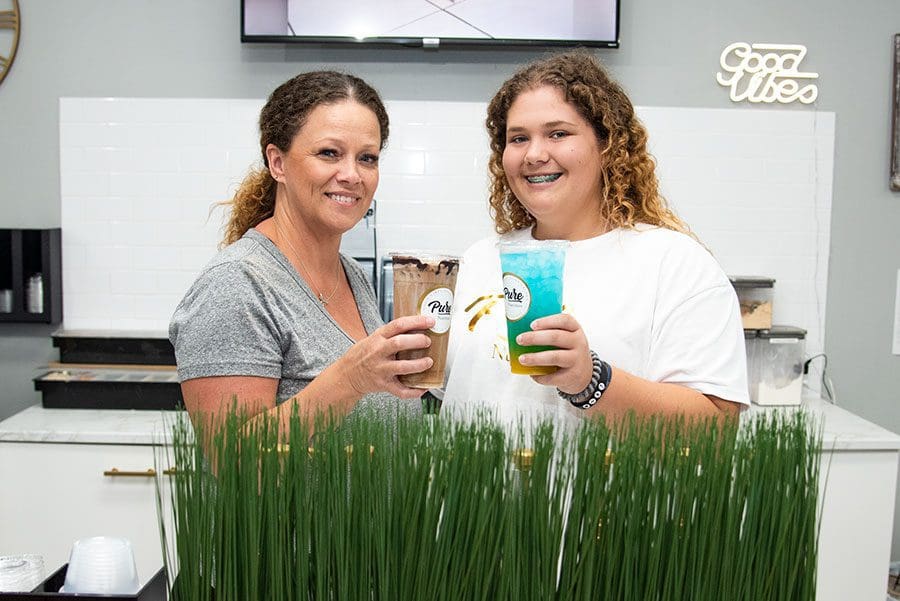 Mother-daughter duo whip up nutritious beverages at Pure, their Clermont café.
Photos: Nicole Hamel
Moving from Arizona to Clermont and starting a new business during the coronavirus pandemic may seem crazy, but it has been "a great adventure" for Stacey Coronado and her daughter Karylnn Hornung, 16. 
The pair runs Pure, at 1046 E. Highway 50, in Clermont, conveniently located in Home Plaza near CF Fitness, and their café draws regulars, including the gym crowd, who come in for post-workout shake.
Some of their most popular selections include the S'More Abs and Chunky Monkey, both with 33 grams of protein, or the energizing teas, collagen refresher drinks, and iced protein coffee, billed as "an energizing coffee with a purpose," and packed with 15 grams of protein.
Many Pure fans are happy the café lists the macronutrients "macros" of all its drinks, showing the amount of protein, carbohydrates, fats, in each one, along with the calories. 
"People comment on the drinks being healthy, and those in the nutrition world want to know the macros of what they are putting into their bodies," says Stacey. "We put it right on our menu; we are very transparent on what we are serving and what our macros are." 
Boosters can be added to the beverages, too, to provide probiotics, B12/B6 energy, collagen beauty boost, electrolytes, aloe, immunity, and fat-burning. 
"A question we tend to get asked is if our shakes are made with milk, which they are not. All are made with ice and water, and we are asked of the protein that is used, and we use a soy or whey, or a light quinoa or chickpea," says Stacey. 
Opening Pure has widened the mother and daughter's circle of friends and customers.  
"The community has been super welcoming," says Stacey.
"It has been exciting," adds Karylnn, a junior at Minneola High School. "I love the people; I have always been a people person. I love just getting to talk to everybody and make everybody's day feel good; just being a bright light in people's day is fun." 
Karlynn also has had fun experimenting with different flavors for Pure's beverage offerings, including creating the Minneola Hawk (her favorite energizing tea) made with tropical fruit, blue blast (a sugar-free drink mix), coconut, and pineapple, and she's whipped up drinks named Eastridge Knight, Southlake Eagle, Liquid Gold, Cherry Limeade, Polar Ice, Citrus Tower, and the Florida Sunset.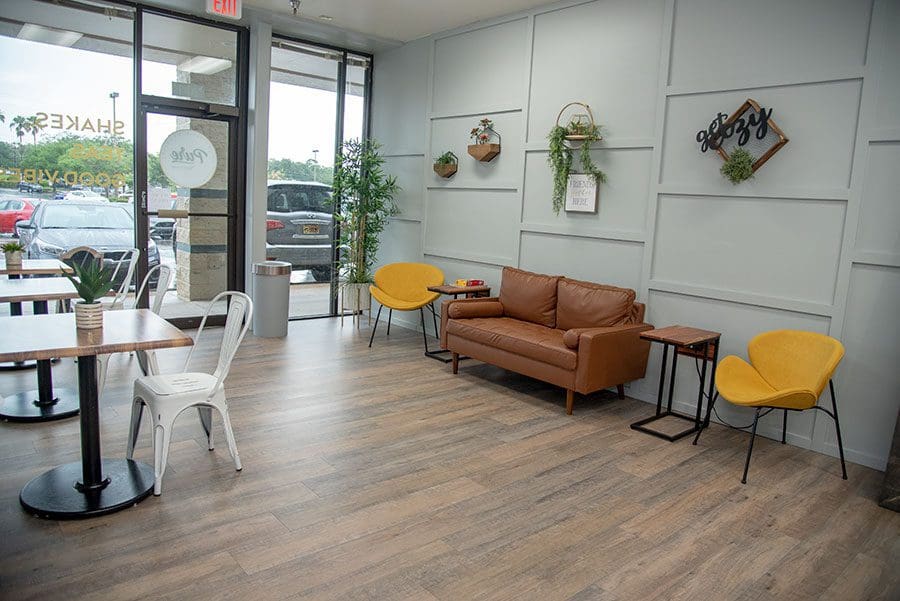 "The base of our products is Herbalife Nutrition," says Stacey, who lost 42 pounds in five months by following Herbalife two years ago. "I started using the products and I just fell in love with them, and I decided I wanted to become a distributor."
Stacey's success with Herbalife was catalyst to starting Pure. She has friends in Arizona who have a popular nutrition café, and when her family relocated to the Sunshine State in 2020 for her husband's new job in Orlando, Stacey felt it was the ideal time to sell her four hair salons and start Pure.
"When I first came out here, I saw the beautiful hills, and it reminded me a lot of my hometown," recalls Stacey. "It was homey, and everybody was friendly, and people were waving. We decided on settling in Clermont, and we didn't know anything about the community, but it was just a good feeling I had when I was here." 
The family closed on their Clermont home on March 13, 2020, "and then the world shut down on March 17," adds Stacey, recalling the early days of the coronavirus pandemic. 
Regardless, COVID-19 didn't stop the mother and daughter from making Pure a reality, and they are thankful for the community support that allows for the café to thrive.
"My friends that have the café in Arizona came out here and helped us open and had a grand opening with us and around the bar," says Stacey. "Our goal is to train people behind our bar so they can open the next café." 
The mother-daughter business partners interact with people everywhere they go. 
"We're in the community, and we'll pop up at gyms, downtown, and different places to make people know who we are," says Stacey of handing out invitations and discounts. Even Pure's website notes: "We are spreading our good vibes and dropping teas around town! You want us to come to your business and bring you some complimentary energy?"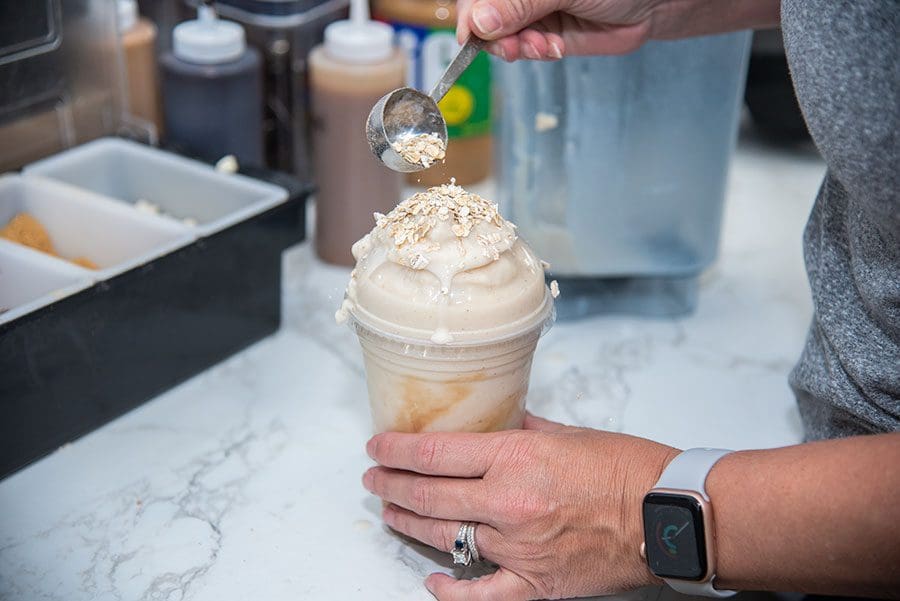 "We popped up for the Friday Night Lights at Clermont CrossFit for their CrossFit Open and that went really well," adds Karlynn. "And now we have a massive CrossFit community that we love; they are amazing people." 
The pair believes Pure has been good for their mother-daughter relationship.
"The experience has made us stronger," says Karlynn, while Stacey is pleased her daughter doesn't view the café just as a job but as her business. 
"We set aside a certain amount each day to make sure we have everything covered for the next month," says Stacey. "If we don't have that amount, we don't get paid, and she understands that at 16 years old, and having those conversations in the beginning was a little rough, but it evolved to, 'OK. I understand the business now. I understand inventory, and I understand we have to order cups.'" 
They continue to experiment with new flavorings and obtain recipes from other Herbalife fans in other states. 
Stacey's favorite drinks on the Pure menu include Purple Rain, an energizing tea featuring pomegranate, coconut, and grape. "It's really good, and my favorite collagen refresher is the Florida Sunset featuring tropical flavors of watermelon, grape, and coconut. Anything with grape in it, I'm gonna love it," she says. "On our loaded teas, I love the Very Berry Lemonade, which has pomegranates, wild berry, strawberry, lemonade. On the iced protein coffee, the Salted Caramel is my favorite, and on the protein shakes, it's definitely the Reese's." 
Karlynn plays sports in school, Olympic power lifting and she throws shot put and disc for track. Her favorite of Pure's loaded tea offerings is the Southern Gentleman, a tropical fruit with peach, strawberry, and watermelon. "It's my go-to drink if I am in a hurry and I'm hungry." 
When she goes off to college, Karlynn says her mom will do just fine in running Pure on her own. 
[separator]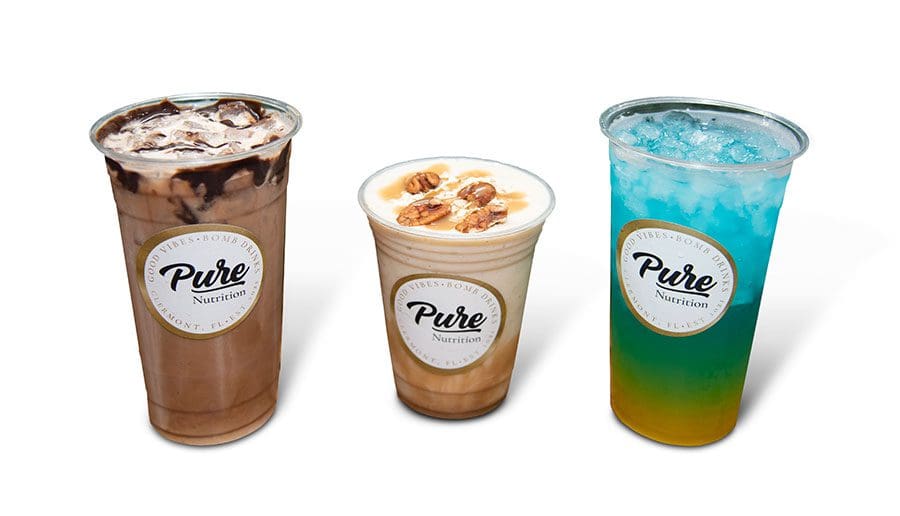 Recipes from Pure 
Pure provides recipes of its beverages for customers and Style readers to make at home. Those who become VIP members can sign up to become a preferred member with Herbalife and get the products Stacey and Karlynn use for a 20 percent discount. The items can be shipped to your door. 
However, one does not have to become an Herbalife member to make the beverage recipes; the ingredients and products can be purchased retail or at the Pure café. 
"Our Smurf Juice is a collagen refresher, so it has B6 and B12 vitamins, electrolytes, collagen for hair, skin, and nails, and it is full of electrolytes. It is blue and an orange color, and so the layers are really pretty, and we do sell a lot of that one," says Stacey. 
Stacey says Pure's Oatmeal Butter Pecan protein shake is hearty, tasty, and popular. 
"It has oats, pecans and it's very healthy and it just has that feel and it tastes like it shouldn't be healthy," she says, adding it can keep you feeling food for up to three hours. 
All of Pure's protein shakes are available in 16 ounces, 24 ounces, or 32 ounces.
"They are a meal replacement, and if you decided to use more protein, you'll be fuller longer," says Stacey, adding the 16-pounce size is the most popular with customers, featuring 250 calories, 24 grams of protein, 18 grams of carbohydrates, and 4 grams of fat. 
[separator]
Oatmeal Butter Pecan Protein Shake 
INGREDIENTS:
2 scoops Formula 1 Pralines and Cream
2 scoops Protein Drink Mix Vanilla
1 teaspoon sugar free pudding mix-butter pecan
1 tablespoon oats
2 pecans
1 cup water
5-6 ice cubes
DIRECTIONS:
Blend all ingredients well and enjoy. 
[separator]
Mocha Iced coffee 
INGREDIENTS:
2 scoops mocha coffee
8 ounces water
DIRECTIONS:
Mix well. Top with sugar-free mocha syrup and sugar-free creamer.
[separator]
Smurf Juice 
Place water in a cup add the following Herbalife ingredients:
INGREDIENTS:
1/2 teaspoon H30
1/2 teaspoon Collagen Beauty Booster
1 tablet of Tropical Liftoff
1/8 teaspoon Blue Blast beverage enhancer
1/8 teaspoon Coconut beverage enhancer
1/8 teaspoon Blue Raspberry beverage enhancer
DIRECTIONS:
Mix the H30, Collagen and Tropical Liftoff well. Fill to top with ice. In another cup of 8 ounces water, add the remaining ingredients. Pour over top of ice and enjoy.
Originally from Anderson, Ind., Theresa worked for The Herald-Bulletin for many years. After experiencing a winter with 53 inches of snow, her late husband asked her to get a job in Florida, and they headed south. Well known in the area, Theresa worked with The Daily Sun and The Daily Commercial prior to joining Akers.
Share This Story!