In the Kitchen: Sweet success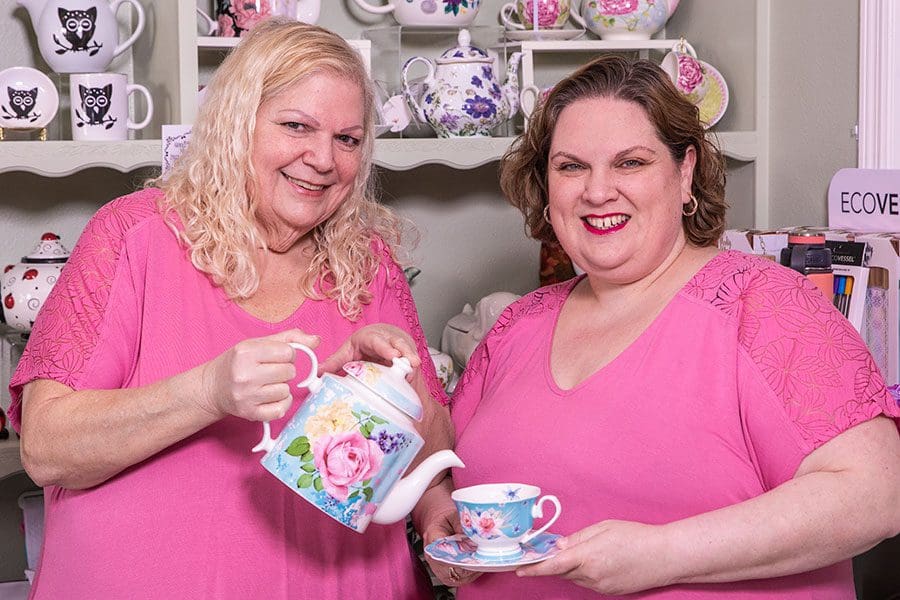 Mom and daughter rolling in dough making 'better than mum's' scones and special-blend teas.
Photos: Nicole Hamel
Erika Shanoff and her mother Leila Shanoff are smart, creative businesswomen. The pair found success during the coronavirus pandemic by improvising day-to-day operations of Erika's Tea Room and Gifts, Inc., 787 W. Montrose St., in downtown Clermont.
They are now promoting, baking, and shipping online orders of their award-winning "Florida famous scones" to different places around the globe.
"On a daily basis, we ship about 200 scones," says Erika. "We ship nationally, and we just shipped internationally." 
The Shanoffs were three times busier during the 2020 Christmas season. Leila was in the kitchen through the wee hours with her hands in a dough mixture of high-quality heavy cream, buttermilk, sour cream, cream cheese, flour, sugar, baking powder, and other fresh ingredients, all needed to whip up 600 scones daily that were individually wrapped and sent to loyal fans and repeat customers in Hawaii, California, and Alaska. 
"The typical comment we hear is that our scones are amazing," says Erika, recalling one cute compliment received soon after the tearoom opened in 2014. "A little girl was visiting from England with her family. She came to the door of the kitchen and she said, 'Excuse me, ma'am, can I tell you something? Your scones are better than my mum's.'" 
The mother-daughter duo cherishes a special compliment from Kevin Harrington, the original shark on the TV show "Shark Tank." At an industry event, he called Erika's Tea Room's scones "amazing." He was especially enamored with a white chocolate apricot scone.
"I'm a sweets kind of guy, so I know when something is good, and I love their scones," Kevin said in a video testimonial. "Erika's Tea Room, you guys got it rockin.' Thanks for making a great product; this was one of the best scones I have ever had." 
The shark isn't the only authority spreading the word. Erika's Tea Room products have been featured in 'Tea Time' magazine, too.
"Head sconista" Leila is recognized as a national scone maker and certified tea master who delights spending time in the kitchen experimenting with countless flavor combinations each week. She also has created 140 special-blending tea flavors to complement the scones. 
"We would really like Erika's Tea Room scones go all over the world," says Leila, while her daughter is marketing minded and has a talent for creating gift bundle packages of teas, scones, and a teapot to fit any kind of theme or special occasion, including Valentine's Day, St. Patrick's Day and Mother's Day.
Leila's on a mission to educate the world about scones, which are usually made of wheat or oatmeal and made with baking powder as a leavening agent. She believes that many people haven't had the pleasure of tasting a delicious scone.
"Real scones are not hard. It depends on how they are made, and I always say I am the Julia Childs of scones. I don't believe in just doing the standard, that is not my personality. Typical scones are plain or cranberry. I could do that, but instead of cranberry, I do orange cranberry with fresh orange juice and chunks of orange peel," says Leila. "Every week I come up with another concoction of flavors. There are so many flavors, so why be pigeonholed?"
Among Erika's Tea Room signature scone flavors are lemon blueberry, Crème brûlée, white chocolate apricot, thin mint, cherry almond, and orange cranberry. Erika and Leila also offer premium scones of pina colada, caramel walnut, pistachio chip (Erika's favorite), and Leila has created adult-beverage infused scones, including apple bourbon, a spiced rum and raisin scone, strawberry champagne scones with chunks of strawberries, and other varieties.
"It's five o'clock somewhere," says Leila of the adult-theme scones. "Everybody has been loving them, so we continue to have them on our website." 
Because of the pandemic, the Shanoffs decided to make the tearoom reservations only, and only have high teas on Fridays and Saturdays from noon to 2 p.m. During the week, they will serve groups of 20 or more. Weekday offerings and high teas are reservation only.  
"We are shipping so vastly now that we need the days to ship," says Erika, adding that the tearoom also ships special monthly subscription boxes of a dozen scones of three new flavors, available in three different package levels.
One popular offering is gluten-free scones. "Gluten-free flour is the perfect flour and I have been making these and people can't believe they are gluten free," adds Leila. "I can make any scone gluten free." 
The Shanoffs also enjoy hosting special themed events for adults. This month, they've planned the Perfect Matches of Downton Abbey at 6 p.m. Feb. 13, and The Breakfast Club at 6 p.m. Feb. 27, featuring a menu of maple bacon scone, strawberry soup, breakfast quiche with breakfast potatoes, and cinnamon bread pudding. Past theme events have been trivia, costume contest, games, activities, sing-a-longs.
"For our themed evenings, we have a lot of fun," says Erika. "Quite a few Canadians come here every year when they are here for the season, and we get lots of Brits. The Brits love what we do because it reminds them of home."
In February, Erika's Tea Room has special online offers: a tea for two toucan teapot and cups paired with chocolate-covered strawberry scones and strawberry cupcake tea; and a butterfly teapot packaged with mixed berry scones and the berry tea, billed touted as a gift for a mom or daughter.
Leila is happy in the kitchen baking scones, regardless the time of the day or night. She finds it a lot less pressure than her years in the corporate banking world, and Erika relishes being the tearoom operations over being a schoolteacher. The Shankoffs moved to Florida from New Jersey.
Since opening the tearoom in 2014, locals have visited Erika's for a high tea experience, special luncheons, and many have raved over Leila's homemade soups. She agreed to share her recipes for Carrot Soup and Cream Cheese Scones: Cherry Almond for Style readers to enjoy.  
---
Cream Cheese Scones: Cherry Almond
INGREDIENTS
2 1/2 cups all-purpose flour, plus small amount for rolling out dough
1/2 cup granulated sugar
1/2 teaspoon salt
2 teaspoons baking powder
1/2 cup unsalted butter (1 stick)
3 ounces cream cheese
1/3 cup heavy cream
4 ounce bag of dried cherries
1/2 cup sliced almonds
DIRECTIONS
Preheat oven to 375 degrees. Bake until bottoms are brown (about 10 minutes). 
Helpful Hints: Aerate the flour for fluffier scones. Dried fruit in scones allows them to last longer than fresh fruit.
---
Mock Devon Cream 
INGREDIENTS
1/2 cup heavy whipping cream, cold
1 tablespoon powdered confectioners' sugar

 

1 8 oz. container mascarpone cheese or cream cheese, room temperature
1 teaspoon vanilla extract

 
DIRECTIONS
Beat with hand mixer until thick. Refrigerate overnight.
---
Cream of Carrot Soup
INGREDIENTS
4 bags of frozen carrots
2 (48-ounce) containers low sodium chicken stock
1 cup heavy cream
Add spices to taste – parsley, onion powder, garlic powder, and pepper
DIRECTIONS
Combine all ingredients in a pot (except heavy cream) and bring to a boil. Add heavy cream; keep on low heat until ready to serve.
Helpful Hints: Buy an immersion blender to make soup, it is a wonderful way to create tasty soups using fresh frozen vegetables.
Originally from Anderson, Ind., Theresa worked for The Herald-Bulletin for many years. After experiencing a winter with 53 inches of snow, her late husband asked her to get a job in Florida, and they headed south. Well known in the area, Theresa worked with The Daily Sun and The Daily Commercial prior to joining Akers.
Share This Story!