In the Kitchen: Where the magic happens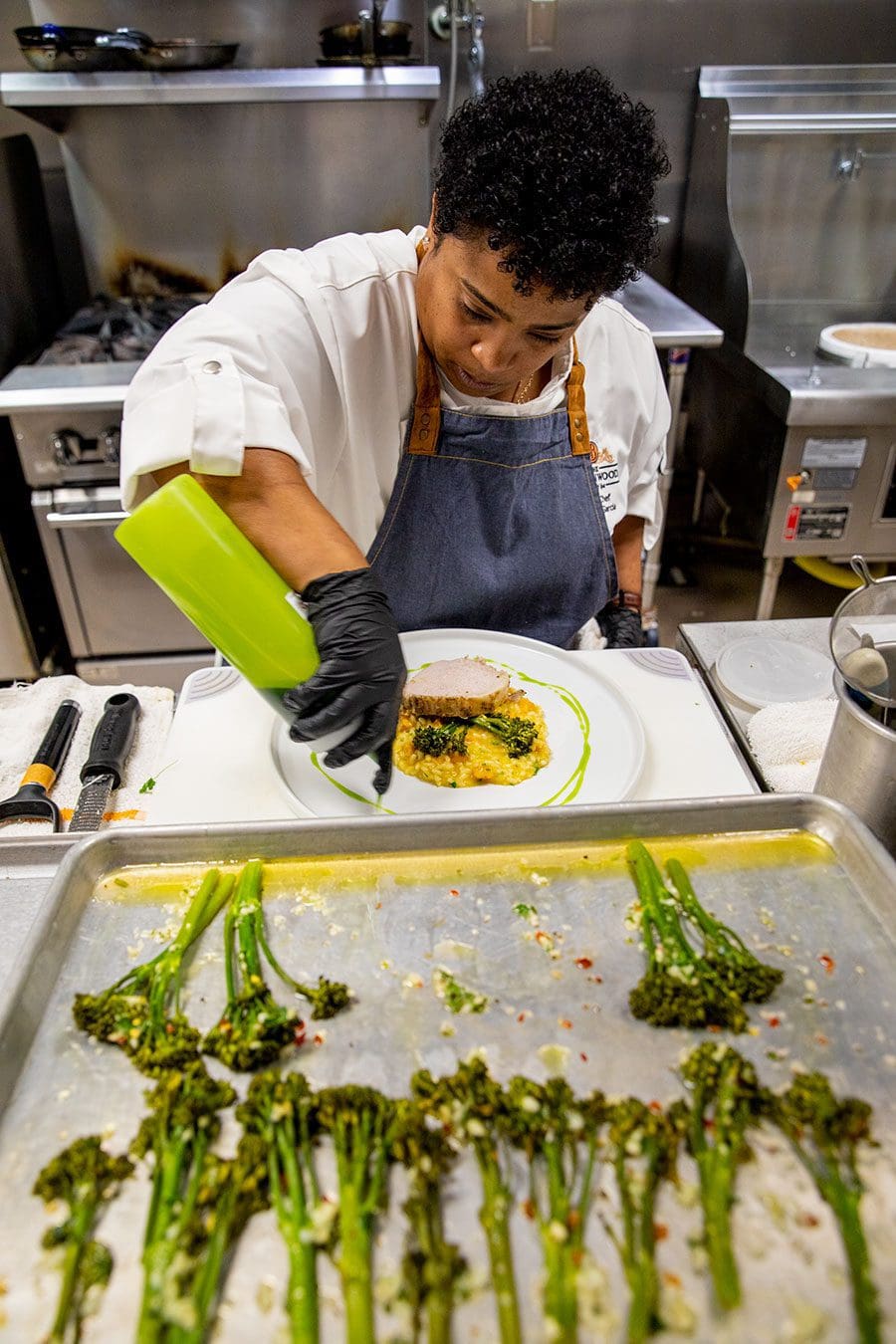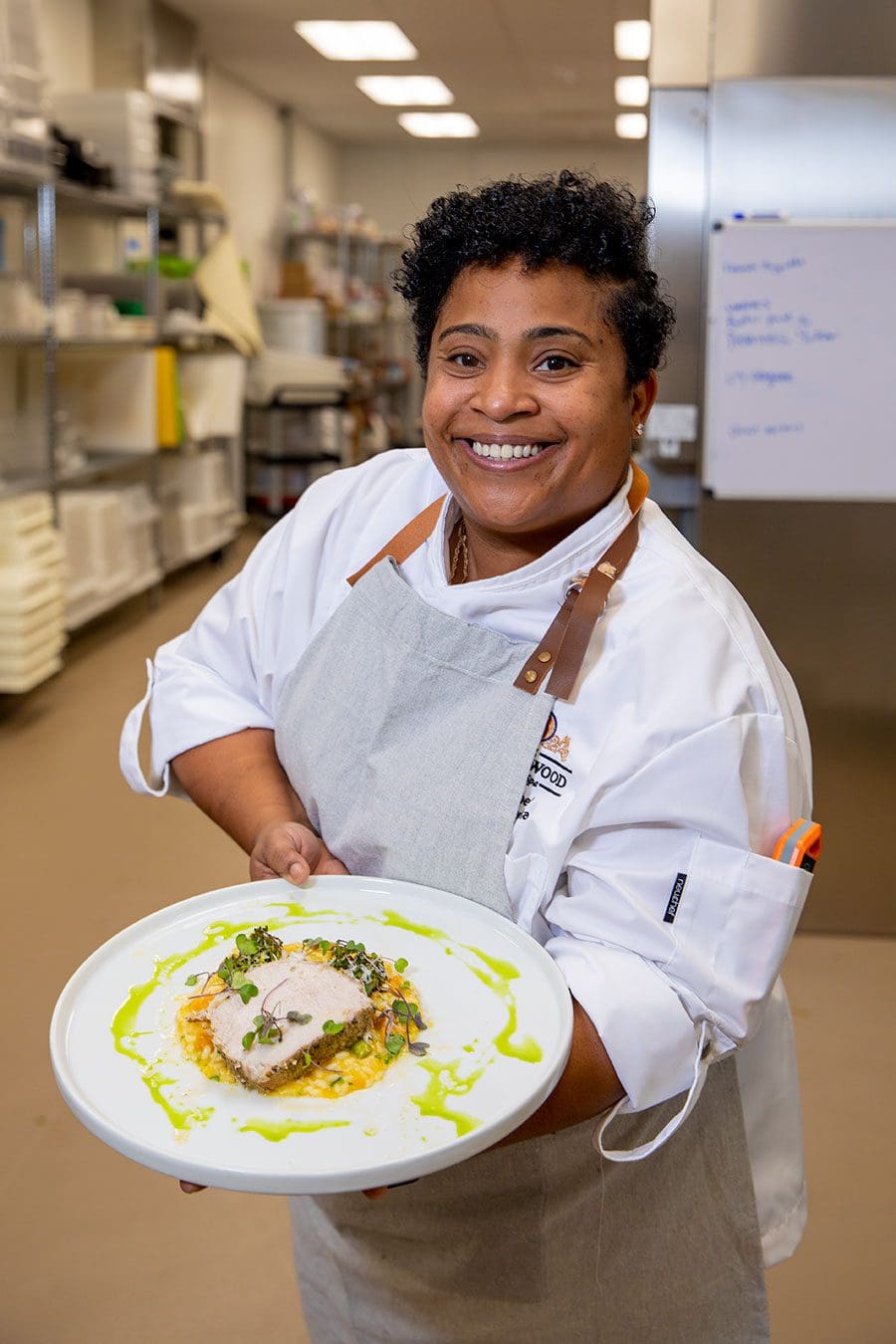 Fresh foods and zesty spices, mixed with an abundance of heart and soul, are the main ingredients in every dish a Villages chef whips up in her kitchen.
Photos: Nicole Hamel
Daphne García Lebrón, known for her vibrant spirit and creativity in the kitchen, is the head chef at The Brownwood Hotel & Spa in The Villages.
She and her kitchen team create beautiful and delicious tasting culinary masterpieces the lavish hotel features on its breakfast buffet menu, and on the menus for banquets and special events like weddings, seminars, meetings, galas, and more, that people book the hotel's event spaces for.
That's in addition to what Wolfgang Puck Kitchen + Bar offers as the hotel's featured restaurant, that services guests inside its main seating venue, at the Lobby Bar, and poolside.
---
Bring the taste of The Brownwood Hotel & Spa to your table! Make Chef Daphne's recipes here:
Pan Seared Mahi- Mahi
over coconut rice topped with mango, black bean salsa

 
Spiced Herb Pork Loin
served with butternut squash risotto, and garlic sautéed broccolini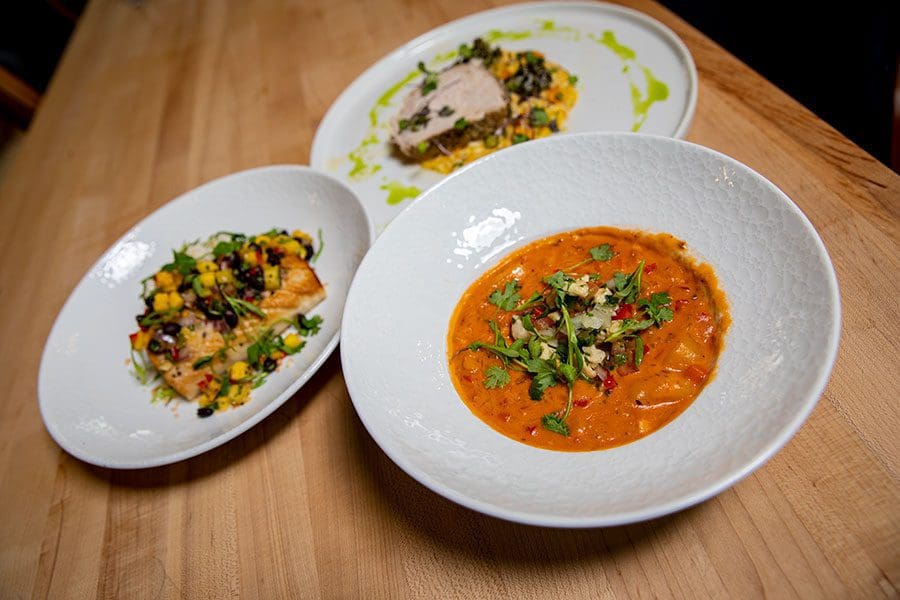 ---
"What I love most about cooking here is making my customers happy. To know they really enjoyed what we created and served for them is very satisfying," says Daphne, explaining that as she's in the heat of cooking for any occasion, her thoughts are completely focused on what she's making and who will be savoring it.
"I am thinking I want to put everything I have into the food, all my love, all my passion, and create a dish that people will enjoy every bite of," Daphne says. "I also think about how people are tasting the food when they look at it, before even taking one bite."
Jennifer Hallier, Brownwood's Food and Beverage Director, agrees that presentation is just as important as taste when it comes to food menus for special events, adding that Chef Daphne and her banquet team do a wonderful job pulling it off for occasion after occasion.
Jennifer says guests who partake in the hotel's breakfast buffet, cannot say enough of the chia seed breakfast pudding, made with coconut milk, chocolate chips and fresh coconut flakes Chef Daphne and her team whip up every morning.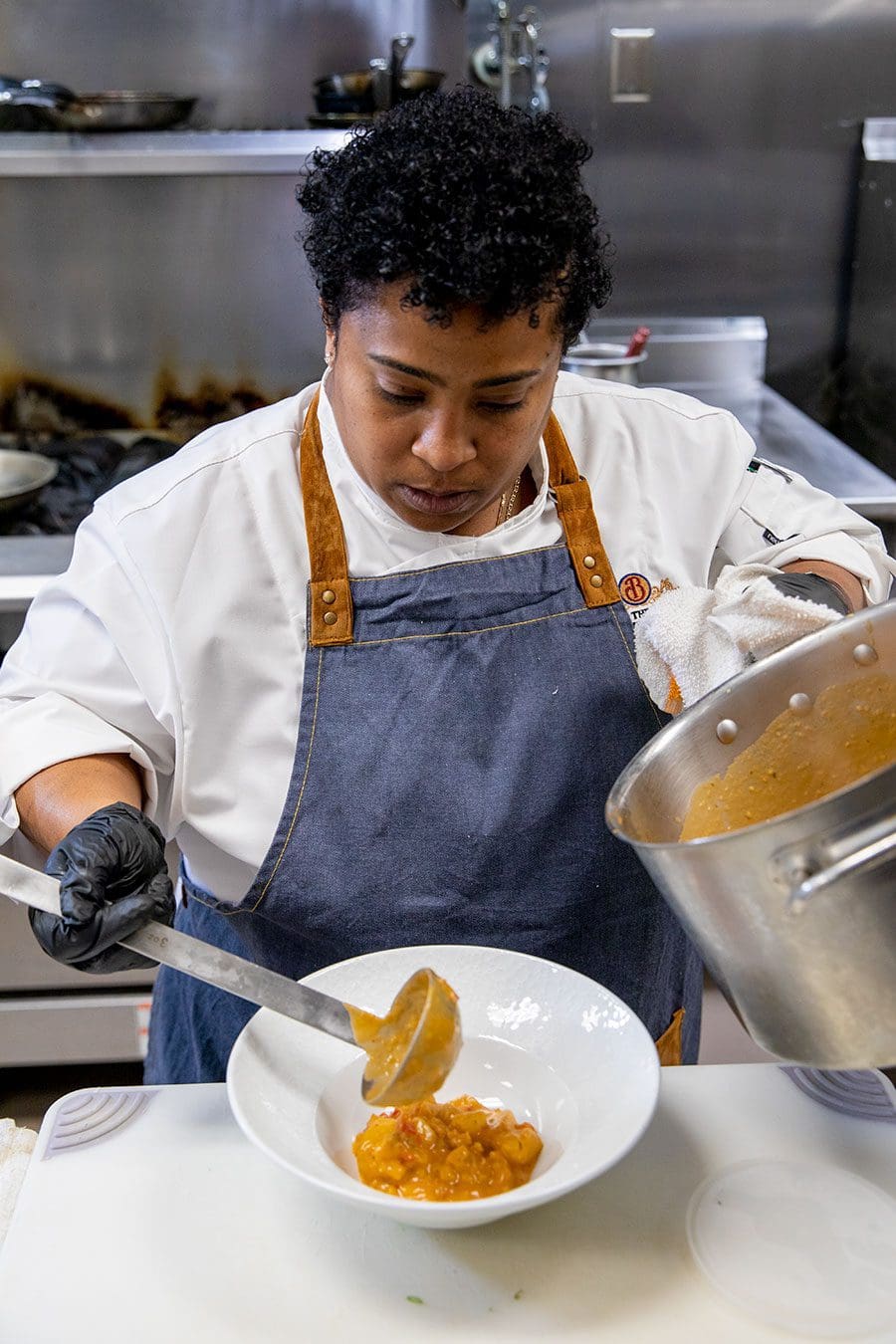 And for banquets, weddings and other special events, the pan seared mahi mahi served over coconut rice, topped with mango and black bean salsa or the conch chowder topped with a conch salad garnish, are quite popular because of the colors and textures that meld together perfectly on the plate.
Chef Daphne even created a few dishes that can be requested for events, like shrimp ceviche served inside halved lemons or oranges garnished with purple potatoes, and perfectly crisp plantain chips, or her spiced herb pork loin, served with butternut squash risotto and garlic sauteed broccolini.
"Chef Daphne and I are really flexible when it comes to creating customized menus for events and we work closely with every client to make sure that what we deliver looks just as good as it tastes," Jennifer says, explaining that she's helped create backdrops and elaborate sets to perfectly highlight an event's featured foods and any special themes clients choose to go along with it. "Chef Daphne is always the first one asking whether everything was received well, and we get great feedback from people about her food. She is a no-ego chef, yet you can tell she is proud of what she puts out and she is very passionate."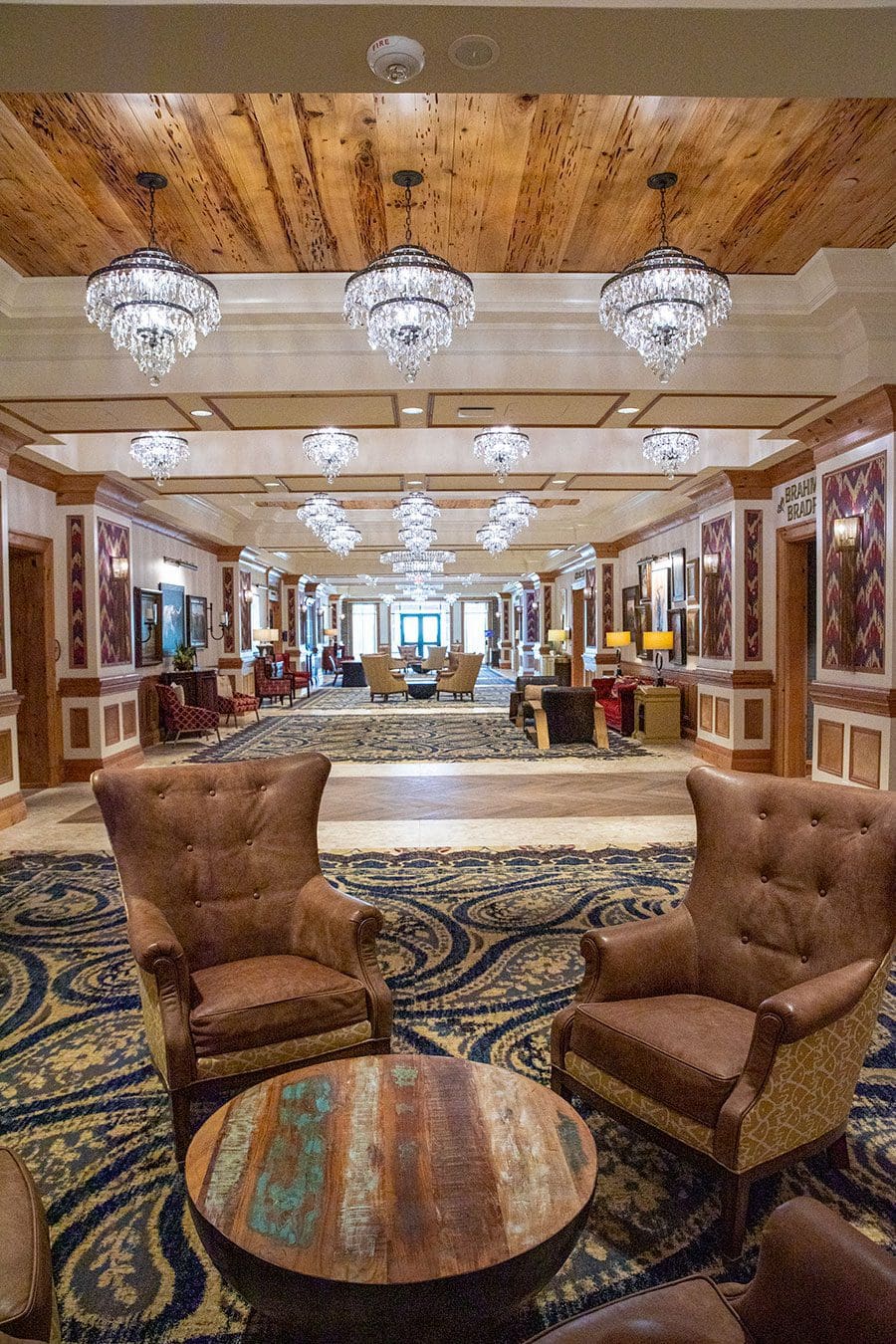 As for Chef Daphne, she credits her upbringing, her culture and family for her deep-rooted passion and love for cooking.
In fact, when she reminisces about family get-togethers growing up in Guayama, Puerto Rico, and her childhood in general, the common denominator is always the kitchen.
Daphne says the kitchen was the heart of their house; a place where heavenly scents filled the air and where huge plates of Caribbean-inspired comfort foods were always served up alongside love, togetherness, warmth and happiness.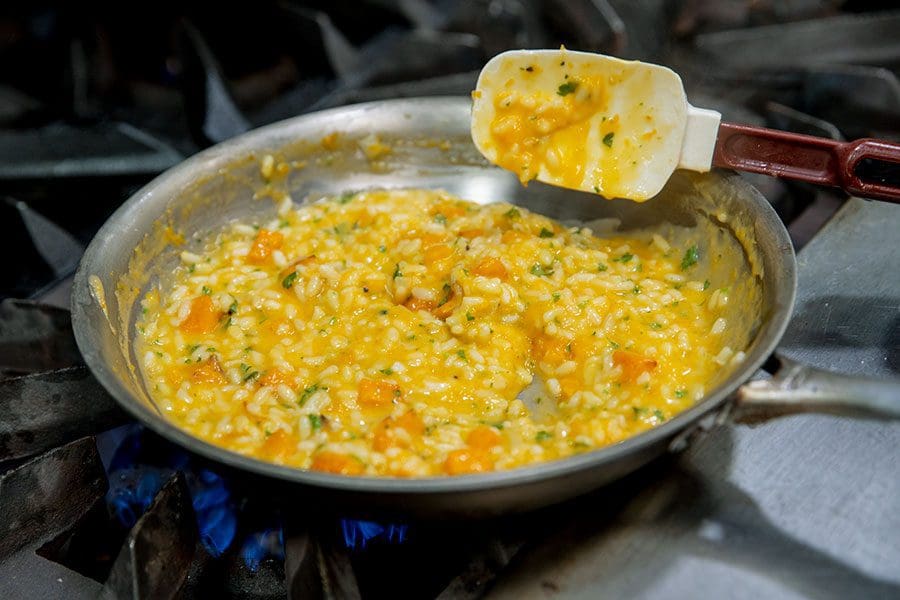 She recalls sitting in the kitchen just watching her mother, grandmother and godmother cook and bake for hours or laughing along with everyone gathered there after family dinners as they wrapped things up.
Other times, she remembers working in the kitchen attempting to recreate family recipes on her own. 
"In Puerto Rico, it doesn't matter what kind of family meeting you are attending, but you are always in the kitchen, or you end up there, because your mom is in there finishing cooking or everybody is in there talking and doing things after dinner," Daphne says. "I just know I liked being in the kitchen."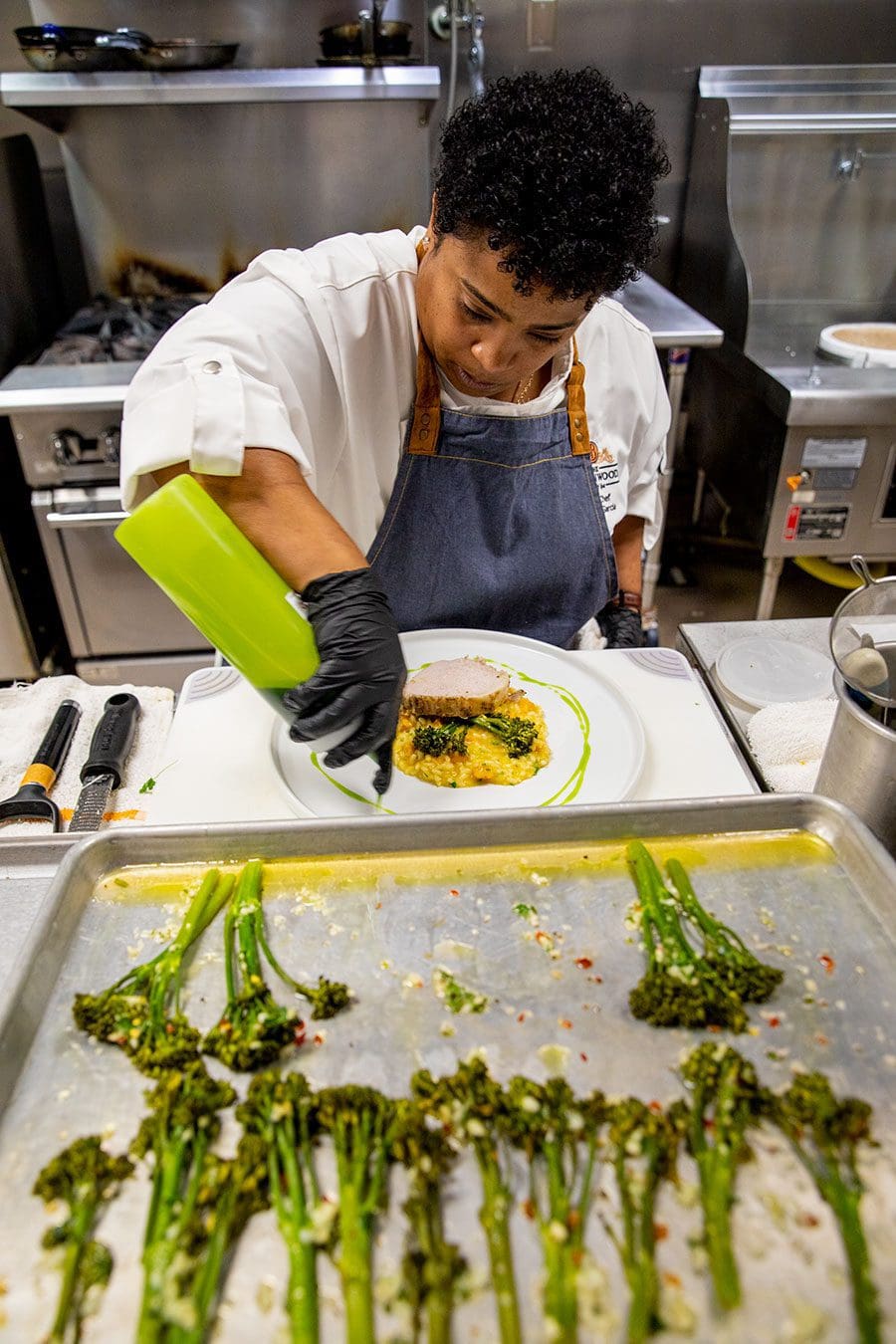 In fact, Daphne remembers the very day her Godmother Cuca Massó, gave her a recipe book. Daphne says she was eight years old and after that, there was no getting her out.
"I remember doing the same scramble for two weeks in a row because I just wanted to cook," she says, explaining that her Godmother, who used to bake cakes for restaurants, was one of her biggest inspirations.
Still, after high school, Daphne went to college with plans of becoming a math teacher, though in the end, that path didn't add up. 
"I discovered my real passion was the kitchen, so I called my mother and said, 'I love what I'm doing, but I think I'm gonna love it more if I am a chef,'" Daphne says. "She gave me her full support, so I decided to go to cooking school."
Daphne completed her culinary studies at Puerto Rico's Instituto de Banca y Comercio in one year, interned at the Hotel El Convento under Chef Luiguie Alvarez the following year, then went on to become the breakfast chef there for a time.
After about two years, Chef Daphne, interested in expanding her horizons, began working in kitchens of high-end eateries in San Juan, including the Casa Lola restaurant and at the Condado Vanderbilt Hotel alongside Chef Juan Jose Cuevas, who since then, she considers her strongest mentor.
"He showed me things I never thought I would be able to see. He showed me the type of discipline, consistency and passion this profession takes and until the day of today, I will always follow him and follow those mindsets," Chef Daphne says.
After some time there, a twist of fate brought her to Florida when Luiguie, who'd moved to Ocala, convinced her to leave Puerto Rico and cook in one of his kitchens again. Chef Daphne enjoyed that gig until June 2020, then accepted an offer as Hotel Chef at the brand-new Brownwood Hotel & Spa in The Villages where her creations are now featured on the venue's breakfast, special events and banquet menus.
"The Brownwood Hotel gave me the opportunity to come work for them and they opened the door to magical things," Chef Daphne says. "What I love most about cooking is making my customers happy. To know that they really enjoyed what we created for them is the most satisfying feeling and why I love doing what I do."
---
The Brownwood Hotel & Spa
3003 Brownwood Blvd., The Villages
For more information or to book a special event, call 352.626.1246 or 352.626.1503.
Originally from Nogales, Arizona, Roxanne worked in the customer service industry while writing independently for years. After moving to Florida in 1999, Roxanne eventually switched her career path to focus more on writing and went on to become an award-winning reporter for The Daily Commercial/South Lake Press newspapers for 16 years prior to coming on board with Akers Media as a staff writer in July 2020 – her dream job come true.
Share This Story!