Innovators In Their Field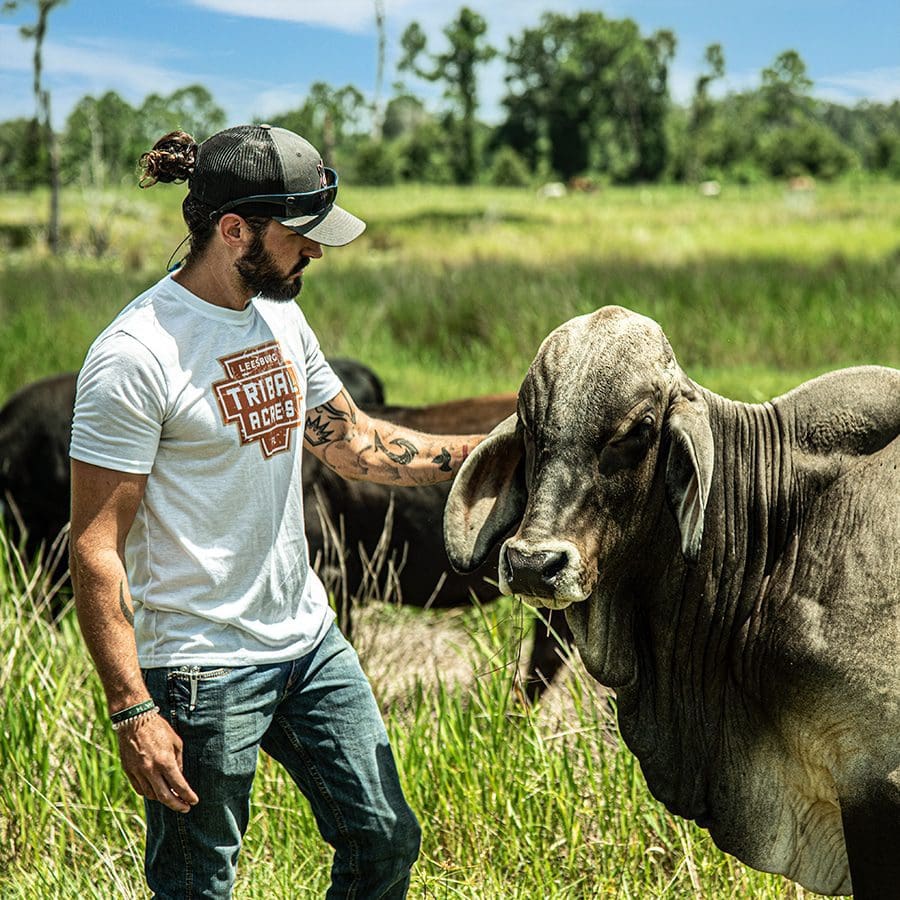 Local farm follows soil-friendly practices to produce healthier food.
Sporting blue jeans, boots, and hats, Brandon Bailey, Joel Bailey, and Courtney Walker look out over their vast 140-acre farm. One alpaca and a herd of brown and black cows graze in the field. A symphony of animal sounds fills the air. Cow moos. Pig oinks. Chicken clucks. There's an occasional bark from two full-blooded Anatolian shepherds that keep out unwanted two-legged and four-legged intruders.
But their farm, which they started two years ago and named Tribal Acres, doesn't quite fit the profile traditionally associated with the American farm. Noticeably missing are tall silos, tractors with large tillers, or planes swooping low to unleash giant clouds of pesticide. 
As first-generation farmers, Brandon, Joel, and Courtney have cultivated a different way of farming by subscribing to a less-is-more theory. The less they disturb the soil, the more they'll boost soil health. The less synthetic chemicals they spray, the more nutritious the food. The less they keep animals penned up, the healthier they'll be. 
These strategies are all part of regenerative farming, which promotes healthier ecosystems by rebuilding soil matter through holistic farming and grazing techniques. This approach vastly deviates from massive-scale industrial farming, which has been practiced for decades and has eroded soil through aggressive tilling and abundant chemical usage. 
At Tribal Acres, located off State Road 33 on the Leesburg-Groveland border, cows, chickens, ducks, turkeys, and lambs are raised for meat production. The company operates a food truck that frequently appears at festivals throughout Central Florida selling items with grass-fed beef, pasture-raised poultry, and forested pork. 
"We want to do what's right for the animals, the environment, and the people we sell our products to."

—Brandon Bailey
"We want to do what's right for the animals, the environment, and the people we sell our products to," Brandon says. "We want to provide our community with a healthy option and keep farming as natural as possible."
That all starts with soil, which is treated like the valuable, living ecosystem that it is. After all, soil determines the health of everything that's grown in and on it. Plus, enhancing soil health, Brandon says, can help remedy issues facing society, namely overuse of chemical fertilizers, land degradation, and lack of proper nutrition. 
"There's no way to have healthy animals and plants without having healthy soil," Brandon says. 
The farm is never sprayed with pesticides, herbicides, or fertilizer—all of which deplete soil health. Eliminating tilling keeps nutrients and moisture in the ground and allows soil to maintain its structure. Permitting cattle and other animals to graze on the farm is beneficial because their manure becomes a natural fertilizer, helping to restore the soil ecosystem. 
In addition to improving soil health, regenerative farming techniques help them produce high-quality meat rich in nutrients while offering their livestock a high quality of life. That means going against the grain—literally—in how they choose to raise cows. Instead of feeding grain to cattle, they allow bovine to roam for a short period of time on a small area of land before they are moved to another area. The grass consumed by cows is free of chemical sprays. 
"Most farmers raise cattle on grain for an entire year," Brandon says. "Feeding them solely on grain affects a cow's health."
The same concept applies to chickens, which, on the Tribal Acres farm, are kept outside in chicken tractors. This allows them to see sunlight, experience grass beneath their feet, and gladly gobble up natural diets of worms and insects. Conversely, chickens raised in overcrowded production houses never see sunlight and are pumped full of grains that make them fat and eventually unable to support their weight. 
Pigs are also given free rein to roam the pastureland and consume acorns, grasses, and bugs. It's important to give them ample space to play, Brandon says. Most pigs raised commercially are confined to small indoor spaces with concrete floors filled with manure. 
It's a simple formula, really. The best life for animals makes the best meat for Tribal Acres' customers. 
"None of our meats have hormones or antibiotics," Brandon says. "Look at younger kids who are between 8 and 10 years old. They look like they're 16 to 18 years old. Pumping hormones into an animal makes the animal grow faster so money can be made quicker. When we consume those hormones and antibiotics in our meat, it's making us age quicker, it's making our immune systems weaker, and it's affecting our digestive system. Nobody who has tried our meat complains about those problems. That's because of how natural our meat is being raised."
Their natural meats and food products can be purchased without driving to the farm. They typically attend between 10-17 farmer's markets each week. In addition, they operate a food truck called "Open Pastures Family Restaurant by Tribal Acres," which rolls into festivals and events throughout Central Florida. They also drop meat off at the homes of customers who are enrolled in Tribal Acres' "Cooler Club." 
A steady line of customers flock to the food truck when it's parked on the corner of U.S. Hwy. 441 and Wolf Branch Road in Mount Dora every morning, Monday through Friday. One of them is Amber Larose, a schoolteacher who showed up on a recent July morning. She carefully scanned the menu of breakfast and lunch items with catchy farm names such as "Barnyard Bagels," the "Hay One Burger," the "Nutty Porker," and the ever-popular "Cowboy Cup," a three-layer dish of macaroni and cheese, pulled chicken or beef, and coleslaw on top. 
She ultimately chose the Sunrise Cowboy Cup, a biscuit topped with homemade forested pork gravy.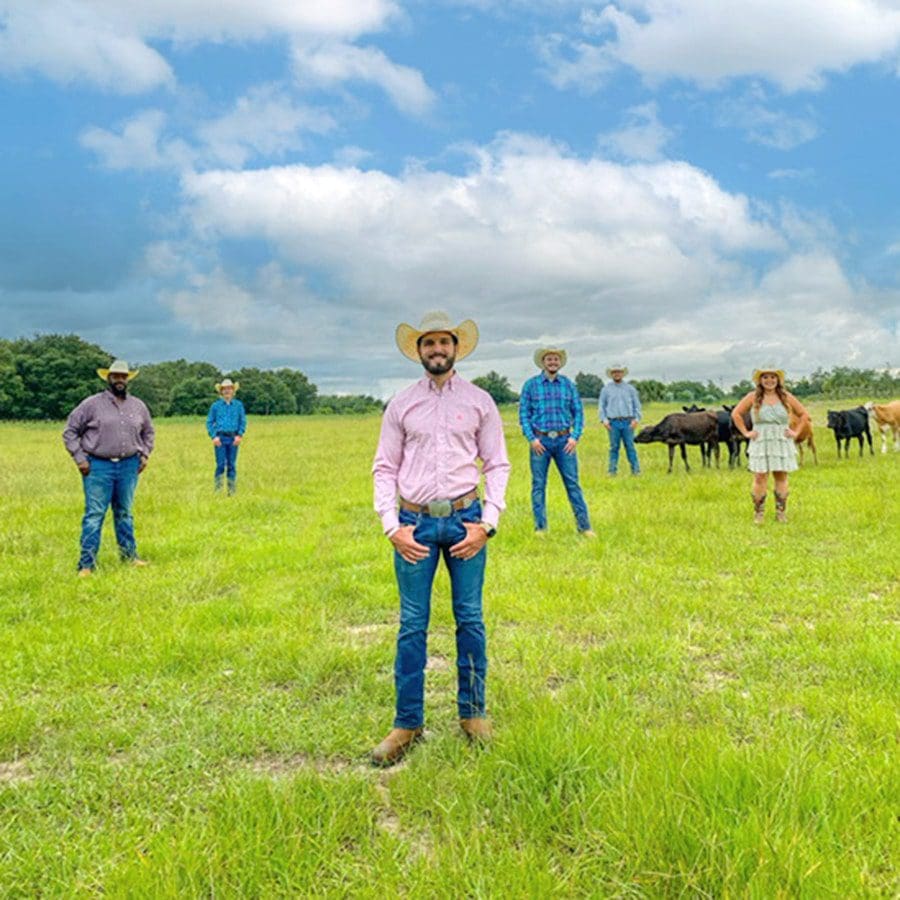 "Since school is out, I come here every morning and don't mind making the drive from Mount Dora to Leesburg," she says. "The food is delicious, and the owners have gotten to know me on a personal level." 
Maria Trabue, of Mount Dora, is a member of the Cooler Club who has meat, eggs, cheese, and dessert delivered to her home. Other times, she orders pre-made meals, saving her the hassle of grocery shopping.
"Being a diabetic, I can tell the difference in the quality of food that comes from Tribal Acres," she says. "It's quality, farm-fresh food you can't get at a grocery store. I've also visited the farm and know how passionate they are about taking care of the land and raising healthy food. And I love their story of how the farm got started."
That story began in 2019 when Brandon purchased a pot-bellied pig named Pua. When the mischievous pig started escaping, Brandon built a pen for his new pet. Then he purchased 11 chickens. He used wood from a dilapidated gazebo to construct a coop for his feathered friends.
Next came an emu. And then two cows and more chickens. 
Then came an epiphany. 
"I fell in love with being outdoors and being around animals," he says. "I told my friends we should start a farm."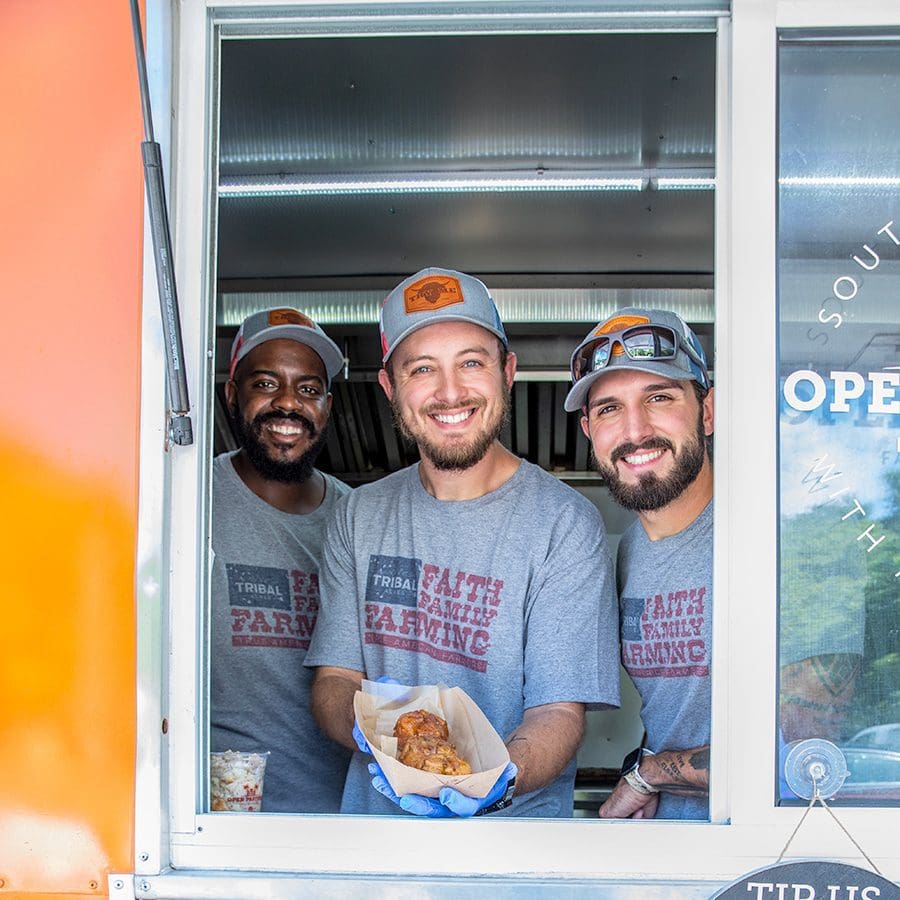 They divvied up money and purchased the land that is now Tribal Acres. Lots of blood, sweat, and tears have gone into the farm, but it certainly hasn't been a one-man show. Brandon recruited his brother, Joel, to assist him, as well as close friends who have served alongside him for years in a traveling ministry to preach the gospel: Courtney Walker, Nika Roberts, Nita Cobb, Gwen Basarab, Zach Allen, and David Young. 
Though most are not blood related, they consider themselves a family unit. Nita is the mother figure who earned the nickname "Momma Tribal." She makes pickles, jams, and sauces that are sold at farmer's markets. 
"We refer to our family as a tribe, hence the name Tribal Acres," Joel says. "We feel that family isn't always blood. It's who is always there and who is with each other and loyal to the end. Some of us came up in homes where our parents were separated. So we've always been there for each other and created close bonds. We've experienced every milestone in our lives together."
Since starting the farm, the missionaries-turned-farmers have found that cultivating healthy food is as enjoyable as cultivating faith. Of course, they readily admit that their spiritual faith comes in handy on some days. After all, farming is backbreaking, dirty, detailed work. And there are no guarantees. 
But Courtney wouldn't trade professions.
"Being able to wake up and work on the beautiful land God has blessed us with is incredible," he says. "We're not just providing for our family; we're providing for other people's families."
The Tribal Acres family is doing that by caring for the land in a way they feel will yield the best results for years ahead.
Akers Media Group's James Combs has been a staff writer for several local publications since August 2000. He has had the privilege of interviewing some of Lake County's many fascinating residents—from innovative business owners to heroic war veterans—and bringing their stories to life. A resident of Lake County since 1986, James recently embarked on a journey to lead a healthier lifestyle. He has lost 60 pounds and walks nearly five miles a day. In his spare time, he enjoys target shooting, skeet shooting and watching his beloved Kentucky Wildcats!
Share This Story!