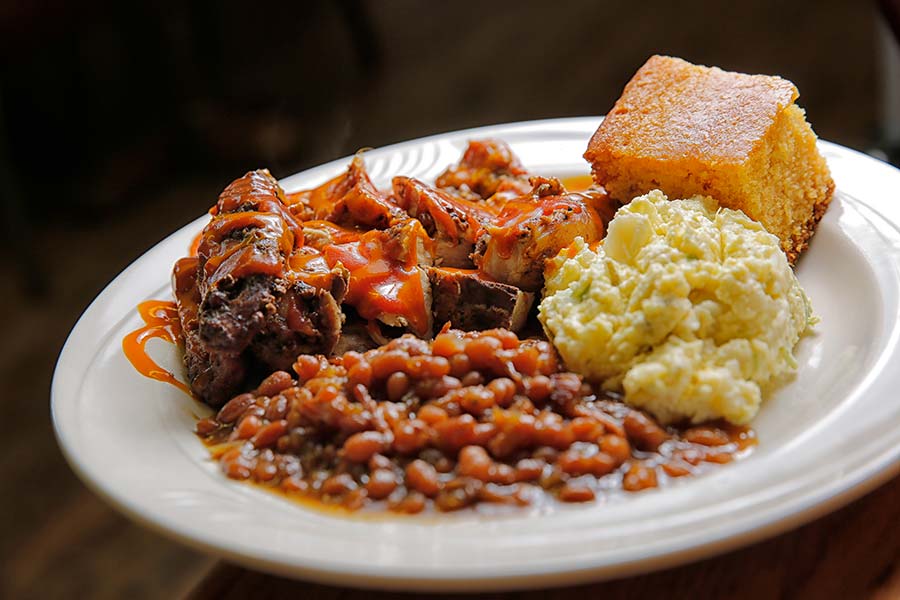 Love me tender
There are few things more Southern than a heaping plate of barbecue.
That's why I was happy to take my growling stomach to James Barbeque in Groveland, a restaurant that proudly claims patrons don't need teeth to enjoy their ribs, chicken, and brisket. Chew on that bold statement for a couple of seconds.
Indeed, the restaurant's smoked, slow-cooked meats are, as my lunch partner so elegantly stated, "fall-off-the-bone tender." So tender, in fact, that I would not hesitate to make the 25-minute drive from Leesburg to Groveland a second time.
Owner Gregory James opened the restaurant a year ago inside a home that once belonged to his grandmother. The ranch-style décor—wooden tables, wooden blinds, and a cow skull and lasso hanging prominently on the wall—adds a touch of Texas flare.
James Barbeque's relatively slim menu is full of standards, ranging from chicken and rib sandwiches to pulled pork and beef brisket dinners.
I ordered the chicken dinner along with two sides, potato salad and baked beans.
The tender, juicy chicken was covered in a special barbecue sauce that had a perfect blend of smoky, spicy, and sweet. I equally enjoyed the black beans thanks to the mild smoky flavor.
My lunch partner ordered the rib platter. She complimented the outstanding taste and texture, calling them "some of the best ribs I've ever eaten." Equal praise was given to her side dish, macaroni and cheese, which she referred to as "creamy, hearty, and delicious."
Somehow, I think J.J. Evans, the outgoing character on the sitcom "Good Times," would refer to this restaurant as "Swine-o-mite!"
James Barbeque // 262 W. Orange St., Groveland // 352.557.4050
Akers Media Group's James Combs has been a staff writer for several local publications since August 2000. He has had the privilege of interviewing some of Lake County's many fascinating residents—from innovative business owners to heroic war veterans—and bringing their stories to life. A resident of Lake County since 1986, James recently embarked on a journey to lead a healthier lifestyle. He has lost 60 pounds and walks nearly five miles a day. In his spare time, he enjoys target shooting, skeet shooting and watching his beloved Kentucky Wildcats!
Share This Story!