Lady Lake Announces Budget Public Hearing Dates
LADY LAKE – The Town of Lady Lake is announcing Budget Public Hearing dates for Fiscal Year 2023/24. The hearings to set the millage and adopt the budget are scheduled at the Town Commission Chambers, 409 Fennell Blvd., for the following dates:
Wednesday, Sept. 6 at 6 p.m. (First public hearing)
Monday, Sept. 18 at 6 p.m. (Second public hearing and adoption)
During the July 26 Town Commission workshop, the Commission recommended a general fund budget based on the millage rate of 3.3962 mills, the same rate as in FY 2022/2023. This millage rate is the second lowest in Lake County. (A mill is one tenth of a percent, which equates to $1 in taxes for every $1,000 in home value.) The proposed tentative millage rate can be increased or decreased on Sept. 6, however on Sept. 18 at the final public hearing, the tentative millage rate can only be accepted or decreased, but not increased.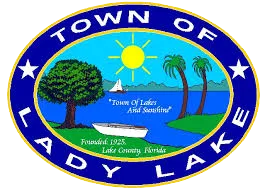 The Town's budget consists of the General Fund, Special Revenue and Utilities Fund and reflects projections of expected revenue and expenses for the upcoming fiscal year, which is Oct. 1, 2023, through Sept. 30, 2024. The General Fund covers operations including public safety services such as the Villages Fire Assessment and the Lady Lake Police Department, as well as personnel costs, elections, and the library/government complex expansion, to name a few.
"This budget reflects hours of cooperative work by department heads and staff to provide services that the Town of Lady Lake residents expect," said Pam Winegardner, Town Finance Director. "Town staff will continue to work with the town's elected officials and residents to maintain and improve the quality of life enjoyed by all town residents through improved services and cost-effective programs and projects."
For work on its budget, the Town of Lady Lake has been awarded the Certificate of Achievement for the Government Finance Officers Association of the United States and Canada every year since 1995. For more information, visit LadyLake.org.
Kyle Coppola was born in Newton, Massachusetts and received his Bachelor of Fine Arts in Communications from Curry College in 2016. After traveling to Florida on a family vacation, he decided he could not get enough of the warm weather and made the move from snowy Massachusetts to central Florida 8 years ago.
For the last decade Kyle has gained valuable experience in social media content creation, marketing and sales, writing, video production, sports announcing and even broadcasting for local radio stations, such as FM 102.9 in The Villages and FM 91.5 in Massachusetts. Every year he volunteers at The Villages Charter High School as a play-by-play sports announcer for the football games as well as a public address announcer for the basketball games, including the annual Battle at The Villages Tournament.
Outside the office Kyle is a husband and father to two beautiful girls along with their cat. In his spare time he likes to spend time with his family, travel, play golf and swim. He is also a huge sports junkie and even bigger motorsports fan and loves to attend racing events when he can.
Share This Story!