Lake Cares Kicks Off New Facility Campaign with Huge Community Support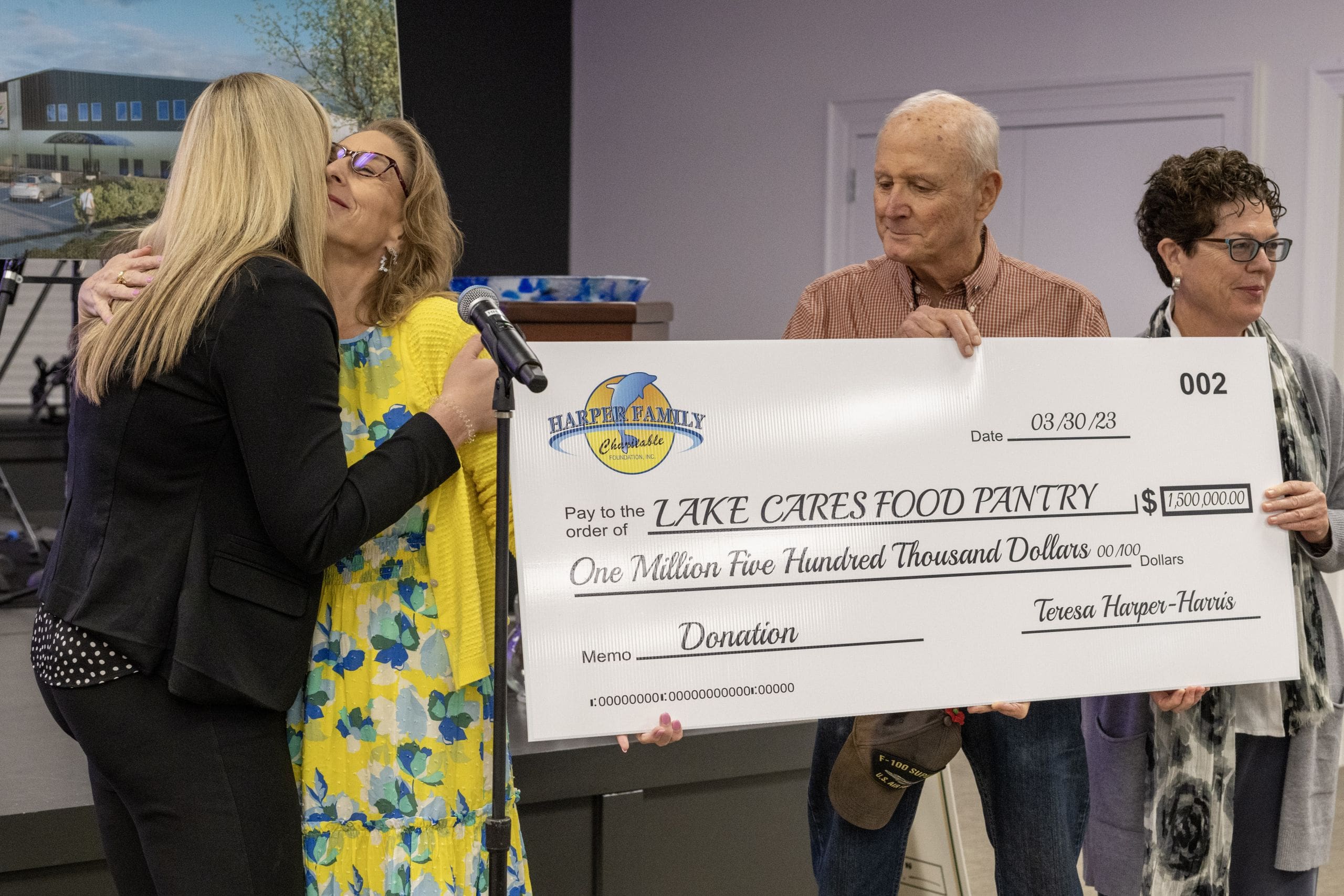 Lake Cares Kicks Off New Facility Campaign with Huge Community Support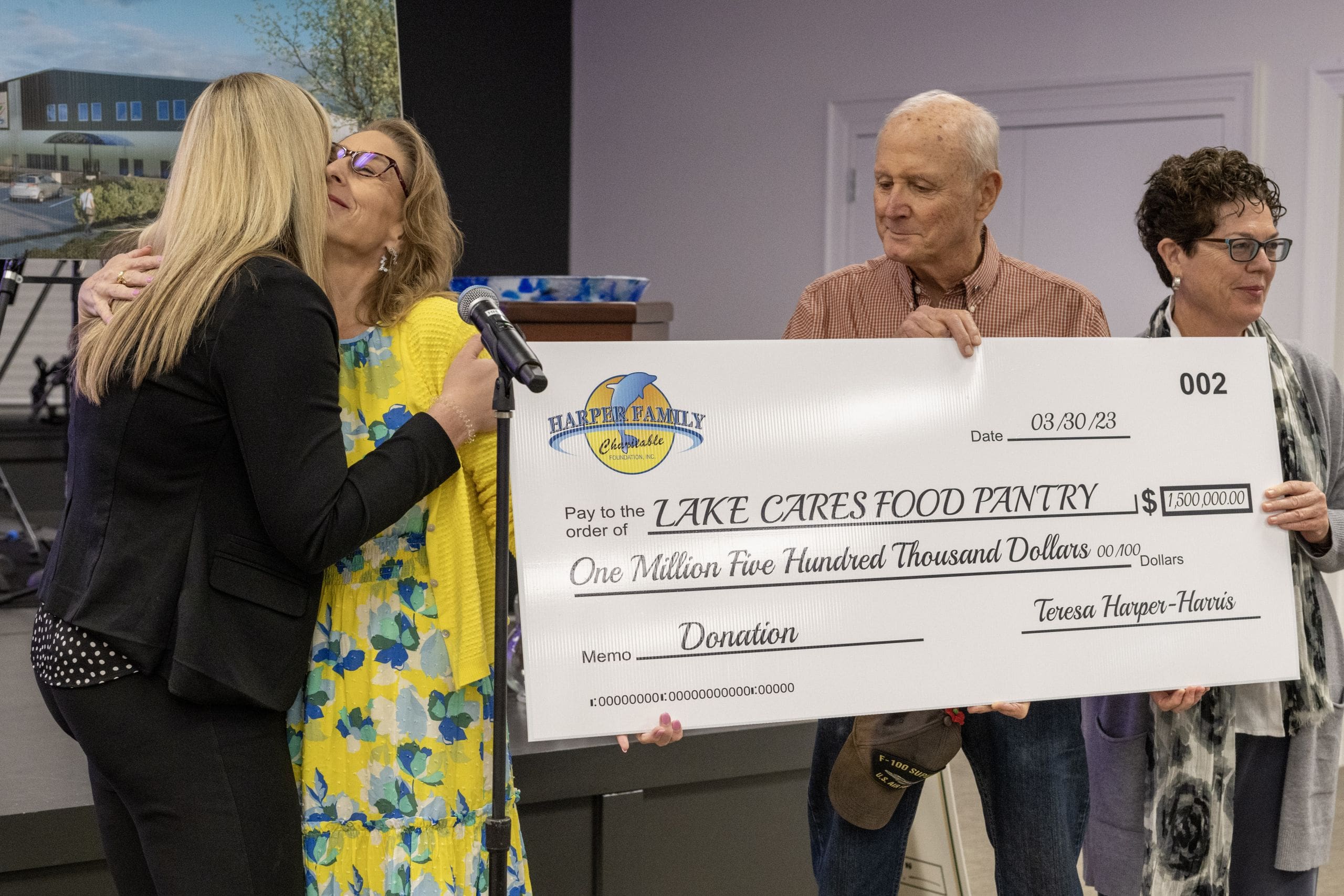 Bon Jovi said it best: "Woah, we're halfway there…" That's right. Lake Cares Food Pantry kicked off its fundraising efforts for a new facility by announcing that it has already met half of its $7 million goal, thanks to a number of community donations.
The announcement came at their kickoff breakfast on Thursday morning, where three local organizations presented Lake Cares with checks. The Lake County Sheriff's office donated $50,000, the Mount Dora Community Trust donated $525,000, and The Harper Family Charitable Foundation donated $1.5 million in honor of their late grandfather. Between these and other private donations, the total raised was $3,726,427.
Lake Cares is an independent community food pantry serving Lake County residents with food insecurity. In 2022, they served more than 67,000 people.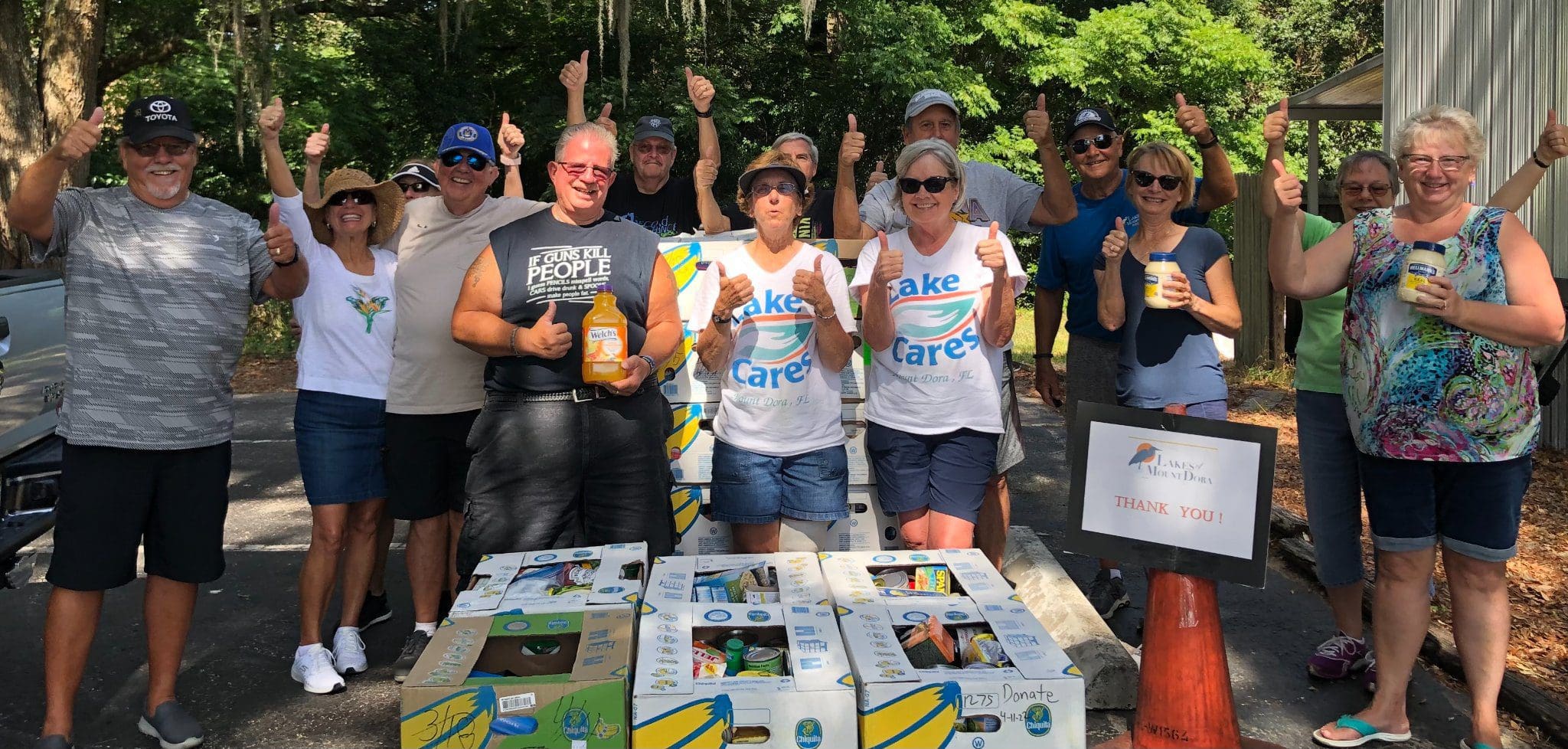 "And it's not just your typical homeless person on the side of the street," Executive Director Kelsey Gonzalez says. "It's your working-class families who are having to make tough choices of putting a roof over their head or food on their table."
The pantry began in 2008 out of the back of a truck, under the direction of former Executive Director Irene O'Malley.
"We saw how great the need was and important it was to continue this program," Irene says. "We opened up in the building that was donated to us. I remember us handing out flyers to let people know there was a food pantry around. It grew and grew, but the building didn't grow with us. That's why we had to go to satellite sites. Then we didn't have room to store the food so we rented a warehouse. Now it's time to move everything under one location and to finally serve all of Lake County properly."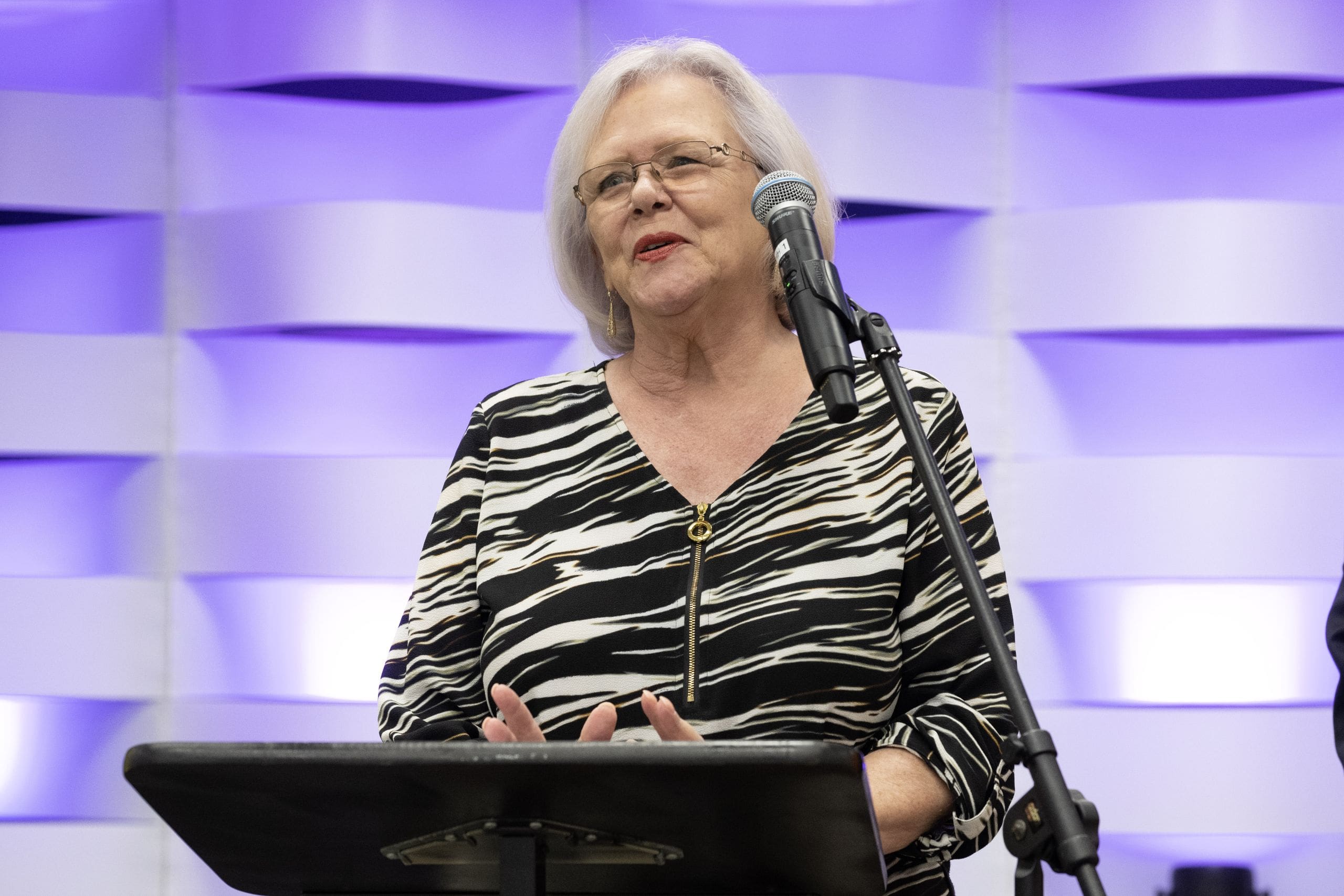 The new building will be 22,000 square feet and will allow for a more streamlined process, not having to go back and forth between the pantry and warehouse. It will also provide multiple offices for client services like insurance help, SNAP office, career resources, and more.
Lake Cares does not receive federal funding and is completely community-supported with the time and talents of volunteers and those who organize food drives or drop off food donations.
"It's kind of scary to think about the reality of the numbers," Kelsey says. "We're serving that amount of people within our limited space, as well as serving seven satellite sites. Not many people realize we go into different communities to bring food to them when they can't get to us."
Currently, Lake Cares is operating out of a warehouse that can hold 60 pallets of food. Their new location will hold around 460 pallets, seven times the current amount.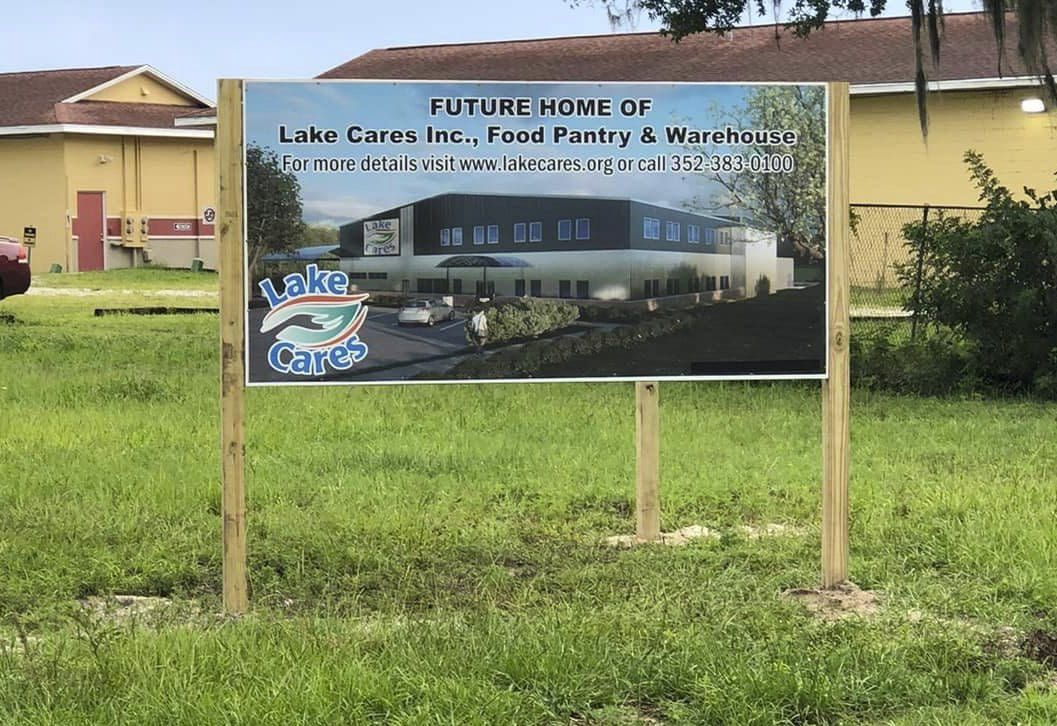 Kelsey was moved to tears as the Harper Family Charitable Foundation presented their check for $1.5 million and the love that Teresa Harper Harris shared.
"My grandfather made it clear to us that Lake Cares was a very special place," Teresa says. "Lake Cares is such a family to us and there's nothing in the world that we'd want to help more. As a kid, I never knew there was such a need because I was so blessed. Being an adult, I know what it's like to live paycheck to paycheck. We had grandma's pantry to go to. But for Lake Cares, it's Pop-Pop's pantry that will help give to all these people. I promised my grandfather that I'd be a good steward and do what he wanted so this is in memory of him and the love he had for Lake Cares and Lake County."
The entire room filled with applause, tears, and a standing ovation as the check was presented.
Although they have a wonderful head start, they haven't crossed the finish line yet. Lake Cares is still seeking financial help to continue serving the growing need in Lake County. For more information about the pantry, giving or volunteering opportunities, visit https://lakecares.org/. 
Originally from the small town of Berryville, Arkansas, Cindy has become a multimedia specialist in journalism, photography, videography and video editing.
She has a B.S. in Communications from the University of Central Arkansas and is a correspondent for The Daily Commercial, LakeFront TV and Beacon College's PBS talk show, "A World of Difference," where she received an Anthem Award and Telly Award.
When she isn't working, Cindy spends time with her husband, Ryan, and son, David, traveling and taking photos of landscapes and wildlife.
Share This Story!