Lake County Fire Rescue Receives Phoenix Award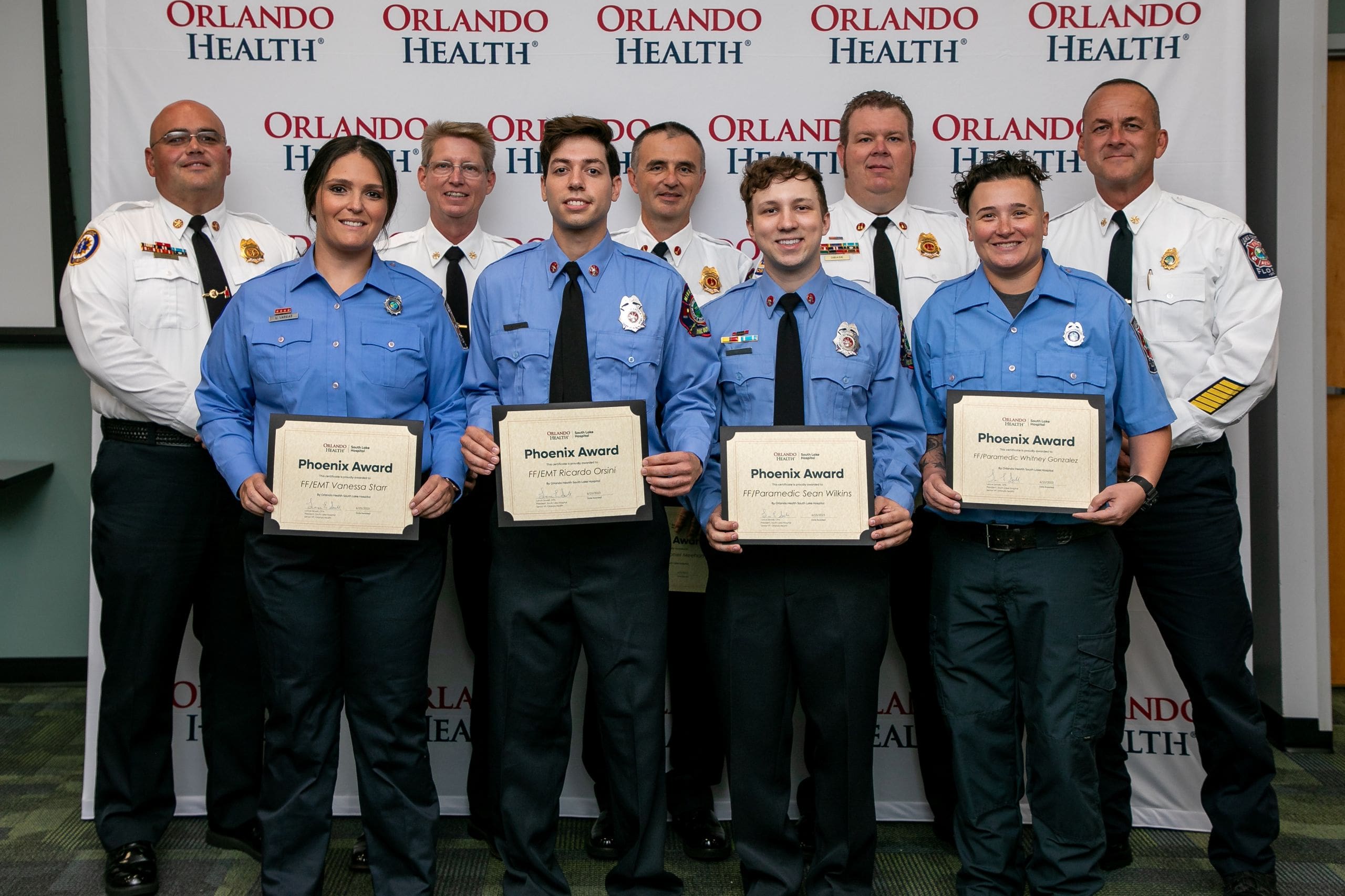 On August 4, 2023, Lake County Fire Rescue and the Minneola Fire Department accepted the Phoenix Award from Orlando Health South Lake Hospital, for rising to the call for action by assisting in saving a Lake County visitor's life.
The Minneola Fire Department crew, consisting of Captain/Paramedic Daniel DiBiasie, Firefighter/EMT Ricardo Orsini, Lt/Paramedic Daniel Meehan, and Firefighter/Paramedic Sean Wilkins worked alongside the Lake County Fire Rescue Team, which included Firefighter-Paramedic Whitney Gonzalez and Firefighter-EMT Vanessa Starr, to respond to a call for a patient in cardiac arrest. Once on scene, the crews began CPR and resuscitation efforts, resulting in the return of normal heart activity and circulation. Thanks to their quick thinking and fast response, the patient was safely transported to Orlando Health South Lake. She was discharged four days later without any neurological deficits.
"These emergency care professionals are proven role models for their fellow firefighters and paramedics," David Kilbury, Public Safety Director for Lake County stated. "Their unwavering commitment to duty, remarkable skills, and unyielding spirits have set a standard of excellence that inspires us all."
The Phoenix Award recognizes lifesaving events involving resuscitation of a patient before arriving at the emergency room; the patient must be discharged without neurological complications.
"Appropriate care before presenting to an emergency department is a critical step in saving lives," said Andrew Johnson, EMT-P, emergency medical services liaison for Orlando Health South Lake. "EMT's and paramedics are able to connect the frontlines of crises to emergency departments where the work continues. They are true partners in helping patients heal and preventing loss of life."
The Phoenix Award serves as a testament to these first responder's exemplary commitment and the vital role they play in serving Lake County and the City of Minneola. Lake County and Minneola Fire Rescue extend their heartfelt appreciation to Orlando Health for recognizing the bravery of these emergency care providers and expressing gratitude for their service.
This award is a well-deserved honor for them. Their courageous act will forever be a shining example of the unwavering dedication of these exceptional teams.
Originally from the small town of Berryville, Arkansas, Cindy has become a multimedia specialist in journalism, photography, videography and video editing.
She has a B.S. in Communications from the University of Central Arkansas and is a correspondent for The Daily Commercial, LakeFront TV and Beacon College's PBS talk show, "A World of Difference," where she received an Anthem Award and Telly Award.
When she isn't working, Cindy spends time with her husband, Ryan, and son, David, traveling and taking photos of landscapes and wildlife.
Share This Story!