Lake County Schools names finalists for Teacher of the Year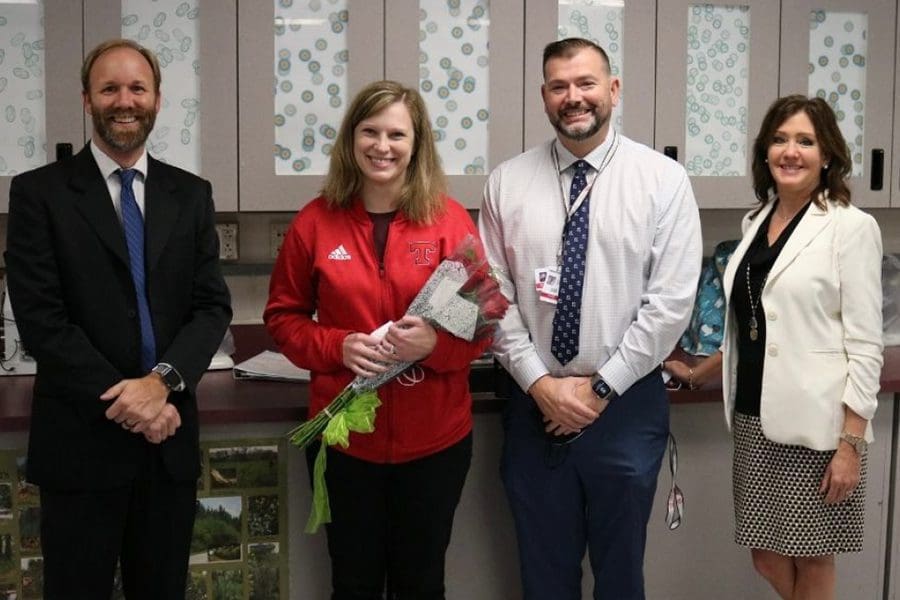 Lake County Schools names finalists for Teacher of the Year
TAVARES – One elementary school teacher, two high school teachers and one middle school teacher are starting off 2022 right. A panel of six independent judges named four deserving individuals as finalists for the 2023 Lake County Schools Teacher of the Year.
The four finalists were notified today by Superintendent Diane Kornegay; School Board members; a caravan of representatives from the district and the Education Foundation of Lake County, and various sponsors including Jenkins Auto Group, Electric-Services, Inc. and Ernie Morris Enterprises.
"We are fortunate to have outstanding teachers in Lake County, and today it was an honor to recognize a few of our very best for their professionalism and dedication to student achievement," said Superintendent Diane Kornegay. "This has been a particularly challenging time for teachers. They are stretched thin and their plates are full, but in Lake our teachers show up every day ready to give their best for our students. I am so appreciative of all they have done and continue to do. I look forward to the big announcement, when we name our district's Teacher of the Year. Either of these four would represent us well."
The entourage visited Courtney Stokes, a science teacher at Tavares High; Patrick Kelly, a science teacher at Leesburg High; Danielle Newton, a 3rd grade teacher at Leesburg Elementary, and Jessica Woods, a literacy coach/AVID coordinator at Windy Hill Middle School, to honor each along with their respective principals, school staff and students.
Stokes has been teaching for six years and is a graduate of Lake County Schools. In addition to this honor, she was previously named as a finalist for Lake County School Rookie Teacher of the Year in 2018. During her time at Tavares High, she has taught biology, environmental science, AP Environmental Science, marine science and AVID 2. "I don't want them to just memorize facts, but to be curious about the world and use logical steps to gather evidence. This will serve them well over a lifetime, well beyond my class," she wrote in her award application. Stokes has also been active outside of her school duties, having several publications and serving as Chairwoman on the Board of Trustees with the Lake County Water Authority.
Kelly has been a teacher at Leesburg High for almost nine years. In this time, he has taught biology, AP Physics 1, AP Calculus AB, Cambridge AICE Biology, pre-calculus, and AP Environmental Science. Not only has he been heavily involved in setting his students up for academic success but he also has played a large role in various parts of district support when it comes to technology and science curriculum. He is dedicated to his Jacket family and had this to say in his application: "As I weighed other career fields and was recruited by other schools, I stayed at Leesburg High because every student deserves a good teacher, not by chance, but by design."
Newton has been a teacher at Leesburg Elementary since 2014. She has been a prominent figure as a third-grade team leader and as the Leader in Me Lighthouse Coordinator. With Leesburg Elementary becoming a Leader in Me school, she can now say, "The Leader in Me is still the backbone of our culture and climate on campus," as she helps provide ongoing training and facilitating changes from staff down to students. In 2019, Newton was part of the district writing team whose blueprints for instruction are now being used in elementary schools across the district. She also was recently appointed to the High Quality Instructional Material for English Language Arts team at the county level. "My students inspire me. They inspire me to work hard and show up, even on the hard days when everything just seems to go wrong," she wrote in her award application.
Woods has been working in education for 18 years. Thirteen of those have been in Florida and the last three of those in her current position as the AVID coordinator and literacy coach at Windy Hill Middle. She has changed the attitude and culture toward post-secondary education with her students. She was also instrumental in developing C2Prep throughout the district. In her tenure as an educator, Woods has a proven track record for helping students succeed. She noted this in her award application: "Being a part of the moments when a student gains their confidence and voice in a classroom inspires me as an educator to keep going."
At a celebration on Feb. 3, one of the four finalists will be named Lake's newest Teacher of the Year and will drive away with the grand prize, a 2021 Nissan Rogue from Jenkins Auto Group. The Lake winner will go on to compete at the state level for the title of Florida Teacher of the Year.