Leesburg Girls Weightlifting Team Medal In States!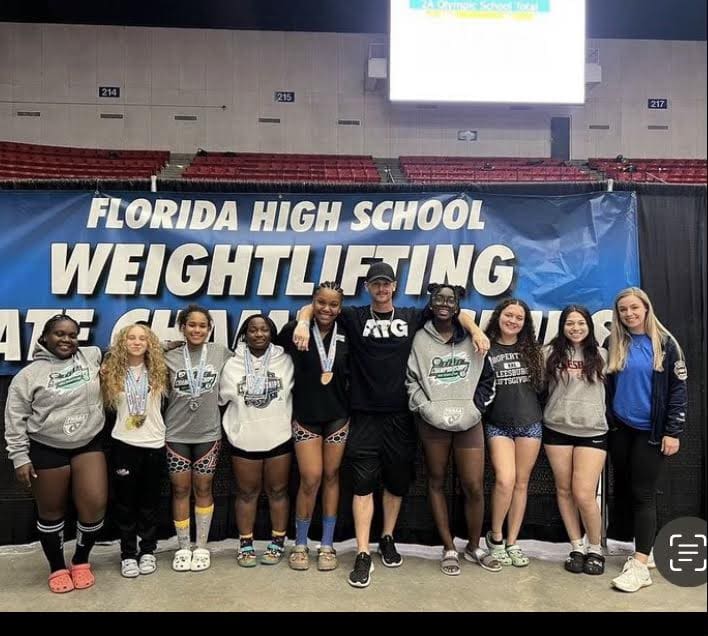 Leesburg Girls Impressive In Lakeland!
Ever since Leesburg High created its girls weightlifting program back in 2008, the program has gotten better each year. 2023 is no different and was a fantastic season for the weightlifting program. The Yellow Jackets were State Runner Up 2019 and 2020. Since then the Yellow Jackets have been trying to find their groove and they certainly did this season. Let's take a look at how some of the star athletes did who not only made states but won medals.
Kaitlynn Brady : State Champion in Olympic & Traditional 101lb Weight Class
Brady is not your average weightlifter. She has a body weight of just over 85lbs and weighed in at 86lbs for the States. She is the lightest lifter on the team but that means absolutely nothing to her. If you see her lift in person, Brady is a freak athlete. There may be no one in the state that can rival her toughness. Brady goes above and beyond to be the best that she can be regardless of her size. She may be small but she is mighty!
Brady came into States having qualified for Olympic and Traditional weightlifting. She was able to put up an incredible 240lbs in the Olympic category which is 3 times her own body weight! The physical toll of that is already impressive but she also put up 105lbs in the snatch while also putting up 135lbs in the clean and jerk. All combined it shattered the competition and Brady found herself at the top of the podium.
Brady hoisted not just 1 state championship but 2 state championships. She won gold in the Olympic and she also won gold in Traditional. Did we mention she was only a Junior? That's right! Brady will be back next season and her goal is to break all the records currently held. She has plans to be one of the greatest Lightweight Lifters that Lake & Sumter County has ever had. We want to congratulate Brady, her family and the team on her success! We cannot wait to see what she does her senior year!
Nevaeh Wells : State Runner-Up Olympic & Traditional 199lb Weight Class
Wells is just a sophomore but she didn't let that stop her. Typically the older you are the more chance the athlete has to build muscle and mature in weightlifting. However Wells is just a sophomore and she is already making waves. Wells came into the States in the 199lb category. She qualified for both Olympic and Traditional. Wells was able to get silver at the competition and finished as State Runner-Up in both categories.
Wells was cruising toward a potential State Championship and literally had the gold medal in her grasp. However during her final trip to the Clean & Jerk Line, Wells went for it all but the bar just slipped from her grasp and fell to the floor. Missing that last clean & jerk meant that it cost her the state championship and with it Wells had to settle for silver.
Wells is one of the best new up and coming weightlifters in Lake & Sumter County. She is one to keep your eyes on as she has another two years to develop her skills. There is no doubt in our minds that she will be a state champion one day. She nearly did it this year! The sky's the limit with this young athlete and we can't wait to see her take it to the next level in the coming years!
E'mia Jones : 3rd Place Olympic 5th Place Traditional 183lb Weight Class
Jones qualified for both Olympic and Traditional lifting. She had an amazing performance and was able to notch a 5th place medal in the Traditional and also finished on the podium in 3rd place bringing home a bronze medal in the process for Olympic lifting.
Jones is the type of lifter that any coach would love to have on his team. Coach Boyer was thrilled with Jones this season. She really came out of her shell and proved to everyone that she belongs on the biggest stage. She has another year to refine her skills before her senior year. Coach Boyer was incredibly excited to be getting a great athlete like Jones back for her senior year.
Jones was absolutely killing it this year against teams like Mount Dora, The Villages, Eustis and more. She was a key part in the district championship team that brought home another banner for the weightlifting program. Jones will be key to the Yellow Jackets success during the 23/24 season.
Kayla Nord : 7th Place Olympic 129lb Weight Class
Nord Qualified for the 129lb weight class. She qualified for Olympic and Traditional lifting. While she only medaled in Olympic , we should note that Nord is only a sophomore. She has so much potential to get to the next level. I spoke to coach Boyer, the head weightlifting coach for The Yellow Jackets and he was so pleased with her performance this season.
Nord took home the 6th place medal in Olympic lifting. That is a tremendous accomplishment as a sophomore. She should be very proud of her performance. When you get to States, the competition is immense. Specifically the 129lb weight class is one of the largest divisions so putting up numbers in this category due to the competition is an accomplishment. Congratulations to Kayla and we will certainly be hearing more about her in the coming seasons.
Other Yellow Jacket State Qualifiers
Davis qualified for the Olympic Only category. She qualified for the 139lb category. This is an incredibly difficult category at the state level. While Davis finished in the Top 10 it was just shy of placing in medal contention. She will take what she learned and grow from it. Davis is only a sophomore so she has plenty of time to refine her skills and we have no doubt we will see Davis contending for state medals one day. She had a terrific season and helped the Yellow Jackets to a district championship. All season long she was one of the top in her class.
Curtis qualified for the 154lb category in Olympic Only. She is a valued member of the Yellow Jackets team. While she did not medal, the chance to get to the States is an accomplishment in itself. She will take that with her wherever she goes in life. While we are sad that this is Curtis' last competition, we know that she leaves behind a great legacy at Leesburg and we wish her the best on her future endeavors.
Just like Curtis, Martinis just could not make up the ground needed for a medal in the 154lb category. Martinis was a valued member of the weightlifting program and she can say that she made it to states. This weight category is difficult and competing at this level takes absolutely everything. Martinis never relented and gave it everything she had all season. She was also a part of the 2023 team that won a district championship.
Here is a Senior who just barely missed out on the chance to grab a medal at states. Ford came into the competition as  an underdog but impressed everyone at the State competition. She was part of the 169lb category of women competing. She qualified for the Olympic and Traditional.
Ford nearly medaled in the Olympic portion of the competition but missed the final weight tally by just 5lbs. She so nearly pulled it off but we are very proud of Raleigh Ford and her accomplishments over her career at Leesburg. She proved to everyone that she could make it to States. She also proved that she should never be counted out of anything. Ford is a great teammate and she will do great no matter where she heads in the future.
In what would be her final competition of her high school career, Mckenzie qualified for traditional lifting in the 199lb category. She qualified in this section alongside her teammate Nevaeh Wells who went on to medal as a state runner-up. Although Mckenzie did not medal she showed courage and heart all season long. She was able to make it to States in one of the heaviest lifting classes. She was an instrumental part in helping The Yellow Jackets hoist yet another district championship trophy. She will certainly be missed next year but we congratulate her on her career and we look forward to what the future brings her way.
Looking forward to next year!
Leesburg brings a great group of underclassmen back next season. Many of the underclassmen were able to grab medals at states. The sky's the limit but the work never stops. Coach Boyer told me he intends to switch up some routines, welcome some new equipment to the weightlifting rooms and he fully expects to be contending once again next year. For now it's time for the Yellow Jackets to continue preparing and getting stronger for next year.
Kyle Coppola was born in Newton, Massachusetts and received his Bachelor of Fine Arts in Communications from Curry College in 2016. After traveling to Florida on a family vacation, he decided he could not get enough of the warm weather and made the move from snowy Massachusetts to central Florida 8 years ago.
For the last decade Kyle has gained valuable experience in social media content creation, marketing and sales, writing, video production, sports announcing and even broadcasting for local radio stations, such as FM 102.9 in The Villages and FM 91.5 in Massachusetts. Every year he volunteers at The Villages Charter High School as a play-by-play sports announcer for the football games as well as a public address announcer for the basketball games, including the annual Battle at The Villages Tournament.
Outside the office Kyle is a husband and father to two beautiful girls along with their cat. In his spare time he likes to spend time with his family, travel, play golf and swim. He is also a huge sports junkie and even bigger motorsports fan and loves to attend racing events when he can.
Share This Story!