Leesburg High Football Head Coach Steven Moffett Leaving After One Season
Leesburg High Football Head Coach Steven Moffett Leaving After One Season
LEESBURG, Fla. — In a surprising turn of events, Leesburg High School's football program bid farewell to Coach Steven Moffett after just one season, following an extraordinary 10-2 campaign that saw the team reach heights unseen since the 1990s.
Athletic Director Steven Hey expressed gratitude for Moffett's contributions, stating, "We want to thank Coach Moffett for everything he has done for our school, our football program, our student athletes, and our community. We had a very successful season and look forward to continuing that success. We wish Coach Moffett the best in his future endeavors."
Moffett's departure comes on the heels of leading Leesburg to historic achievements, including Moffett being crowned the 3S District Coach of the Year in his inaugural season. Despite a 17-10 loss to Lake Wales in the Regional Semi-Finals, Moffett's impact reverberated through the program, with the team outscoring opponents 407-104 during the regular season—a feat not witnessed in over a decade.
The news has left many shocked, especially given the promising trajectory the program seemed to be on under Moffett's guidance. Leesburg principal Michael Randolph commented that the leave was amicable.
"Coach Moffett has done so many great things for this team and for our community," Randolph says. "There's no hard feelings, and we are so grateful for the time he has put in with us."
Randolph confirmed Coach Moffett will be helping with the transition for the new head coach, which they are still currently in search for.
"We are looking for someone to continue building what Coach Moffett has begun," Randolph says.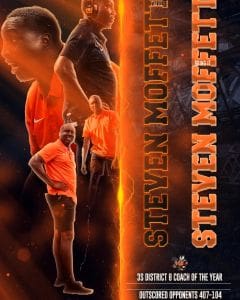 As of now, there is no information on Coach Moffett's next venture, but he will leave a lasting legacy at Leesburg High School as they continue to grow to new heights.
We will update when we have more information provided. This is a developing story.
Kyle Coppola was born in Newton, Massachusetts and received his Bachelor of Fine Arts in Communications from Curry College in 2016. After traveling to Florida on a family vacation, he decided he could not get enough of the warm weather and made the move from snowy Massachusetts to central Florida 8 years ago.
For the last decade Kyle has gained valuable experience in social media content creation, marketing and sales, writing, video production, sports announcing and even broadcasting for local radio stations, such as FM 102.9 in The Villages and FM 91.5 in Massachusetts. Every year he volunteers at The Villages Charter High School as a play-by-play sports announcer for the football games as well as a public address announcer for the basketball games, including the annual Battle at The Villages Tournament.
Outside the office Kyle is a husband and father to two beautiful girls along with their cat. In his spare time he likes to spend time with his family, travel, play golf and swim. He is also a huge sports junkie and even bigger motorsports fan and loves to attend racing events when he can.
Share This Story!