Leesburg High hosts Gullah feast for Black History Month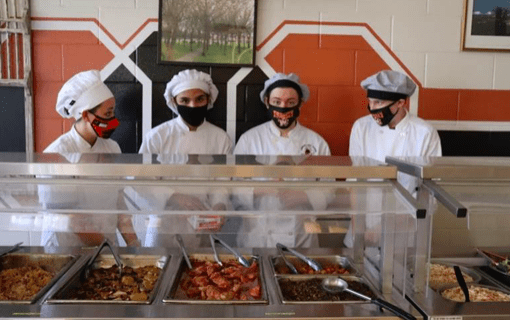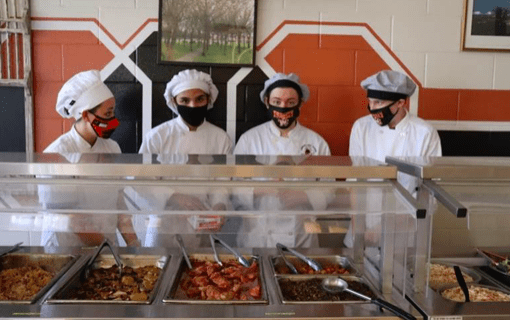 Leesburg High School culinary students celebrated Black History Month on Thursday, Feb. 25, with a tribute to the food and culture of the Gullah people (also known as Geechee), descendants of Africans who were enslaved on the rice, indigo, and Sea Island cotton plantations of the lower Atlantic coast. 
"Each year during Black History Month, I do something really special, and have at all the schools I've been to and even the restaurants," says Chef John Bell, who leads the school's culinary department. This year's tribute was inspired by Dr. Monique Griffin-Gay, assistant principal at Leesburg High, who traces her ancestry back to the Gullah people. 
"Many of you guys probably have Gullah in your system," he told a group of mostly black and Hispanic students gathered for a meal of Gullah-inspired foods and to hear a motivational message from special guest celebrity chef Joel Padilla, a chapter president of the American Culinary Federation. "All the spices throughout the cultures of the world are touched by African foods, and most people don't know that. This is your culture. Learn about it." 
On each table was a list of famous descendants from the Gullah Geechee Corridor. They include former First Lady Michelle Obama, singer Darius Rucker, Supreme Court Justice Clarence Thomas, basketball great Michael Jordan, and boxing standout Joe Frazier, among others. 
A printed history was on each table as well. It explained that when the Africans destined for the Carolina Colony plantations were captured, they were placed in prison cells along the West African coastline. In these prisons, they were introduced to Africans from different tribes and regions. This was the beginning of the Gullah people, with the intermingling of the variety of African backgrounds as well as the different dialects spoken. 
They easily acclimated to the climate of the Carolina Colony, which was ideal for rice cultivation. Diseases such as malaria and yellow fever thrived in the warm, humid climate, but the Africans were more tolerant to the diseases than the white landowners and overseers. As a result, the enslaved Africans often worked these plantations under the supervision of other enslaved "foremen" with little white people. 
The Gullah people developed their own language, traditions, rituals, music, and cuisine, all derived from their African roots. Even after slavery ended in the United States, the Gullah community remained isolated in the coastal regions of South Carolina and Georgia, keeping their culture alive. 
The meal, prepared by the culinary students, included Gullah caviar (a black-eyed pea salad), island slaw, collard greens with ham, fried okra, spiced honey cornbread, doro wat (and Ethiopian chicken dish), pulled slow-roasted pork with Gullah mustard-based barbeque sauce, and low-country rice grown in the Gullah area.
"It's a mixture of a little bit African and Gullah recipes, and they are all authentic," Bell told the students. "The food we cook is influenced by your culture, and we wouldn't have what we have without that."