Leesburg Partnership introduces 2021-2022 Board of Directors, honors locals for "giving back."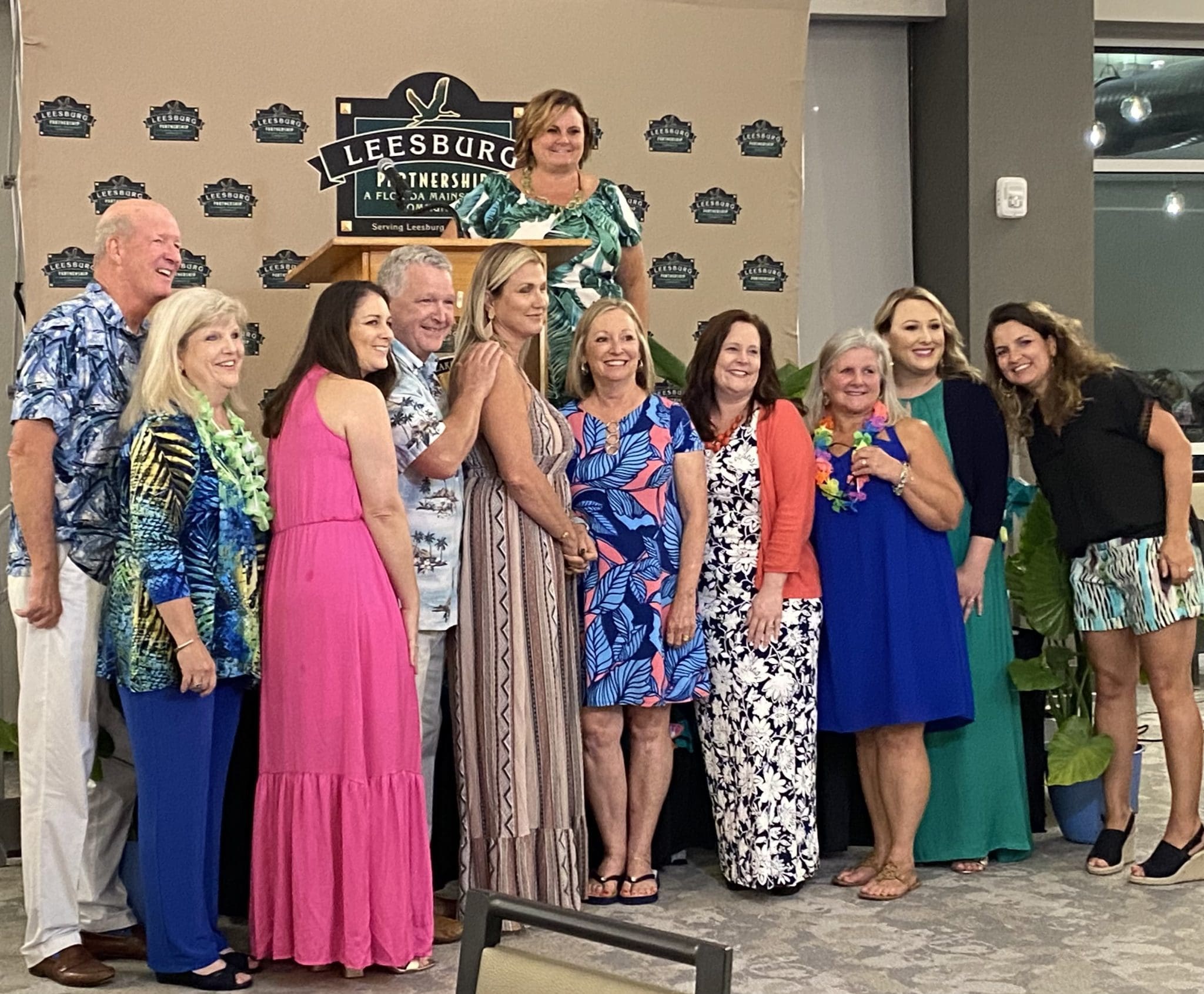 Leesburg Partnership introduces 2021-2022 Board of Directors, honors locals for "giving back."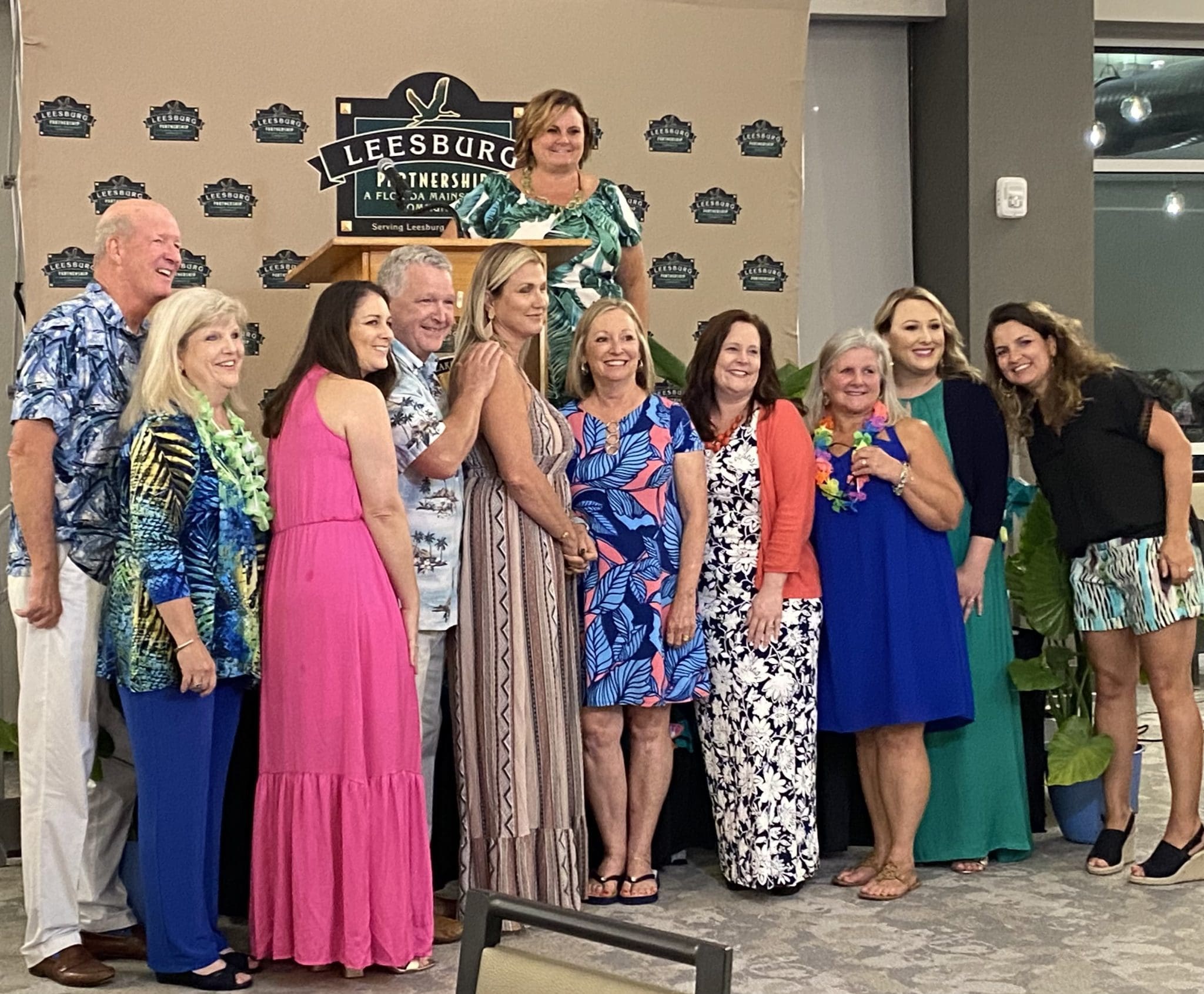 The Leesburg Partnership recently hosted its 2020-2021 27th Annual Awards and Installation Dinner at the beautiful Venetian Gardens, where Leesburg citizens, organizations and businesses were recognized for all they've done for the community.
"Thank you all for being here tonight to support and celebrate some wonderful and well deserving people," says Outgoing President Lena Williams before further explaining that the night was intended to celebrate people in the community doing a great job at giving back.
The Sept. 29 event was kicked off with an invocation by Tim Sullivan, who also led the Pledge of Allegiance. Guests then enjoyed cocktails, dinner by Gourmet Today, dessert by Mystic Ice Cream and music by Steel Away.
During the night, the Partnership announced the evening's award recipients, introduced its incoming Board of Directors, and honored outgoing board members Rick Hankey, Jeannie Rutledge, and Sandy Stokes.
Guests also had the opportunity to bid on various items local businesses donated for a silent and live auction to raise money for the partnership's future programs and events.
The awards and recipients are as follows:
Merchant of the Year – Prominent Fox
Outstanding Volunteer of the Year – Kim Higgins
Outstanding Government Employee of the Year – Mike Thornton
Outstanding Community Partner – Lake Front TV
Outstanding Team Player – Tyler Brandeburg
Outstanding Business of the Year – LassiterWare Insurance
Outstanding Community Service – John Christian, Christian Worship Center
Outstanding Community Spirit – Mystic Ice Cream
Outstanding Organization – Lake 100
Outstanding Revitalization Project – Beacon College
The night's two most prestigious awards and honorees, saved for last during the presentation, are as follows:
President's Award – Maria Stefanovic
Greg Padgett Citizen of the Year – Church of the Lakes Pastor and Leesburg PD Chaplain Mike Matheny
The 2021-2022 Board of Directors are:
Executive Committee:
Bert Boliek, President
Mandy Wettstein-Talmadge, Vice President
Lynn Winker, Treasurer
Cindi Falanga, Secretary
Lena Williams, Past President
Board of Directors:
Rosanne Brandeburg, Fundraising Chair
Cindi Falanga, Membership Chair
Jeanne Thorpe, Promotions Chair
Lyndsi Johnson, Volunteer Chair
Vicki Murphy, Volunteer Chair
Tim Sullivan, Public Relations
Maria Stefanovic, Economic Restructuring
Advisory Board:
Wylie Hamilton
Phil Braun
Chris Wood