Liberty Christian Prep in Tavares Starts Inaugural Eight-man Football Program!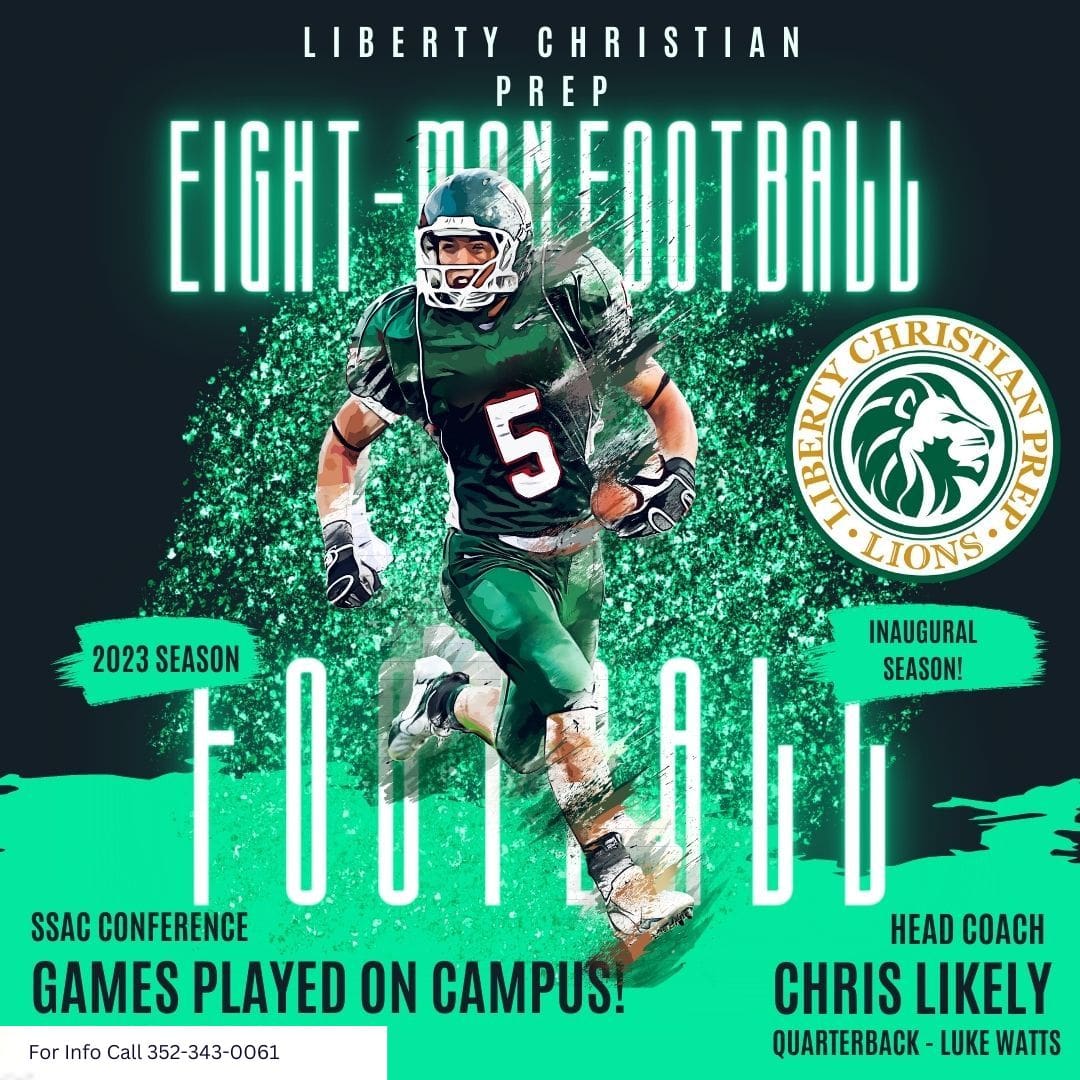 Liberty Christian Prep in Tavares Starts Inaugural Eight-man Football Program!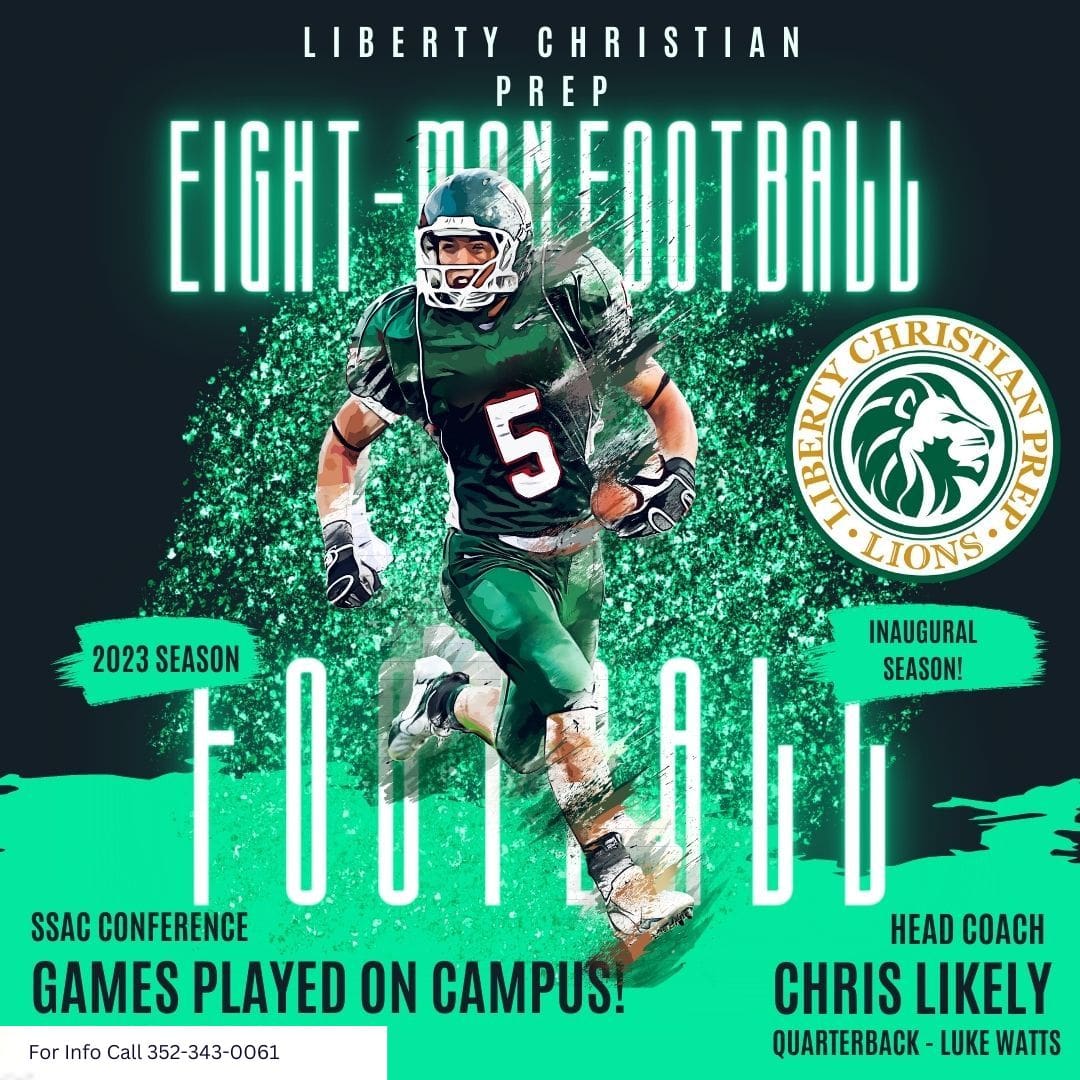 Excitement is building at Liberty Christian Prep in Tavares as the school has just announced that it will field an Eight-man tackle football team for the upcoming 2023 season. This has been a long time coming and the school, parents and alumni are very excited for the possibilities that exist.
Eight-man Football is unique in the fact that the field is 80 yards instead of 100 yards and just 40 yards wide which is smaller than the typical 53 yards that a normal 11-man football field is. It's not as small as Arena League Football played indoors but not that much bigger either. This keeps games competitive and in many ways safer.
Athletic Director Dwayne Walker Is Excited!
I got a chance to talk to Liberty Christian Prep athletic director Dwayne Walker and he says "The kids have been asking for a football program for years and we had so much interest we decided to jump on it." Walker has said that in pre-season workouts they have had plenty of kids wanting to play. Some have no experience at all while others do have experience including potential Quarterback Luke Watts who will be a Senior at Liberty this year.
The head coach for the Lions will be Chris Likely. Coach Likely has a long record of coaching Pop Warner teams in the Apopka area. Coach Likely is also a Pastor at Speak the Truth Ministries in Eustis, Florida. He will be a welcomed addition to this program which looks to build its program over the next few years.
Dwayne Walker told us that the school has been a part of tremendous growth around the surrounding communities over the past few years. The school went from having just over 200 students to now having well over 500 students in the span of just a few years. The school has added a few new buildings and expansion will likely continue in the future.
Christian Schools are underserved in our community. MDCA and First Academy (Leesburg) are some of the most sought after programs in our area and that list now includes Liberty Christian Prep. Walker says he has been inspired by MDCA's athletic departments growth. MDCA just sent its largest ever class of athletes to play sports and study academics at the next level. The waitlist to get int Christian Schools in our area can sometimes be over a year.
Liberty Christian Prep Continues It's Growth
Walker said "First and foremost I want the students to focus on their studies and to form an everlasting relationship with God. But I also know that building an athletics program can do wonders for a school. Athletics teaches kids the value of teamwork and togetherness. These are values Liberty teach their youth as they teach the Gospel, have Chapels during the week and have Bible Studies. I am a former Bible teacher at Liberty Christian before taking on the Athletic Director Position so I can just say the programs offered are terrific at Liberty Christian Prep."
In fact in just the last 2 years alone the program has baptised over 30 young boys and girls. This is something that Dwayne Walker is proud about and he sees the opportunity that exists with all these students that are building upon a great foundation that Liberty is creating.
Dwayne Walker said "During the 7X7 Football tournament we were part of we were facing one of the best teams and we were down 15-13 at the half. The other team had 20 plus guys coming in and out of the game and the players were fresh. I looked at my boys and told them, that's what we will be one day. You might be gassed and tired now, but you are setting the ground for future generations of kids who will compete at that level."
Liberty Christian Prep is a growing school located in Tavares, Florida. They will be competing with Real Life Christian Academy in Clermont who also have an Eight-man football team. The school will be a part of the SSAC Eight-man division. The SSAC is the same division that MDCA plays in but on the next level up with the traditional 11-man division.
We are so excited to watch the growth that Liberty Christian Prep will have over the next few years! The school has a photoshoot for their players coming up and games will be held on campus! The school is in the process of adding a few grandstands, new scoreboard and field equipment. Exciting times and we are looking forward to their Inaugural season come August!
Photos Provided By:
Dwayne Walker
Kyle Coppola
Kyle Coppola was born in Newton, Massachusetts and received his Bachelor of Fine Arts in Communications from Curry College in 2016. After traveling to Florida on a family vacation, he decided he could not get enough of the warm weather and made the move from snowy Massachusetts to central Florida 8 years ago.
For the last decade Kyle has gained valuable experience in social media content creation, marketing and sales, writing, video production, sports announcing and even broadcasting for local radio stations, such as FM 102.9 in The Villages and FM 91.5 in Massachusetts. Every year he volunteers at The Villages Charter High School as a play-by-play sports announcer for the football games as well as a public address announcer for the basketball games, including the annual Battle at The Villages Tournament.
Outside the office Kyle is a husband and father to two beautiful girls along with their cat. In his spare time he likes to spend time with his family, travel, play golf and swim. He is also a huge sports junkie and even bigger motorsports fan and loves to attend racing events when he can.
Share This Story!