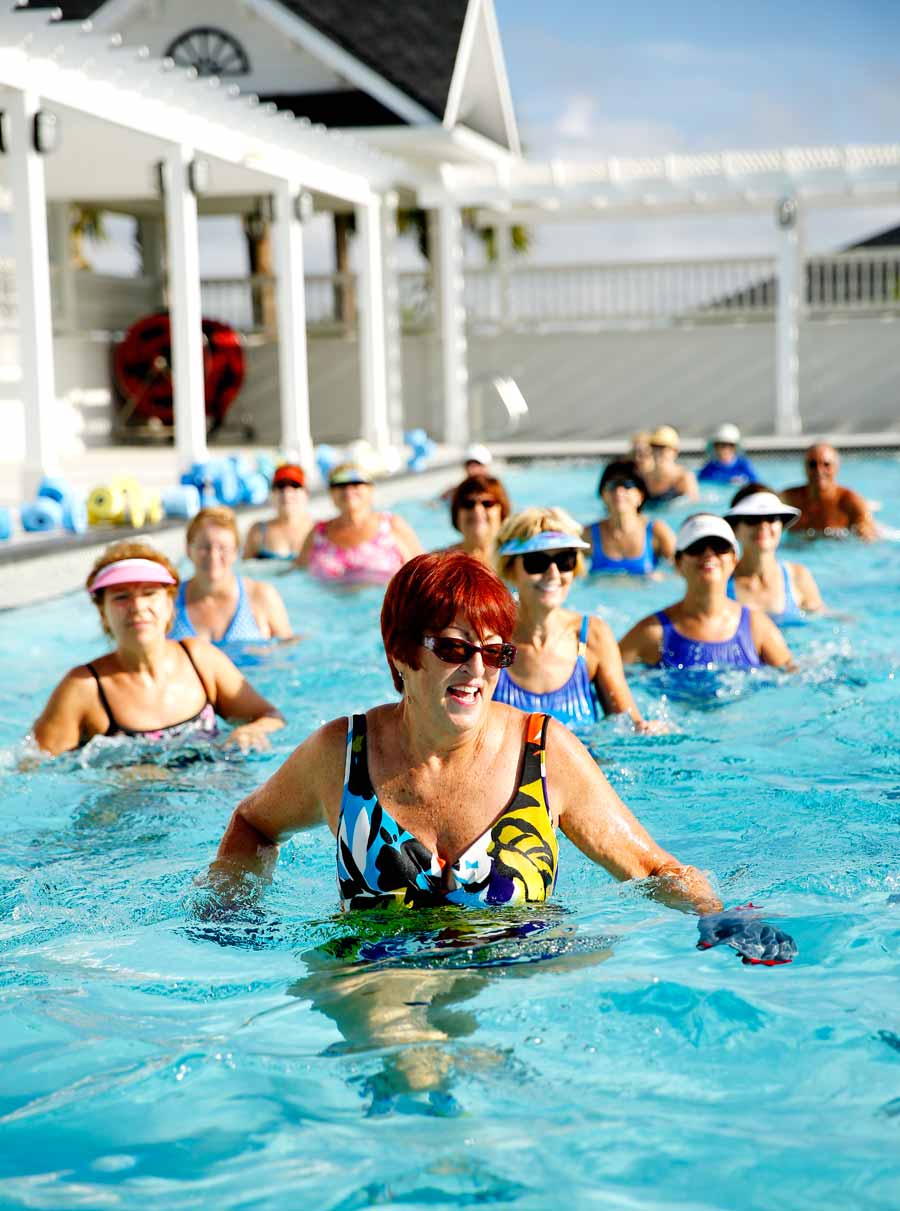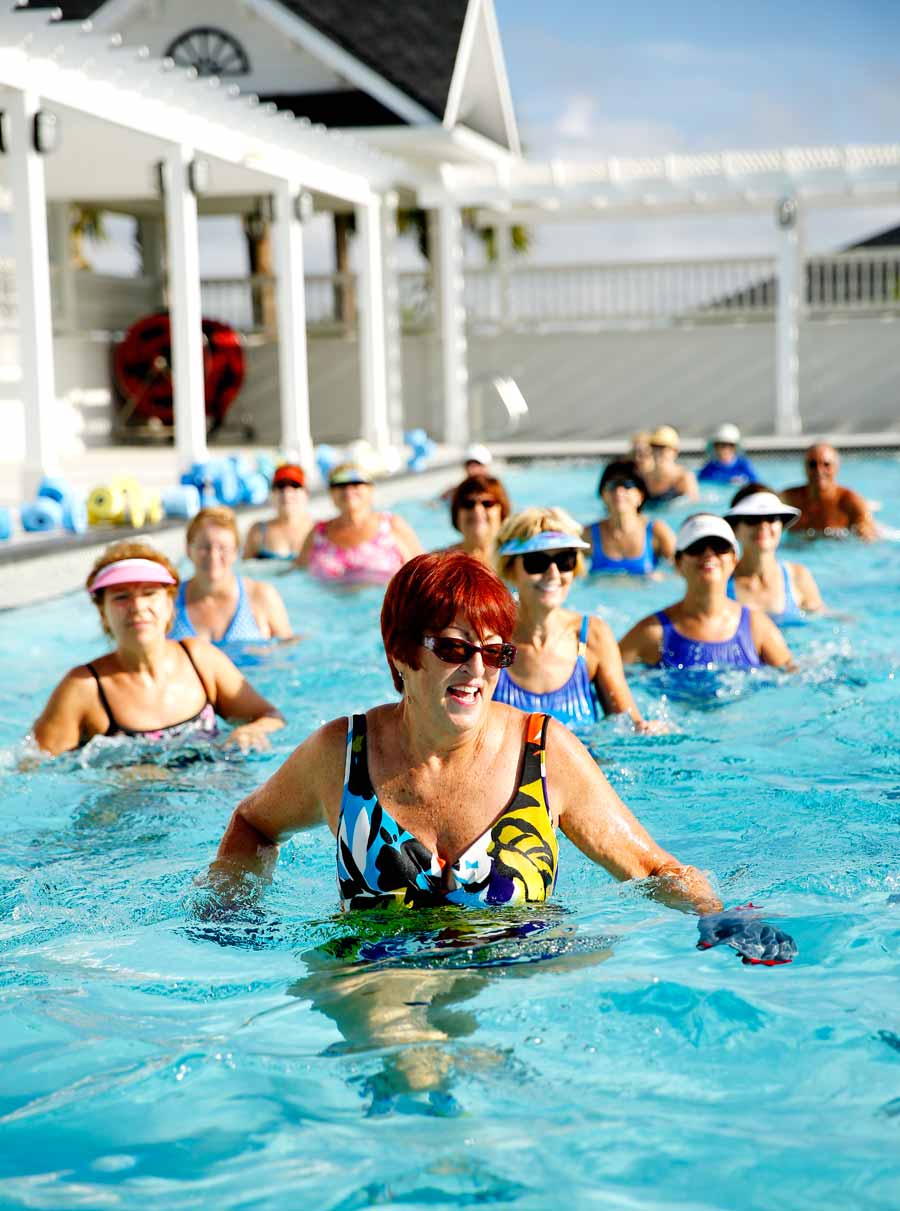 ---
If you told Jean Hofmann ten years ago she'd be a volunteer instructor teaching eight water and land exercise classes a week she'd have begged to differ with you. "People approach me all the time and ask if I was a gym teacher or took exercise physiology," the Village of Hadley resident said. "I laugh because while I was in school, I did everything I could possibly do to get out of gym class – I hated gym class."
It wasn't until Jean got involved in step aerobics in the late '70's that her perception of exercise changed. "Step aerobics was just coming into its own back then and I got involved and discovered I liked it," the 66-year-old said. "That was really when I started to exercise on a regular basis. I felt good and it was kind of empowering."
In 2012, a move to The Villages only increased the retail VP's interest in exercise. "I started investigating different classes and found some land classes that I really liked and also tried a few water classes," Jean said. "But although they were fun, I wasn't getting enough out of them."
Then the Chicago native found a water aerobics class that was much more challenging. "I took the class and thought, 'Ahhh, this is more like it,' and I started going to this class regularly."
---
"Physically, I'm probably in the best shape of my life."

— Certified water aerobics instructor Jean Hofmann
---
Later, Jean's water aerobics instructor decided to pursue other interests and asked for volunteers to teach her classes. Jean was still working at the time, but decided to volunteer to teach a Sunday class. "We still had a couple of months before the instructor was leaving," Jean said. "Having a type A personality I thought, 'I can't be up in front of a group of people having no idea in God's name what I was doing.' I wanted to make sure that whatever I was telling somebody or demonstrating to somebody was correct."
She went online and found the Aquatic Exercise Association's certification program. "I said, 'OK, if I'm going to do this, it's worth doing well. I'm going to get certified.'"
Anatomy, physiology and kinesiology were just a few of the subjects covered in the 400-page manual Jean studied. "You do everything through the manual," she said, "and when you feel you're ready, you sign up to take the certification (test)."
Jean passed with flying colors (in the 90-percentile range). Every two years she's required to take continuing education courses to keep up her certification. The organization also sponsors annual conferences. "One of the things we learned last year was the Army started incorporating water aerobics into their Wounded Warrior Project," Jean explained. "Then most of the military took it on as a part of basic training."
"Water has tremendous advantages," she continued. "First of all, you get rid of most of your body weight in water so there's almost no impact. It's also better for your heart. The water's compression actually makes it easier for the blood to be moved back up to the heart.
"You can also get as much of a workout as you can on land and in fact, more so because of the water's resistance," Jean added. "The faster and harder you move in water, the more difficult it becomes. You don't have that on land.
"For a long time they weren't sure about (the impact it had on) bone density," Jean continued. "But more and more research shows you do get bone density improvement in the water."
Although Jean's water aerobics certification was an important accomplishment, she didn't stop there. "I figured what the heck, I'm going to pursue getting a land certification as well. I got certified this year in group fitness through the National Association of Fitness Certification."
For many volunteer instructors, it isn't coordinating the music with the exercise routines that is worrisome. "For some, it's being up in front of people and being the person everyone is looking at," Jean explained. "That for me, is no big deal – that's what gets my juices going."
What keeps an unpaid volunteer instructor motivated enough to teach so many land and water classes each week? "One of the coolest things is I get thanked all the time just for volunteering to teach the classes," Jean explained. "I've also had a number of people come up to me and say, 'Oh my God, I just went to my doctor's appointment and he said, 'Whatever you're doing, keep on doing it,' or, 'When I started your class I had this problem or that problem and it is so much better now.' That makes you feel fabulous.
"It's encouraging because you find a lot of people really want to learn the right way to do an exercise and want to get better," Jean continued. "There have been a lot of circumstances like that and it makes it all worthwhile."
---
PHOTO: Fred Lopez
---